Crazily colored, haphazardly patchworked and body-cocooning furs populated the runways for Fall 2014. Given high-kudos backing by the likes of Chloé, Marni, Christopher Kane and Gucci, the trend became one of the season's most-touted trends. Fast forward to November, with retailers deep into their Fall season, we've checked in to see how the fur trend has performed commercially. For the purpose of this article, we'll combine faux fur and shearling items under the term 'fur'.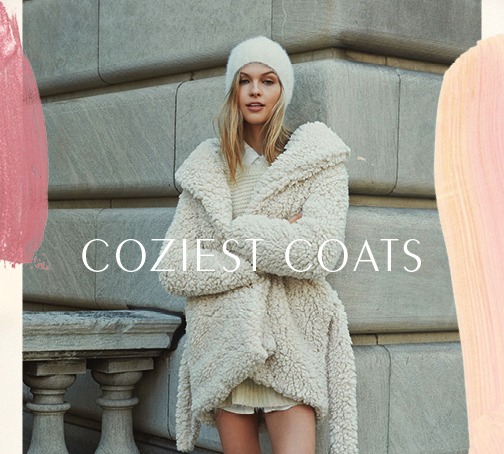 Newness and assortment
New arrivals of fur items reached a 15 month high this October, with EDITD software tracking 13,902 new products arriving online. 55% of those arrivals were outerwear, 21% accessories, 17% footwear and 3% tops. Compared to October 2013, it is fur accessories which have seen the most growth – there were 92% more products coming online this year. Outerwear arrivals were up 74%, footwear up 58% and tops up 56%. The graph here, plotting number of new arrivals, discounts and sell outs each month, shows that historically fur products decline in arrivals after November.
The majority of arrivals (73%) were womenswear items, with childrenswear representing 14% and menswear making up 12%.
Unusual arrivals this season include the Joanna Pybus large multicolored monster faux fur clutches (complete with eyes) at Liberty for $177.61, many different fur clips for bags across the luxury and mass markets and a furred Fendi Timepieces watch at Neiman Marcus for $950.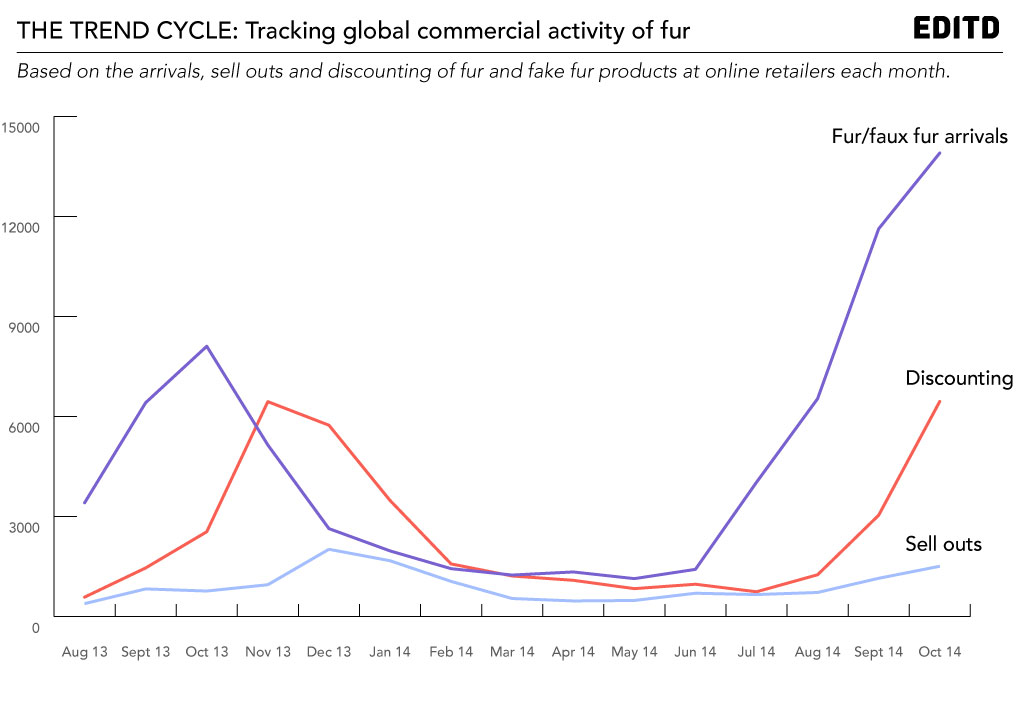 Key fur players in the luxury market
The biggest retailers of fur in the luxury market this season are Farfetch, Luisaviarama, Harrods, Barneys and My Theresa. Burberry Prorsum, Canada Goose, Woolrich John Rich & Bros., Moncler and Yves Salomon are the brands whose fur products are most-stocked. In premium, Nordstrom, Bloomingdale's, Shopbop, Selfridges and My Habit are the retailers with the broadest fur offering. UGG, Guess, Adrienne Landain, Maximilian and Vince are the most-stocked premium brands. In luxury, outerwear is the bestselling category, followed by accessories. The average price of an outerwear item in the luxury market this Fall was $1,197.87.
Market data point to the growing interest in designer brands who specialize in real-looking faux fur. Unreal Fur, an Australian brand, have grown their stockists by 100% for Fall 2014 compared to one year ago and those retailers are stocking 256% more products.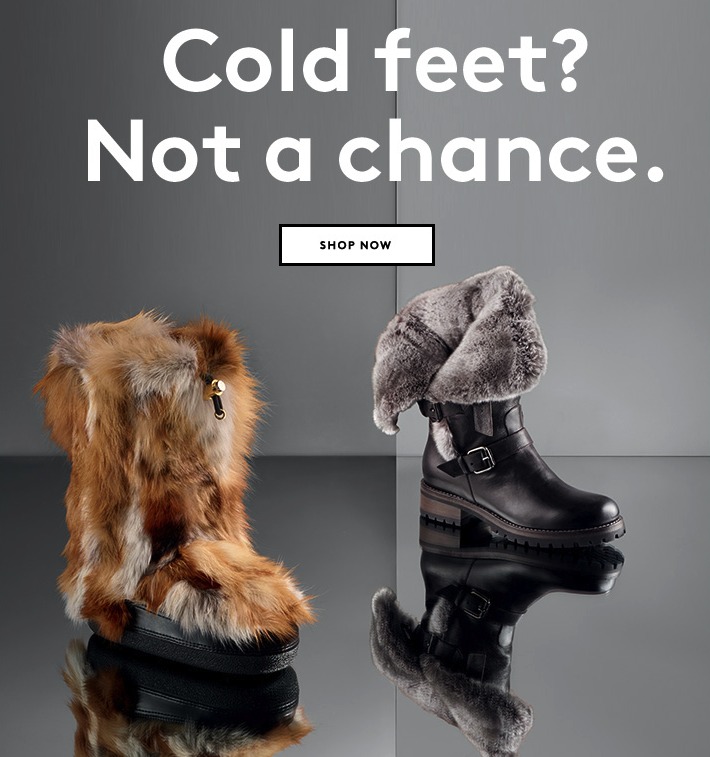 Biggest players in the mass and value markets
The biggest retailers of the fur trend in the mass and value markets are Zalando, Debenhams, Zappos, ASOS and Macy's. These retailers have excelled by making fur trend accessible below the $150 price point. Debenhams even managed to place their Fall 2014 fur emphasis below $50. Outerwear has been the bestselling category for fur in the mass and value markets too, followed by footwear. The average price point is $113 for an outerwear garment.
River Island placed a huge emphasis on their fur offering this Fall – EDITD's Visual Merchandising software, which archives all communications from hundreds of retailers, shows that fur products featured in 10 of their 18 October email newsletters!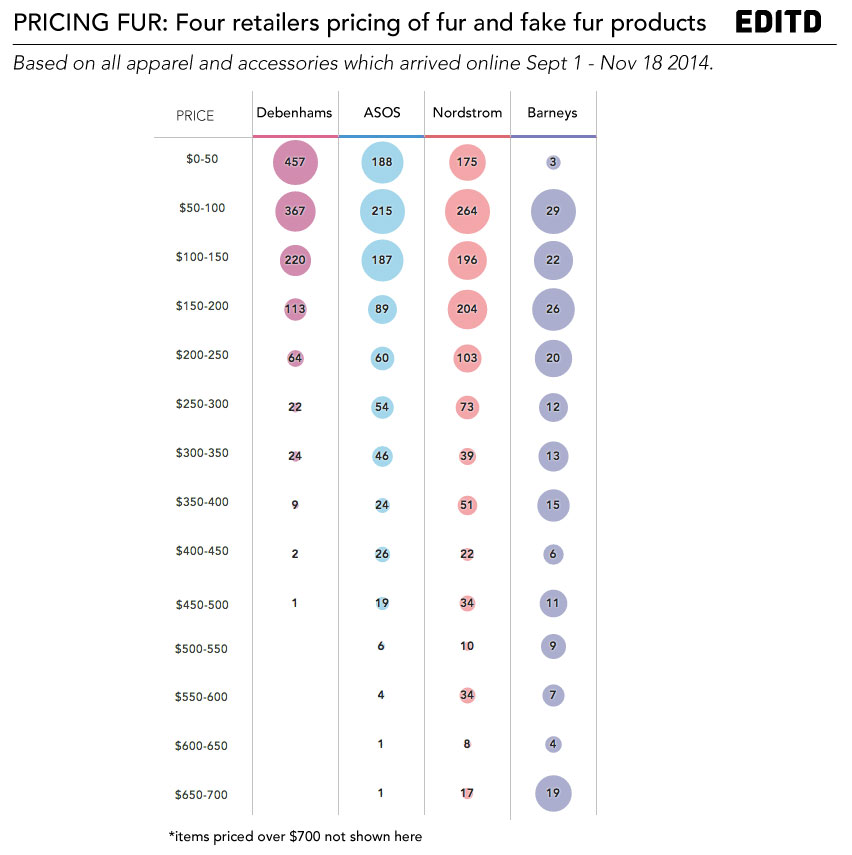 Discounting fur – how much and when
23.4% of the fur market is currently on discount, with the average discount being 14 per cent. Debenhams, Farfetch, Very, Littlewoods and Nordstrom are the current highest discounters and South, Coast, RJR John Rocha, Alice + Olivia and Tory Burch are the most discounted brands. The majority of reductions are in the mass market – 52.5% of discounts are in mass, and 21.3% in luxury.
November 2013 was the biggest month for fur reductions. This November, retailers are currently on track to increase the number of discounted products by 23%. However, there has been a 74% increase in new products and current activity shows retail is also on par to beat sell outs by 125% this month.
Looking at last year's data, it's clear to see that following high levels of new arrivals in October 2013, discounting rose above the rate of newness in November 2013. The trend is in a stronger position this year, with newness levels well above of discounting.
Which colors sell best?
Using EDITD's color analysis software, it's easy to see which colors of fur were stocked by retailers this Fall. We can also quickly compare that to what actually sold. The luxury market was accurate in it's majority stocking of black and natural colored furs – those sold well.
The luxury market didn't back colored fur as heavily as the mass and value markets did – the frivolity of this trend is not well suited to the luxe price point. The elements of color which did sell well in luxury included pale pink fur coats from No.21, See by Chloé, DKNY and Giambattista Valli. The small proportion of blue that did well included the $1,299.77 'Elliot' fur clutch by Proenza Schouler at Farfetch. The khaki area of the colorwheel is made up of parka coats with fur trims, which sold well at A.P.C, Yves Salomon, NLST and Finds.
In comparison, the mass and value markets could have bought deeper into colors, seeing as they sold so well and the lower price point justifies consumers' attention.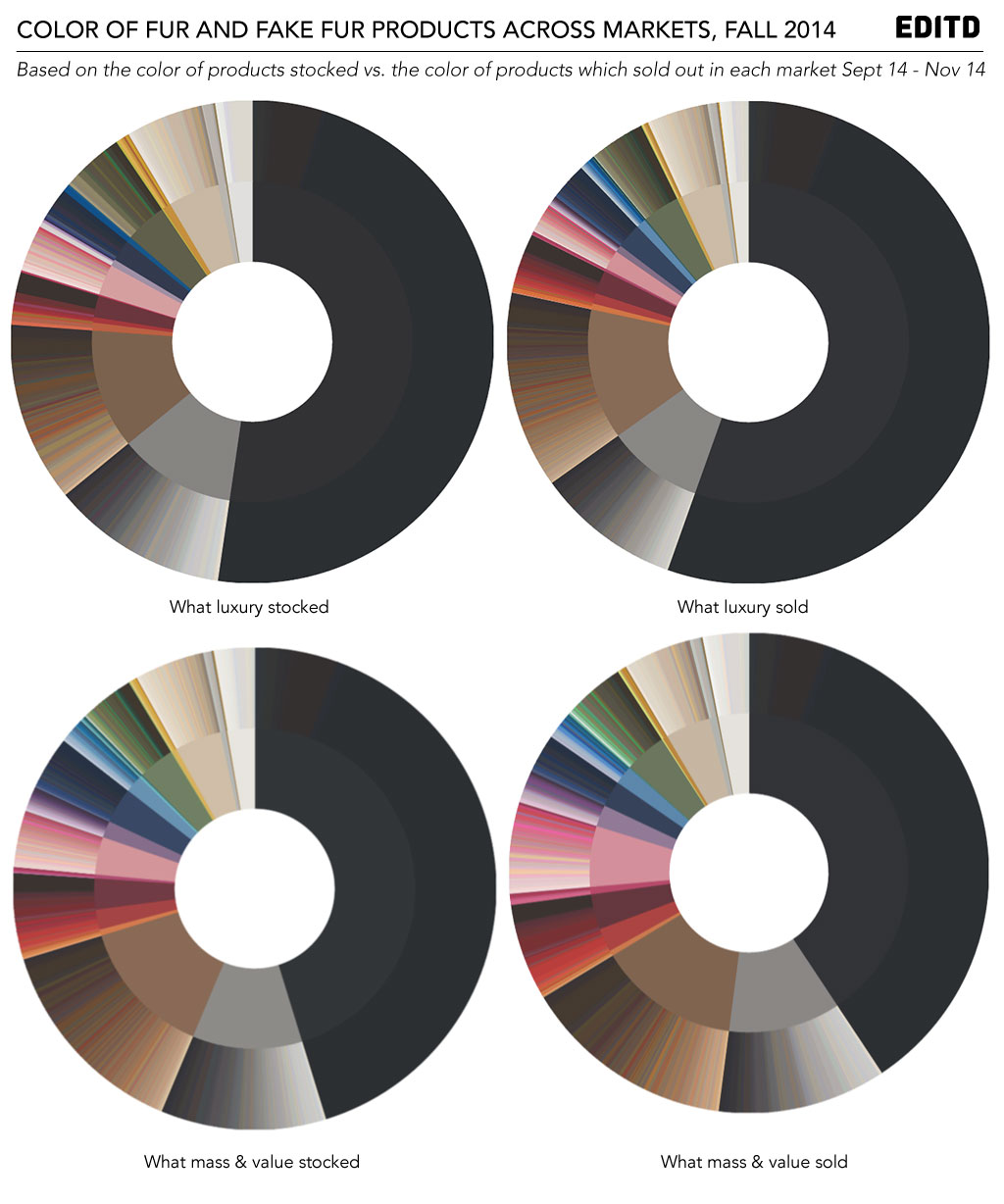 Fur in Spring
As the precursor to Fall 2014, fur and faux furs were unusually prevalent on the SS14 runways, made fun by Prada's art print furs and vibrant jolts of red at Miu Miu. Though that didn't have a huge impact on retail, they've showed up again strong on SS15's runways at Coach, Saint Laurent, Gucci and Hilfiger. Retailers may be tempted to follow suit, but this would be risky. As analysis shows, fur has a narrow window for full-priced sell outs, and even though Spring weather so often requires heavier outerwear, this is not a time when consumers will be purchasing premium-priced outerwear. Instead, retailers should focus on interplay of lighter unusual textures and save fur as a trim to accessories in seasonal colors.
Luxury bestselling fur for Fall 2014:
Mass and value bestselling fur for Fall 2014: