Fancy footwork is the luxury market's well-kept secret. Some would argue that the luxury market is recession-proof, and while data can pinpoint specific instances to disprove this theory, it's certain that there have been interesting changes to the segment during the recent economic climate shifts. EDITD analyses 2 years of luxury market data to show the footwear category has grown by 3.2%.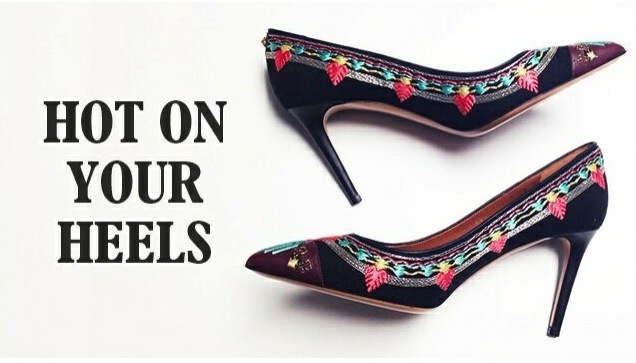 Accessories are the luxury market's most-stocked category
Accessories are undoubtedly the luxury market's most-loved category, with current online product representing 27% of the market. But footwear too offers a huge opportunity within luxury, because, unlike handbags, it's a category closely tied to season. Being highly seasonal makes footwear a cyclical category, where a sudden spike in trend interest will see consumers clamor to purchase styles at any price. Moreover, consumers need to replace well-worn shoes, and luxury goods aren't any more exempt from this wear than their mass-market counterparts.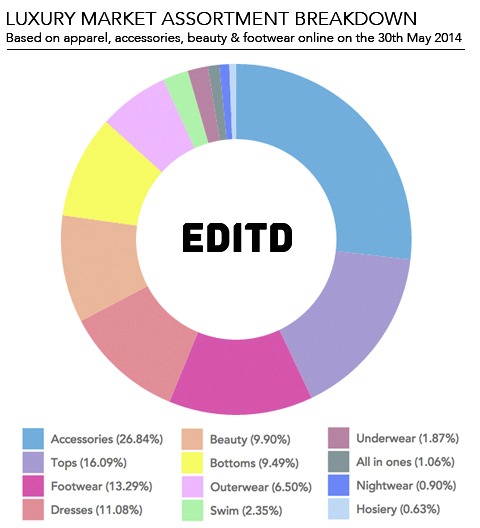 Accessories are the category, which consistently has the highest number of sell outs and new drops – the high levels of newness here drive consumers and keep the entire luxury market invigorated. Of the world's 10 largest online luxury retailers, (which are, 1. Neiman Marcus 2. Saks Fifth Avenue 3. Barney's 4. Harrods 5. Harvey Nichols, 6. Luisaviaroma 7. Bergdorf Goodman, 8. Net-a-Porter 9. Matches 10. Ssense) the top 8 all have the accessories category as their largest. Bergdorf Goodman even gives the category a staggering weighting of 36%. Only Matches and Ssense don't place accessories as their most invested category, instead both select tops.
Stirrings in the footwear market
Despite the industry's apparent certainty around accessories, analysis of data has revealed interesting facts about the footwear category. Neiman Marcus grew their new footwear drops by 38% in April compared to one year ago, and comparatively in that time accessories have shrunk by 6%. Footwear is also the most replenished category for Bergdorf Goodman – the retailer with the 36% weighting to accessories – with a huge 72% replenishment rate on footwear. Footwear is also the most-replenished category for Neiman Marcus and Barney's.
Across the luxury industry footwear sees a 10.4% higher rate of replenishment than accessories. The architecture of pricing for luxury footwear and accessories differs greatly too, with accessories having the bulk of offering at entry-level price point. (Perhaps obvious given the breadth of product accessories covers, but also critical in forming the democratization of luxury, which sees this category scoop in consumers with varying budgets.) In contrast, $450-600 is the price point with the broadest footwear offering, as well as the most replenished price point. The most replenished footwear brands are Gucci, Jimmy Choo and Manolo Blahnik.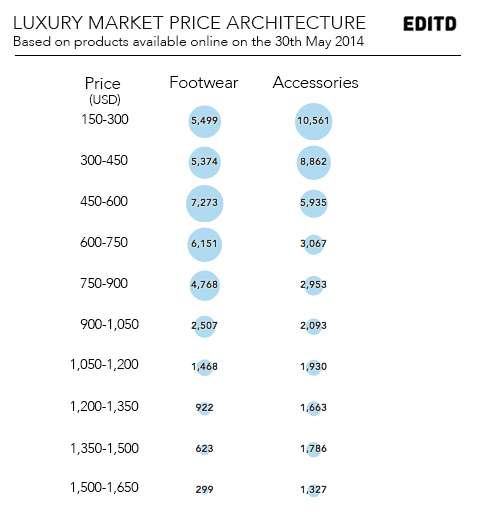 As footwear's profile has risen, department stores have invested in their physical footwear spaces too – with Selfridges overhauling an entire floor for the category and Barney's renovating 22,000 square foot of retail space in their Madison Avenue flagship. For footwear to continue on its growth trajectory, it needs to mimic the democratization of the accessories category (as well as apparel, like Kenzo's hugely popular sweaters), whereby luxury brands promote their products to the mass market. Already that's starting to happen, with pool-slide flats being a current hot trend with product available from Chloé, Céline, Gucci and…Nike. Designers should build these tactics into their price architecture too, introducing entry point product for more basic styles, and securing their place in an expanding luxury world.
How to make footwear work
The pace and fluctuation makes the footwear industry a tantalising one for consumers, and retailers should stock and communicate into this space. Barney's already do a very good job of promoting their women's footwear in visual merchandising campaigns. And this needn't be limited to the female market: Nordstrom have promoted their menswear shoe offering in 6 out of their 14 email newsletters sent in May 2014! An advice to luxury buyers: do your research well, spot the styles your competitors are seeing high sell through on and stock into a democratized architecture in footwear, then merchandise it well to reflect the weather, and there will be huge gains.
Is Burberry's reign about to be toppled?
Over the past 18 months, Burberry has consistently been the most replenished luxury apparel and accessories brand, globally. That's until February 2014, when Mulberry suddenly snuck in from the sidelines, kicking Burberry off the top spot, with their apparel and accessories. Burberry regained their grip in March 2014, but Michael Kors managed to oust the British brand in April, suggesting Burberry's stronghold is weakened.
A similar story can be seen in the brands with the highest number of sell outs (which are to be viewed as a separate point of interest to replenishment rates: replenishment is the work of well-managed buying and can refer to core collections, whereas sell outs are an indicator of, often unexpected, consumer demand around a trend-led item). Burberry reigned here too, consistently having the highest number of sell outs each month – that was until March and April 2014, when Mulberry and Givenchy in turn beat Burberry. It certainly seems that Mulberry's February replenishments were met with eager consumers in March.
Burberry's successes have been much-touted in industry press, with product, strategy and price point falling under the scrutiny of competitors. With data now giving brands and retailers full market visibility, its no surprise that their successful strategies have been emulated – Burberry's position may be challenged more frequently in future.
Want to learn more? Then sign up for free EDITD Insider Briefings. Join more than 10,000 of your colleagues from top retail businesses who already receive exclusive insights. Simply join for free here.