Fashion weeks are picking up serious pace, with Milan now wrapped and Paris underway. Don't worry if you missed anything, we're here with Milan's Spring 2018 trends.
And no, we don't mean all of them. We mean the ones that will impact retail's bottom line.
The Simple Guide to Milan Spring 2018 Trends
1. Recent History Revisited
It's official–according to fashion–the turn of the millennium was long enough ago for us to now feel nostalgic towards the aesthetic of the time. Gulp. Late nineties and early-aughties references sprung up in the way of metallic-finished fabrics, super-simple tailoring, modest cuts and a cool-toned palette. It's sportiness that pre-dates athleisure.
Max Mara exemplified the decade in its homage to Helmut Lang, with cross-body bags, casual pencil skirts, organza and stacks of camel.
With trends having pillaged the 70s and 80s archives in recent years, it makes sense to reflect on more recent history. Rather than feeling overly-familiar, these themes came through as fresh and markedly different.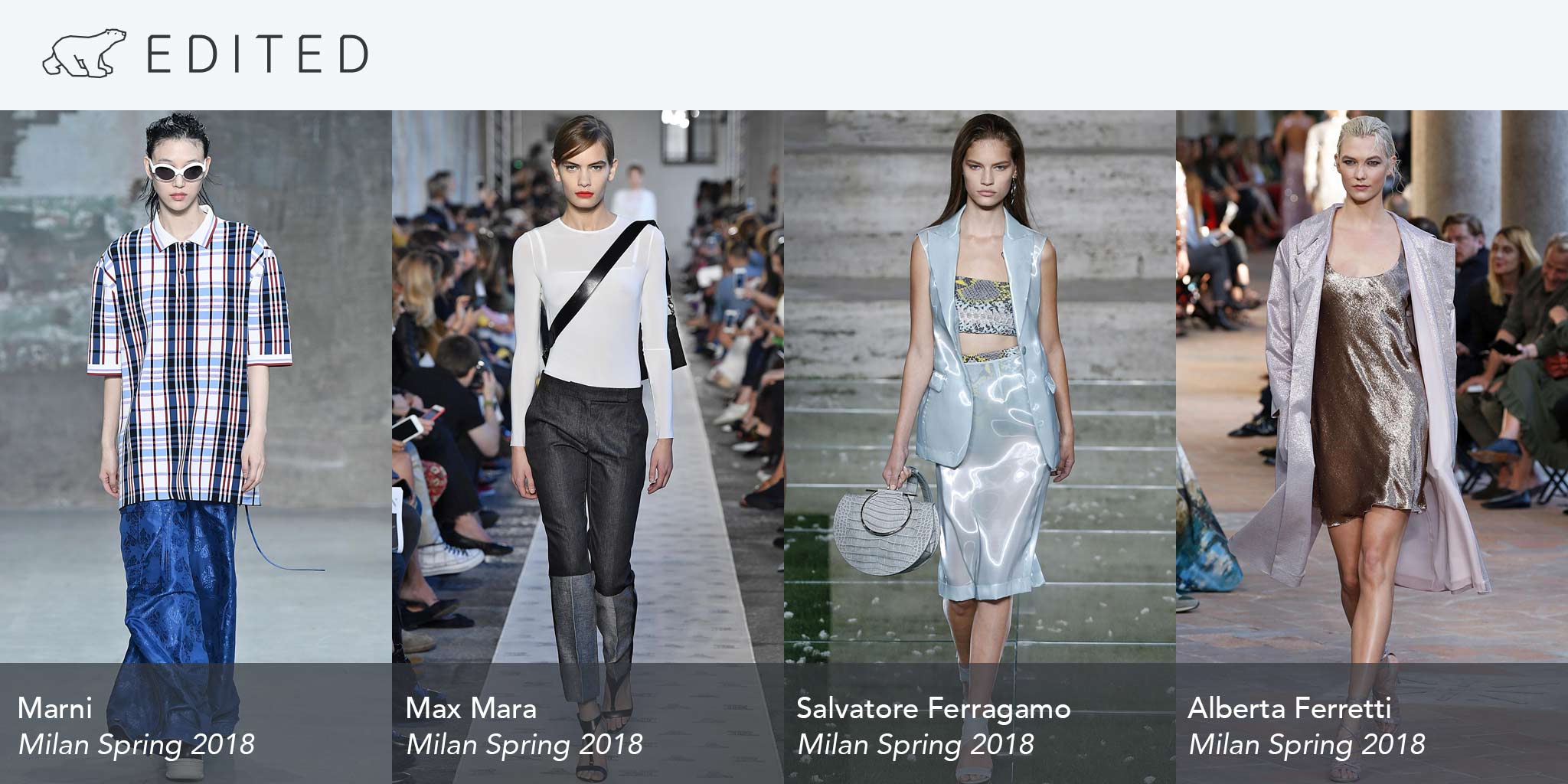 2. Logomania is back
Of course, a key aspect of consumerism in the late 90s and early aughties was logomania. Its return has been hinted at across New York and London, but Milan added pace, with front and centre branding coming from a pack of influential houses.
Max Mara and Fendi brought back their houses monograms, the former covering satin-finish trucker jackets, skirts, slim fit suits, lurex knits and tote bags in the lettering. Gucci, having had huge commercial success with their branded tees, showed a sweatshirt for Spring 2018, worn with monogrammed necklaces. And Versace's pastel-toned tees will sell like hot cakes.
This trend's return will have a big impact on the luxury market, specifically leather goods, which has shied away from overt branding in recent years and stagnated, perhaps as a result.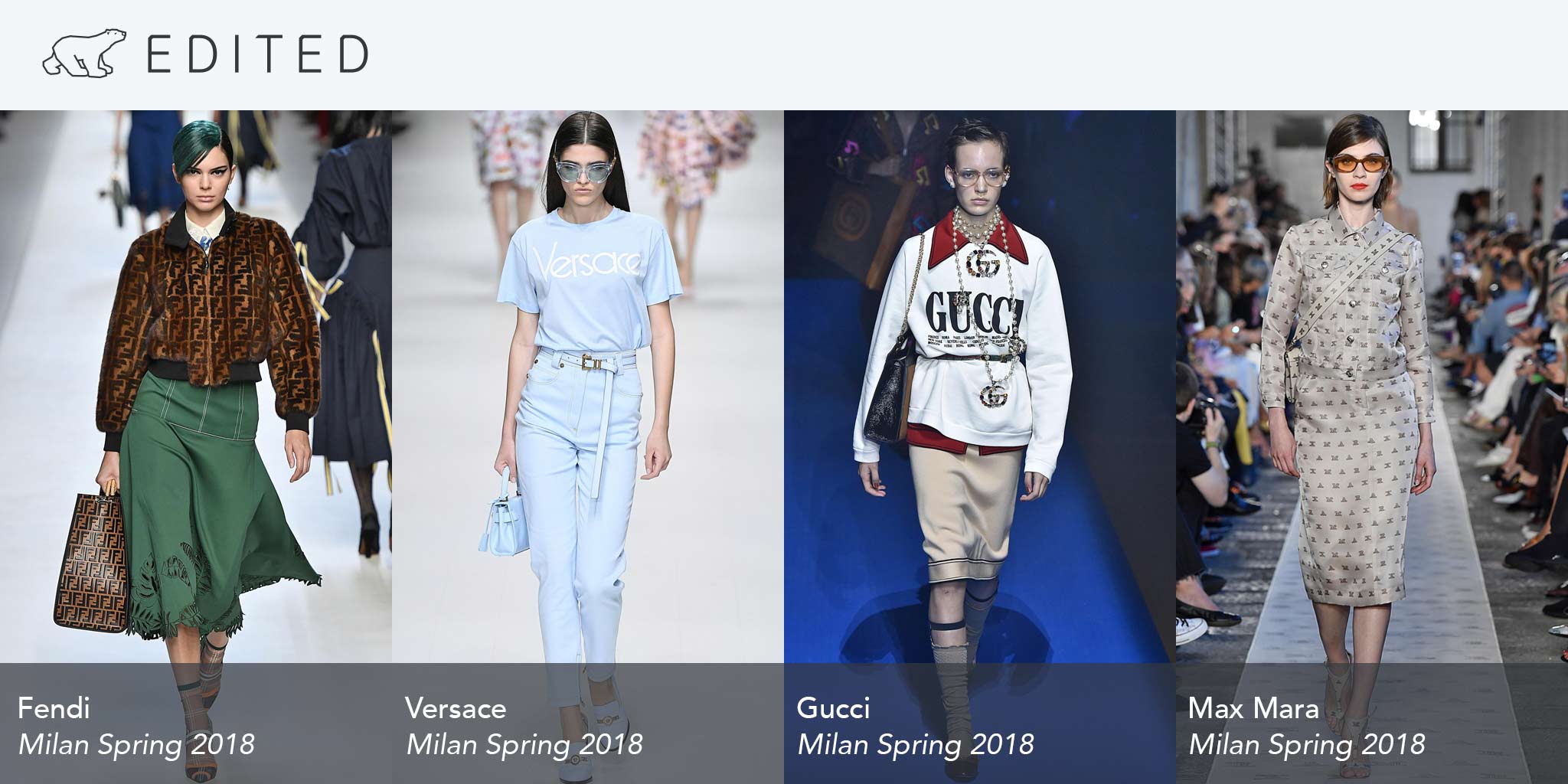 3. Seflie-Made Sunnies
Back in August, we wrote about the influence selfie taking has had on fashion trends. Well, it continues. And there's no better place to indulge that than in quirky, kitsch Milan.
Head-turning sunglasses, once merely a runway prop, are now being snapped up by content-creating consumers. Dramatic shapes, over-the-top embellishment or colored lenses (pink, red and purple) were seen decorating faces across Milan's shows.
This item is a sweet spot for trend-led retailers. In fact, why not encourage shoppers in store to try these shades on, take selfies (in your branded mirrors…) to share to their social media? It's a touch of that Sephora-magic that apparel retail so needs.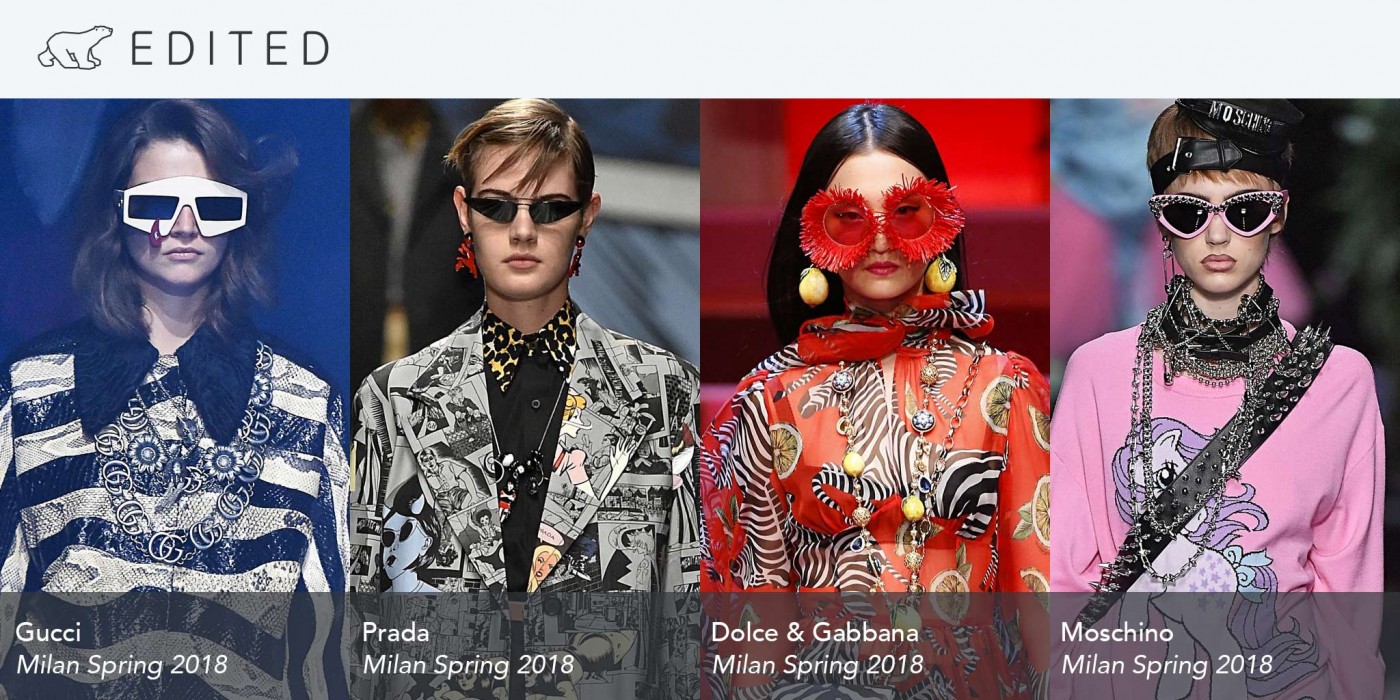 4. Extravagant Earlobes
It doesn't stop at specs. Statement earrings have fallen into the same selfie-taking commercial dream. The bananas at Prada and mismatched minimalism at Jil Sander and store-ready.
Dolce & Gabbana raises an interesting point, with their cannoli print dress accessorized with cannoli earrings. Wouldn't it be fun–or more importantly, a fruitful up-sell–if earrings were merchandised to match apparel prints? That packs in all the Insta-wow needed for the trend-passionate set.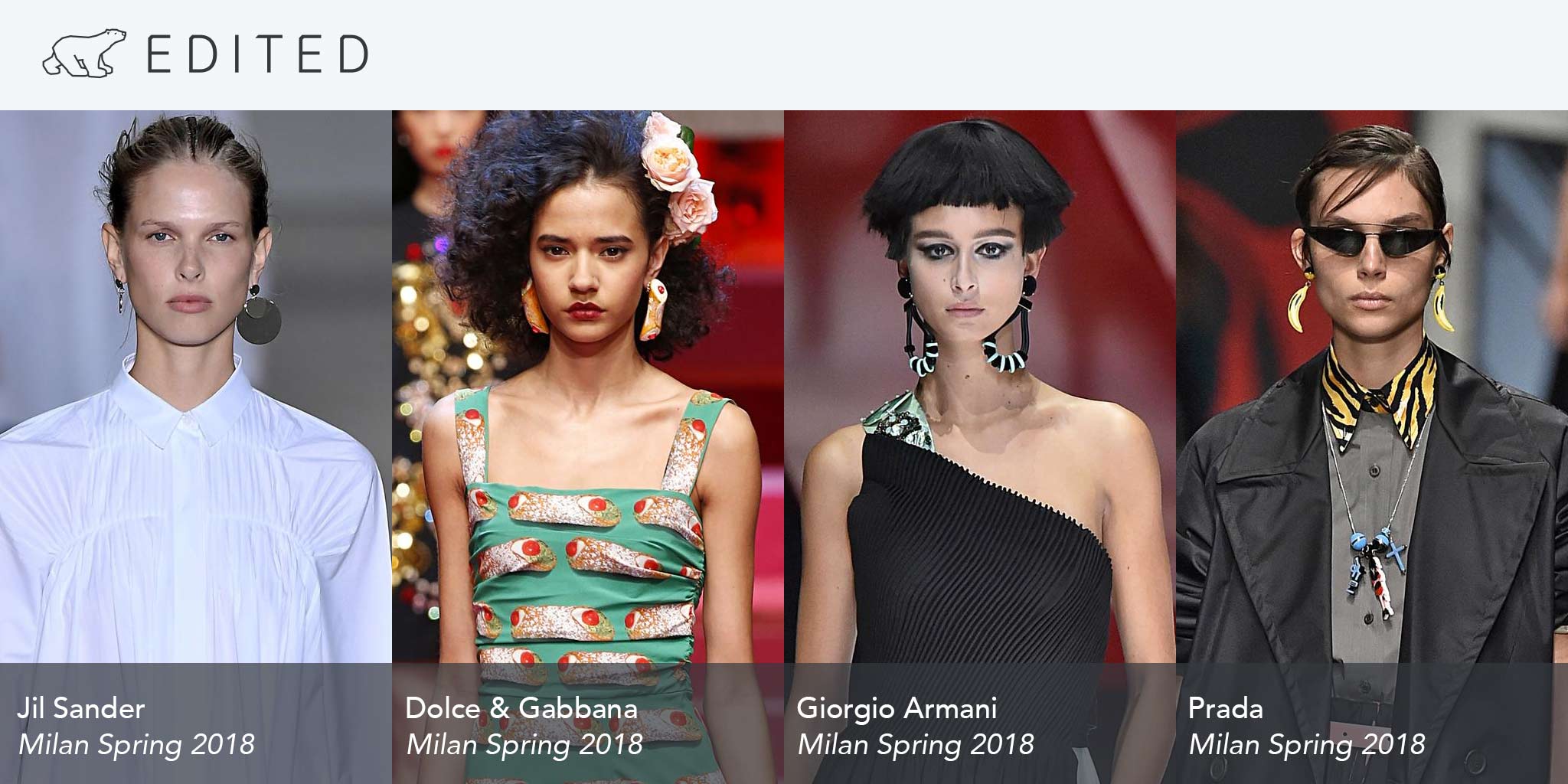 5. Simple Crombie Coats
Outerwear trends have recently riffed on oversized, on manically colored fur, on puffers, on embellished souvenir jackets and metallic raincoats. One thing has been missing: simple.
A host of designers in Milan spotted the opportunity and put the Crombie coat/car coat on their runways. Straight cut, lapelled, single-breasted and mostly without adornment, these tap into the 90s/aughties theme that's coming through. They're also just really useful pieces. And in a time when we're dressing in a straight-forward manner, they will connect with a certain type of consumer.
We'll be watching closely to see if Paris takes this one forward.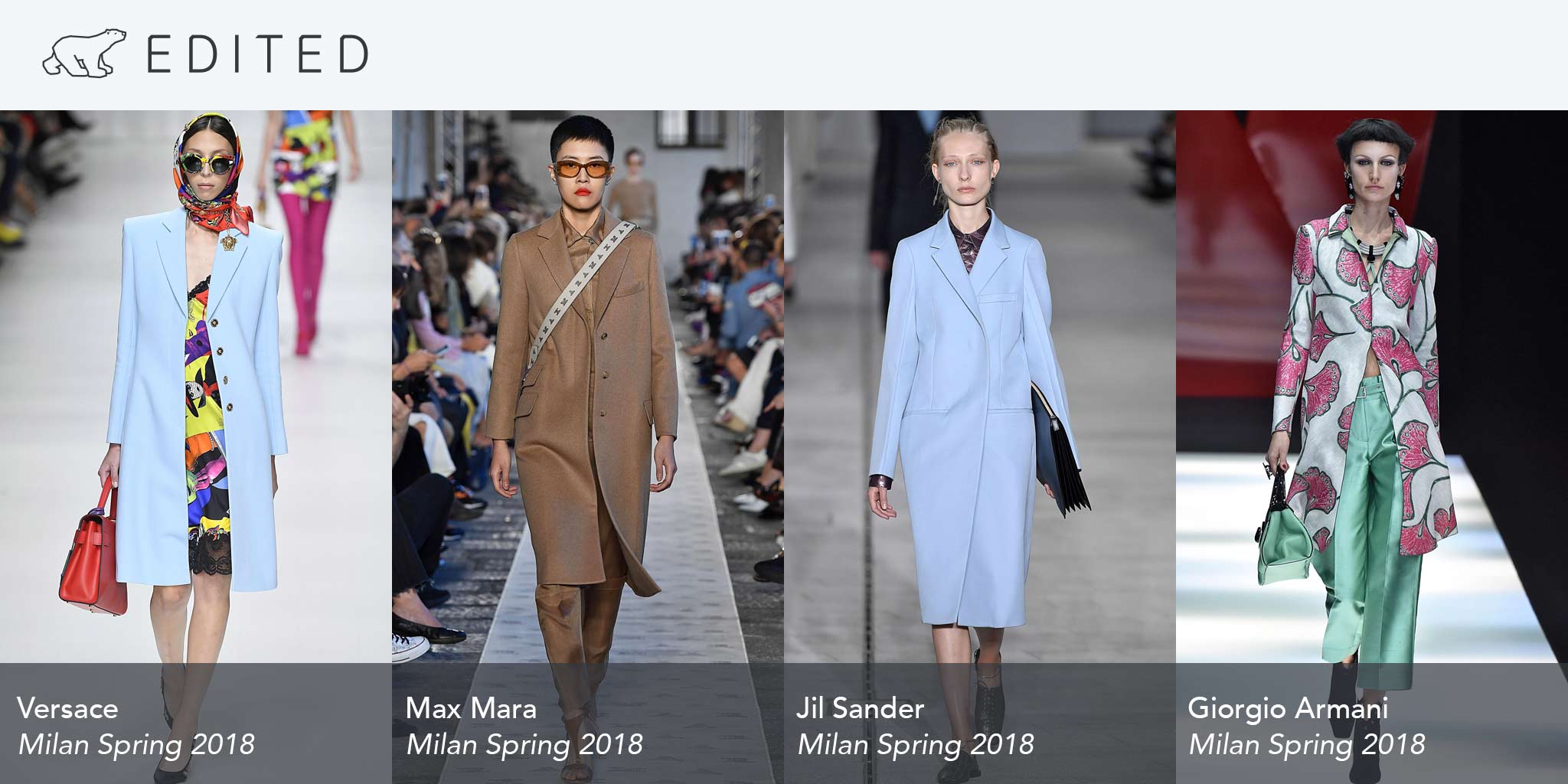 We've also rounded up on the key New York and London Spring 2018 trends, so don't miss those! And if you're an EDITED user, you can login today for full coverage from all of the fashion capitals.
Get set, logomania is returning. Discover that and other #MFW top trends for Spring 2018.