Since the earliest toga, colors have always come in and out of fashion, but never more noticeably than in the sweeping design trends over the last two years.
First there was millennial pink. Then came Gen Z yellow. Why are demographics laying claim to palettes and what's going on with color in apparel? Do not adjust your screens – things are about to get super-bright.
Saturated shades are suddenly everywhere. When did the world get so very technicolor? We've taken a look at retail data, color analysis software, retailer communications and runway trends to understand exactly where Joseph's coat is headed.
Death of the Kinfolk aesthetic
When Kinfolk, the Portland-founded quarterly responsible for 7 million flat whites photographed atop marble counters, launched back in 2011 few could have estimated the enormous cultural impact the tastemakers would have.
Its sleek layouts and still life imagery featuring a very Scandi brand of freelance life were soon being mimicked across the blogosphere (as it was called back then). It was these content creators, slightly ahead of the curve on platforms like Tumblr and later, Instagram, who defined the hip "slow lifestyle" aesthetic of 2012-2016 and propelled that other Scandinavian design influence, hygge.
Cited as one of "20 Independent Magazines that Every Creative Should Have on Their Coffee Table" the co-founder told The New York Times back in 2014 they were "about living with intention, thinking about what you're doing and trying to enjoy the smaller things, like a meal, a conversation, time out with friends". Yikes, how we've moved on from that (I type while scrolling Instagram with my foot).
Not only have we mostly forgotten about slow living, but Kinfolk's understated, quiet visuals weren't diverse or inclusive. They appealed to one, mainly white, consumer set.
Fast forward eight years and right now consumers are more about big, bold beliefs and changing long-held values. Those greyscale flat lays have fallen by the wayside, the marble has been replaced by Memphis design and bespoke terrazzo.
New wave of maximalist design
Post-hipster design has got a whole lot busier. Look to interiors, where eclectic rocks and minerals like malachite, amethyst and lapis lazuli are influencing homewares. (Kinfolk look away! They collect dust like nobody's business.)
Unusual combinations of metal and wood, smoked glass and color-drenched ceramics have all but buried the Nordic simplicity in fashionable homes. And on the food scene, menus have become frame-worthy and the design of restaurant bathrooms can be the main event. It's all for the Insta, baby.
Maximalism has crossed into apparel too. Gucci's more-is-more aesthetic is having a global influence on luxury and mass tastes. And head-to-toe color-blocking is no longer just for the kooky woman on your bus.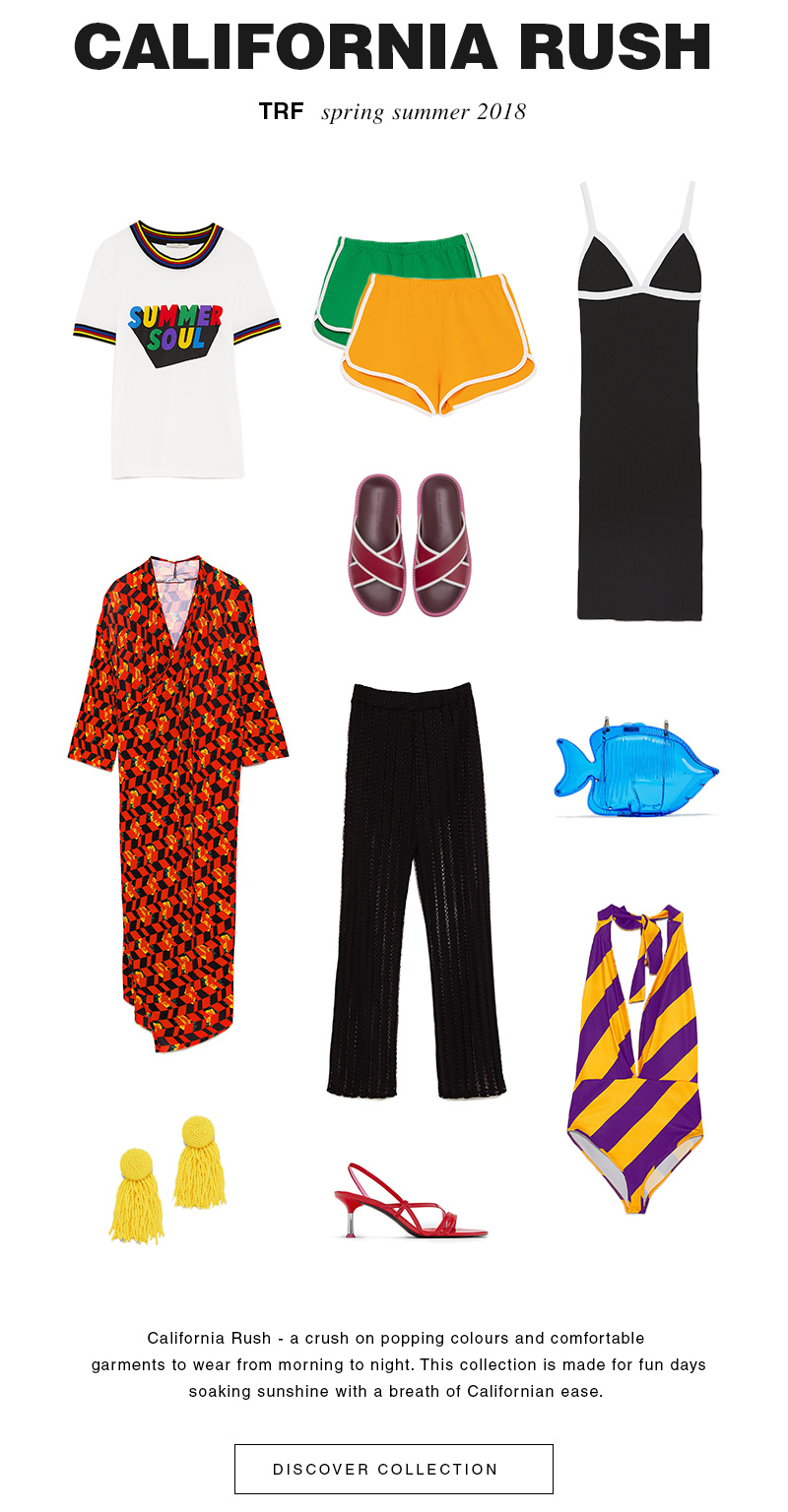 The recent Zara edit is a noticeable contrast from the aesthetics at Zara this time two years ago:
The millennial impact
Color connects so well with the millennial consumer. We don't need to remind you that there's some shady stuff going on in politics globally right now – stuff which has ramped up social anxiety.
Color is a very millennial form of escapism – it signifies defiance in the face of an all too ungraspable world. Color has become a leitmotif for current social reform. The Women's March own pink. Pride is rainbow-striped. Gun control got orange. Being relevant got matcha-green.
Color is millennial peacocking – it's the fastest way to stand out on an endlessly-updating feed. And when there's no predominant apparel trend – no must-have pant shape or dress length – color is a unifying force in fashion.
Designing for Instagram
Brands have got wise to it. New collections and accompanying campaigns are designed with Instagram in mind. Right now stripes and polka dots are far hotter than ditsy florals.
In the last three months, there has been a 74% increase in retailer newsletter mentions of "color/colour crush" from a year ago. Looking through EDITED's Visual Merchandising software shows just how dramatically brands have shifted up their styling to grab consumer attention.
Growth of color in retail
Pantone really wanted lilac to be a huge trend – and it does feel like it's everywhere – but this is where data comes in real handy: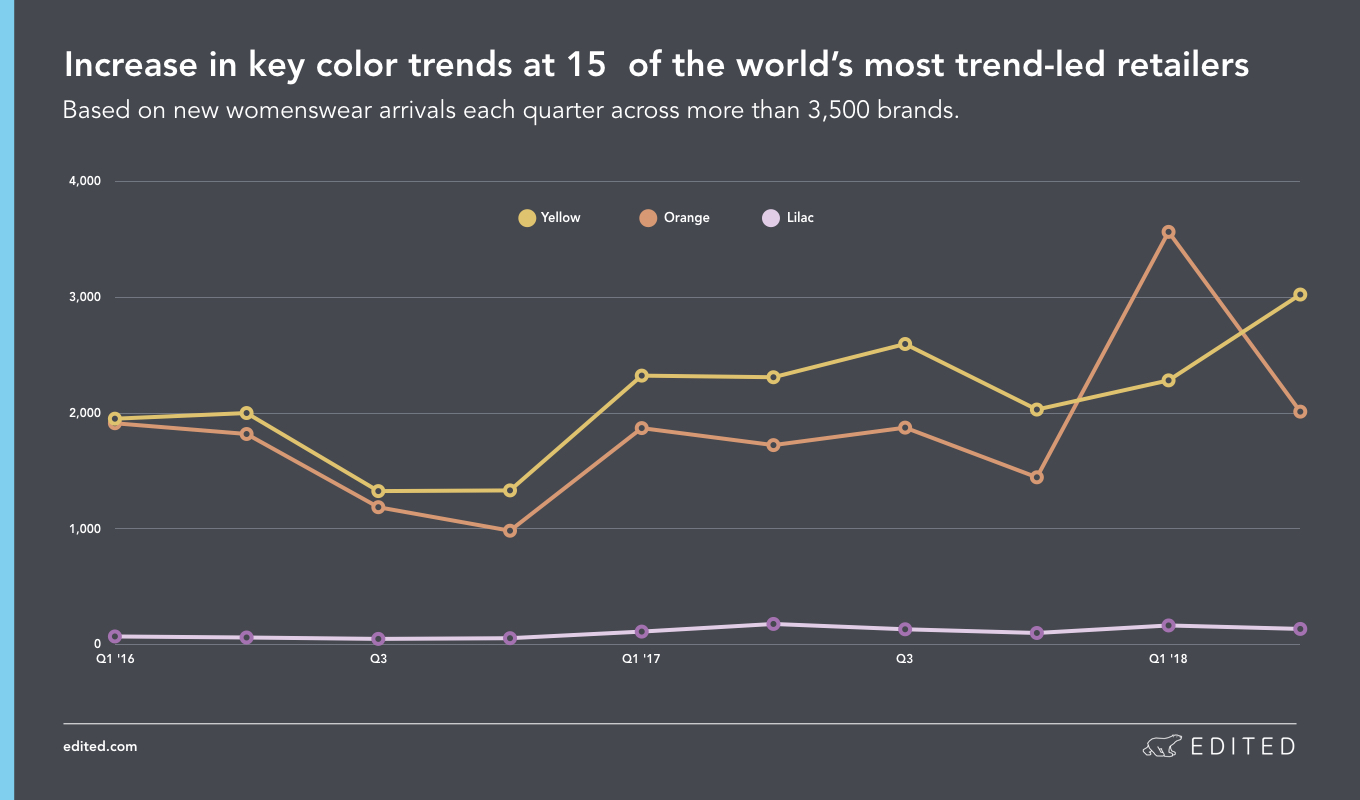 Lilac has barely altered in retail for womenswear. In fact for the Spring/Summer 2018 (we analyzed data from Feb 1 – June 6), new arrivals at trend-led retailers were down 1.2% and the shade's presence in retail's best performing products didn't change from 2017.
Meanwhile, yellow broke out of its seasonal pattern in Q3 of 2017 and is still climbing. Spring/Summer new arrivals are up by 65% on last year and it has doubled its presence among retail's best-selling products in womenswear this season.
Orange is up 48%, green is up 32% and even pink has climbed a further 20%.
EDITED Top Tip: If you have EDITED access (log in here), use our color analysis tool to drill down into a specific category. Remove black, whites and greys and you can clearly see how color trends track over time.
We've looked at the changes to denim palettes over the last two years at trend-led millennial retailers, removing the classic blues, blacks and whites.
There has been a 22.5% increase in colored denim arriving, but below you can see exactly where those shades change away from murky military palettes and shift into the current oranges, yellows, strong reds and brighter greens.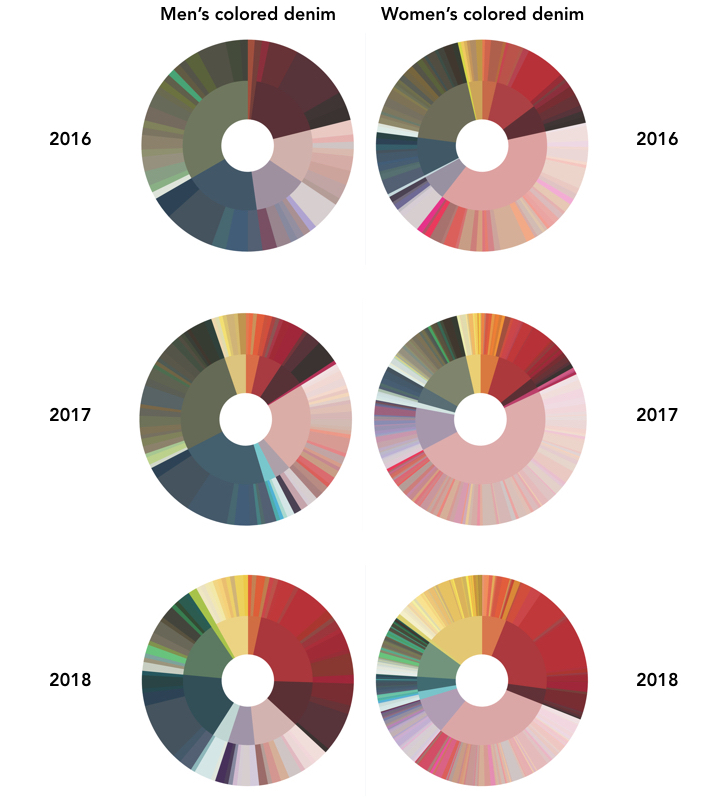 Which categories are most colourful?
When you're looking into category-specific color, it's worth noting that some categories are more prone to color trends than others. Swim, dresses and accessories have a smaller focus on neutral (including greys and black) tones and put emphasis on other shades.
Suiting meanwhile has 52% emphasis on neutral shades (and it would be more were it not for the current blazer trend!).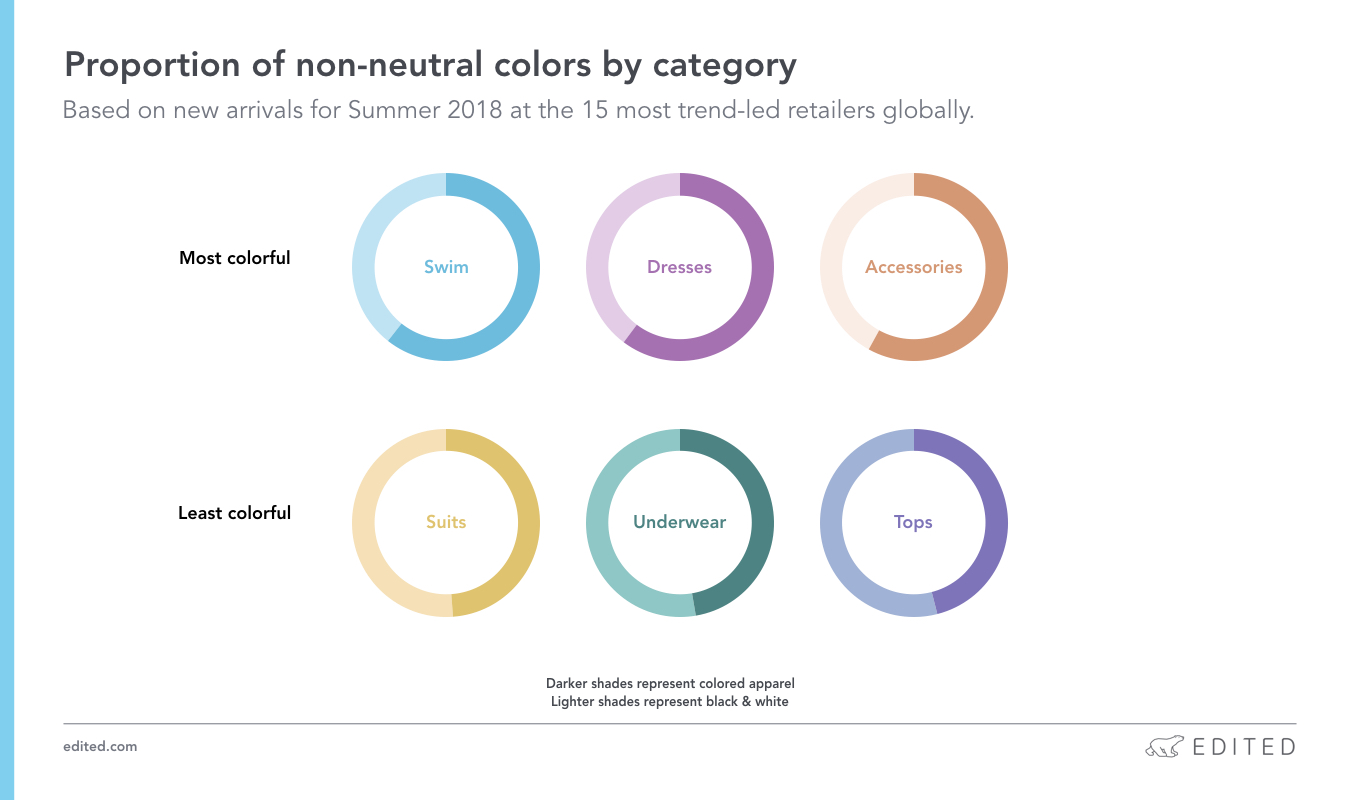 Spring/Summer Bestsellers
Here are some of the strong saturated colors that arrived in the last three months and have already sold out at full price. Black shrunk its presence in top performers by 2% in men's and womenswear from Spring/Summer 2017. In menswear, blues and navies fell by a dramatic 3.6% (when that 3.6% refers to 5,000+ products with an average price of $150) and women's blues were down 2%.
Womenswear:
What's especially interesting is how the same striking tones are working well across mass and luxury markets, in men's and womenswear.
Menswear:
What next for color?
EDITED Top Tip: We've made all our reports, across Retail and Runway more searchable than ever before! Type 'color' into Runway Reports to see exactly how designers weighted runway shades for any season.
Here's how Fall 2018 is looking. Better go deeper on those greens, purples and wine palettes!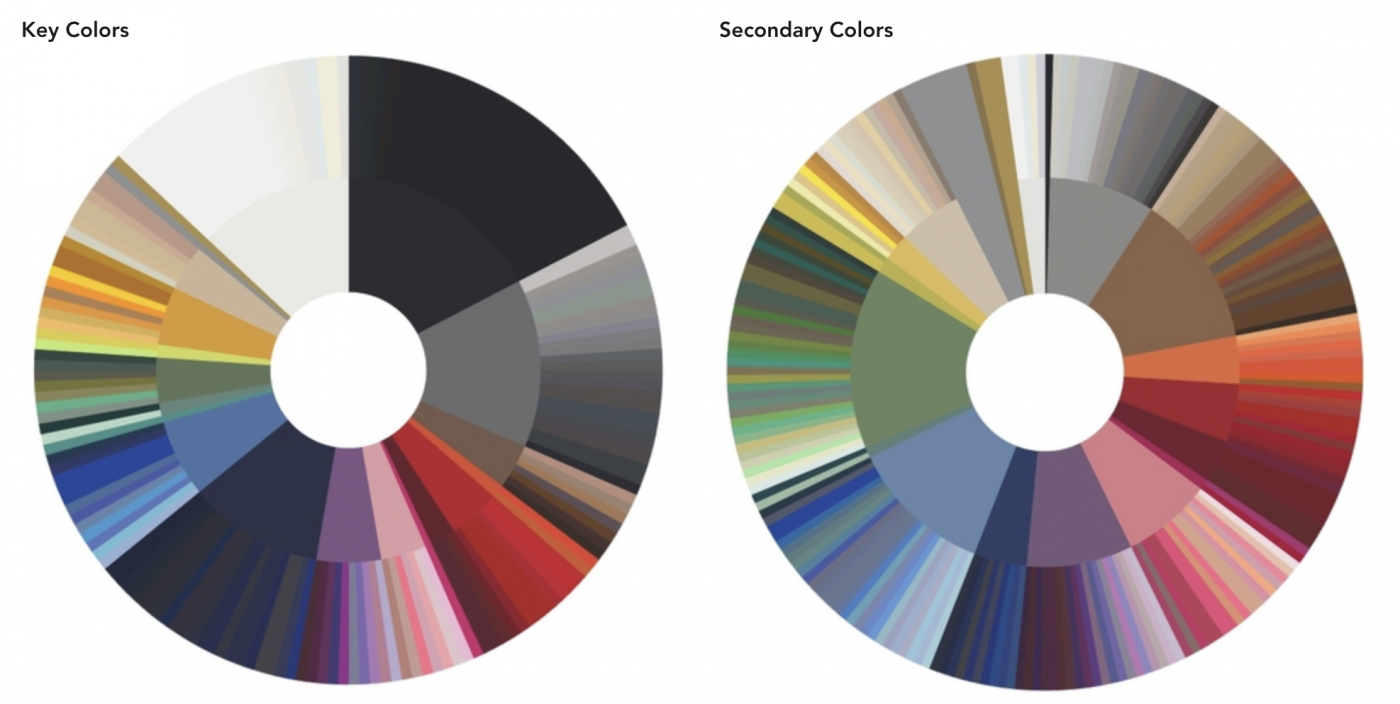 If you're in New York between now and January 2019 and love color, check out Saturated: The Allure and Science of Color at the Cooper Hewitt Smithsonian Design Museum.