With the planet now on gentle simmer, there's no question that every industry is starting to consider sustainability as more than just a term futurists roll out. And the apparel industry, which creates 53 million tonnes of landfill waste a year (73% of clothing ends its life in the dump), is one of the world's biggest polluters.
Of course, landfill isn't the only sin this industry and its consumers commit, there's also usage of non-renewable energy, water consumption, toxic waste, polluting microfibres and carbon emissions on the black list.
Given that the global population will have lifted 16% by 2030, there will be hordes more earthlings who will need dressing, and a growing middle class who will have more dollars with which to buy stuff. This sustainability thing isn't going to go away.
So what are apparel retailers doing about the murky record? This week, we've checked in on sustainable practices.
Sustainability progress
While 'eco' fashion has been bandied around all decade, it's starting to feel like the wheels are turning on a more meaningful sustainability. The Global Fashion Agenda believes that 75% of fashion companies improved their sustainability score in 2017.
Earlier this month, the GFA held its annual Copenhagen Fashion Summit – the world's largest sustainability conference. It counts 93 global companies, representing 207 brands, as committing to its goal. Those companies account for 12% of global fashion.
Along with pledges to circular systems, there's been a huge movement away from fashion houses using fur, with notable abstainers including Gucci, Versace and Michael Kors.
Proof in numbers
We're seeing that change reflected in the data. This chart shows how many products identifying with key sustainability keywords were in stock in the first quarter of 2016 compared to 2018.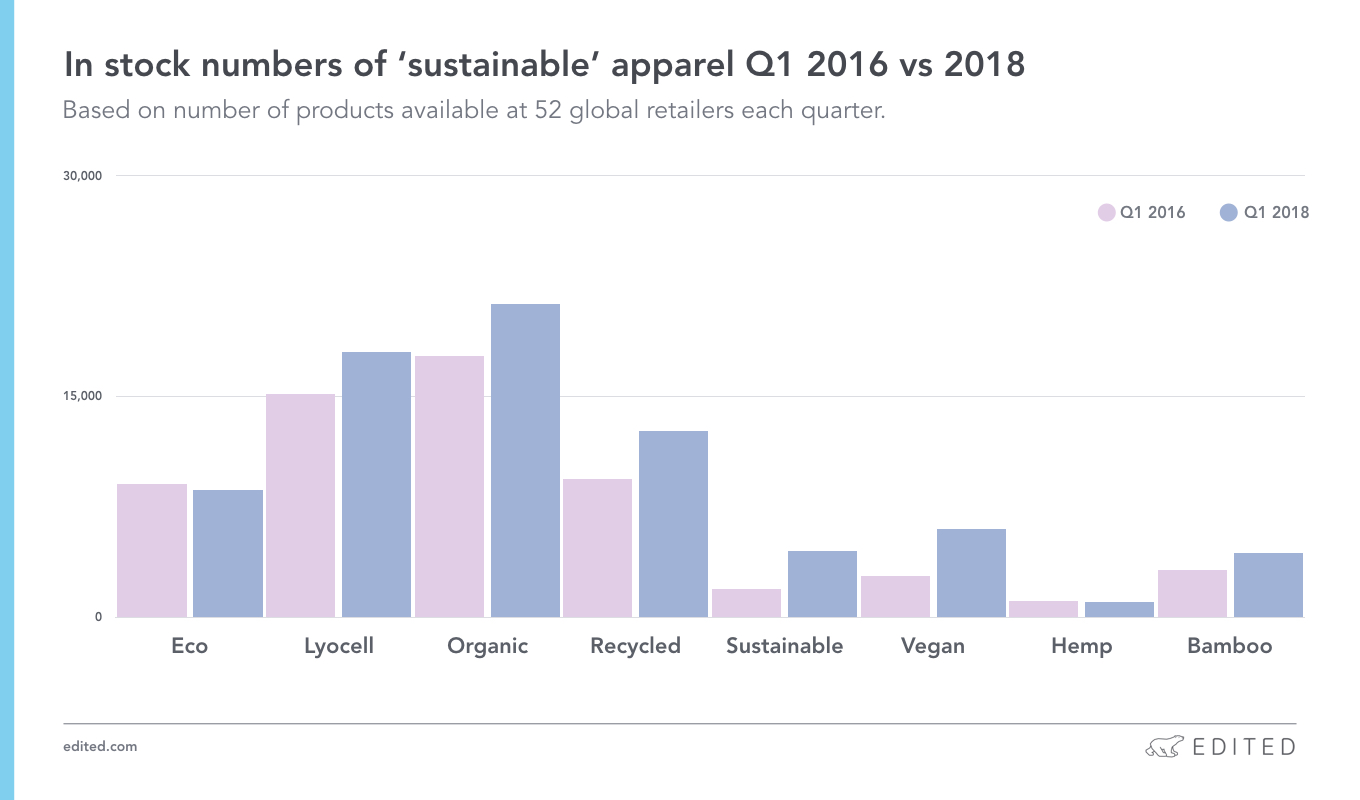 Self-described 'sustainable' products have grown by 139%, vegan products grew 116%, bamboo is up 36% and recycled up 35%.
Meanwhile, 'eco' and hemp have fallen, by 4.4% and 7% respectively. They're synonymous with first wave sustainable fashion – perhaps they sound too 'alternative' for the mainstream, where a more technical take on sustainability is deemed most palatable?
Sustainable apparel is up 139% in two years and vegan products are up 116%. Meanwhile, 'eco' and 'bamboo' have fallen.
Top EDITED tip: Log in here to read our fast fashion sustainability report. In it you will see nuances in the way the US and the UK have adopted certain aspects of sustainability.
It's also interesting to note the growth in use of 'non-toxic' dyes – up 302% in two years, yet with stock levels below 1,500 products, too low to rank on this chart.
Regardless, the sum total of these properties accounts for just 1.3% of the global market. Transparency is increasing, just not fast enough.
Consumer leading retail or vice versa?
So who will lead who? Are retailers going to wait it out until consumers knock HQ doors down to demand sustainability? Research suggests that's not going to happen.
Earlier this year, LIM College consumer insight research showed that millennials don't rank sustainability high in their purchasing considerations.
In fact, they place far more emphasis on ease of purchase, uniqueness of product, price and value and brand names than they do on sustainable properties. That's despite a huge rise in health and wellness pursuits and searches for plant-based diets up 190%.
Now or never…
We're at a crucial lifestyle tipping point where consumers are gathering information and forming new values that will shape their future behaviors.
It's the industry's responsibility to fuel that, rather than wait for consumers tip. When they do, any laggers left outside will feel a harsh backlash. So it's up to brands and retailers to educate consumers on why sustainability matters in apparel. But it has to do that while still delivering on product and price.
Fast fashion & sustainability
Fast fashion, driven on speedily-changing trends at low prices, isn't especially compatible with sustainability. But this sector, more than any, has a role to play. Two of the world's largest retailers are giving it a go.
Zara's Join Life and H&M's Conscious Collections are great examples of fast fashion testing the market. Both lines sell faster, receive less discounting and have a higher rate of replenishment than the retailers' main lines.
H&M Conscious accounts for 5.4% of the retailer's offering, with a 70% emphasis on kidswear. At Zara, Join Life represents 3.6% of the entire offering, with a 41% emphasis on kidswear.
H&M's Conscious Collection is less colorful that its main line – one way of ensuring product won't date so fast.
Evidence of the mass market's increasing move into the area can be seen in the declining average price on adult's jeans. Until the market fully matures, we expect to see pricing inconsistencies as retailers trial and price test new lines.
Top EDITED tip: If you have EDITED access, check out the price architecture on sustainable denim within your own market using keywords like "organic", "sustainable" and "lyocell".
Childrenswear and sustainability
Both Zara and H&M investing heavily in sustainable childrenswear is no coincidence. Babies have highly sensitive skin, with a higher volume of skin surface area to body volume. Babies skin is 30% thinner than adults, so it's more vulnerable to absorbing harmful additives.
Early exposure to the dangerous ethers in synthetic fibers has even been linked to hormonal disruption and behavioural disorders. As millennial parents get increasingly clued up on this, the market will boom.
What you can do
There's enormous amount of hard work to be done by this industry. But when you look at the opportunity facing the industry, there are so many positives in being one of the leaders.
Just take a look at this assortment chart.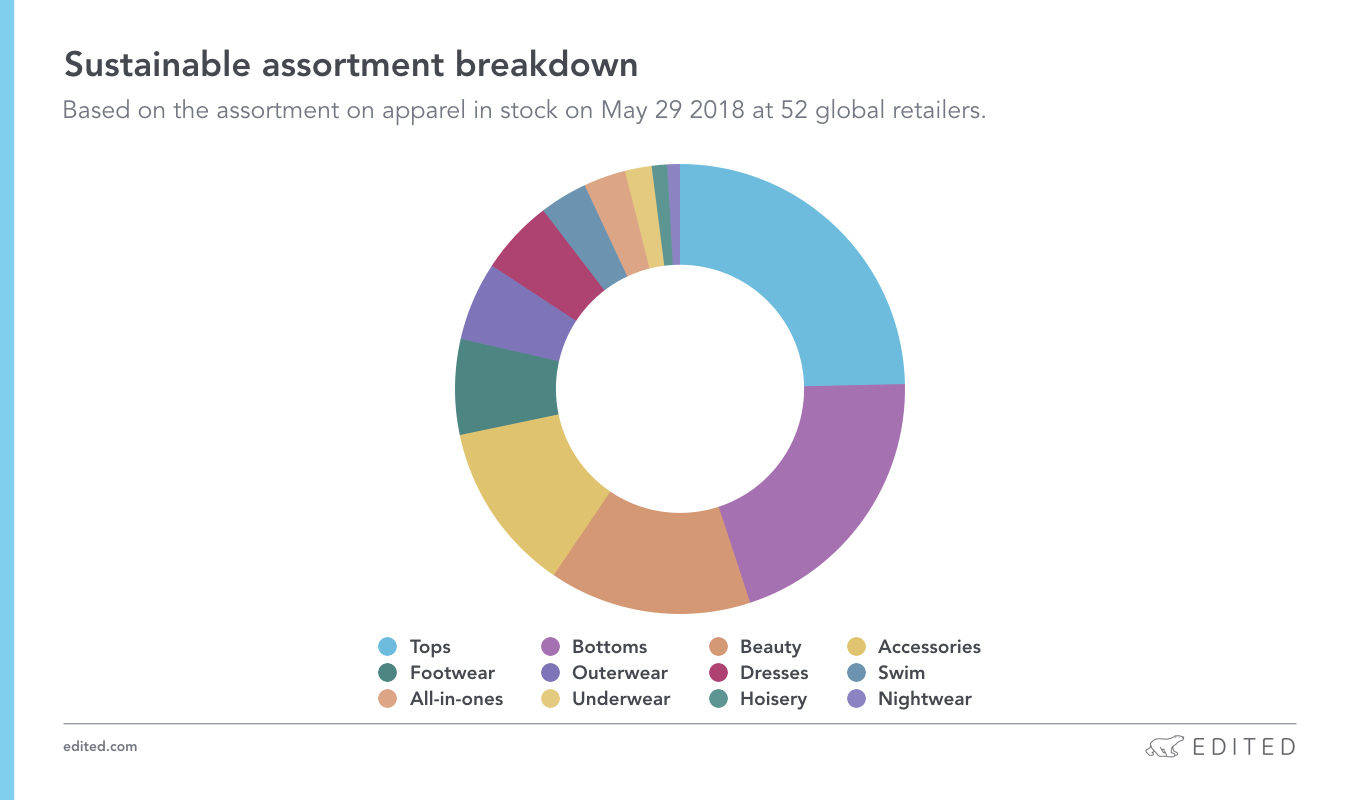 Swimwear and nightwear are still hugely underrepresented in sustainable apparel, which is an oversight given how close we wear these items to our bodies, and for sleep specifically, how much time we spend in them.
It's a space that's open for the taking. Get to it!
Want to know who are the sustainability leaders? We've covered that in article two.