There's something almost spiritual about a pair of fresh shoes. A feeling that a new pair of jeans or a new sweater just can't touch. And in retail, that's an amazing power to have.
On the brink of a new season, and the start of a new school year in the Northern Hemisphere, shoes are at the forefront of everyone's mind. So let's look at what's happening in footwear right now, and see what the data has to say about some upcoming trends.
What's the Right Size?
Footwear accounts for about a seventh of the online fashion market globally. However, unlike tops, bottoms and accessories which are universally agreed-upon focal categories, footwear's emphasis differs dramatically retailer to retailer.
There are some brands and retailers who don't touch footwear full stop: Lululemon, For Love and Lemons, Brandy Melville. Others have small offerings, like Banana Republic where shoes make up 4% of the offering, or Forever 21 with just 2% of its offering.
As you'd expect, department stores dedicate higher percentages to footwear, but even among them there's quite a wide range. Macy's has a 6.5% focus on the category and John Lewis has 8%, while on the other end of the spectrum Barneys and Lord & Taylor both have a 13% focus. Nordstrom has a 16% focus.
E-commerce retailers are similarly invested in the category, with shoes representing 14% of the Farfetch offering, 12% of Net-a-Porter and 9% of ASOS. U.K. fast fashion retailer New Look sits even higher, with footwear accounting for 17% of its offering.
Aside from pure play footwear retailers, it's retailers Zalando (22%) and Zappos (35%) who lead the field with the weighting they give to shoes.
Sneaker Freaks
Athleisure is a friend of the footwear category, a large, influential friend. And now that sneakers have transitioned into a daily dress staple around the globe, they account for 25% of shoes currently online – 15% of women's footwear specifically. At ASOS, Farfetch, Zalando and Zappos sneakers make up a third of the shoe offering. At Macy's and Office, they're about half of all footwear styles.
Sneakers represent a quarter of all footwear online right now.
Nike is the most-stocked footwear brand worldwide, followed by Puma. In the U.S., the top seven most stocked footwear brands are all athletic labels, including Adidas, New Balance, Asics, Under Armour and Skechers.
The current hottest sneaker styles? It's all about Adidas and Puma, with Adidas's Pure Boost, Ultra Boost and Tubular Primeknit and Puma's gold toe-capped suede platforms selling out fast.
Who's Big in the Shoe Game?
Topshop, New Look and H&M all have low levels of discounting and good sell through and replenishment rates on their footwear offerings. Topshop has just 13% of its footwear currently discounted and 17% of its styles have been restocked.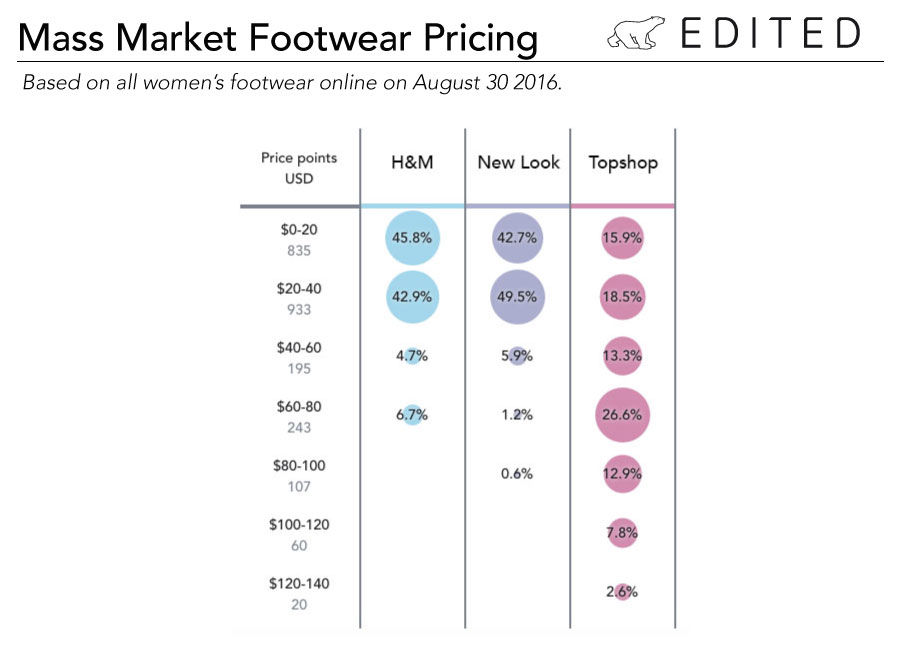 Although all three are trend-led mass market retailers, their price strategy is starkly different. H&M focuses under $20, New Look focuses $20-40 and Topshop focuses on $60-80. That suggests there's an underserved $40-60 price point opportunity for the trend-led mass market. So, if you wanted to fill that, which trends should you stock?
Fall's Footwear Trends
Velvet – more than 3,000 pairs of velvet shoes have arrived online in the past month. That's an 81% increase from the same time a year ago. Black, brown and maroon are the most-stocked shades and Gianvito Rossi the most-stocked brand. Nearly half the styles stocked are in the premium and luxury markets.
Contrast heeled boots – wooden, metallic or printed heel details are arriving into stores for Fall. The trend is led by Marni and now ASOS, Mango and Next have their own takes on the look. New Look's $88 suede boot with marble effect heel is a bestseller.
Thigh high – it might take a while to warm the mass market up to thigh high boots, but this trend is being driven by the runway. Balmain, Moschino and Opening Ceremony all had high, high boots in their Fall 2016 collections and Vetements even created a hybrid pair of boot-tights. In the last month, new arrivals climbed 66% from a year ago. Aquazzura's electric blue velvet will be the stand out thigh-high of the season.
Metallics – shiny shoes in silver, gold and copper have been selling well for a more than a year, but this trend shows no sign of slowing commercially. In the last month sell outs include Puma's 'Rose Gold Basket Sneakers', rose gold Geox sandals, gold strappy heels from Missguided and Nike Air Max trimmed in gold.
Flatforms – be it crepe-soled sneakers, high-shine brogues, patent Chelsea boots or slip-on plimsolls, the flatform is big news for Fall. New arrivals in the last month are up by 105% compared to this time last year. With an average price of $46, the mass market will win big with this trend.
EDITED users, log in now to read our Visual Merchandising Footwear special.