In our recent EDITIONS speaker series, we took to the stage in New York. There, we discussed diverse retail environments and global shifts in trends with some of the industry's best and brightest.
The event kicked off by looking at what's happening socially and politically across four key markets – the UK, US, India, and China. Our speakers then jumped into how fashion and retail are affected during these uncertain times.
We analyzed the variances in disposable income, how consumers are spending in each region, as well as the differences in brands, products, and pricing across markets. This revealed interesting patterns in consumer spending behavior.
Couldn't make the event? Fear not, here are the key takeaways!
What social, political and economic factors are impacting your market?
Fashion trends may vary across regions, but one constant is the uncertainty surrounding the future of the industry. In the UK, the biggest factor contributing to this is Brexit. It's predicted that fashion and retail will be one of the industries affected the most, with the UK fashion industry employing over 10,000 EU citizens.
63% of clothing designers and 55% of luxury goods makers in the UK rely on exporting goods to the EU

This uncertainty has created erratic price shifts of apparel and footwear in the UK mass market. The graph below tracks the average full price of men's and women's new products MoM plotted against key milestones in Brexit developments.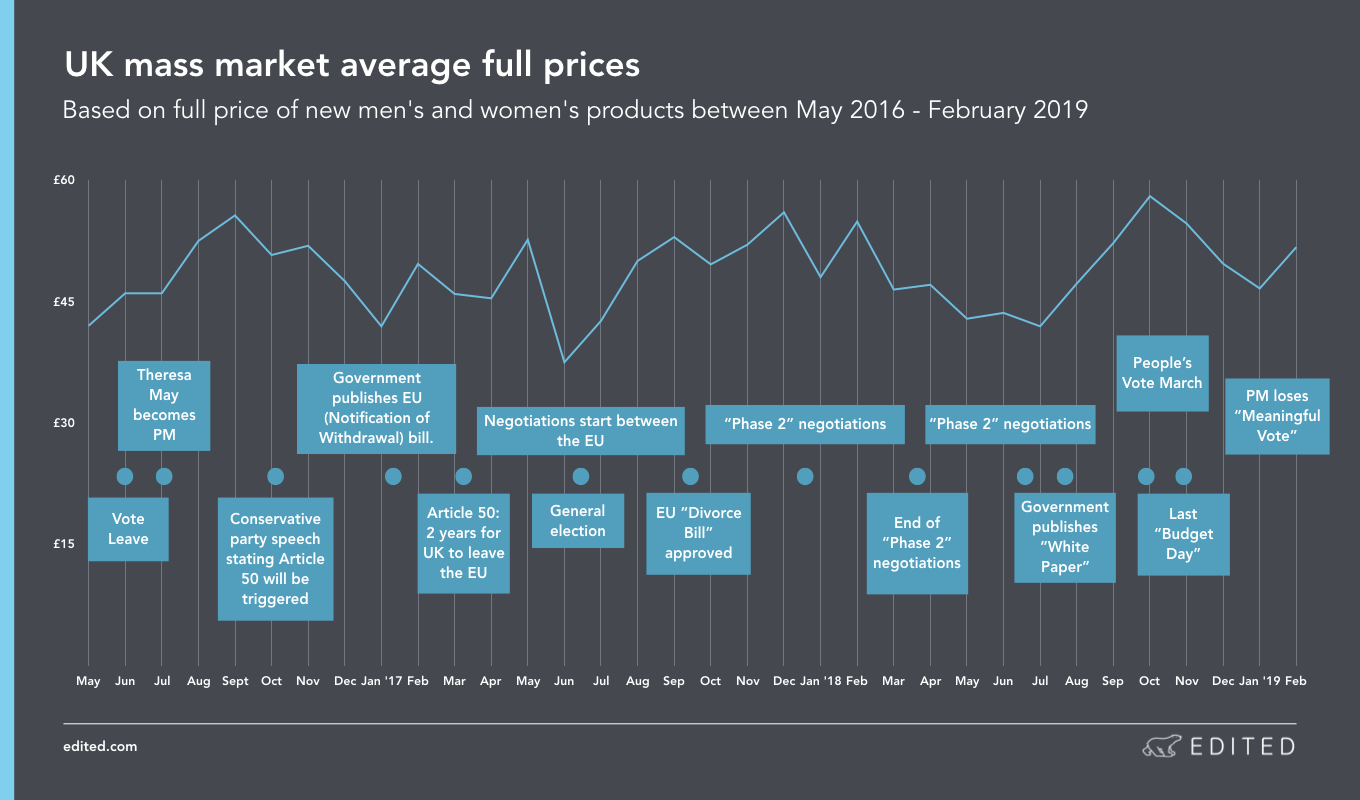 Average prices hit the lowest point one year after the "leave" vote in June 2017, when negotiations with the EU began. Prices peaked around October/November 2018. This coincided with the People's march and the UK's last budget day as part of the European Union. Average full prices are currently trending upwards in the lead up to the end of March. This suggests retailers are pushing to capitalize on sales in case the uncertainty surrounding Brexit causes consumers to be more frugal with their spending.
Want to see how Brexit is impacting fashion? Log in to EDITED to see our full Brexit analysis report.

Research pricing across markets and consumer spending habits
It's important to understand how brands are pricing, and consumers, are spending within global markets.
The total average price for an outfit on the mass market (shopping basket analysis of a blouse, trousers, ankle boots, handbag and underwear) is $487 in the US, $474 in the UK, $373 in China and $148 in India.
When we overlay Numbeo's cost of living index, we can see that in India, the living costs and cost of apparel are much lower than the other regions.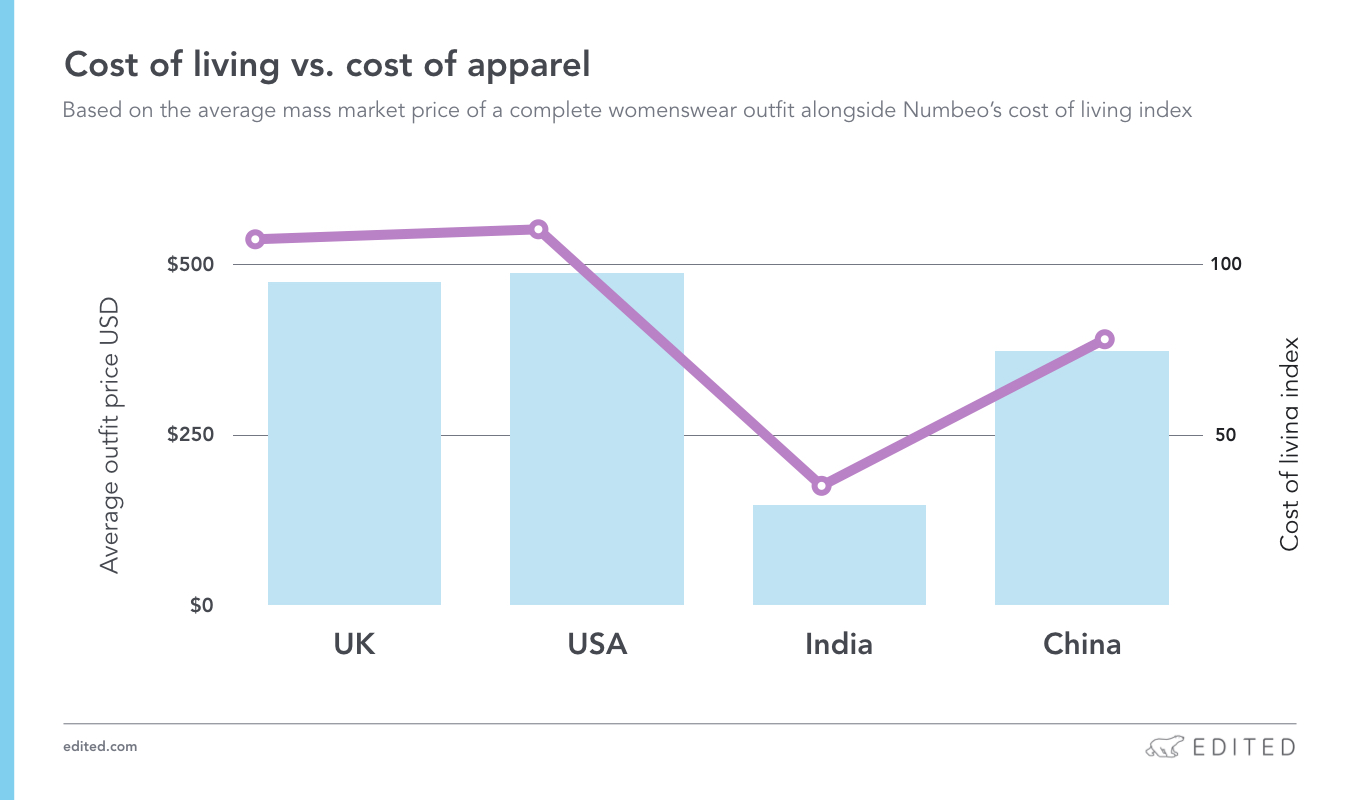 According to the L ivemint, "middle class" in India refers to anyone who lives on $4-6 per day, which prices much of the country out of global brands like Zara or Nike. This means the ultra-wealthy can only shop these brands.
Evidence of this is reflected in the local prices for these brands. Nike's Epic React Flyknit sneaker comes in cheapest in the US. Compared to other regions, this product is priced nearly 30% higher in China and 21% higher in India.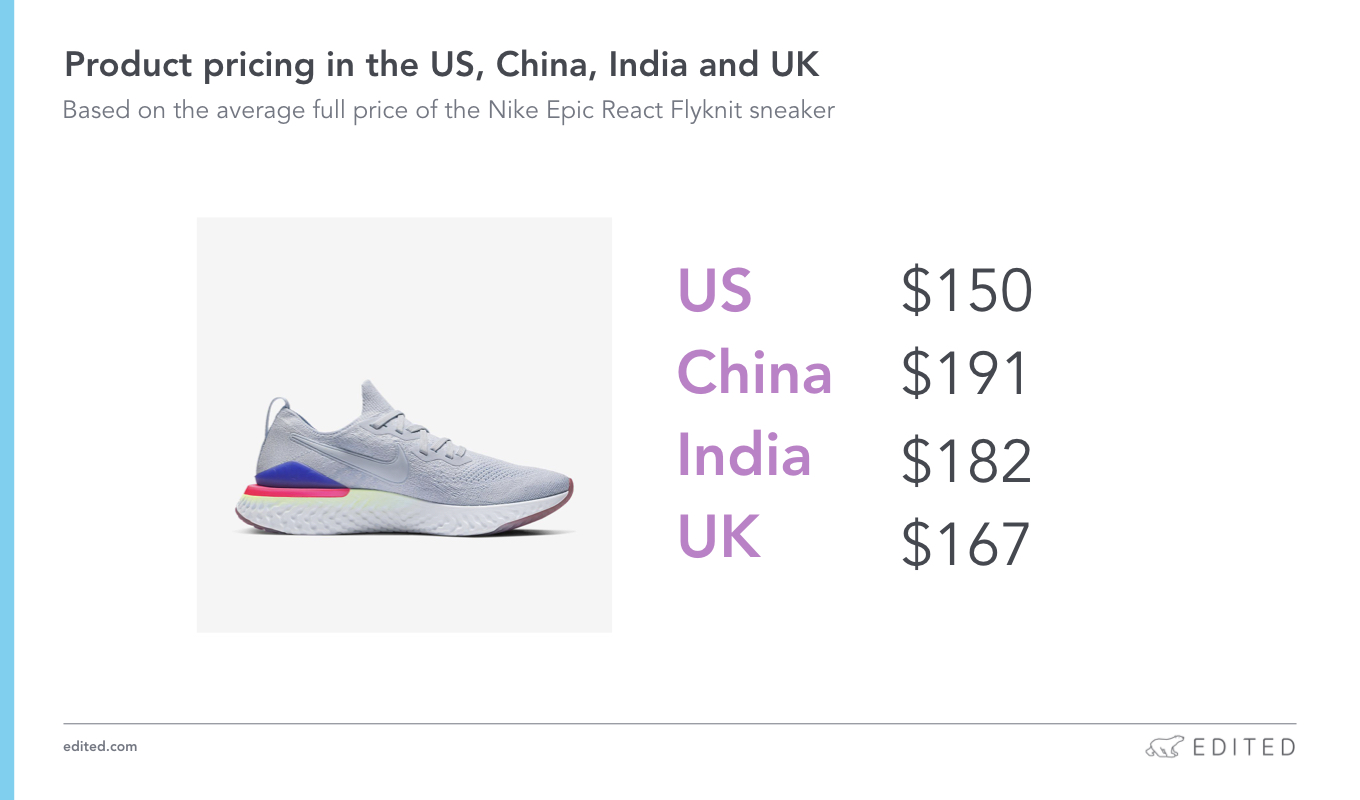 Activewear brands are starting to turn their attention to the Indian market which is experiencing growth as customers are willing to pay a premium for these performance brands.
How do fashion trends shift globally?

These were the key color palettes from the Fall 2018 shows. Our image recognition software shows how color is translated across the US, UK, China, and India in mass market retail.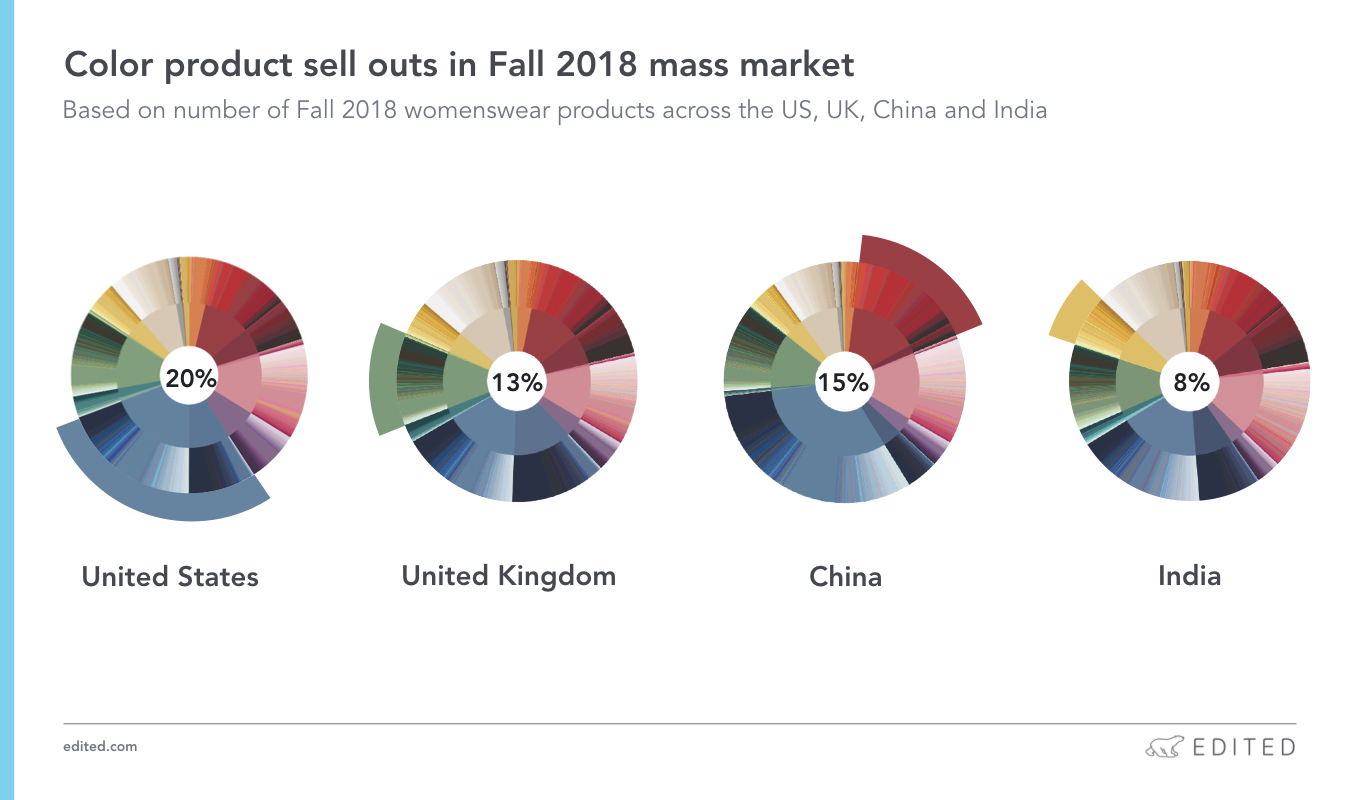 While these might look similar, if we dive into the color families, we can identify how successful a particular shade was for Fall 2018 in each region.
In China, red is lucky. In Fall 2018 retail, red apparel made up 15% of sell outs while across other regions, red was between 10-11% of all sell outs.
While a more vibrant yellow appeared on the runway, this translated into mustard and gold hues in the Indian market. Yellow saw particular success in India for Fall 2018 retail, making up 8% of product sell outs compared to less than 5% of sell outs in other regions.
So, what about prints? Animal prints were arguably the biggest print trend for Fall 2018 and it saw global commercial success… Or did it?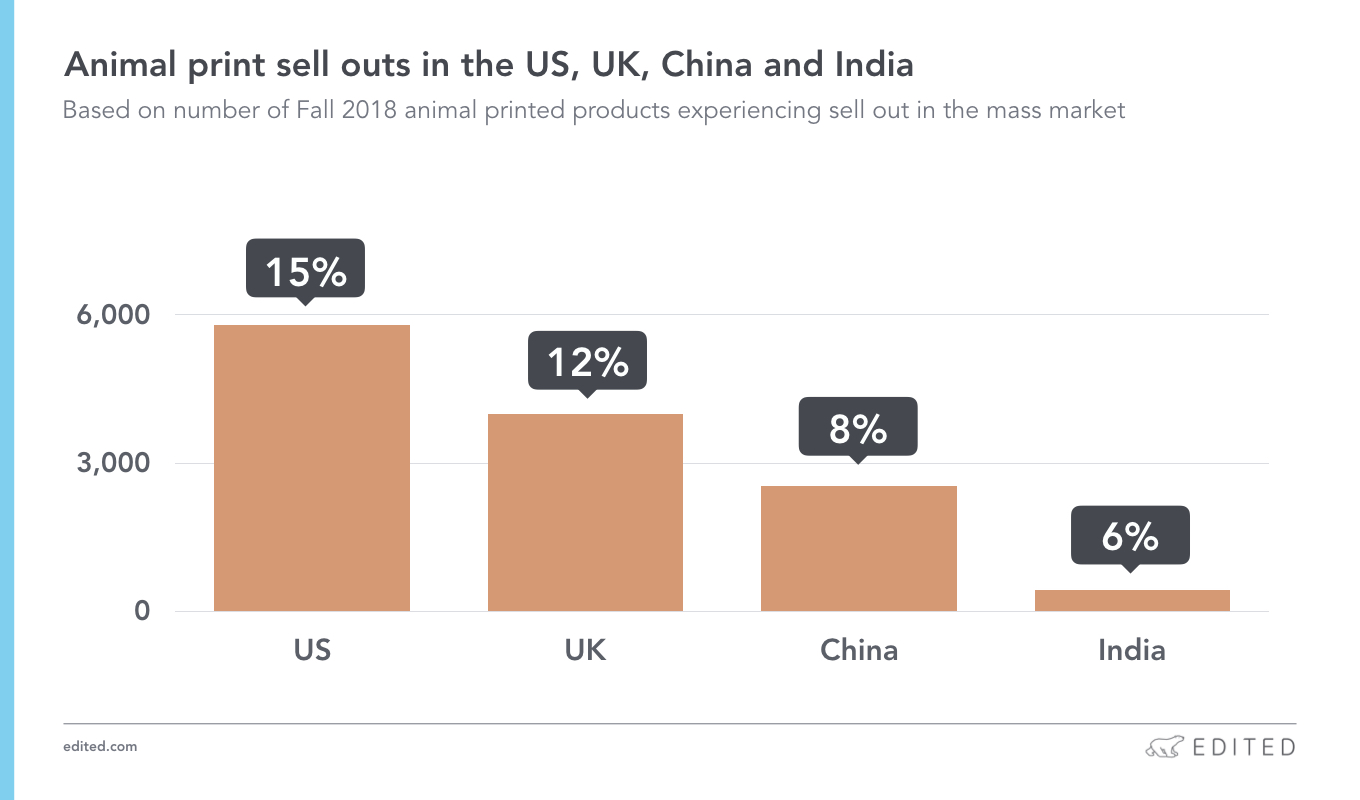 Animal prints made up majority of product sell outs for Fall 2018 printed products in the US mass market and in the UK. This translated to 8% of sell outs in China and 6% in the US. However, graphic prints outperformed animal and made up 26% of sell outs in China. Streetwear style in both local and international brands is still huge with logomania, motifs and branding still reigning supreme. In India, florals were dominant making up 18% of sell outs, outperforming contemporary animal prints.
While there is a lot of uncertainty in the global fashion industry, data can provide a compass to navigate these uncharted territories, helping you move opportunities into reality.
If you'd like to join us at the next EDITIONS, subscribe to our Insider Briefing newsletter and we'll keep you posted on future EDITED events.