Speaking to moderator Gabrielle Hase in a one-on-one interview at Wednesday's EDITIONS at the Hoxton Shoreditch, Buss, a Senior Menswear Designer at PS by Paul Smith, kicked off the evening opening up about her beginnings in menswear design, what 18 years of working alongside Paul Smith have meant to her, and balancing the commercial business with the creative process.
"It's making sure we have the right fabrics with the right design at the right price," she said. "It's getting what we call the 'curve' – making sure you've got your fabric price and your garment price right and that you're hitting the right places in the market."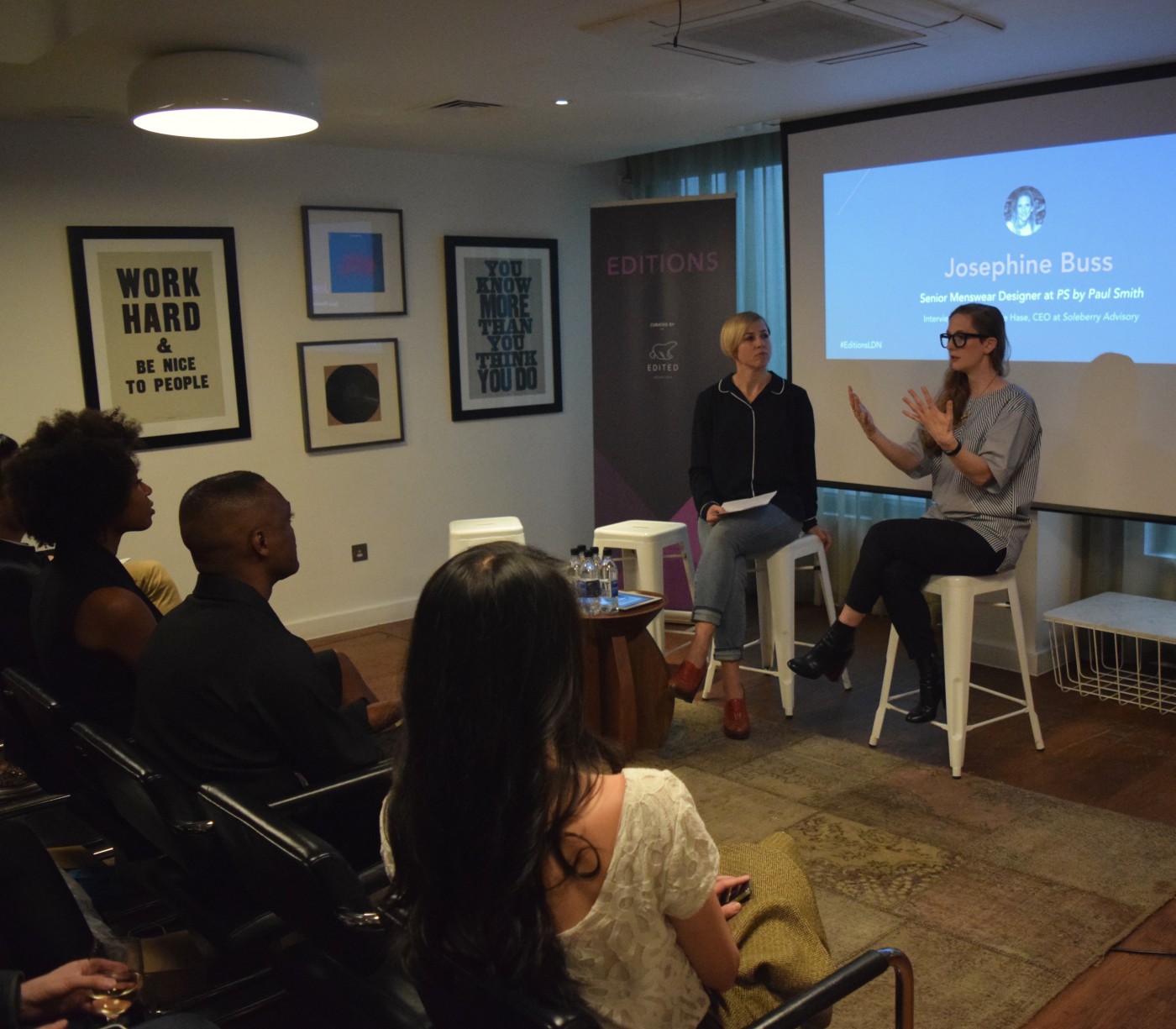 "You need your commercial garments, your wonder garments and something in-between. So it's making sure you've got the balance."
---
But before all of that, it starts with good research.
"I think when you design, whether you're designing a garment or a chair, research is key. If you do your research and you have passion, then you will get to the end design you want to get to," she said. Adding later that, "The thing about menswear is you need authenticity. You can't just make it up. Otherwise it looks fake; it doesn't work."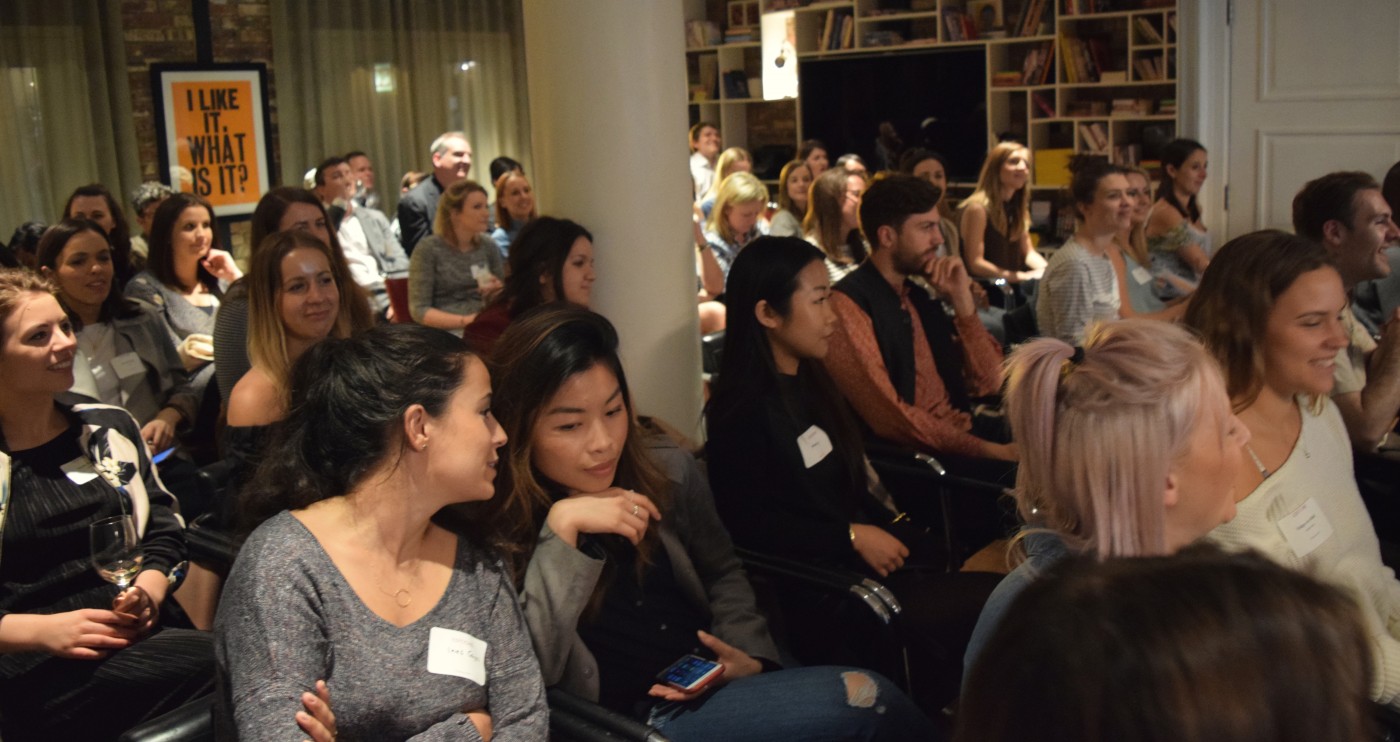 The idea of authenticity drifted through the evening's final act as well, a panel discussion about the evolution of menswear and wedding wear for grooms. Panelists Sammy Aki (founder of The Groom Style Consultant), Abhishek Advani (founder and Creative Director of luxury menswear label Advani) and Alexis Temomanin, (founder and Creative Director of Dent de Man), each extensively credentialed in luxury menswear and groomswear alike, wove the conversation from the technical to the emotive, often touching on menswear's ability to transcend fashion.
"I believe in identity, but also in sharing emotions — and even sharing things I've been through. It's using fashion not to make a statement, but share a culture," said Temomanin, whose luxury London-via-Ivory Coast label blends bright, evocative Indonesian fabrics with traditional mens suiting. "There are so many things in [my prints] that attract my soul more than anything else."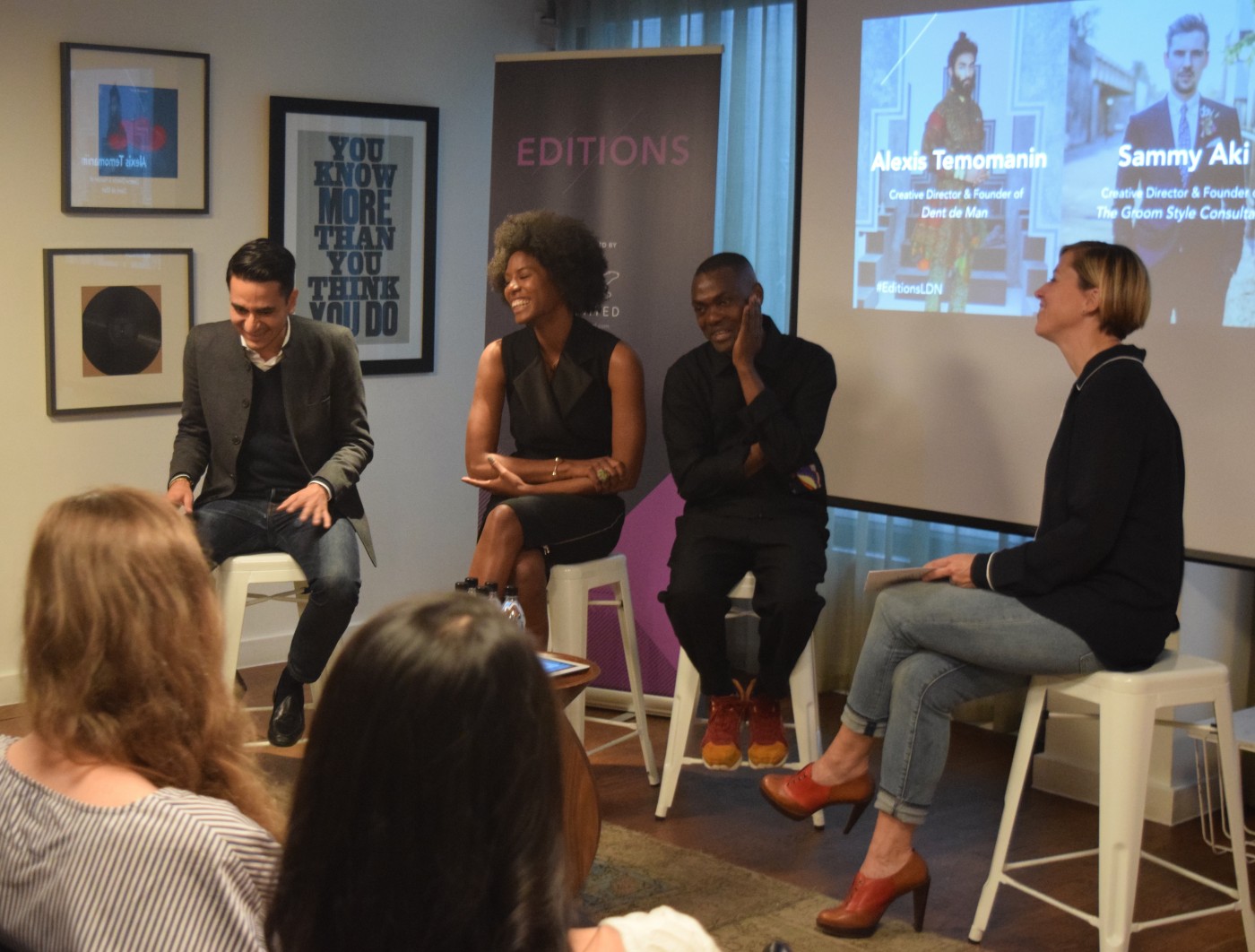 Aki, who founded her company after a move from menswear to women's bridal left her with the realization that, "there was nothing out there for the groom at all," said today's groom deserves just as much attention as the bride. To give him what Temomanin called, "a place in the picture."
"I thought, 'Okay, the groom needs to look good too. Why isn't anyone helping him look good?'" she said. "When you get married, your culture and your heritage come together. It's a time when you're with your family and you want to say, 'This is what I look like and this is what I've chosen to wear.' I wanted to find brands for these grooms and individuals that reflected this, because you can't necessarily find it if you're walking into House of Fraser."
Expression through bespoke or heritage pieces resonated with Advani, whose own creations draw on the spirit of his grandfather's co-inspired British and Indian wardrobe.
"I'm Indian and, as you know, weddings are a huge, huge part of our culture. So you can't really ignore the groom, even if you tried," he said. "Menswear and formal wear in particular is going in the direction of being about the individual, rather than being utilitarian as it once was. Grooms are looking to be more individual, and designers who work on formalwear are looking to create more individual pieces. So it's a more natural alignment in a way."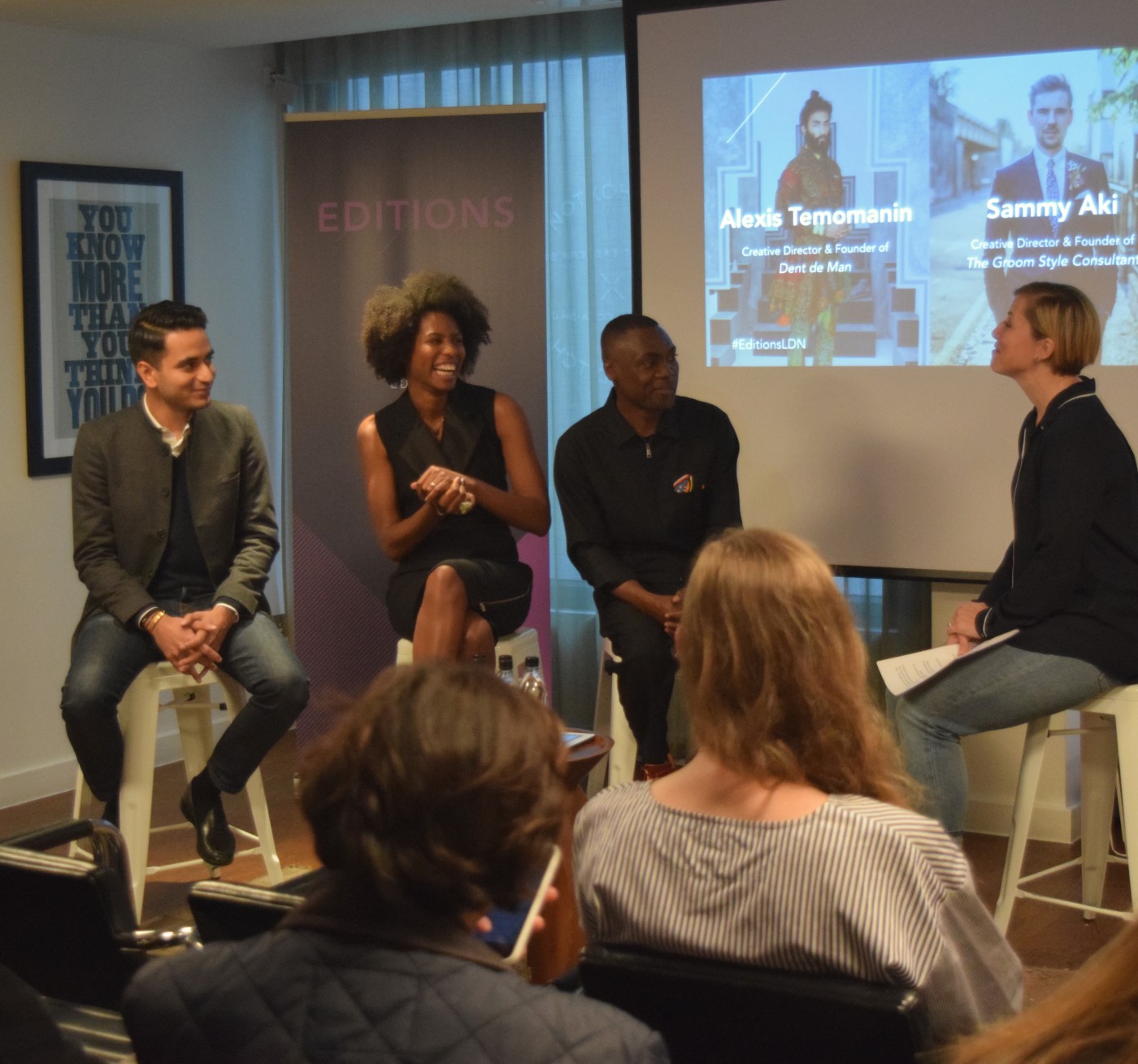 But what about after the wedding? When life resumes its routines and responsibilities, do men retain as much of an interest in fashion?
"I've had instances where the men were more bothered about their appearance than their wives. And the wives are watching this and laughing. The men are saying things, and they're so particular, about things like fit and length – just taking so much time over it," said Advani.
And what about keeping men engaged in their personal style using a 'long distance model' in which stylists interact with clients online and send boxes of clothes purporting to have been selected just for them?
"I'm not so keen on those," said Aki. "They really have to get into the minds of the guys and at the moment, they think that mindset is just, 'you're lazy and you have no idea. I'm going to send you some stuff that's classic, classic, classic'. They're not really taking the guy into consideration."
Towards the end of the discussion, a final question wrapped up the evening with a satisfying circularity. When asked what designers served as an inspiration to each of the three panelists, the first name that comes to mind?
Paul Smith.
As always, thanks to everyone who came, listened and asked questions! And a special thanks again to all of our excellent speakers and panelists.
Want to speak at an upcoming EDITIONS in London or New York? We'd love to hear from you! Email us at [email protected].