With the Fall 2018 catwalks wrapped, there's no better time to look at commercial data and ask: Are runway shows still important to setting trends?
And no better place to do it than at EDITIONS, our events program that brings industry insiders together for a night of candid discussion.
Just like last month's EDITIONS NY, we asked our expert panel to shed some light on how retailers are navigating the industry-wide shift in the way trends are adopted.
With Lauren Indvik, Head of News and Features at Vogue, leading the evening's discussions and venue hosts The Curtain keeping our drinks in check, we were in great hands.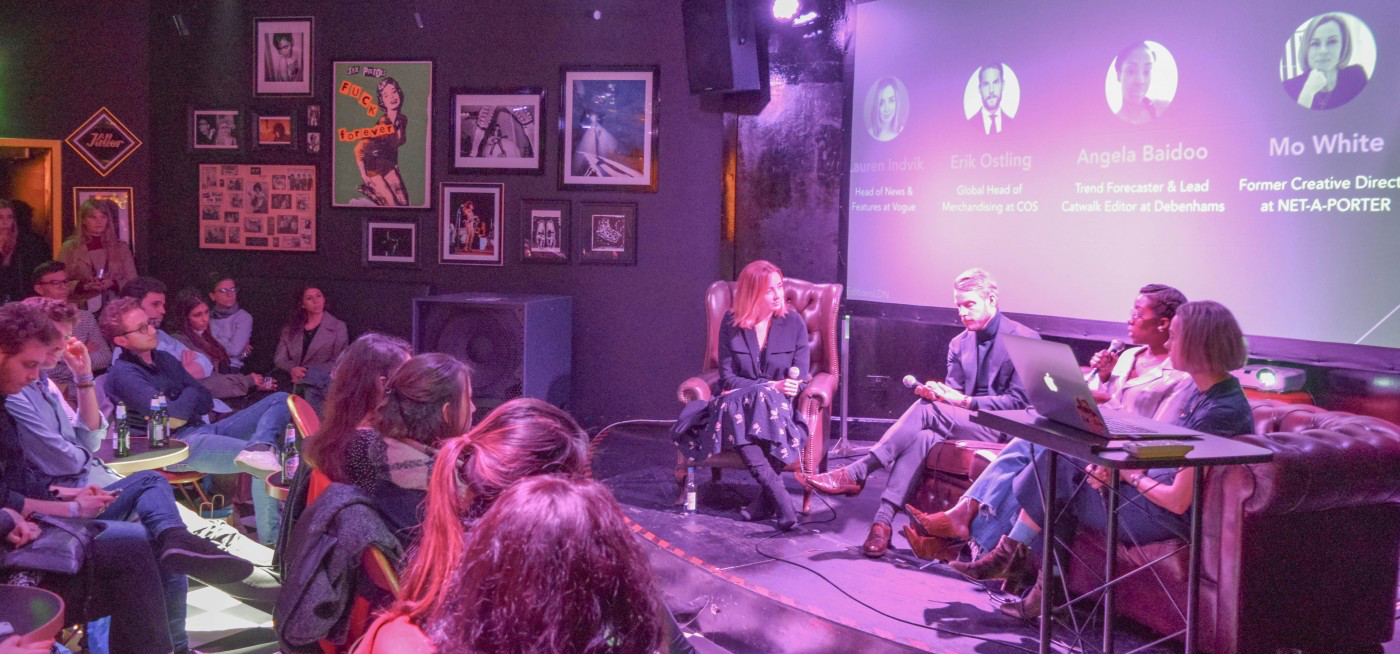 We've recapped the best bits for you here. If you fancy being at the next EDITIONS, sign up to our Insider Briefing list and we'll keep you posted on future EDITED events.
Mo White, CEO of Hyperwild & Former Creative Director at Net-a-Porter
How has trend forecasting changed over the course of your career?
"Trends have changed so much over the last ten years. I'm of a generation where street style used to be a real commodity, when trends were first emerging as 'trends' – people didn't have easy access to them and fashion magazines had first look.
Now, social media generates around a trillion images a year. Ten years ago, it was probably about a fifth of that. Street style, which now makes up a large number of social media photos and images in fashion magazines, has become so incredibly influential.
During fashion week the first thing I do, after watching my favorite runway shows, is look at what people were wearing because this is what will give me a really good idea of what stories we want to create and the trends we want to run as a business."
Angela Baidoo, Trend Forecaster and Lead Catwalk Editor at Debenhams
Is there such thing as a 'megatrend' anymore?
"There has been talk about the rise of a 5 year trend, which I think is partly true. Trends need some time to incubate and evolve over time. The fact that we're still talking about the statement sleeve is proof. Consumers sometimes need time to sit with a trend and tap into it at their leisure. Sustainability is another example of a trend that's been around for a while and is only continuing to grow.
We should also think about trends in terms of designers too, we've recently seen a 'merry-go-round' of designers coming in and out of different brands. If you look at Alessandro Michele at Gucci, he's been quoted saying that 'we should resist the illusion of something new at any cost'. Some designers will not look to create newness but rather they'll evolve trends."
Erik Ostling, Global Head of Merchandising at COS
Has the speed of trend adoption changed in menswear?
"I think social media has really impacted menswear. Men don't tend to look at runways and fashion shows as much as women, and whilst they might not consider themselves to be interested in fashion, they are still following influencers on Instagram. Access to social media and being able to view fashion and trends so easily is really helping menswear.
I think fashion shows have always attracted people at the top of the fashion triangle, and now when it comes down to wearability, having access to street style has made things more approachable."
Mo, where do trends come from now?
"I still like the idea of trickle-down trends (from the runways) and bubble-up trends (from the streets). But it's really hard to understand across fragmented networks and distribution channels, where trends come from. There's not a one-size-fits-all way of representing trends.
Our desire to measure trends with data is becoming more and more compelling but we're still divided and lost in this hinterland with no consistent methodology to measure and collect trends from company to company.
The ideal I suppose is a mixture of data and instinct. For example, it's now much easier to have a data-related understanding of how the runway and retail uses colour, but at the same time, the runway is where new colours are most likely to emerge."
Erik, what are the risks involved in buying a trend now?
"There's a lot of risk involved when a large retailer buys into a trend. When you're dealing with high volumes, as we are at COS, it's risky. Because trend turnaround times tend to be shorter now, the risk has increased because product has a shorter shelf life.
There's also a risk of being boring or not having enough newness. Companies are being pushed into taking larger risks, which also has financial impact – if you don't dare enough you won't find new products and you might lose new customers."
Angela, where do you think the power will lie in trend adoption moving forward?
"I still think that runway is going to be really important, because the runway is this synergy of trends which is one source that everyone can tap into. But we're also going to be looking to newer brands that are coming through. These newer brands are fostering natural communities that are influencing bubble-up trends and many newer brands are becoming trend creators themselves, and are becoming successful through newness and peer-to-peer selling."
Mo, what can we expect to see from brands' and their role in creating trends?
"I think there'll be lot more businesses manipulate newness. Womenswear brands like LVMH, Dior, Versace for example, are turning over designers to create PR noise and steal attention in the media which is fascinating. It'll be interesting to see how much that will influence the speed of trends."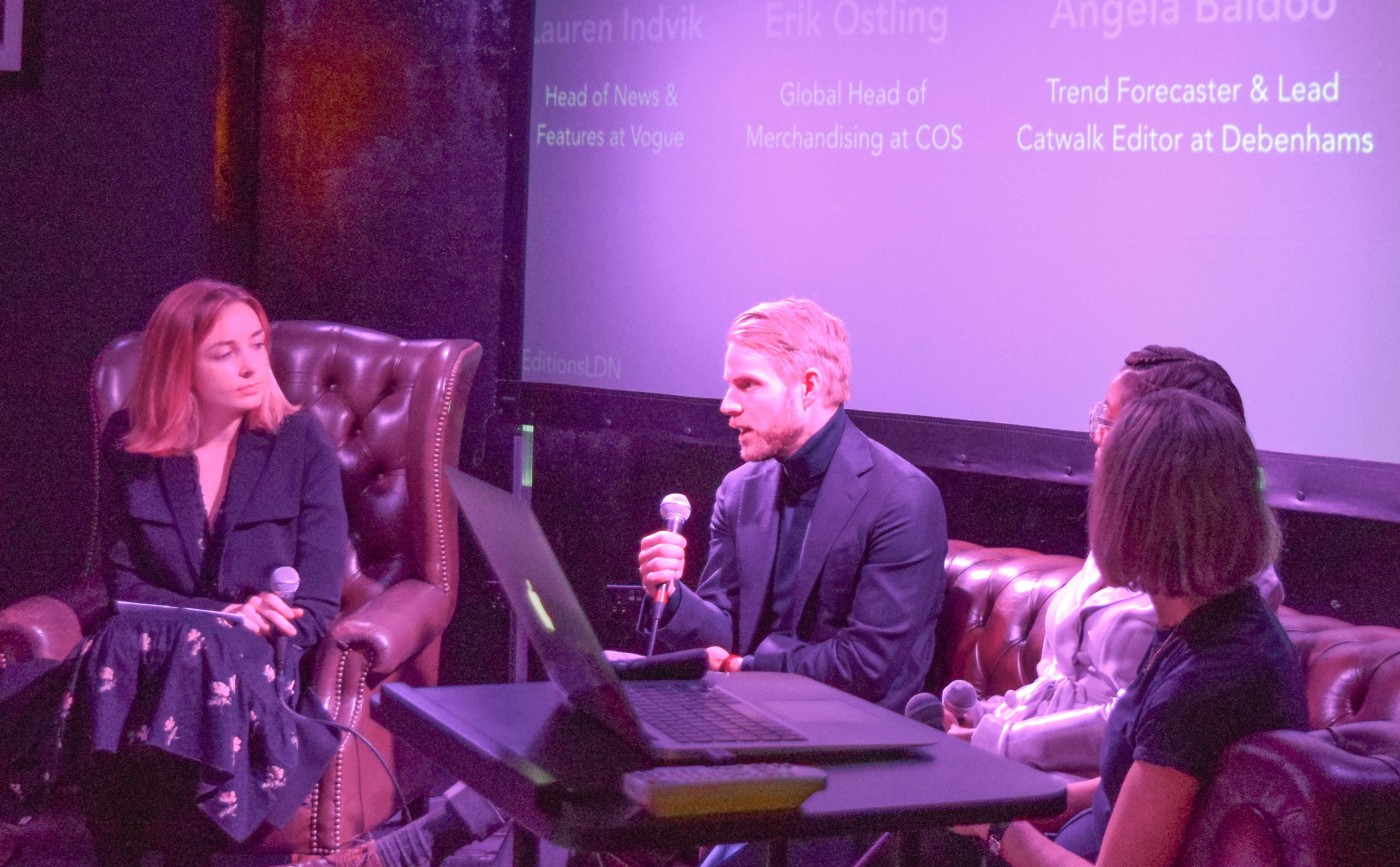 Erik, what advice do you have for start-up brands looking to make it big?
"It's all in the product. Make sure your product is something you really believe in and is something that gives your customer value for money. You need to educate the customer on why they should buy your product – have a story, explain the why behind it."
Thanks again to all our fantastic speakers and everyone who came out and listened, asked questions and had a drink with us after. See you all soon!
Want to speak at EDITIONS in London, New York or Los Angeles? Let's make it happen, email us at [email protected]