As seasonality continues to blur and the climate becomes more unpredictable, it can be challenging for retailers to distinguish the optimal time to drop new ranges ahead of your competitors.
Luckily for you, EDITED has developed three new features within our Visual Merchandising platform to help you make decisions easier.
We applied Visual Merchandising's filter panel, heatmap analysis and dashboard functions to understand when US and UK retailers are dropping seasonal products, and when they are promoting these new items.
Marketing communications made easy
Is your inbox full of advertisements from your competitors? Do you have folders and folders archiving the offers and new season promotions in the market? Is that on somebody else's computer? We can take all that pain away with our Visual Merchandising tool. Access historical communications from retailers' emails, homepages, category landing pages, and blog posts in one platform. Filter on the brands you care about monitoring and give your inbox some breathing room.
The new Heatmap Analysis tab shows the key times and the frequency of mentions summer and winter in email newsletters over the past 18 months.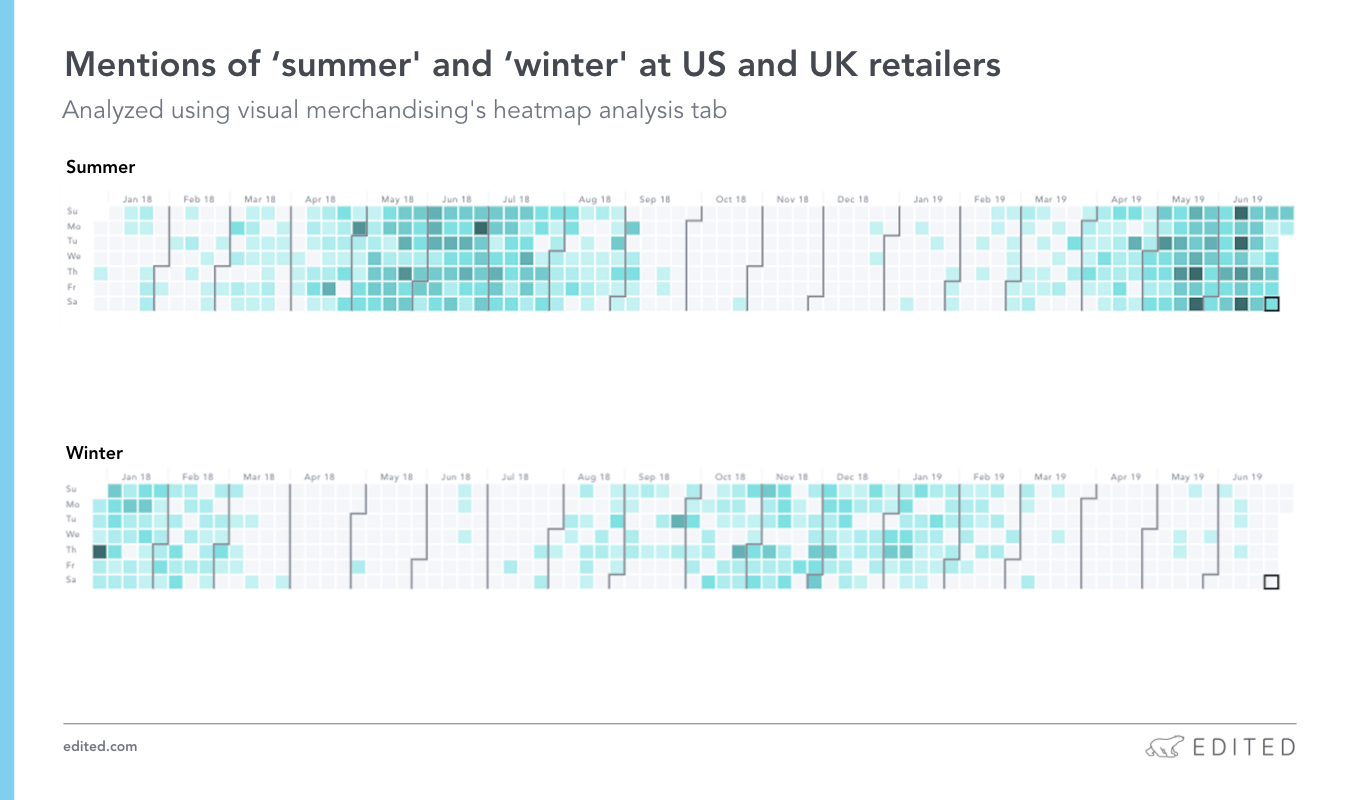 Got a new product launch or marketing campaign coming up? Stay ahead of the competition and get started.
Mentions of 'winter' trickle off around March as summer advertising ramps up, but, there is always overlap. In January 2019, for instance, both seasons are promoted in different ways. While many retailers take this opportunity to clear through Fall/Winter product through discounting, Zara and Uniqlo generate hype for upcoming summer lines via email newsletters.
While the weather was still cold, ASOS began advertising a new drop from The North Face ahead of ski season while J.Crew pushed trans-seasonal lines before switching on summer advertising.

EDITED Visual Merchandising gives retailers the power to understand their competitors messaging, allowing them to be more informed when planning for upcoming campaigns.
Want to see more data behind the Heatmap Analysis? Get in touch here.
The product behind the promotions
EDITED features work collaboratively with one another, allowing you to have the most accurate data to support your decision making. Combining Visual Merchandising with our Market Analytics tool helps retailers understand the success of a new product launch at granular detail.
With 2018 being the UK's hottest summer on record, retailers seasonal assortments were shaken up, and summer product was promoted longer. Analyzing communications in Visual Merchandising last year, we can confirm at our 10 mass market retailers in August, summer was mentioned in email newsletters 37 times compared to 11 mentions of winter. Drilling down on winter mentions show Topshop promoting heavy puffer jackets in its August emails for both the US and UK, while retailers such as Zara held off until October.
Which strategy was more successful? While factors such as price and product unquestionably come into play here, the timing of product launches is essential to the success of a range. Over half of the Topshop puffers that arrived in August saw majority SKU sell out only after being reduced plus, required an email newsletter pushing 30% off coats featuring the August puffers to UK customers. The majority of Zara puffers, which were advertised later, experienced sell out within a month of the email newsletter and without requiring a price reduction.
So, how does it work?
The refined filter panel lets you drill deeper into the data that matters most to you. You can now see communications by retailer, category type, or a keyword/phrase e.g., 'summer' or 'winter.'
The heatmap analysis helps you spot key promotional opportunities with ease. Our analysis tab makes it simple to analyze the activity of multiple retailers, regions, keywords, and more, all in one view.
Organize communications from the competitors you care about most with visual merchandising dashboards. You can save filters within a dashboard, organize important dashboards into folders, and share with coworkers. New communications will automatically update based on your set preferences, so every promo email you ever needed to know about is only one click away.
EDITED customer? Get in touch by contacting: [email protected] to learn how to combine the new Visual Merchandising features with Market Analytics data and back up your decisions for seasonal product and promotional planning.