We launched our Ask EDITD campaign last month because we had a feeling there were a lot of unanswered questions in retail. And boy did you come at us! Which, we're thrilled about. So thanks to all of you first and foremost. As promised, here's the first round of answers to your questions. We've still got a lot to get through, so if yours isn't included here, rest assured, it's coming!
And this is only the beginning, so feel free to keep asking and we'll keep answering. If there's something our team's combined decades of industry experience can't answer (hey, it happens), we'll dig into our extensive network to find the best people to answer any and everything you've ever wanted to ask about the retail industry.
So here we go with Part One in the EDITD Answers series.
Q: What's the average price for a dress online today?
EDITD Answer: In short, the global average for a women's dress retailing at full price is $92.35*.
But hey, let's go deeper than that. Segmenting by market of interest is a lot more telling. The current average price for a luxury dress is $713.33, while premium is a lot less, at $173.62. In the mass market $58.69 is the current average, with the value market averaging $27.72.
Why not throw in some geography? EDITD data can also be segmented by region after all. The average womenswear dress retailing in the US is $145.47 and in the UK $115.65 (or £75.11). Europe is lower, $102.37 (€89.95), Australia is lower still at $69.02 ($92.79 AUD). At the bottom of the pack, sits India at just $19.28 (₹1,199.00).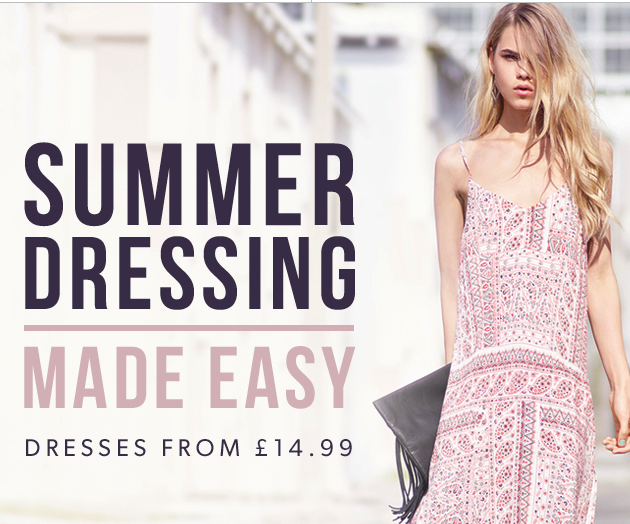 While we're at it, we may as well look into the average prices of different styles. It makes sense that lace would have the highest average price right now, at $130.30. But more interesting are the hints of rising trends seen in the next two highest average prices: shirt dresses and shift dresses. On the other side, denim dresses on average sit at $69.30 – a sign this trend could now be cooling.
Finally, let's look at the average prices on different colors of dresses. Black proves itself to be the old and new black, commanding the highest average price $155.74. Brown, metallic shades and red also rank highly. Meanwhile, yellow is a cheap and cheerful $97.72, coming in at the lowest average priced color.
*this data is as June 26, 2015, the day we wrote this blog post. Since EDITD is updated in real time and things change fast, we'll say these numbers are approximate for today.
Q: Which are the next trends?
EDITD Answer: So many ways to answer this one! Thanks to online retailing's ability to churn through content swiftly and influence consumer tastes just as swiftly, there are more trends around than ever before. As you're aware, this makes selecting the right trends absolutely critical. We've worked how to do that through data analysis, but of course it's different for everyone. The best solution we can offer is also in some ways, a sales pitch: by getting a personalised market view within EDITD and simply seeing everything specific to your market and needs.
But we can also speak about trends broadly if that helps. We've got some really useful and free trend reports from fashion weeks, available to download here.

Punk'd
Coming through for menswear in Spring '16 and still fresh from the womenswear Fall '15 runways, is punk. For women, that means sexy silhouettes mixed with a hard-edged androgyny. This will call for even more leather, lace and fur. Throw in a generous helping of suiting, oversized greatcoats, zips, pockets and high necks tinged with Victoriana and you've got it nailed. Hell, even sling in the nails.
In menswear, punk took on more of a 'street' feel, with spray painted slogans, patches and prints. Outerwear pieces even took on a military feel, albeit in the spirit of rebellion not drilled obedience!
Print
Menswear prints are receiving more attention and are getting bolder for it. Our recent article on Spring '16 men's trends details this more. Across both genders, there's room for co-ord sets to grow. These have had a positive early start in retail, but now is time to ramp up the power of prints across two or three matching garments. Retailers can encourage an upward spend with co-ord sets. Creating content around how to style these items to create many different combinations will persuade customers to buy into the trend too.
Seventies Sustained
Designer adoration of the Swingin' Seventies isn't dying down. For Fall '15, think Gucci geekiness and winter bohemia, with pinafores for women, nerdy sweaters and upmarket parkas for all. Geometrics are the way to take prints and patchwork will add serious punch to statement pieces within a range. Accessorise it all with that jaunty beret.
There is continued life in this trend – it was present on the men's Spring '16 runways and we expect come September it will be there for womenswear too. Moving on, the 70s will lose their kitsch rendering, instead turning into 70s-minimalism, led by inspirations from late-era interiors and design.
Sports
The whole sports thing isn't going away. Basics will become less basic as consumers look to differentiate with quality, UX functionality and hidden detailing. This also plays into androgyny, with uniform-like loungewear worn day-long. Think futuristic utilitarian world and you're there. Wider leg wear is a micro trend which will play into this macro theme.
Travel references
Faster moving and more complex travel references will fuel collections, as we all become more nomadic and the power of online opens up access to new worlds. Brands' and retailers' sourcing will stretch far and wide to showcase their abilities. Complicated, thoughtful layering will impact ranges and silhouettes. Heavy embroidery will be a means to differentiate and value-add, as will brocades.
Q: How can you date someone in your team?
EDITD Answer: This unexpected question made us smile! Our best advice? Lure them with baked goods. It's certainly the way to our hearts. Failing all that, you could just ask them out for a drink. We're guessing you have their email?
Assuming you work at a retailer, if you manage to find yourself in a vaguely romantic scenario, do not gift them merch from their own offering. In fact don't gift them anything using your store discount. Good luck!
Got unsolved questions of your own? Ask us anonymously and we'll find the answer. The EDITD team have many decades of combined industry experience and a whole network of experts we're happy to reach out to in order to find the solution.