Commercial data on color offers fantastic, instantly readable insight into what's selling now. At a glance colorwheels clearly depict color trends, often overwriting press predictions of which shades will be most popular for a season.
Here, in the midst of wedding season, we've analysed the color trends in occasionwear dresses within the premium and luxury market. We also reveal how the color palette presented on the runway differs from the colors of the garments as they hit retail.
The bestselling colors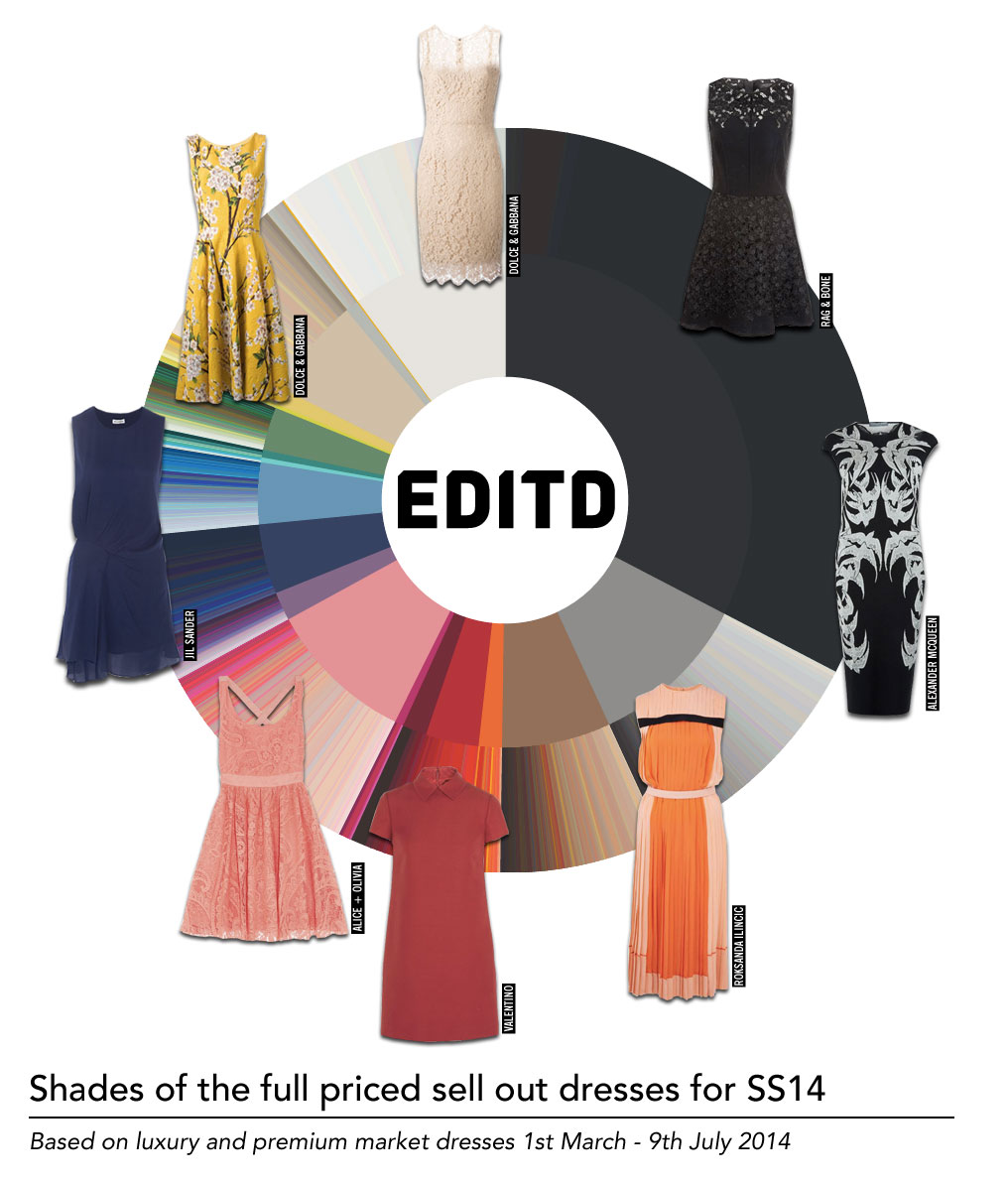 The colorwheel here depicts dresses which have sold out, at full price, during SS14, showing leading color trends. Of course, black is the most popular shade, with the staple black dress forming the core of most female shopper's wardrobes. Reds and oranges have had a strong impact commercially – Oscar de la Renta, Badgley Mishka, ALICE by Temperley and Belstaff have all had wins with these vibrant reds. Marni, Victoria Victoria Beckham and Roksanda Ilincic have all seen their orange shades sell out.
Pretty pinks and blush tones are met with lavenders – the popularity of these colors undoubtedly inspired by how well they present in press and retailers' pastel trend visual merchandising. These two shades were also incredibly popular for the mass and value markets' dresses.
A strong, and seasonal, tone can be seen in the vivid yellows which have sold out: at Dolce & Gabbana the shade was ground to a pretty brocade floral. The high proportion of neutral tones seen in the colorwheel – the biscuits, mushrooms and milky shades – are thanks to the current popularity of lace.
Unique to these market segments was the use of mossy green, which is not seen to be selling well in the mass and value markets. This is a direct reference from SS14 runway shows, and it may take mainstream shoppers a little longer to warm to this tone.
How retail differs from runway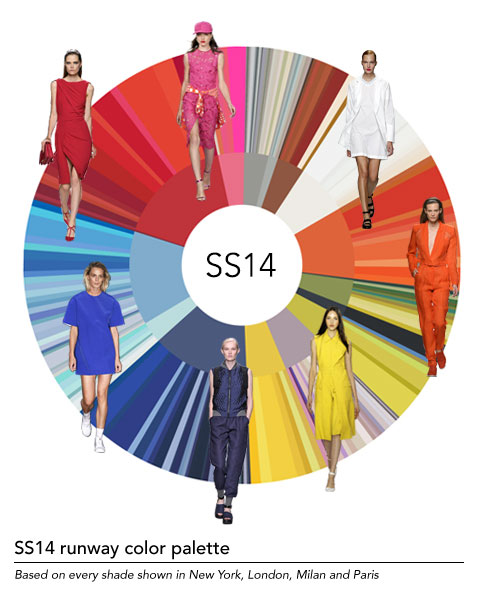 Analyzing the SS14 runway color palette (across all garments) alongside the colorwheel of successes in the dress category once garments hit retail, is enlightening. The pinks, which were pushed on the runway, did come through in retail, where they've had big impact. Neutrals commanded more attention in retail than they created on the runway, nudging out the powerful reds, oranges and yellows that rung true on the catwalk. Certainly these shades have made it through to the season's retailers, but the consumer vote, determined by their purchases, highlights the real color wins.
We'll be watching as consumers warm to the stronger tones, tracing their commercial story with retail data to understand the specifics of timing.
Want to know which dress styles selling best for the luxury and premium market? Head to our article 'The top SS14 occasionwear trends' to find out now!