Earlier this month, The Conference Board announced the Consumer Confidence Index had dropped in September to 86, after four months of consecutive growth. The Index, conducted for The Conference Board by Nielsen, surveys 5,000 representative U.S. households for economic optimism. 40% of the index comes from consumers' views of the current situation, and 60% of the index is consumers' expectations of the economic outlook for the next six months – therefore an interesting metric for deciphering sales and planning for upcoming consumer behaviour. But how does the Consumer Confidence Index (CCI) relate to apparel retail sales?
Low CCI suggests a dominance of black
With EDITD's Color Analytics tools, it's possible to view commercial activity by color. The lowest the CCI has been in the last ten months was December 2013, and the second lowest was February 2014. Interestingly, products which sold out during those two months have something in common – there's a huge dominance of black and grey tones. Certainly there's some seasonality around this, but the activity in December is noteworthy – not only is this gifting and party season, but a time for sales. In February, as new season products arrive into store, it is usual to see some uplift in the palette – but with low CCI, none was evidenced.
July and August, the two months with the highest CCI, which was 90.3 and 93.4 respectively, saw black products shrink back. The growth went into blues and pinks instead. Could the drop in CCI for September have been pre-empted by August's increase in black products compared to July?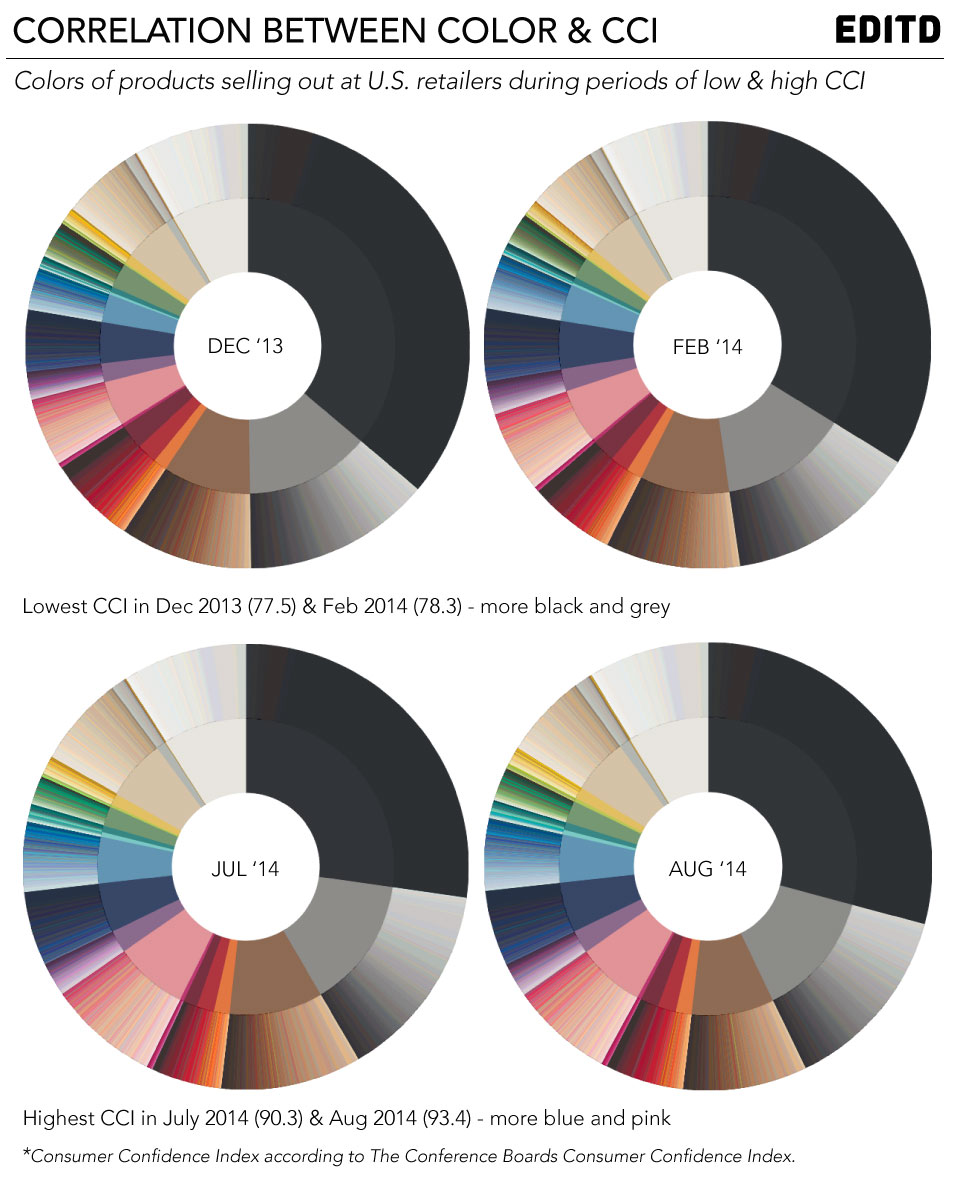 Product price correlation
Plotting the CCI alongside the average price of products which sold out each month (what consumers bought) and the average price of new products arriving into stores each month (what retailers are doing) is also incredibly insightful. In January and February, as retailers' prices grew, consumer confidence fell. Conversely, in May, as average retail prices fell, consumer confidence grew.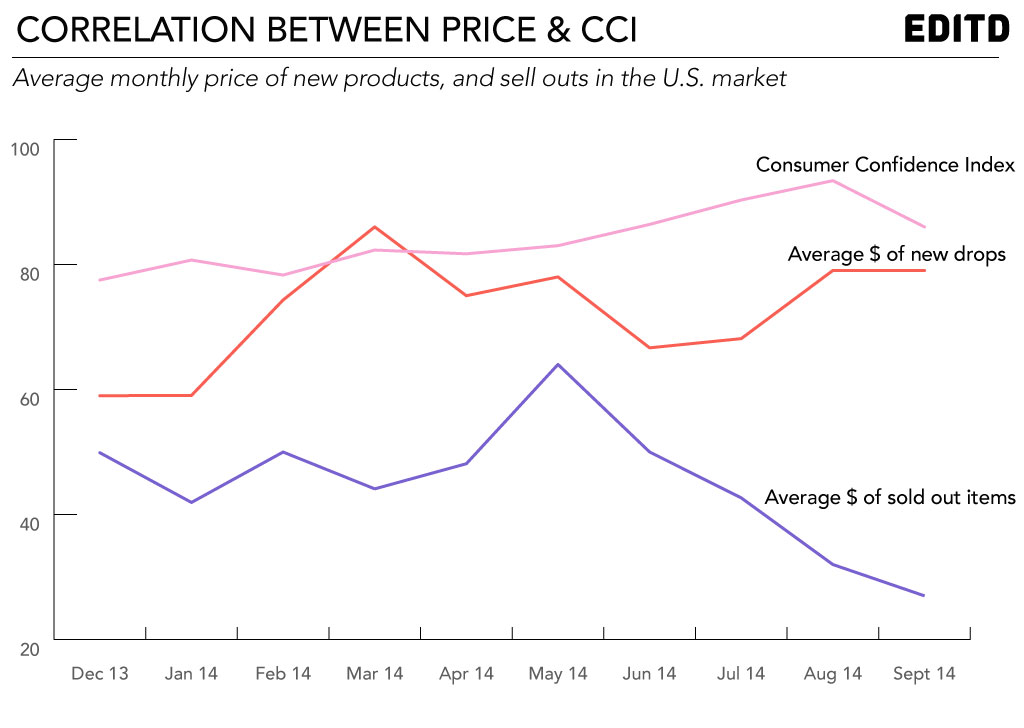 Trend-led products remain resilient
It's worth noting that elaborate trends for flamboyant products are not effected by CCI – take embellishment for example, which was hugely popular December through to February, sloped off over summer and has returned for September, despite sinking CCI. Consumers still want trend-led product – their confidence is reflected in subtle and more complex ways. This is a positive for retailers – getting trends right and well-timed will still entice spend, but they just need to get savvy and flexible around pricing and merchandising in response to economic metrics.
What can retailers do?
It's increasingly important for modern day retailers to be able to react to metrics like the Consumer Confidence Index, average pricing and consumer demands, in real-time. Close analysis of historical data means retailers can understand their customer's color decisions and pre-empt when they need to drop the average pricing, ahead of a downwards shift in CCI. Taking near-term action, such as merchandising black and grey products in response to a dip in CCI, or activating discounting promotions around colorful items, are just a few ways retailers can trade smarter with data. We've entered a fascinating era for retail.
We'd love to hear your thoughts on this. Drop us a note here.