As we enter a new decade, what will the retail 2020 landscape look like? Based on strong themes that have emerged this past year, we compiled the trends that will shape the next year, the digital and bricks & mortar strategies in place and upcoming openings and closures.
Want more 2020 vision? Stay tuned for our upcoming article covering next year's defining trends across womenswear, menswear, kidswear and beauty.
As always, our product specialists are on hand to show how to use EDITED's Retail Decision Platform to inform your strategies for 2020. Get in touch to see how it's done.
The stores of the future are immersive, but temporary
When imagining the store of the future, magic mirrors or robotic sales assistants may come to mind. While there have been new advancements in these areas, they are still yet to integrate fully within the retail landscape at the dawn of 2020.
Due to the financial crash and sky-high rental prices, the 2010s were described as the so-called 'retail apocalypse.' The efficiency of online shopping forced brick-and-mortar businesses to be fresh and innovative to survive in today's challenging climate. The pop-up model then emerged as the store of the future, and it's not going anywhere in 2020.
2019 hosted its fair share of brand activations, temporary installments and in-store sensory experiences. For inspiration, look to #revolvefest at Coachella and the Virgil Abloh x IKEA 'FITTING ROOMS' at London Fashion Week as two examples of themes to influence 2020 spaces. With Fall 2020 runway shows kicking off in January, designers will continue to explore and innovate with these concepts to generate hype alongside their latest collections. The now-iconic lavender fields from Jacquemus menswear show in June has raised the bar for designers opting for non-traditional catwalks. Live performances will continue to be ingrained into the runway setting, as designers look to keep the audience connected IRL. Rihanna's first Savage x Fenty show went a step further and had guests on a strict phone ban, bucking the live-streaming trend. Combining fashion with food was a notable trend to promote runway season with Saint Laurent and Jacquemus opening eateries, while Celine and Fendi created branded edible treats. Gucci also announced plans to open a branded restaurant in Los Angeles in the new year.
Advanced tech will still play a crucial role in future bricks-and-mortar businesses. However, a human element is required to focus on the customer. Chanel has already reported a positive impact on sales through its pilot digital innovation project with Farfetch. The Rue Cambon store in Paris introduced an app for customers and sales associates along with connected mirrors in the changing rooms.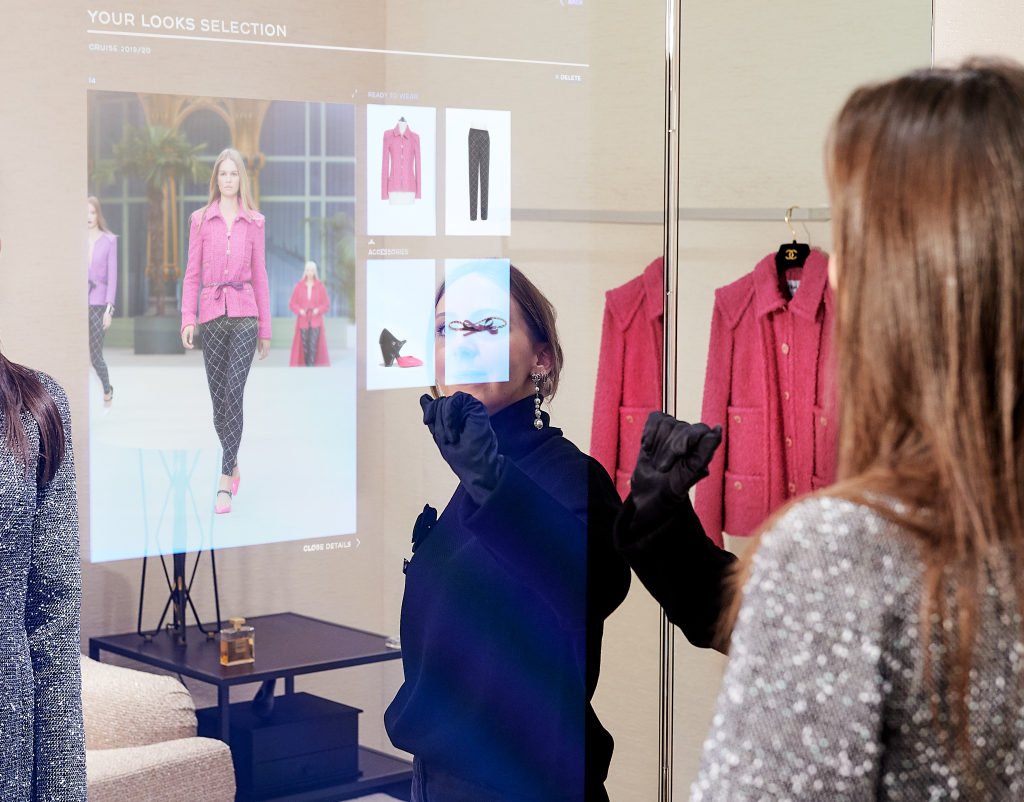 The app allows clients to view content and create a wish list before coming to the store. There, they can access exclusive connected content via 30 small pads throughout the store, including a virtual tour of Chanel's private apartment and runway images as well as access to playlists and podcasts. The sales associate will then prepare the fitting room based on the information received by scanning the client's QR code and suggest additional or alternative products. Using the connected mirror, clients can see footage of the item on the runway or in a campaign.
Farfetch stated three more Chanel boutiques will adopt this technology with similar concepts planned for brands like Thom Browne and the upcoming Browns store on Brook Street in London in the coming year.
While innovations like these will continue to scale this trend into the future, a tailored approach is needed to create a unique experience for each brand and boutique.
Digital fashion comes full circle
With 2019 dubbed as the 'Year of Sustainability,' it is expected that sustainable innovation is a top priority for retailers in 2020. This creates several opportunities within the virtual and digital space. Taking a look at some initiatives from concept to creation at the forefront of this movement.
Digital sampling:
Overproduction is often first of mind concerning the fashion industry's negative environmental impact. However, even before goods are put into production, retailers need to consider the contribution to landfills from their sampling processes. Brooke Roberts-Islam, Co-director of materials innovation agency, BRIA, featured on episode 2 of the unEDITED podcast spoke of the role AI and digital can play in reducing the environmental impact caused by the fashion industry. BRIA works with brands to better source and develop materials, as well as look at more sustainable alternatives. Currently, digital materials are a key focus for the business, with factories concerned about the amount of raw material waste created by the process of traditional sampling.
While digital sampling exists in the market already with retailers like Hugo and adidas dabbling in the process, it is not yet perfected. Tommy Hilfiger currently leads the way with its plan to shift design to be 100% digital by 2022 with its Fall 2020 capsule range marking the first end-to-end digital collection. According to McKinsey & Co, 83% of CPO's surveyed in its recent report believed physical samples would be used less offered than virtual samples by 2025. As consumer demand for sustainable practices grows, retailers are continuing to innovate to reduce their environmental footprint. 2020 should see strides towards digitalizing sampling processes before mass retailers eventually adopt the practice.
Concept stores:
Outside of the sustainable element, digital fashion is also making its way into the physical space bridging online and offline to create a new shopping experience. In November, the world's first circular economy store, A:HOT:SECOND, launched as a popup in London, allowing customers to test digital fashion in stores as if applying an Instagram filter. According to EDITED's interview with A:HOT:SECOND's founder Karinna Nobbs, there is "an appetite for novelty and innovation first" before sustainability. Through her research, she confirms this appetite is within the luxury market, stating the concept model would work best at high-end department stores. There is still an opportunity to scale within the mass market, as Nobbs foresees brands capitalizing on the ability to share a digital asset with multiple influencers, instead of the traditional exchange of sending free samples.
Virtual Influencers:
Building on from the vision of a future connecting digital clothing with real-life influencers is scaling the possibility of digital influencers wearing digital clothes. Over the years, virtual influencers have appeared in luxury campaigns for designers such as Balmain or have interacted with real models as per Bella Hadid with Lil Miquela for Calvin Klein. According to Cameron-James Wilson, CEO and Creative Director of The Diigitals, the world's first digital modeling agency, there is no doubt that any company regardless of industry will have at least considered creating a virtual ambassador by the end of 2020. As virtual avatars continue to engage audiences on social media, Wilson, creator of virtual model Shudu, tells EDITED that this concept will start to become more mainstream and resonate with commercial brands. Already focusing on digital design, Tommy Hilfiger also announced its investment in virtual influencers, with a program that will let creators design their own avatars and use them for marketing the brands' products.
Going digital is noted as a key concept in the future of sustainable design and we can expect to see it benefit other areas of the fashion industry. Wilson states, "the work that goes into creating traditional marketing media using real garments is extremely wasteful and becoming completely unnecessary. As physical items become more likely to be digitized, it only makes sense to have digital models wearing them. A 3D design pipeline that doesn't include the usage of virtual models isn't complete, and cannot be fully sustainable."
Future openings and expansions
The new year is shaping up to be huge for Inditex, which recently reported successful revenue and profit results for 2019. The retail giant has benchmarked 2020 to sell all brands worldwide online.
In Spring 2020, Kylie Skin will enter the European market, first stocked at German beauty chain Douglas.
Primark will open 19 new stores, as well as roll out new extensions and relocations.
Amazon is opening its first non-Whole Foods grocery store in Los Angeles, which will sit at a lower price point.
Ralph Lauren will open a flagship store at Via della Spiga in Italy in 2021.
Manolo Blahnik will open a new US flagship at 717 Madison Ave.
Gucci is launching a series of pop-ups called 'Pin' across Paris, Seoul and Hong Kong between January and March 2020. Pin will focus on augmented reality and interactive consumer experience.
Moncler's 'House of Genius' project in Paris, Tokyo and Milan will continue until the end of January 2020.
Future closures
Forever 21 announced it will be closing in Southern California, adding to the list of US locations shutting down in January. In the new year, the retailer will also close its UK locations.
Sports Direct announced House of Fraser will be closing more doors in 2020.
Although Chico's plans to close 250 US locations by early 2022, the brand is working to strengthen itself through new partnerships with Amazon, ShopRunner and QVC.
Sears will shutter 51 stores in the new year starting in February.
After its recent separation from Old Navy, Gap will continue its plan to close over 200 stores to 'revitalize the company.'
After falling into administration, Debenhams will close 22 locations in the new year.
Marks & Spencer will continue closing its bricks-and-mortar presence in 2020 including downsizing some of its largest flagship stores.
As you approach the new year, make data your ally to tackle the challenges across the retail landscape. Get in touch to find out more and subscribe to our Insider Briefing for weekly news.
Already an EDITED user? Log in to read our full debrief of the retail landscape in 2020.