With the rise of sportswear, the once invincible denim category has fallen under fire. However, as I type this, I'm wearing jeans. I can see three others in my peripheral vision wearing jeans. You're probably reading this in jeans. Is denim all that broken?
The denim category is retail's Game of Thrones. There's unjust killing: "The Tragic Death Of the Skinny Jeans" decried The Sydney Morning Herald in March, going as far as introducing #savetheskinnyjean. There are shocks: Who What Wear asked 'Real Men' what they think of the decline of skinny jeans. "Bring out the defibrillator and bring back skinny denim" said real man Roger, 32. And of course, there's a villain. "Athleisure Trend Spells Death of Denim" said CNBC back in 2014.
The stage may seem set for a usurper, but well, it's not. It might not make for such gripping headlines, but turns out denim is a-ok. Here's the data.
The below chart shows how jeans specifically have been performing in retail over the last three years. Based on data from 25 of the biggest womenswear retailers* tracked across each quarter, it shows the number of new products dropped, the number of products discounted and the number of items that sold out. Click on it, feast your eyes on it, we'll chat after the jump.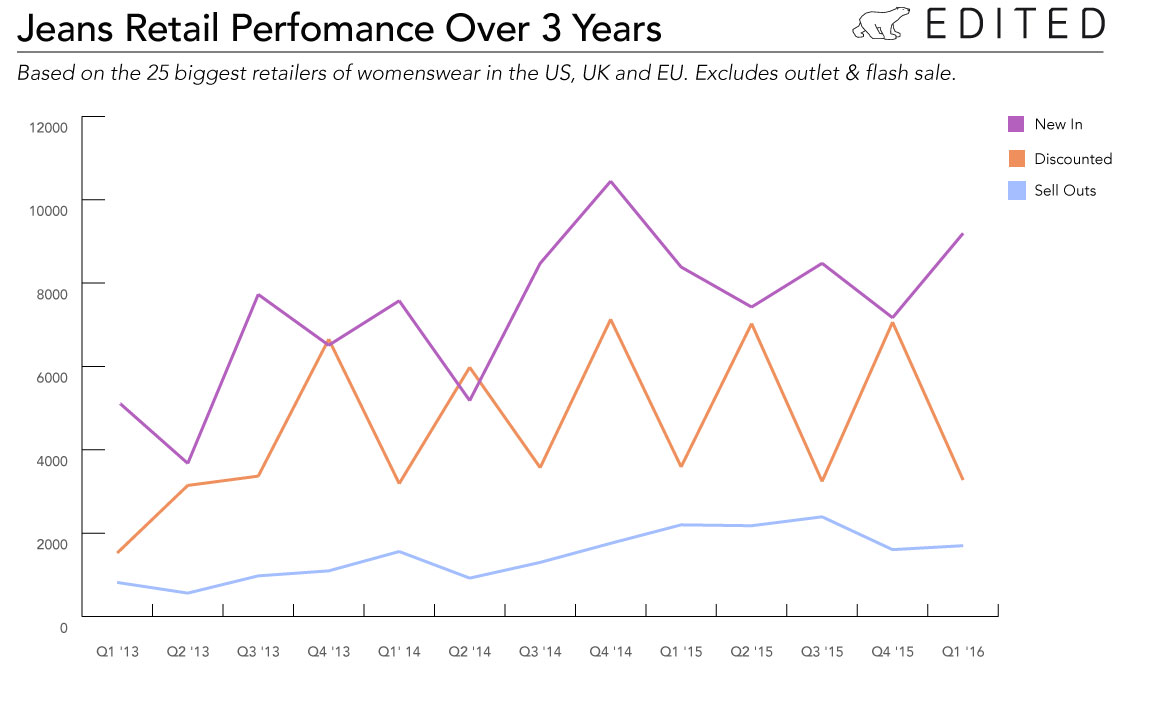 Hm, so a lots of ups and downs. What does this chart tell us?
New arrivals in Q1 '16 increased 8.6% compared to Q1 '15. That's a 21% increase from Q1 '14 and a 78% increase form Q1 '13.
Retailers voiced confidence with a jump in new products between Q3 '14 to Q1 '15.
That dropped in Q2 '15, but looking historically, we can see Q2 is always a slower quarter for denim arrivals, so it's not a sign the market declined hugely.
Discounts used to overtake new arrivals. Look at Q4 '13 and Q2 '14 – reductions ruled. However, for the last two years, retailers have had a greater focus on newness which has outstripped discounting.
In Q4 '15 sell outs dropped, where historically they've lifted. Retailers introduced fewer styles for the quarter, not acting upon what they'd found in Q3 – where sell outs climbed and discounts dropped with an increase of newness.
Q1 '14 was a golden time for denim. Newness shot up, sell outs climbed and discounts dropped.
Denim has defined retail cadence. Discounts happen in Q2 and Q4.
There are nuances in the data here, but it all points towards denim being alive and kicking. Next, we looked at how the individual retailers had grown their emphasis/weighting on jeans in their assortment offering compared to that golden period of Q1 '14.
Of the 25 retailers in this study, 10 had a smaller percentage of their jeans assortment in Q1 '16 versus '14. But 15 had increased it. Those who'd grown their offering did so by an average of 1.6% and those who shrunk did so by 0.9%. Really, there isn't a definitive conclusion in those stats. Things are slightly more good than they are bad? But what these stats do tell us is denim shrinking, or even growing, is not a market trend. There's no clear market-wide story of that sentiment here. Growth, or shrinkage comes down to a product level.
Product is working when it's good and isn't when it's not right. Which is obvious, but it's refreshing to know there's nothing intrinsically wrong with denim.
So with that in mind, let's look at product. Here's how retailers broke out their jeans assortment in Q1 '16, by style.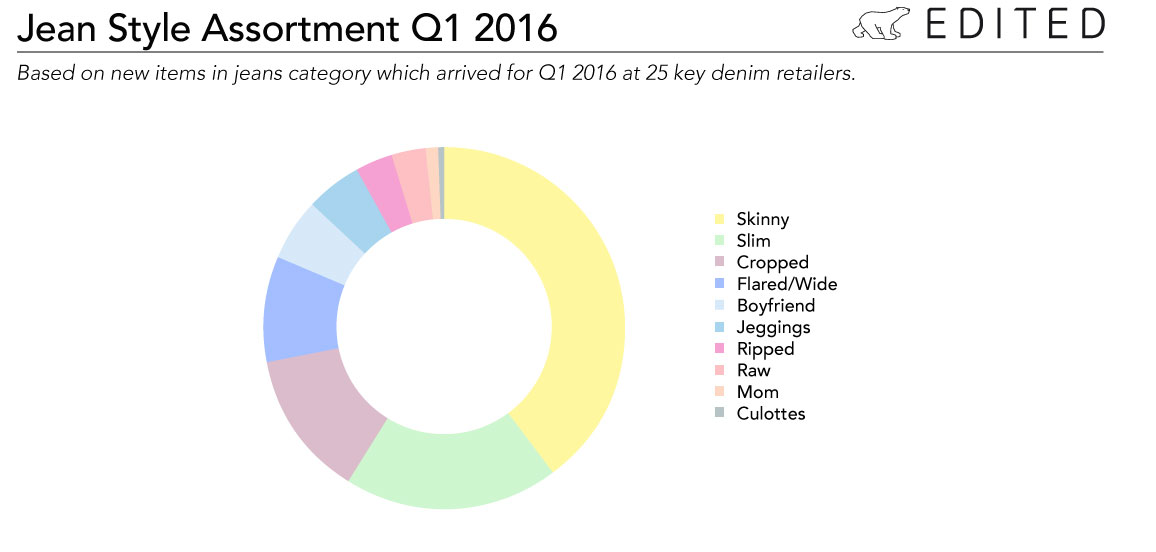 Skinny jeans dominate, despite their 'tragic death'. Maybe it was Roger's defibrillation. They make up 40% of current stocked denim, which is down 3% from Q1 2014. Also down from 2014 are slim cut jeans, by 7.5%. On the increase are flares and wide cuts. Their weighting in the jeans category has grown by 7.3%. Cropped jeans are up 3.9%.
Flares and wide cut jeans are on the increase – up 7% while skinny denim drops 3%
The Big Fight: Jeans vs. Leggings
So what of the arch-nemesis, athleisure? In that category of hoodies, sports tees and bra crops, the only real contender capable competing directly with jeans sales is leggings. The below chart shows the number of leggings arriving each quarter since 2013, alongside jeans. And here we're talking all leggings, not just those which would identify as 'athleisure' like yoga pants and performance wear.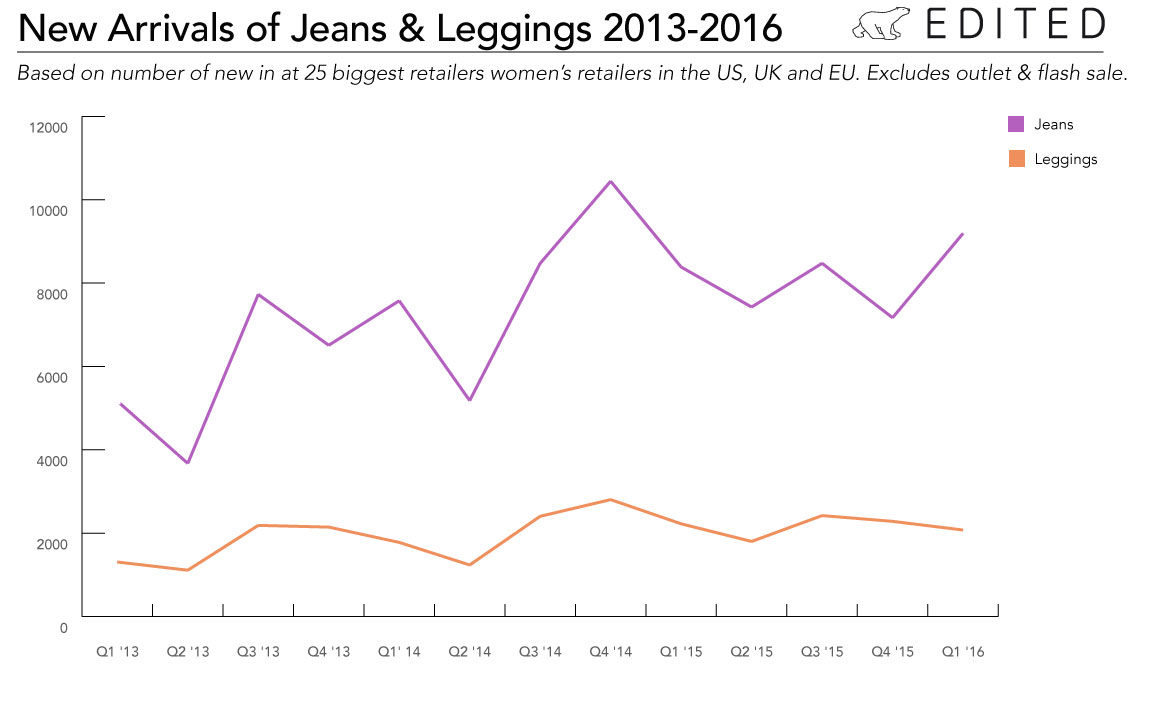 Yes, leggings grew in that time. The latest quarter compared to Q1 '13 shows growth to be 58%. But jeans, more dominant on the market, also grew, by the aforementioned 78%. The popularity of the yoga pant is a nice news story. It plays into all sorts of commentary on lifestyle, economics and consumer shifts. There's also interesting things going on with sports apparel business like Sports Direct and the Nike versus adidas battle, which take up column inches. But the coverage is a little out of proportion in relation to what's really happening in the market. Denim is alive and well. Hallelujah!
And What About Other Denim Apparel?
But of course, jeans aren't the only denim thing kicking around. Above, we looked at each jean style as a ratio within the entire jean category. Problem here is when you're looking at denim styles as a whole, they span several categories – denim skirts aren't denim shirts, and so on. Instead, we've looked at raw numbers of individual denim styles in Q1 '16 compared to Q1 '14.
In general, those 25 retailers grew their entire online offering 17.7% between Q1 '14 and Q1 '16. We can call that 17.7% the 'inflation rate' – the pace which those retailers grew thanks to e-commerce gains. So any product stats which shrunk or grew by more on less than around 18% suggests 'something's up'.
The verdict? Denim shirts are out of favor, down 4.3%. Shorts grew, but by only 3%, dresses 12.5% and jackets 12.7%, which means they're all still below the 'inflation rate'. Garments which have boomed are skirts, up 24.3% and dungarees, up 33% – both outstripping general online growth.
A Vow Of Silence
Is there any data which gives the press headlines credence? We dug real deep on this one, and bam!, we found it. Even though retailers' newsletter mentions of denim (up 31% last month compared to the same period in 2015) and jeans (up 44%) grew, we can see that retailers have shifted their homepage emphasis of the category. Jeans were mentioned 25% less on homepages in the last month (April 4 – May 4 2016) compared to one year ago and denim was down by 21%. Retailers lost confidence in pushing the category first. Were they swayed by press, despite their own retail data? Maybe.
The data shows it's safe to come back to denim, guys. Leggings appear to have peaked in Q3 and Q4 '14. Topshop knows what's up. In the last month, they've breathed life into their denim with innovative new trends. There's some beautiful embroidered jeans and denim shorts as per the Spring 16 runways of Dolce & Gabbana, Marc Jacobs and Alexander McQueen. There's metallic foiled denim, patched denim, sequins, new colors, maxi denim skirts and laser-striped denim. This stuff looks new and very appealing. Bravo, Topshop!
*The retailers we used in this research are: ASOS, Barneys, Bloomingdale's, Boohoo, Debenhams, Farfetch, Forever21, Gap, H&M, House of Fraser, J.Crew, John Lewis, Mango, Neiman Marcus, Net-a-Porter, Next, Nordstrom, River Island, Ssense, Saks Fifth Avenue, Selfridges, Topshop, Zalando, Zappos and Zara.