Last week, EDITD analysts travelled to one of the denim industry's most notable and growing tradeshows, Denim by Première Vision, settling into its new home in Barcelona. Below we outline the most promising trends for commercial success for the Fall '15 season.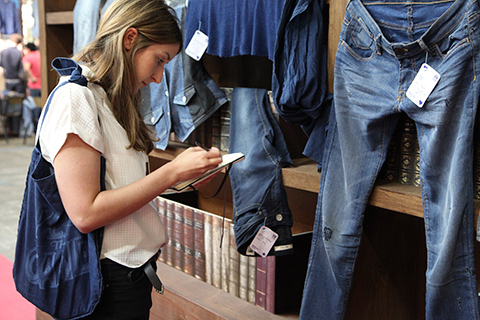 Any color as long as it's black
For Spring '15 we reported a move away from the colors of previous seasons, and a return to the traditional and classic indigo blues. For Fall '15, the story continues with very little color spotted on the stands. Instead, we see shades of grey moving to the forefront and backed by the majority of exhibitors, including Orta, Realteks, A14 and DNM Textile to name a few. Keeping it simple, black/black and blue/black were noted too.
'Comfort stretch' aka elasticity in menswear
A continuing trend from the past seasons of Denim by Première Vision, the importance of stretch and super-stretch fabrics is still on an upwards rise. It's become an unmissable quality for the Fall '15 season: noted for both sexes, skinny jeans are set to continue their reign going forward. What was of most interest was advancements aimed at the menswear market. The term 'comfort stretch' was commonly used to describe elasticity in menswear. Isko's X-Men™ jeans incorporate stretch into a more traditional loose fitting and looking product, combining the best of old and new desirabilities. Whilst in Arvind's 'Classic Men' collection, their improved recovery stretch denim retains the look of non-stretch rigid denim.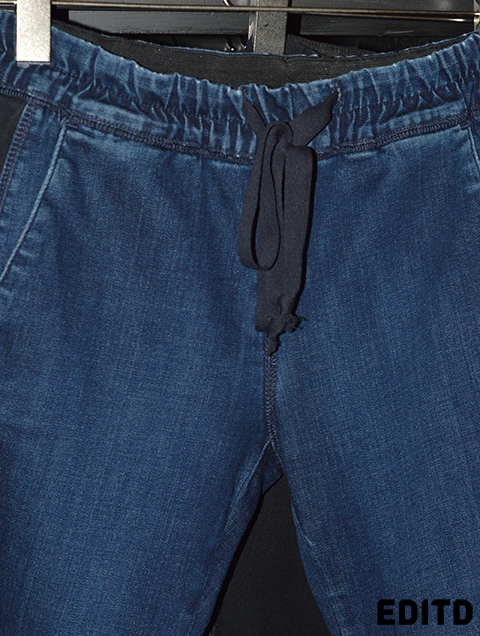 Patchwork
Seen both in the dedicated trend area and spread throughout the show, fabric mixing and pieced patches were out in force. The popularity of Junya Watanabe's patchwork denim creations has not only caused a storm on the runway and luxury markets, but also created a knock-on effect for future denim detailing. The strongest patchwork details were contrasting fabrics revealed from underneath the garment, as well as faux patches created by discoloration and fading techniques.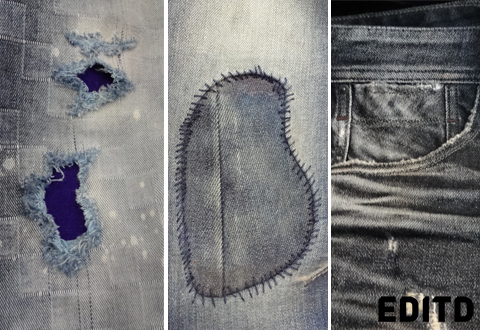 Denim Look Knits
With the emphasis on soft touch denims and comfort throughout the show, denim-look knits proved key to collections. Combined with fashion's current obsession with sportswear, this makes for some seriously comfortable and versatile garments.
Jogger jeans are a product that have mainly been available in the mass market, although Rag & Bone and denim heavy weight Diesel are currently the most stocked brands over all. Although on the radar, this is one trend that has yet to hit its peak, we also expect to see denim shorts and tees in this fabrication for the next Spring season.
Back To Basics
The vintage trend got a much needed update for Fall '15. There was a resurgence in authentic look denim at the show this season, more so than usual, with very few suppliers faltering from the back to basics trend. This time around, however, techniques are more refined and considered with less overtly distressed pieces on show.
Heavy weight denims are lightly worn around the edges, strong at US Denim Mills. Coatings, another important technique in it's own right, are applied to create soiled effects, seen at Cone Denim and Soorty. The theme lends itself well to a return of classic, selvedge denims, a favorite at numerous exhibitors seen throughout the show.
For further Première Vision trends, EDITD subscribers can see the full report when they log in.
To learn more about how EDITD's Retail Reports can help your business, click here.