Taking a look around the office, I see leggings, denim, bomber jackets and sneakers. No ties, no blazers and no center pleats on anything. In the age of the internet, workwear is having to look into the mirror and ask itself, "who am I?".
What we wear to work is changing because how, where and when we work has all changed pretty significantly over the last decade or so. We have fewer meetings, send more emails and work longer hours. Most aren't strangers to the acronym WFH and even more of us like WF other places too – coffeeshops, bars, workspaces…
Millennials, the largest consumer group ever, grew up alongside the technology central to these changes and are entering a workforce that's a whole lot more flexible than that of their parents. Dress codes have shifted accordingly. What was once "business" morphed into "business casual" which then consciously uncoupled and just became casual.
But retail hasn't really owned that transition. Refinery 29 went as far as referring to the $34.9 billion workwear market as "fashion's most glaring failure this century."
For millennials there are essentially two options: a zhuzhed up version of what you wear at the weekend or a slick outfit that screams 'I have an interview today'. There's not a whole lot in between.
That certainly doesn't cover all bases for the average consumer, let alone every type of consumer. We've whittled down three main needs of the millennial professional.
First, the super pro
Not all millennials work at start-ups, and those who don't still need tailoring. Law, finance and politics are arenas that still have pretty traditional dress codes and plenty of millennials working (very hard) in them.
There's a wide range of retailers who do smart workwear very well. Net-a-Porter's workwear edit features Gucci bags, Tibi blazers, statement shirts and conversation-starting heels. Marks & Spencer, which sent a workwear dedicated newsletter on January 14 with the subject line 'Time for a style appraisal?', have a workwear edit which includes jumpsuits, printed dresses trendy heeled mules and leather skirts.
Although the styling and product offering at both is great, neither retailer speaks directly to a millennial customer. At Warehouse, only 7% of skirt silhouettes are pencil skirts, and only one of those is office-appropriate for this particular customer. Meanwhile, 70% of ASOS' blazer/suit jacket offering is priced beneath $70, leaving the premium quality tailoring market wide open.
Ted Baker, does speak directly to millennials and has a small but successful range of workwear items – its suits and workwear pants have a higher sell through rate and higher replenishment than its dress category. Elsewhere there's Reiss, which gears towards a more modern conservative, and Whistles, whose workwear offering is tiny.
Detecting that market gap are the new brands springing up to tap into this market. One of them is Argent, whose fashionably styled $626 reversible suit gets twice the bang for the millennial buck.
The Uniform Dresser
This one is normcore-esque. The professional who doesn't care for spending time each day deciding what to wear. The kind of customer who sticks to a tight palette and may rotate key pieces repeatedly. At the extreme end of things is Matilda Kahl, Creative Manager at Sony Music. She's worn the exact same outfit to work for nearly five years. White shirt, black pants and neck-tie.
This customer is served by Everlane and Cos. Understated uniform basics that hint its wearer is a creative professional. There's still untapped opportunity for more retailers to pull together palette-based edits and educate their consumers on how to rework items for a streamlined wardrobe. One step further would be a palette-based bundle-buy. A tee, a button down shirt, a turtleneck and a pair of pants at one fixed price? It's a no-brainer.
Trend-led workwear
This is where things become a little less cut and dry. It's the mixing of this season's denim jean with a statement shirt and colorful shoes. It's the super-hyped sneakers paired with a bomber. It works for guys and girls and it's a look those of us in the apparel industry are used to seeing. But the problem is, retail doesn't make it easy to know where the line between weekend and weekday lies, leaving the consumer a little uninspired.
There's a huge content opportunity for retailers to either up-sell to trend-hungry consumers with different work looks suited to different demands, or to inspire shoppers to rework investment pieces into different looks. For the consumer who is hooked on bombers: show five very different bomber styles to cover all work scenarios. And please, someone tell me how can stonewash denim be made to look professional enough for a pitch.
Let's look a little more closely at workwear communications.
Communicating Workwear
We took a look at how many newsletters get sent out every month, revealing an interesting — unexpected — seasonality around workwear. Mentions spike at the start of the year and during Back-to-School. Sure, more resolutions may be made in those periods, but work is literally the one thing most of us do all year round. We don't have a retailing period where we all discuss weekend wear. So why is Monday to Friday any different?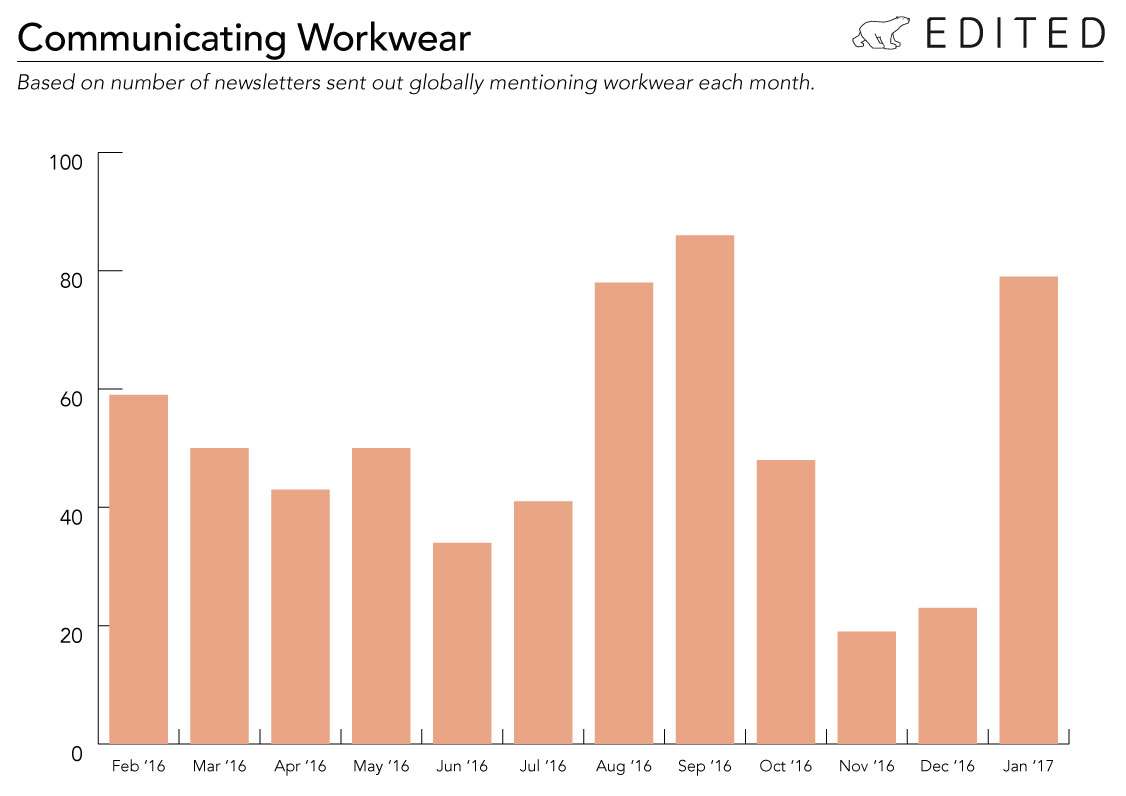 This January, (the second most workwear-geared month of the year) workwear has been mentioned the same number of times as velvet. Let's take a moment to think about that. Props to Matches who mentioned both within the one email. Lace was mentioned twice as many times as workwear and denim more than 7 times as many.
Office attire has changed: Last month retailers mentioned denim 700% more than workwear.
There are a few comms leaders. For one, UK menswear e-tailer Jacamo. Their site leads the pack with edit taking into account a full, millennial range of work occasions.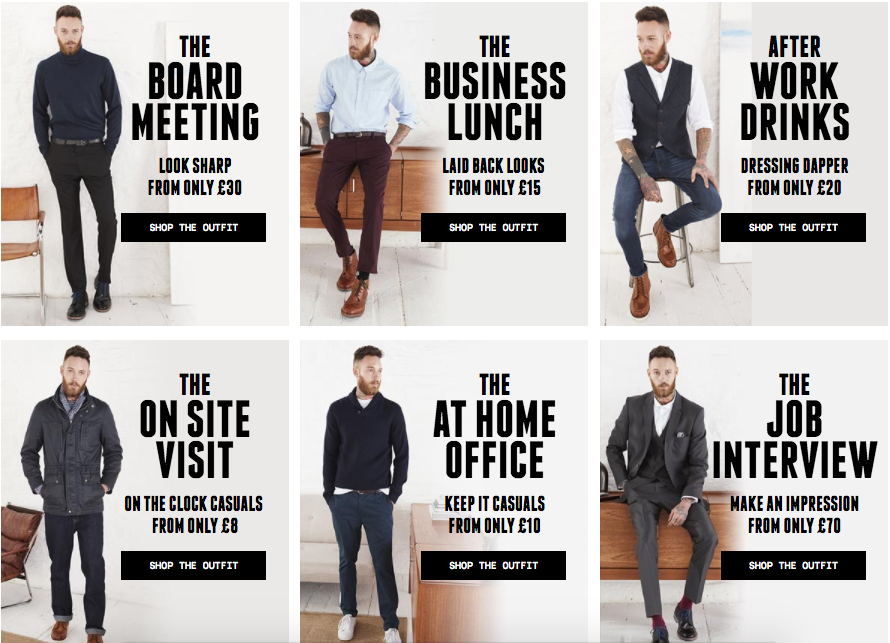 Some other honorable mentions go to the retailers below, with great email campaigns in the last month which will speak very directly to the millennial customer.
To really tackle the millennial workwear opportunity requires retailers to adopt the right language – words and references which show they understand what the workplace is like now. An acknowledgement of the need for transitional, comfortable and 'smart enough' pieces and maybe easing off from notions of "power dressing" and even "boardroom".
Someone who can bundle that up with a product offering that taps into millennial workwear needs, will own this space.