Despite being one fashion's most important designers of this, or any, era, Rei Kawakubo's name found itself this week in a place it's largely avoided for over 40 years–the headlines.
That's of course because Met is opening the Rei Kawabuko retrospective to the public this week following Monday night's Kawakubo-themed Met Gala-cum-fashion-doctoral-thesis. Katy Perry and Rihanna seemed to get it, while others got it less and some, like Kim Kardashian, didn't even know where to begin.
That's because Kawakubo's intention isn't "to make clothes", so it follows that her pieces aren't meant to be just "worn" either. They are both the reason and the event. And their influence, projected through Comme des Garçons, has been so far-reaching that no matter where you shop, you probably own something that owes its existence to an idea that started in her head.
Let's see how deep her influence runs in retail.
The Comme des Garçons influence
Tokyo-born Kawakubo started making clothing under the Comme des Garçons label in 1969, first showing in Paris in 1981. The label is steadfastly anti-fashion, challenging convention around the very notion of what apparel is. Hers aren't pretty clothes designed to show off model bods. In fact, Kawakubo herself told Vogue in 1995 that Comme is, "a gift to oneself, not something to appeal to or attract the opposite sex."
We're talking deconstruction and silhouettes that reimagine the human form. A Comme des Garçons runway show has the ability to leave its viewer dizzy, inspired, depressed, elated. This is avant-garde fashion, potentially the best and most challenging in the world. These probably don't look similar to much in your wardrobe:
But, but, but! Despite its high-concept runway shows, this is still a label you can clock five times on your commute to work. And one which has huge retail sway. Let's look at that.
Power of Play
To truly understand the broad appeal of Comme des Garçons, you need to understand the the web of diffusion lines the brand operates. The parent company, Comme des Garçons, is the main women's line; it's the one that shows in Paris each season. This is where the experimental stuff happens. Comme des Garçons Homme Plus is the male version of the same at men's fashion week.
Then comes Comme des Garçons Comme des Garçons, a women's ready-to-wear line so good they named it twice. It's exhibited at fashion weeks and focuses on timeless, uniform-like pieces. Its male counterpart is the workwear line Comme des Garçons Homme Deux. Next there's Comme des Garçons Shirt, which focuses on – you guessed it – shirts and t-shirts for a younger male customer.
Then there's Play, which covers men's, women's and kids' with its Comme des Garçons fan-merch. You can probably recognize it by its heart with eyes emblem. The line is casual, comprised of t-shirts, sweaters, knitwear and an ongoing (and successful) collaboration with Converse.
The main line and Play both include fragrance in their offerings.
The brand's carefully plotted span of lines appeal to a broad reach of consumers and ensure the creativity of the main collection can continue without the threat of compromise. It's got that same mass appeal Marc Jacobs achieved after some growing pains when Marc By was absorbed into the main line, and Michael Kors got into trouble trying to achieve.
So why does it work so well for Comme des Garçons?
For one, product isn't widely available. The brand has around the same number of SKUs available online globally as ACNE do in the US alone.
Comme des Garçons carries streetwear levels of scarcity that oversaturated Michael Kors would do well to take a look at. While Play repeats its cult classic tops year in year out, the other lines are free to never be too committed on any one style or collaboration that demand is fully satisfied, or that creativity stagnates.
Retail <3 Play
Thanks to those cult classics retailers like Play, it's their opportunity to buy deep with the brand. On average, a Play garment remains in stock for 241 days and never gets discounted. It's also a line that carries high fashion kudos – meaning that a retailer can merchandise a $98 Play t-shirt alongside $2,000 pants or dresses from other fashion brands. It's a gateway to luxury. Consumers can make an entry-level purchase at $40, for socks, or around $100 for a emblem t-shirt.
And that's why in the last two years, online retailers increased the number of Play products they stock by 45%.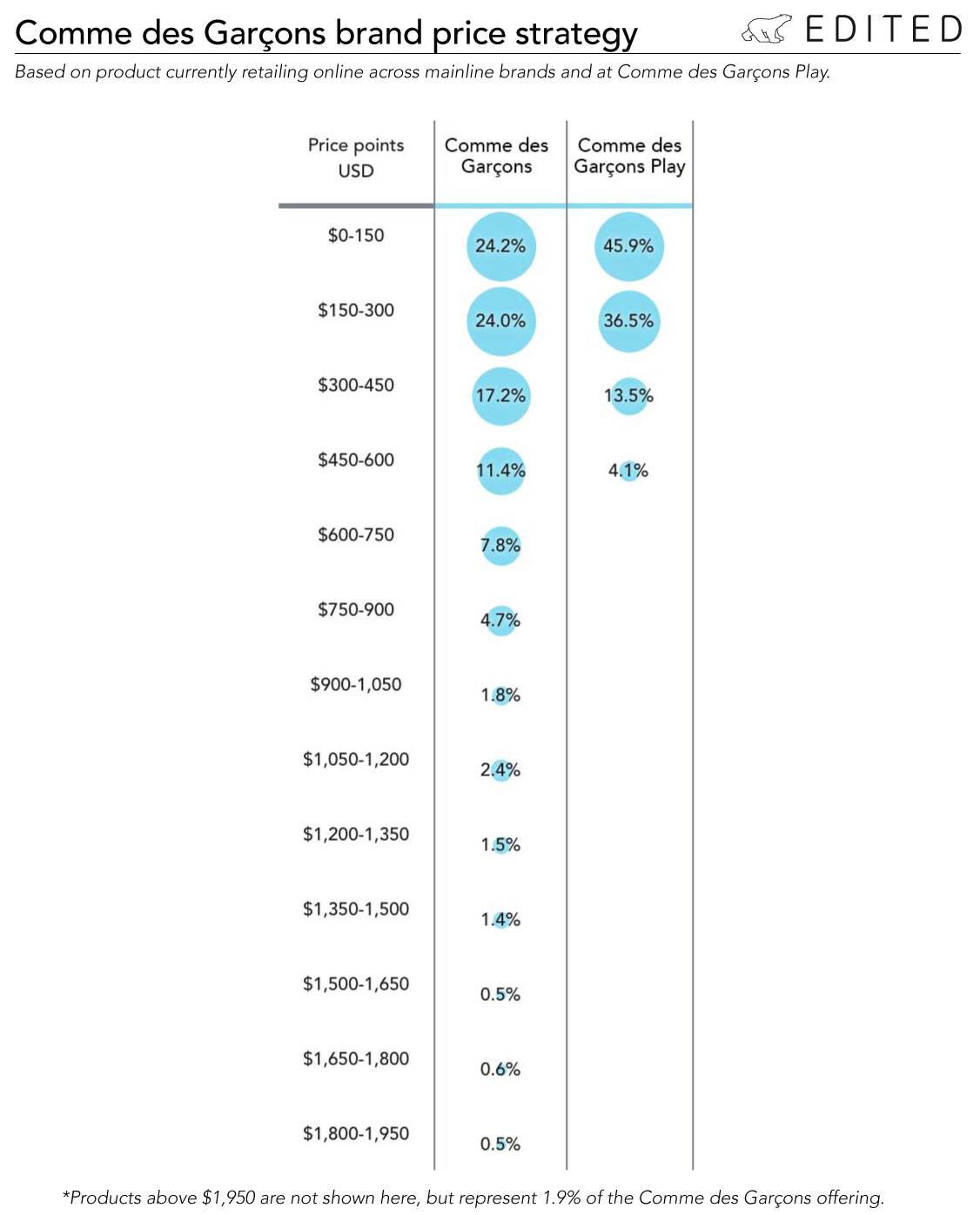 Prolific trend influence
Even if you don't own something from Play, it's pretty likely something in your closet is inspired by Kawakubo. Most trends we now take as commonplace in fashion? Those were her ideas. Distressed clothing, bought new with holes in? That comes from Comme des Garçons' 1982 Hole Sweater, when the industry thought it raving mad to show items in a broken state.
More than that, she's responsible for the whole unfinished look – a major Spring 2017 trend which carried over to the Fall 2017 runways, including at Versace and Saint Laurent – and raw hems, for which Spring denim retailers should be penning Kawakubo a thank you note. Raw-hemmed jeans are up 179% in the last three months from one year ago, and over 200 styles have sold out online in the last month alone.
If you want to know what we'll be wearing in 2027, look not further than Kawakubo in 2017.
How to sell
And we haven't even yet touched on how Kawakubo sells. You know those trendy pop-up stores you hear so much about? Kawakubo came up with that concept a cool 13 years ago. And her retail chain, Dover Street Market, which launched in London and now has five locations around the world, defines destination retail. Twice a year, the store completely reinvents itself, introducing new brands in a thrilling environment.
In fusing the avant-garde and the commercial, Comme des Garçons is a unicorn and were it not for her confirmed existence, Kawakubo would be too. A myth you could almost believe.
Is it possible that Rei Kawakubo, with her 48-year-old business, is the future of luxury fashion? Possible, even likely.
EDITED users, click here and we'll fill you in on the eveningwear trends from the Met Gala. Want access to data-led trend reports? Talk to us today.
Is it possible that Rei Kawakubo, with her 48-year-old business, is the future of luxury fashion?