Unseasonable weather has always been an enemy of the fashion industry – an industry whose newness is tied to the changing seasons. In the UK, there's been a slow start to winter weather, with September and October being exceptionally mild. Some retailers have suffered, SuperGroup reported a fall in like-for-like sales of 4.2% for the second quarter to October 25 and Next have warned they expect their profit growth to be as much as 8% below forecasts thanks to the unexpected weather in September and October. The British Retail Consortium warned that UK retail sales fell by 0.8% for September compared to the same month last year, the largest decline since 2008.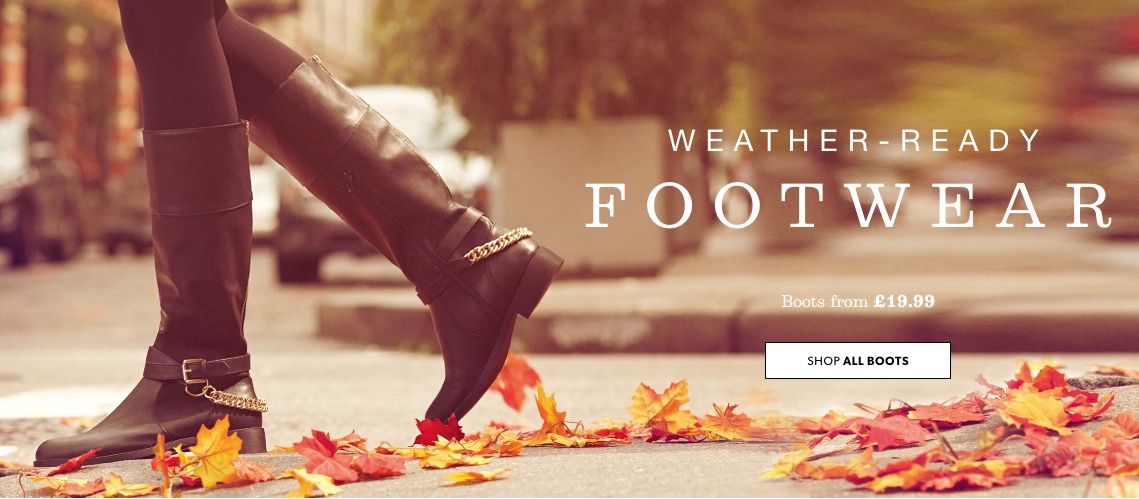 And yet, there are other retailers for whom the warmer weather hasn't hindered sales: Primark reported sales and profits had risen over 10 per cent in the first six weeks of their 2014-15 financial year, which begun on September 14. So what is the state of play? We've looked back at retail data from the last two months to uncover the real wins and losses, as well as outline trends which have sold better than anticipated and retailers who've been nimble to react.
October recovered
Data shows that in the U.K., there was a 14% drop in the number of products selling out in September compared to August – not a great start to the new season. However, the number of full-priced sell outs within that period climbed by 15%: fewer items sold out, but of those which did, more were full priced. That pushed the average price of sell outs up to $62 in September from $57 in October. October lifted, in both the number of sell outs and the number of full priced sell outs, which kept the average price at $61.36.
The U.S., who have also seen a late start to winter, though not as unseasonable as the U.K., saw number of sell outs drop by 9.2% between August and September and number of full-priced sell outs also fall, by 8.8%. They lifted in October, by 39%, and average price of items selling out went from $48 in September to $55.37 in October – a good recovery.
Looking into what has sold in the past week, compared to the same week in 2013, reveals that accessories make up a greater proportion of sell outs than they did one year ago. Outerwear has lost 1% of its ratio in the categories selling out, but footwear is where the real losses have been felt, scaling back by 9%.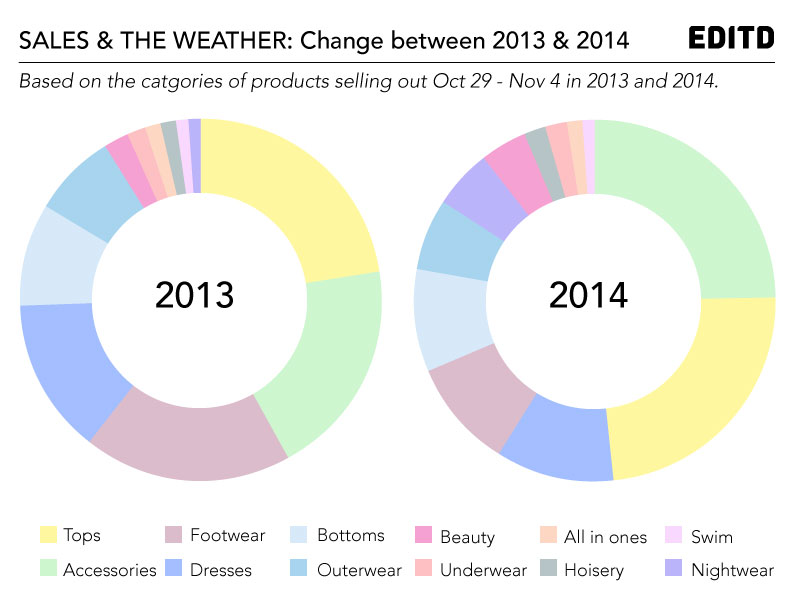 While the outlook for outerwear and footwear here was bleak, October recovered well. The advice to retailers is to have a well stocked accessories assortment, including various weighting of scarves in new season fabrics, colors and prints: consumers are buying these items to layer up their existing Fall wardrobe ahead of winter coat purchases.
AW14 bestsellers
The mild weather has seen heavyweight outerwear sales suffer, but there have been trend successes in lightweight items. The blanket cape has been a huge hit, ASOS have sold out of 11 styles at full price in the last month, Net-a-Porter six, Miss Selfridge and John Lewis five and Topshop four. Inspired by Burberry, these items are retail gold: they're not complicated to manufacture and therefore have good margins compared to heavyweight winter coats and have generous fit ranges so are low on returns and less complicated to buy in to.
Blazers and moto jackets are still selling well this late in the season, and Forever 21 are even still doing well with the kimono. In menswear, bomber jackets and gilets are still selling well late into Fall, and lightweight camo jackets (by Bellfield at M&M Direct and at ASOS) and twill jackets have been a hit – a $48.42 twill jacket arrived at H&M on the 2nd October and sold out of four sizes in 16 days. Forever 21 menswear have even had success with a male version of the blanket cape – a $30.68 Fringed Southwestern-Patterned Poncho sold out in five days without the complications of fit and sizing. No doubt there'd be excellent margins on that item for Forever 21.
Retailers entice spend
Retailers have had to discount across outerwear and footwear in order to lure spend – there have been over 14 thousand outerwear products discounted in October by U.K. retailers, with the average discount of 15%.The mass market accounts for 66% of discounts, and the luxury market 24%. House of Fraser are the biggest discounters of outerwear, followed by Zalando, Debenhams, John Lewis and ASOS. At Debenhams, 73% of children's outerwear is currently discounted, on average by 24%. At ASOS, 47% of women's outerwear is currently on discount, on average by 24%. ASOS have promoted this well – an email newsletter on the 14th September offered up to 60% off women's coats and a menswear newsletter on the 30th October offered '25% off cold-weather gear'.
There has been a higher number of footwear products discounted – 20,754 in October – but a lower average discount, 16%. The mass market represents 74% of discounts, and 16% of luxury. Zalando, House of Fraser, M&M Direct, ASOS and John Lewis are the retailers with the highest number of discounted footwear – Zalando have the highest proportion of discounting across men's, women's and childrenswear – around 65% of the offering reduced. Meanwhile, ASOS have high discount rates – an average of 29% discount on 50% of women's footwear and 32% average discount on 44% of the men's offering. Debenhams promoted their discounting on coats and footwear on the 29th October in an email newsletter.
Reactive weather innovation
As temperatures now plummet, retailers are reacting swiftly – New Look are fantastic at reflecting weather on their homepage, currently featuring weather-appropriate footwear. Last week, New Look offered a suggestion for "How to take on the rain and win" amid wet weather. Warehouse updated their homepage on the November 4 following temperatures dropping on the 3rd – "Shake up your style with new cold weather fashions".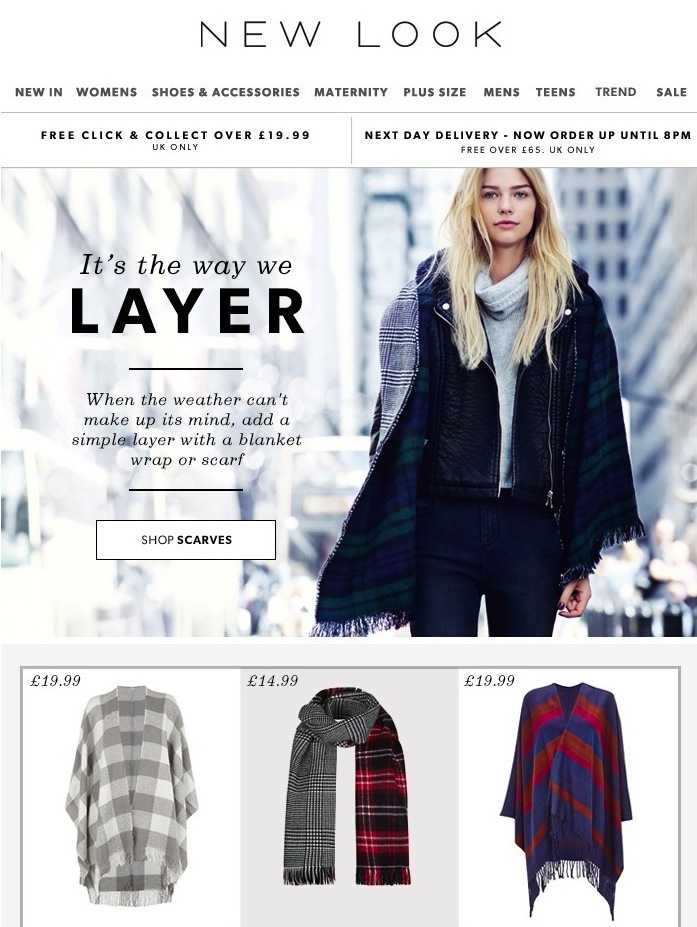 Nimble reaction to what's going on in consumers' environments is critical with online and global retail. Increasingly, people are shopping for the 'here and now', and the way retailers communicate offering needs to reflect that immediacy. Since June 3 this year, Topshop have offered daily weather-appropriate edits for their U.K., U.S. and Australian website, using a temperature and weather symbol on their homepage to direct shoppers.
Burberry, whose offering hinges around weather-appropriate outerwear, use London's real-time weather as the linchpin of their social updates and even live-streamed London weather at bus shelters and on digital billboards during the London Olympics. Even Zara, who rarely refer to holidays or seasonal events have introduced a new section on their site for "Special Prices" – an edit of 64 key pieces at favorable prices, which currently includes 12 coats. This section will allow them to be more reactive, without losing their global personality.
Retailers must up their flexibility, speaking to consumers in a relevant way, and offering products suited to their current lives will cut through in a crowded market place.