People keep having them, kids that is, despite the environmental cries that their presence is to blame for climate change.
The Kardashians have released three in 2018 and the UK's own royal family have a fresh one.
No doubt those four new children will over the next 16 years contribute some serious dollars to the 158 billion that the industry already generates annually. If you're truly #blessed and you work in childrenswear these celebrity kids may at some point be seen in your childrenswear designs. Stand by for sell out.
But don't hold out for it. Instead, focus on the remaining non-celeb 27% of the world's population: normal kids. We're here to help you with that, tracking shifts in the market and childrenswear trends.
Childrenswear is booming
We tracked the new arrivals at 45 of the world's biggest apparel retailers and found that childrenswear was up 14% in Q1 this year compared to two years ago.
Childrenswear has a growth spurt: it's up 14% from Q1 2016, while grown-up's apparel shrunk 6%.
In the same time frame, at those same retailers, adult apparel shrunk by 6%. With Q2 off to a strong start, children are quite possibly Spring 2018's hottest trend.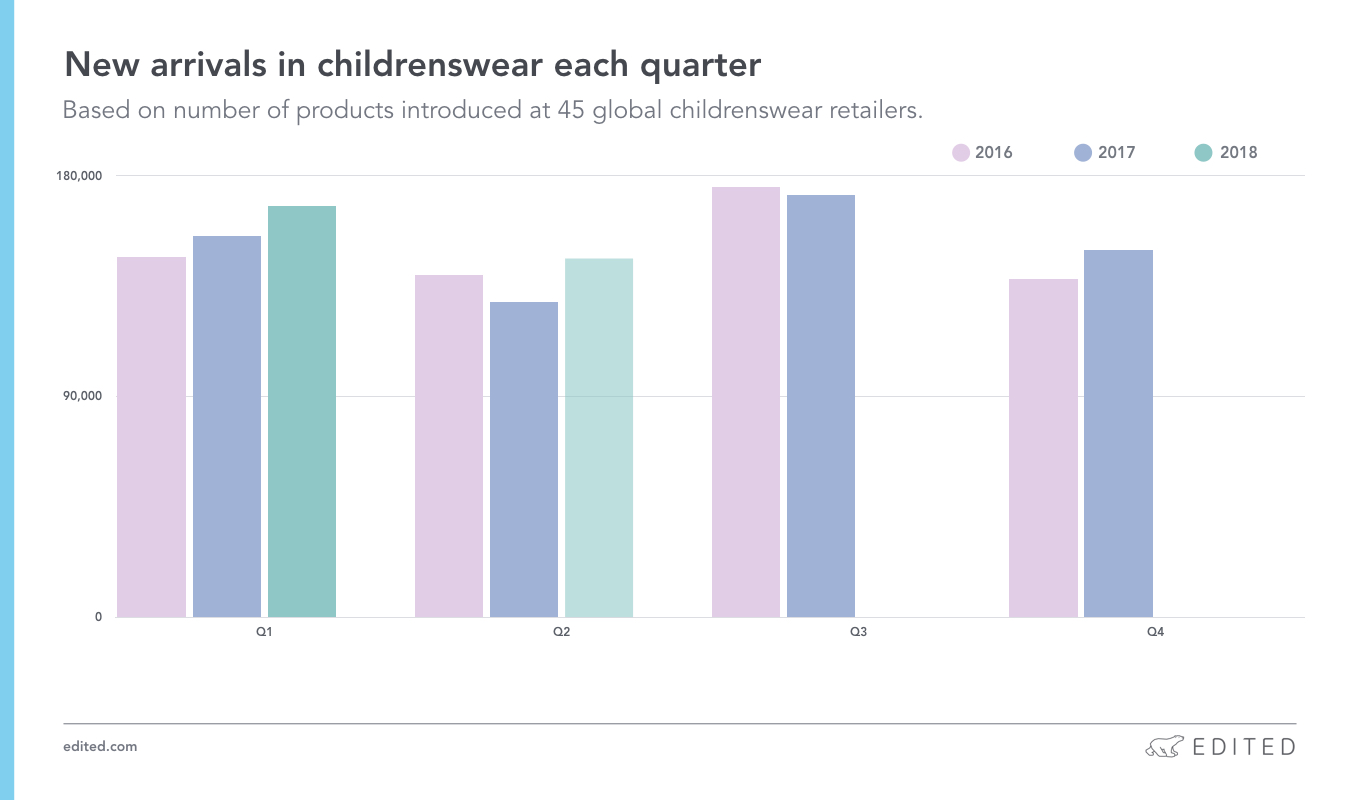 Teens are back
Teen shoppers went away for a minute – which prompted those big changes at Abercrombie & Fitch, Aeropostale and American Eagle. But data shows the teen market is growing. Looking at the first quarters of 2016, 2017 and 2018 we can see new arrivals of teen apparel are up 29%.
That growth outstrips every other age of childrenswear, with babywear seeing the least movement. That's interesting given recent research by Piper Jaffray that shows teen spending on apparel now falls behind food. Are large retailers upping their offering to try and appeal to the parents of teens rather than the teen themselves?
Retailers need to suss out who is buying their teen apparel because this group of shoppers will need sophisticated marketing – they act with lightening speed when it comes to trends and their social references move with viral pace. Today's brands and retailers are speaking very directly to this customer they haven't had much prior contact with.
It's also worth noting the buying behaviour in teens' favorite category of spending, food. Today teenagers prefer eating at casual destinations rather than full-service locations they chose a decade ago. This consumer prefers little interaction with staff at their chosen destinations, preferring self-service and convenience. That's evidenced in the boom in teen spending at places like Starbucks and Chick-fil-A.
When selling apparel to these consumers, a similar hands-off approach should be taken.
Getting a taste for luxury young
Wind back to this week in 2016, luxury accounted for 4% of the childrenswear market. Right now it accounts for 11% of the market, taking marketshare from both the mass and premium markets. Prepare for an onslaught of nippers dressed better than you.
The impact of that is an increase in perceived value across the category. The mass and luxury markets have both got more expensive over the last two years, but at the same pace. Average prices on both markets have grown at 13%.
Below we can see how key items within childrenswear have priced upwards, except for skater dresses, which have declined as the trend has faded.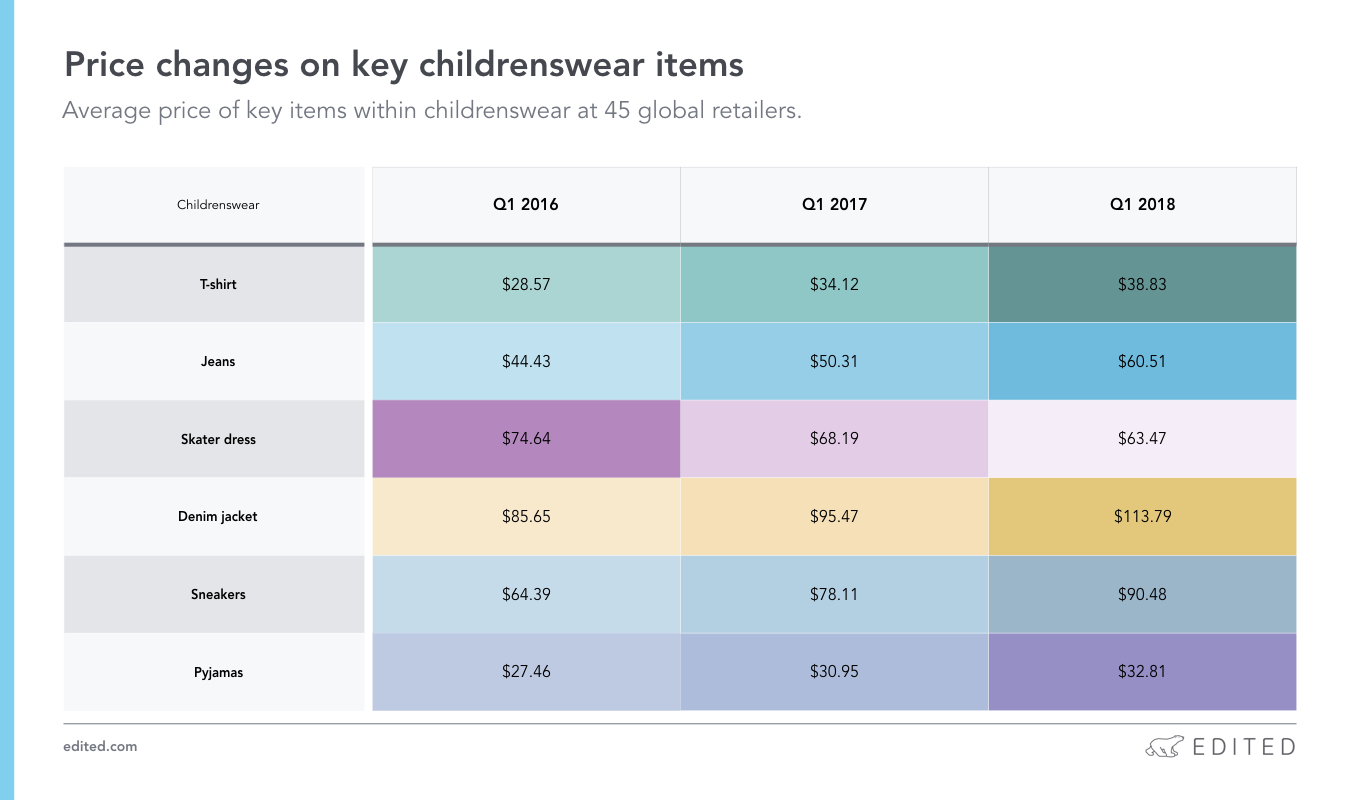 The five most-stocked luxury brands in childrenswear covers a span of tastes, including preppy, flamboyant and trend-led:
Ralph Lauren
Burberry
Dolce & Gabbana
Monnalisa
Stella McCartney
In other luxury news, Albertta Ferretti is launching its first kidswear line for SS19 and Stella McCartney has announced a licensed range with the comic Beano.
Prints charming
Childrenswear in the most part has to be more functional and comfortable than adult apparel. That can be limiting when it comes to fabric and silhouette, which means print is a key focus for introducing newness for childrenswear retailers.
The good news is EDITED software lets you dig deep into the intricacies of print. Currently 54% of children's apparel is patterned, compared to just 36% for the grown-ups. But within that 54% there lies some interesting category characteristics.
For swim, nightwear, tops and dresses print is absolutely critical, accounting for more of the assortment than other categories. If you have EDITED access take a look at which prints those categories invest strongest within your market. How does that change for genders and ages?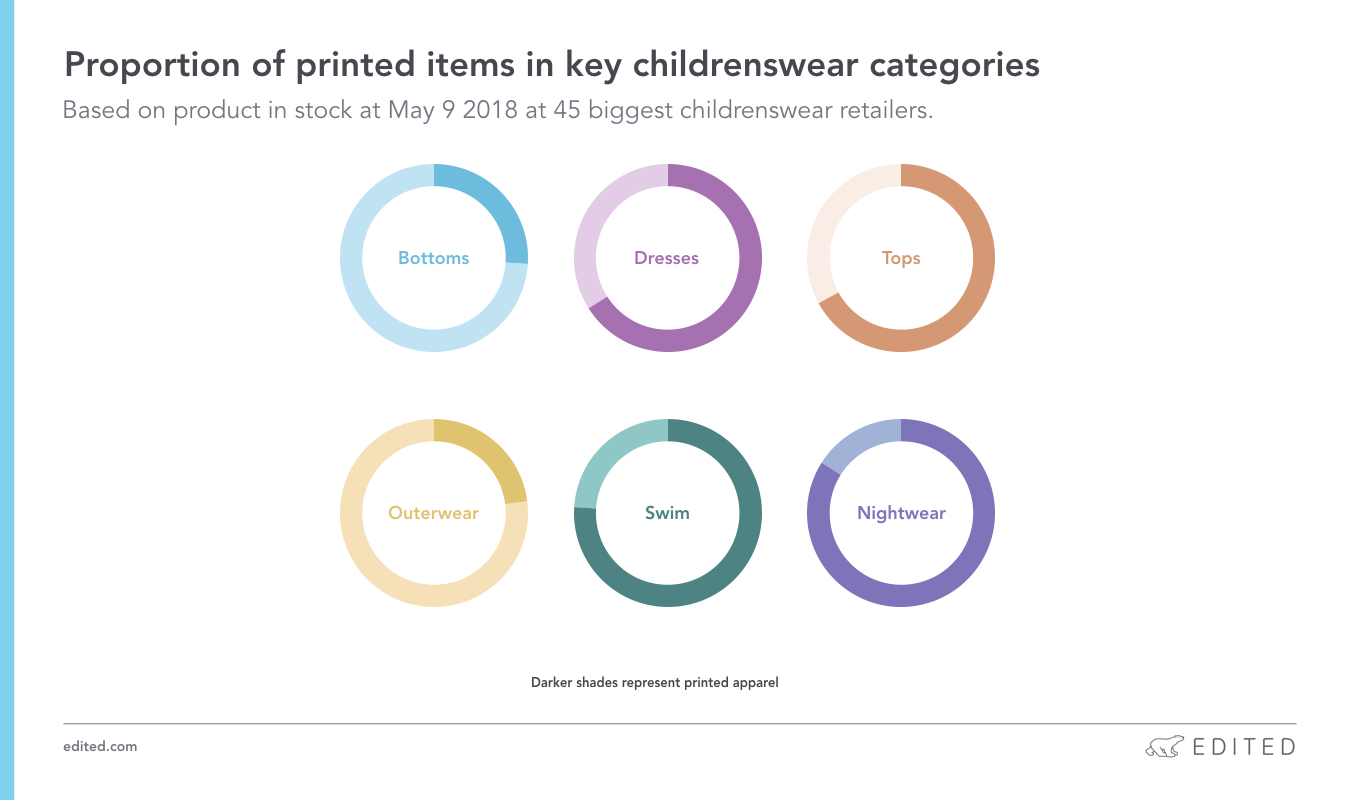 When we did that, we found the way specific prints are used changes as the age groups shift. Graphics represent 38% of printed baby clothing, but 45% of teens'. Stripes account for 16% of prints in baby clothing and 12% of teen.
Even more compelling is the way that print trends have shifted in two years. Bear in mind that the entire childrenswear market has grown, so we're looking for print growth that outstrips the rate of organic growth.
In boyswear conversational prints saw the most growth, outstripping the growth rate by 27%. Florals grew 9% on top of organic growth and graphics stayed consistent. Meanwhile, stripes and checks were down.
In girlswear, florals were 10% behind the growth rate and checks and stripes were in line with it. Graphics and conversationals were where girlswear saw most growth, with a 13% and 23% lift respectively.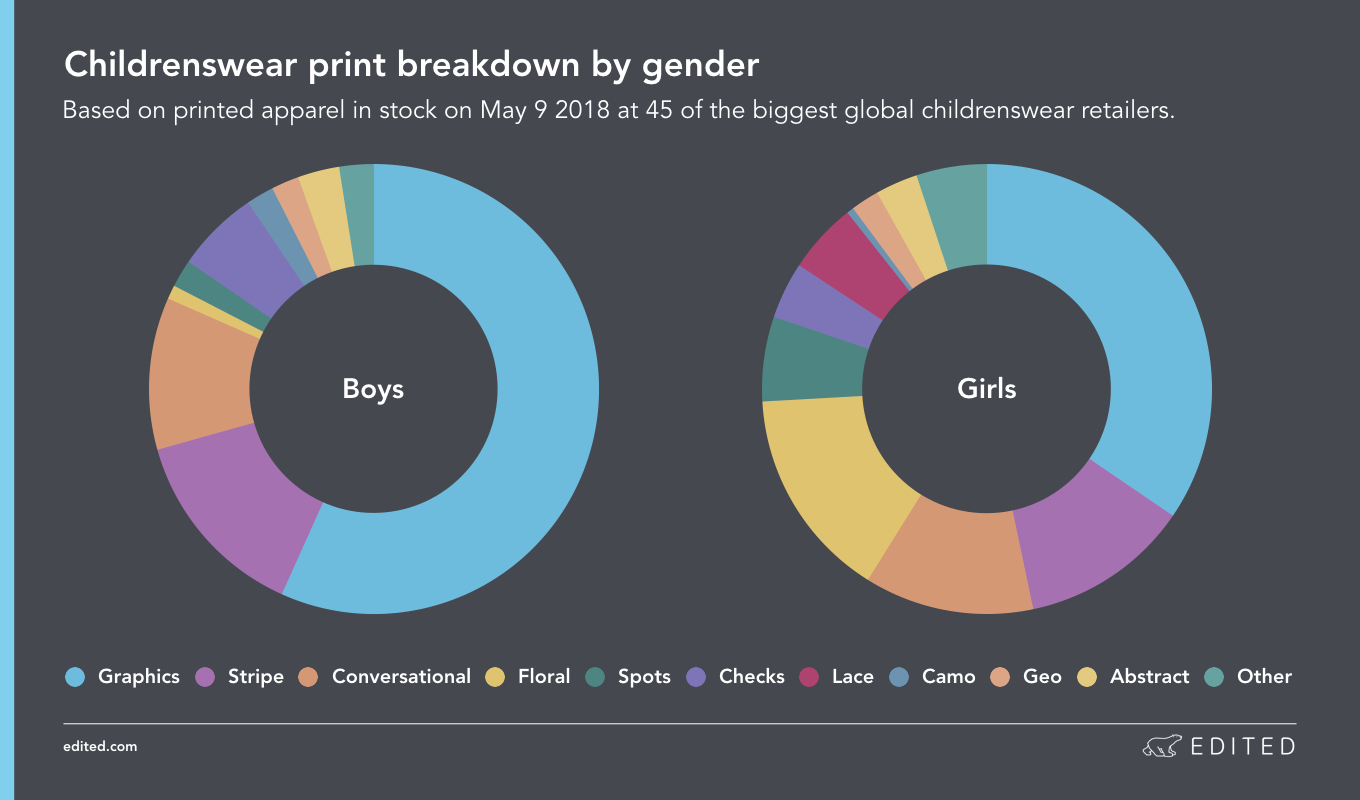 Gen Alpha Yellow
Gen Z, you thought you owned yellow, but you don't. It's all Generation Alpha's.
We looked at the way color trends have shifted in childrenswear so far this season compared to Spring/Summer 2017. Yellow wins out, growing 45% in new arrivals. Green is up 18%, while pink climbs 8% and purple, touted by Pantone as one of the colors of the year, drops 5%.
Two things to take from this. Firstly, children's color trends have become just as critical as the adult apparel market with more movement between seasons. And secondly, gendered colors are seeing less growth. Greens and yellows are genderless, something that many retailers are seeing millennial parents value.
Here are yellow top movers from this season. They're all products that have sold out fast, at full price:
Millennial Parenting
We should talk about millennial parents. Of course, as with the generations before them, their approach to parenting is different, including the way they buy for their babes.
This group of consumers, who are approaching parenthood later, are style-conscious, having had more time, money and digital encouragement in creating an identity of 'self'. They want childrenswear that not only fits with their own personal aesthetic, but their values too.
That has contributed to the increase in genderless apparel and sped up the adoption of childrenswear trends, but it's also kickstarted the 'mommy and me' trend.
Driven by the Insta-famous and a whole host of childrenswear trend hashtags, as well as real life celebrities, increasingly parents are dressing their offspring as mini-me's. Savvy retailers have got in it, launching mother/daughter collections.
Last year Reformation launched its "Mama and Me" collection, which returns in time for Mother's Day this year. Its dinky t-shirts and dresses pair perfectly with their adult-sized versions. Madewell has curated strawberry print pieces from its womenswear alongside its J.Crew Crewcuts line and Moda Operandi recently hosted a "Mommy and Me" trunkshow.
Want to go one step further? How about genderless parent/child apparel with a sustainable ethos? Just wait 'til Everlane introduces kidswear. Instagram will love it.