Urban Outfitters has been out at sea for the past two years, battling years of stagnant sales and slow growth. They know it, and they also claim to know why.
According to executives, the fashion business just hasn't had many new trends in a while. That's one (very contested) interpretation, but can it be that simple? Let's have a look at some data to get a sense of what's going on over there.
Parent company, Urban Outfitters Inc, isn't without its wins: Free People has gone from strength to strength with its wholesale and retail model. But it only represents 18% of the company's sales. Big siblings Anthropologie and Urban Outfitters, with 42% and 40% of total sales respectively, are where the real battles wage. But the winds could be turning in their favor, the company beat Q4 profit forecasts and share prices are up 24% since the start of the year.
How did Urban Outfitters get blind-sided in the first place?
Urban Outfitters has had to contend with a very profound change in their customer's identity. As reported in Piper Jaffray's teen spending review in October 2015, teen spending on apparel and footwear fell from 45% to 38% between 2005 and 2015. Teens have tripled their spend on electronics and gadgets and they seek shareable experiences more than the latest garment. And while teens were busy changing their spending patterns, retailers like H&M and Forever 21 swooped in with their fast moving assortments of low-cost and relevant apparel.
That's caused a whole lot of strife for collegiate brands like Abercrombie & Fitch, American Eagle, American Apparel and UO. Brands with a strong visual identity that garnered a tribe-like following in the days before social media.
Their shoppers now have broader sources of inspiration and seek personality and authenticity. They no longer need to be in with the preppy set, identify as boho or indulge in purely grunge aesthetics. Youth consumers make more choices in forming their identity. And these retail savvy consumers will detect the merest hint of insincerity in marketing (Abercrombie know this better than any, having had to realign their entire marketing strategy).
Back in 2014 Urban Outfitters' owner and CEO, Richard Hayne, attributed the falling sales to poor store design and "over-assorted and piece-y" offering. Rather than going head to head with Forever 21 and H&M, UO have outlined their target shopper as aged 18-28 year old. The retailer has made a commitment to include better fabrics and introduce higher prices to move away from the younger shoppers that the last few years of discounting have driven in. This is a refreshing approach, but product and experience will have to match up.
The changes they've made
Urban Outfitters may have been late to act on that consumer shift, but it can't be accused of ignoring it. Last year the company bought a popular Philadelphia pizza chain. That may read as unhinged, but will make good sense if they're going to use it to drive experience in store. And they're at the front of the vinyl record renaissance tapping into today's consumers' (retro) tech interests – 8.1% of vinyl sales in US are at UO, they're the biggest brick and mortar retailer of records. Even Amazon only has a 12% market share.
They've made inroads in beauty, which has sold well, and in 2014 UO introduced their own activewear line, Without Walls. It was sold through its own site as well as on UO's and was segregated in store. This week the retailer announced it''ll fold that line into the main UO assortment. That's further acknowledgement that they understand today's youth consumer, a shopper who doesn't view activewear as a separate category just the more functional stuff in their wardrobe.
Assortment & Pricing
Tackling that "over-assorted and piece-y" offering, UO has scaled back on the volume of products coming into store. Number of new products fell by 30% from Q1 2014 to Q1 2015 and is on course to drop another 18% by close of Q1 2016.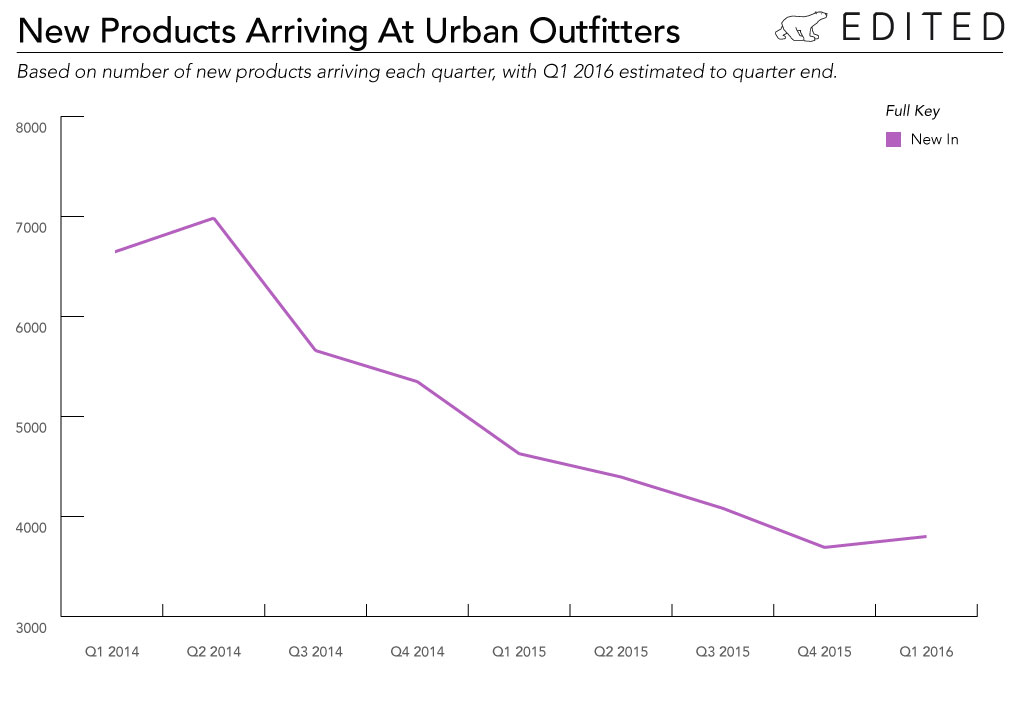 Downsizing @UrbanOutfitters. Q1 on track to have 43% fewer new arrivals than Q1 2014.
At the same time, $30-40 has become the retailer's focus price point, whereas in the first half of 2015, $20-30 price point saw the highest level of new products. However, in focusing on that $30-40 price point, it looks like UO has drawn away from upper price points. The average price on a pair of men's jeans has fallen 30% from 2014, women's dresses by 11% and sneakers down by 3%.
Undoubtedly, there's too much discounted product cutting into margins and skewing those prices. 42% of UO's current offering is discounted, by an average of 44%. Looking at UO's peers it's clear discounting needs to be brought in line: Amercian Apparel have 24% of its assortment on discount and Topshop just 13%.
New Brands
Aside from its own activewear line, UO is placing greater emphasis on the sports category, growing its Adidas offering by 62% in the last three months compared to the same period in 2015. In the last year the retailer has also picked up Fila – which lent the 2015 back-to-school campaign a far cleaner look than previous years – and heavily invested into Calvin Klein.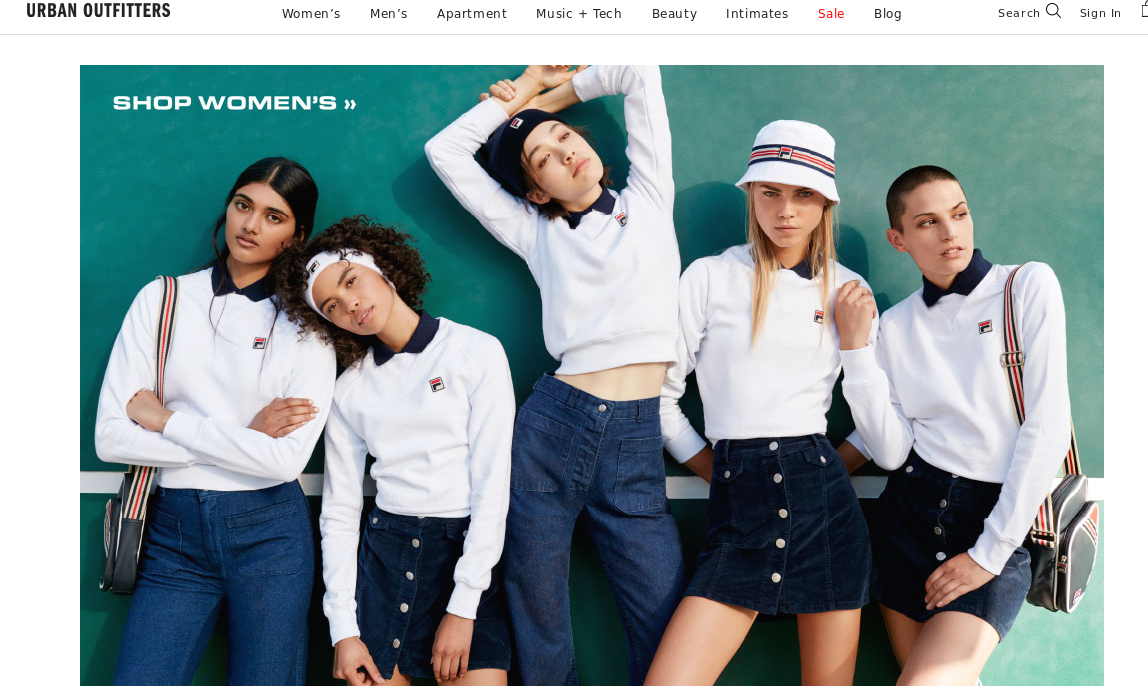 The retailer has eased off on its vintage collection, Urban Renewal with only 143 pieces still in stock, 80% of them on sale. That's part of the grungy, vintage aesthetic that served them well for many years, but which is now available at cheaper price points from H&M and Forever 21.
It's wise that UO go after more of those functional premium brands like Calvin Klein to grow the upper range of their target age bracket. But UO could decelerate on rates of newness to help them build into premium brands. With 37% of the current offering new in the last three months and a further 29% aged 3-6 months, UO are operating with H&M speeds of newness. That's probably overkill.
There's still a number of UO own brands no longer serving the retailer. Kimchi Blue ("flea market and vintage finds") has very high discounting rates, as does the indiscernible Ecote ("decadent fabrics, crochet and tie-dye techniques are played against vintage surplus") and Truly Madly Deeply ("edgy tanks, stand-out t-shirts and slouchy sweatshirts") is priced lower than UO's target price range. These could do with some tidying. Meanwhile, lingerie-inspired Out From Under and men's workwear line CPO do well.
Communications
There's been good progress with imagery and tone recently, with content less frequently inspired by grunge and boho themes. Click below to compare some of the sleeker, more brand-centric email newsletters and homepages UO have put out in 2016, compared to their younger look in 2014 and 2013.
Trend selection still needs some work though. Stories this year have included BDG denim shapes focusing solely on skinny and boyfriend jeans (no wider, frayed hem or cropped shapes which would be gold on this market), the button-front skirt (last year's big news) and 'The look we're all wearing right now", skinny jeans and long jackets. This creates a stagnant retail environment – you're not going to shift trends if you don't tell your customers about them.
Caution Needed in Coming Months
In wake of Dov Charney, American Apparel will be ramping up product launches and new campaigns over the next few months. Urban Outfitters mustn't treat American Apparel as the competition or look to emulate the hits – it has so many riffs on basic items that there's no way UO can compete on core. Instead, UO should aim to fill the gaps in customer's wardrobes that American Apparel can't fulfil. Afterall, normcore as a head-to-toe look didn't last too long…
UO should be easy with (and make it easy for) their customers styling their higher priced, more complex pieces with American Apparel's basics. That's not to say UO shouldn't run core items – of course there's opportunity to sell basics, but don't buy too deep and don't be lumbered with non-trend colors. Go for fast wins on off-the-moment colors. But place buying and marketing emphasis on other categories, like outerwear, footwear, accessories, lingerie and sleepwear, where American Apparel is weak. Do this with a compelling brand mix and Urban Outfitters will have really carved out a niche.
One last thing, Urban Outfitters. If you're increasing your age range and price points, wouldn't it be wise to look into extending out size range? Currently just 12 of 621 women's tops come in your XL size. There's no women's dresses or bottoms in XL. Larger and plus sizes for the cool, contemporary 20-something market? You could really own that space.