In recent years, hype surrounding the Thanksgiving holiday sales has reached unprecedented levels, with retailers whipping their customers, and each other into a frenzy of door busting deals and bartering with their store opening hours. Black Friday, Cyber Monday, and all that's in between, is a critical time for retailers in the run up to Christmas, and analysts vie to estimate where the biggest wins will be.
We've just released our free to download report which unravels retailers' tactics and offers the best advice for Thanksgiving 2014. You'll discover which trends should be reduced this Black Friday, which market reduces most heavily and which categories sell best in the holiday across men's, women's and childrenswear.
First up, let's have a look into the current levels of discounting on the US market to understand what will happen in the next few weeks. With the majority of mass market discounts already being between 30-40%, retailers will have to slash prices hard in order to drive new shoppers. However the luxury market's current low levels of reduction allows space for them to generate hype for Thanksgiving – we expect to see hard discounting from 30-70% in this market as of Black Friday.
The data-packed report revealed Zappos, predominantly a footwear retailer, to be the US retailer with the highest number of discounted product in 2013. The US brands which have the highest number of discounted products on the market reflect the high-end mix of retailers in the biggest discounters.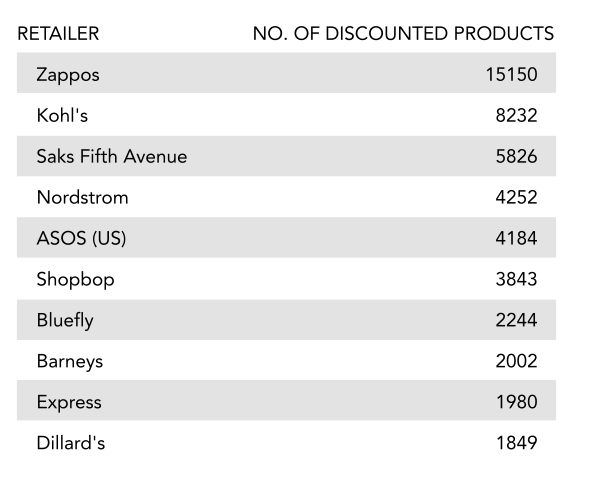 This mix of premium brands contrasts dramatically to the activity in the UK market.The UK's biggest discounters are, on the whole, department or mass market retailers. John Lewis, House of Fraser and Debenhams target those buying for family.
Learn the best tactics for holiday discounting by comparing the US and UK markets and their most successful retailers.
Download your free copy of the Black Friday 2014 report here.