You're still with us, which means you survived Black Friday and Cyber Monday. That's no mean feat given the choppy waters that lead into the discounting holiday. For one thing, it was the warmest US November in 250 years, resulting in unusually high levels of winter inventory that retailers were looking to shift.
The headline news is that while online grew, footfall fell. But there were online hiccups too. The Neiman Marcus site suffered severe outages during Black Friday and Saturday, and Target had site errors through Monday. Notably silent were Lululemon and Nike, who chose not to discount. But let's cut to the chase and see what data tells us about online activity over the (long) weekend.
How did the US perform?
The North American retailers (or North American sites of retailers) with the highest number of discounted products were Farfetch, Kohl's, Nordstrom, Target, Ssense and Zara. Although Saks Fifth Avenue did increase the number of items it reduced this year, it wasn't enough. Its competitors gave a bigger push, causing the department store to slide from last year's fourth position to seventh.
The biggest discounters, those who slashed the most products' prices by 50% or more, were Farfetch, Nordstrom, Hudson's Bay, Kohl's, Ssense and Lulus. Zara scaled back on the level of its price slashes this year compared to last, which had them in the top three.
The chart below shows that discounting in the US grew on Black Friday compared to last year, and shrunk on Cyber Monday. There's also been substantial growth in discounts applied on the Saturday – normally a moment of reprieve for retailers over the weekend. It resulted in growth in sell outs on Saturday, though that growth peaked on Cyber Monday.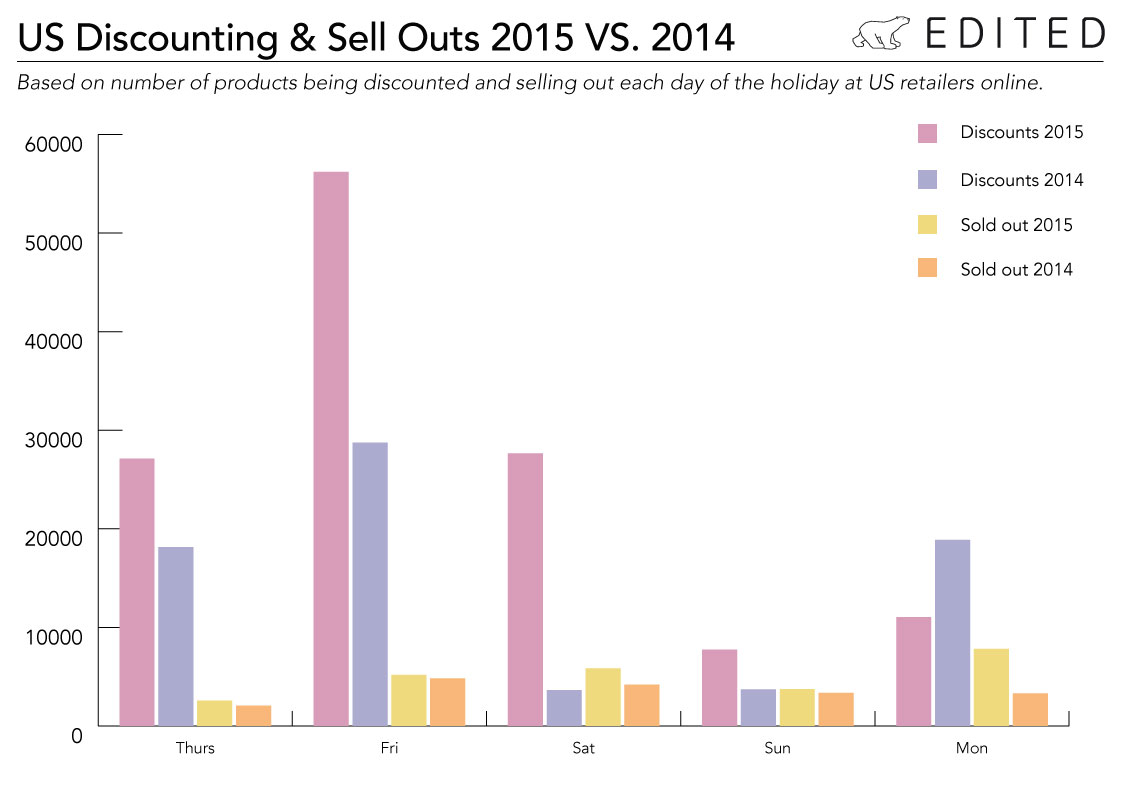 On Black Friday 41.5% of the entire US apparel market was discounted, and by an average of 36%. That grew to 44% of the market on Cyber Monday, with 36.3% the average reduction.
On Black Friday 41.5% of the entire US apparel market was discounted by an average of 36%.
Though the highest number of products were discounted on Black Friday itself, the highest level of discounts occurred on Thanksgiving. Retailers know that those dedicated to shopping on that day are only looking for one thing: bargains.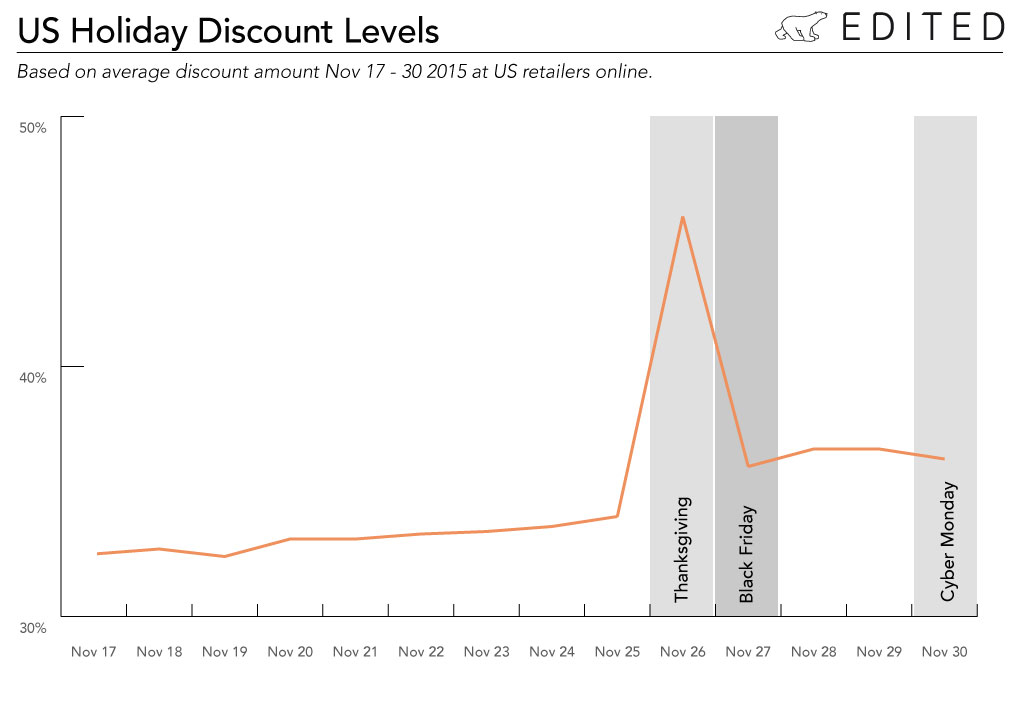 Much has been said of the widespread discounting throughout November due to the warm weather. However, there was still a 188% increase in the number of discounted products on Black Friday, compared to the Friday before. That's not as striking as the UK, where Black Friday discounting lifted by 1112% from the previous Friday.
In the US Black Friday discounting lifted by 188% compared to the previous week's Friday.
And What About the UK?
So it's time to talk about the UK, who are relatively new to the Black Friday game (the discounting event only picked up market-wide momentum in 2014). Needless to say, the UK doesn't celebrate Thanksgiving. Despite that, discounting still grew on the Thursday and in line with the US, it was the Thursday when the average discount amount was at its highest.
On Black Friday, 44.7% of the UK market was on discount, a higher proportion than in the US. The average reduction was 32%, which was lower than in the US. So, more stuff reduced by less sums it up.
By Cyber Monday, 45% of the market was on discount. Throughout the discounting weekend, tops were the most discounted category.
Throughout the discounting weekend, tops were the most discounted category.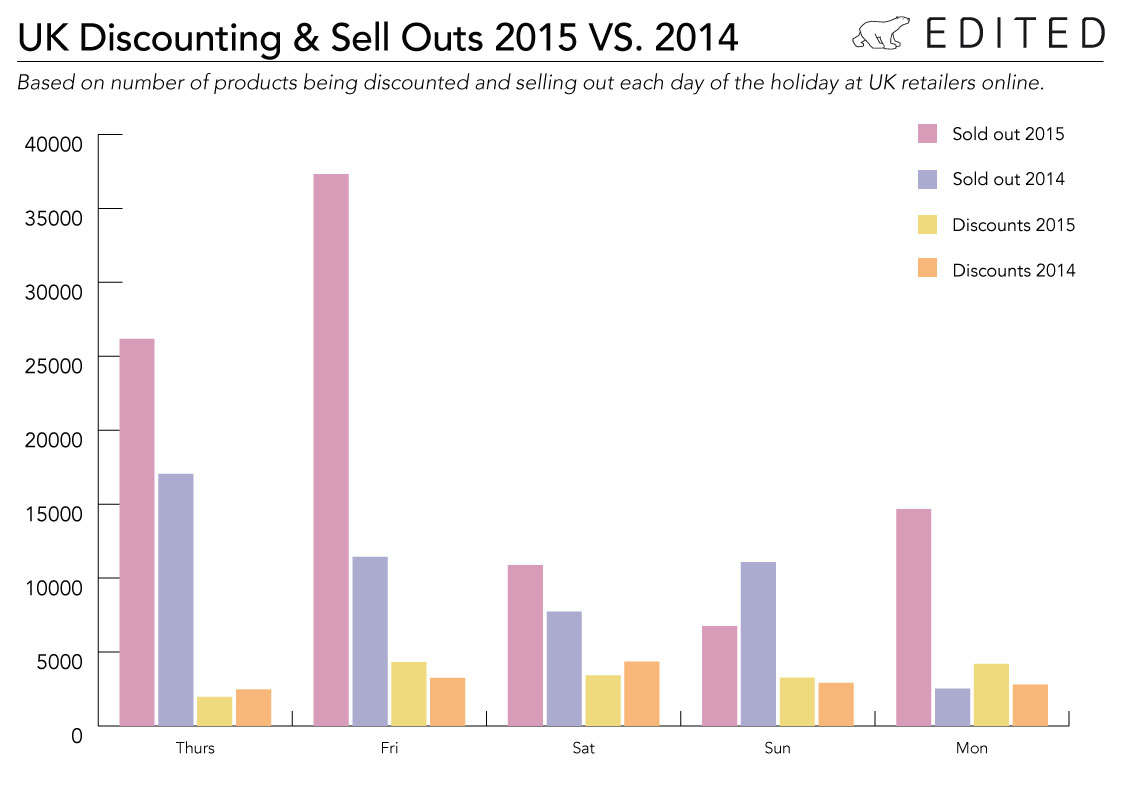 The big UK players (those with highest number of items reduced) were House of Fraser, Yoox, John Lewis, JD Williams and The Corner. Note that Zara's UK site doesn't offer its shoppers the same scale of Thanksgiving reductions as US shoppers enjoy. The retailers who reduced the most stuff by 50% or more were The Corner, The Outnet, Tesco Florence & Fred, House of Fraser and Very.
The chart below shows the proportion of the market on discount. Running into the discounting weekend, the UK had a higher proportion of the market already on discount. This could suggest the new addition to the UK's retailing calendar isn't well suited, or that the market needs to readjust. The UK also has lower levels of discounting on those items. That can be damaging, undermining the true value of products with near-constant and often inconsequential discounts.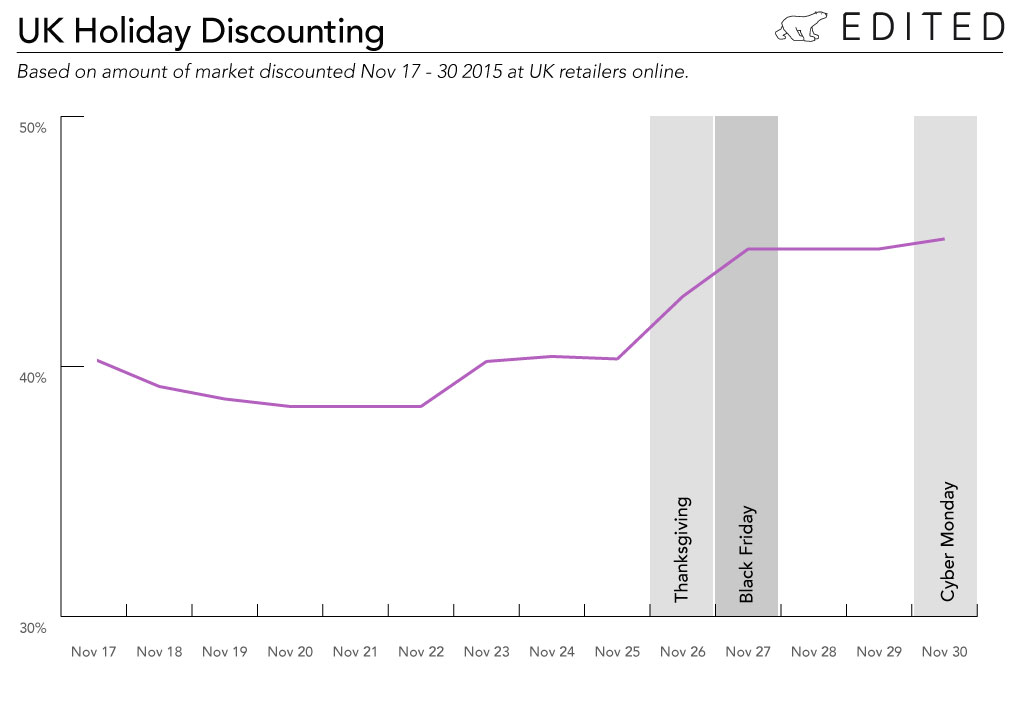 It's certain that the US builds hype with lower discounting running into the event. If UK retailers want to continue with Black Friday, they need to get consumers into this mindset. They'll also need strategies to bear the slow November lead up because of that.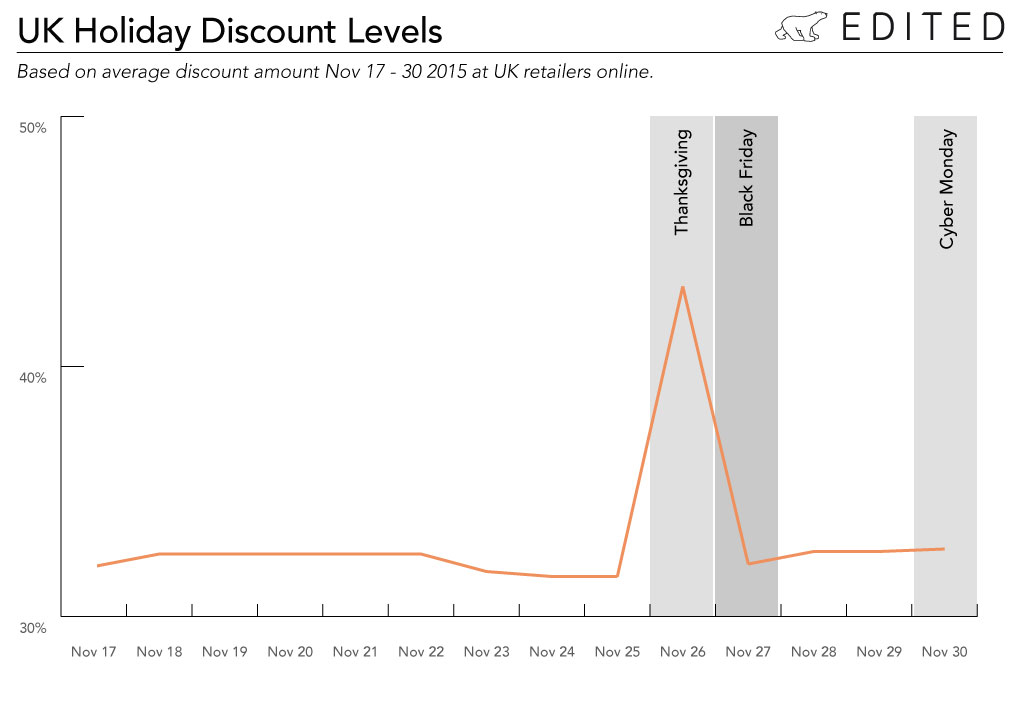 What's That Full Basket Going To Cost?
Part of the EDITED software lets you conduct shopping basket analysis. You can view price information on several different categories that a shopper would be looking at to assess the price on an outfit. Retailers use this part of the software to understand how the market's pricing shifts. So we put jeans, knitwear, boots, coats, beanie hat and bags, the complete winter outfit lets say, into one.
Over the Thanksgiving holiday the average women's shopping basket total on those items was $860.35. Thats down by 30% from 2014, when it was $1226.41. In 2015 women's coats have received notably heavier discounts than in 2014, as did bags and knitwear.
A shopping basket analysis shows average womenswear pricing down 30% but men's up 41%.
Menswear didn't suffer the same fate. In fact, the average pricing on the same outfit was up by 41%. Boots retained a higher value this year compared to last. Retailers are potentially reluctant to lower prices on low-margin items they're carrying high inventory of on account of the warm November. Because of that, high-margin items, such as the beanie, had an increase in reduction to lure spend.
Product Hits & Misses
One way of judging which products did well over the weekend is looking at items that sold out despite only low levels of discounting. Retailers retain margin on those items, which is the aim of the game. This year, items which sold well at 15-20% reductions included small leather wallets, cashmere gloves, chunky socks, beanie hats and weatherproof boots. They're all highly seasonal – either bound to the weather or suited to gifting. Traditionally there's a slump following Thanksgiving discounting. Retailers could take this insight and use low level promotions on such items to stir interest. Hint, hint…
Another (perhaps surprise) hit were tunic and leggings sets or bodysuit and pants sets for babies.
Then there's the stuff which didn't fare so well. Things which despite discounts of 65% or more over the weekend are still in stock. They include kids school shoes (bad time to buy new school items lest the kinder shoot up from all those brussels sprouts this holiday, right?), kids party dresses and men's watches at Bluefly. And there's warning signs of the death of a trend: fringing. Fringed bags, dresses, scarves, blanket capes and shorts all received big discounts which didn't send consumers running to the tills. 'Jump' and 'ship' spring to mind?
Email Communications
The last aspect of Black Friday strategy to get our analysis is retailers' marketing outputs. Our Visual Merchandising feature archives everything thousands of brands and retailers do online. It also stores all the newsletters they send out.
This year, Black Friday was the day on which the most retailers sent newsletters. Last year it was Cyber Monday. Retailers were at their quietest on Saturday, despite the lift in reductions. Use of the phrase 'Black Friday' grew in 2015 by 67%, while 'Cyber Monday' only lifted by 37%.
'Black Friday' was the most used phrase in newsletters, beating 'sale' and bucking 2014's trend.
And a final statistical nugget for you: there was the exact same number of mentions of 'Thanksgiving' in newsletters this year as last. Spooky? Retail harmony.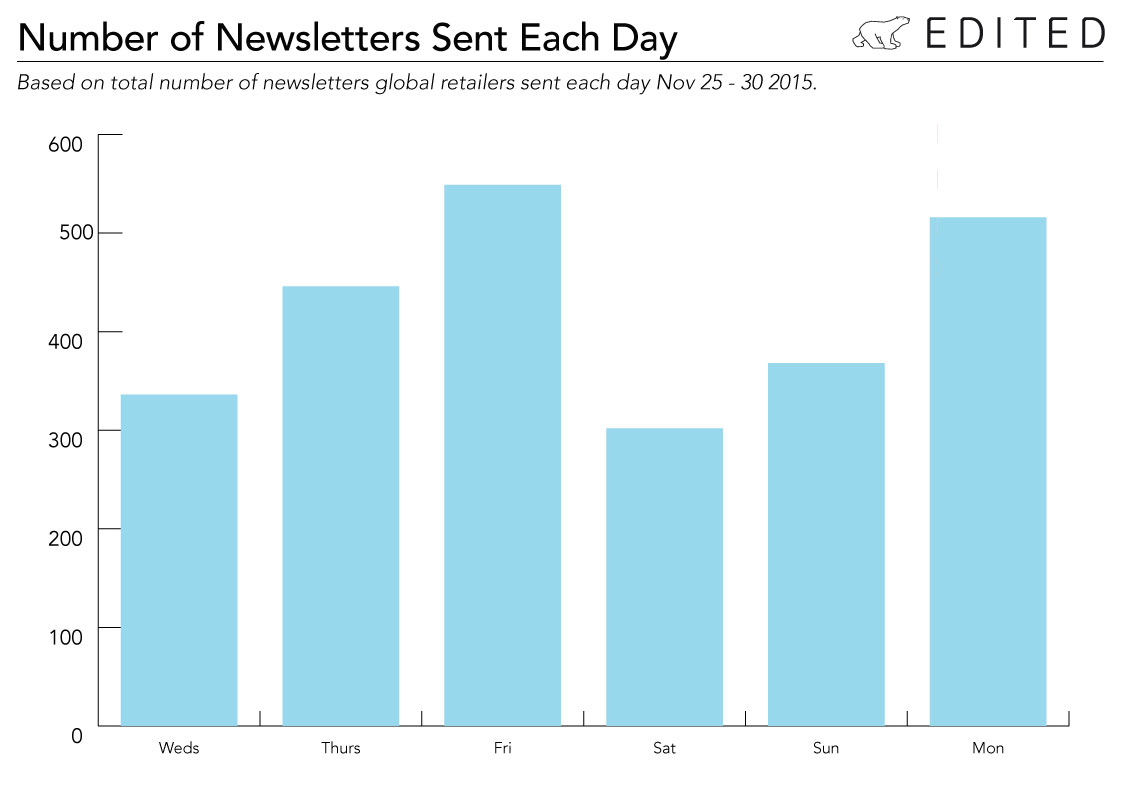 If you'd like to know more about any of the findings, drop us a line at [email protected]. Want to see a demo of the software that powers all of our insights? Here's where you can head to see more.