Back-to-school is an 80-something billion dollar business and this year's event promised to deliver big.
Fung Global Retail predicted a sales increase of 3-4%. Meanwhile, the NRF plumped for a more ambitious increase of 10% from last year.
While they may dispute a mere $10 billion in takings, what industry analysts do agree on is that the business of BTS is changing. Thanks to increasingly digitally-delivered education, spending on school supplies has dropped. But the opportunity for mass market apparel retailers has grown.
Household BTS budgets have increased spend on apparel and accessories (which accounts for 35% of BTS spending), estimated by the NRF to be $239 a household this season. The NRF also estimated that footwear will see the biggest increase this year, accounting for 19% of BTS spending and an average household spend of $130. Meanwhile, Deloitte found 81% of BTS shoppers plan to shop mass market – an increase of 24%.
A lot of speculation, but at this mid-point in the BTS season, we've taken a look at the data to get a clearer view.
How is back-to-school 2017 going?
As we see in festive creep, BTS is also beginning earlier in the season. In the US, mass market childrenswear retailers began upping the number of new products they introduced in May – compared to 2016, there was an increase in newness of 19%. June was also up, but July was down.
How do we know this is BTS creep? This isn't just retailers making more of everything. The total number of products over the BTS period is fairly similar. In the BTS period so far (May-July), the US introduced just 0.8% more products than last year. Retailers have just shifted their schedules to earlier in the year, taking emphasis off July and building into May.
The same was true of the UK, where retailers increased BTS new arrivals by 0.6% this year. May peaked, growing newness 7% on last year.
In the US, to date, there's fewer product sell outs and also fewer reductions. UK-wide, only ten fewer products have sold out at full price compared to last year! In the US, the figure has halved. That implies retailers have made better decisions around trends and buy depth. However, it could also be consumers are buying less. We'll know by September if sell outs haven't climbed, but discounts have increased.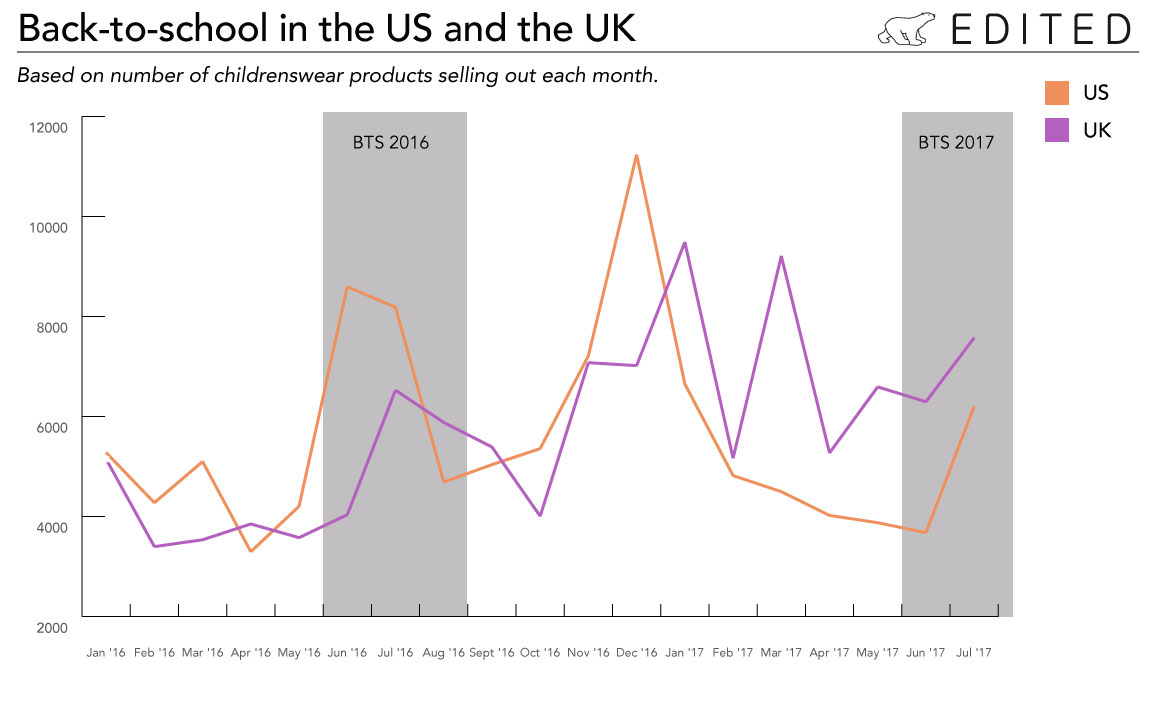 Back-to-school pricing
July's best-performing categories were tops, footwear, accessories and bottoms. We took a look at the way pricing of key BTS items within these categories has changed in the last year.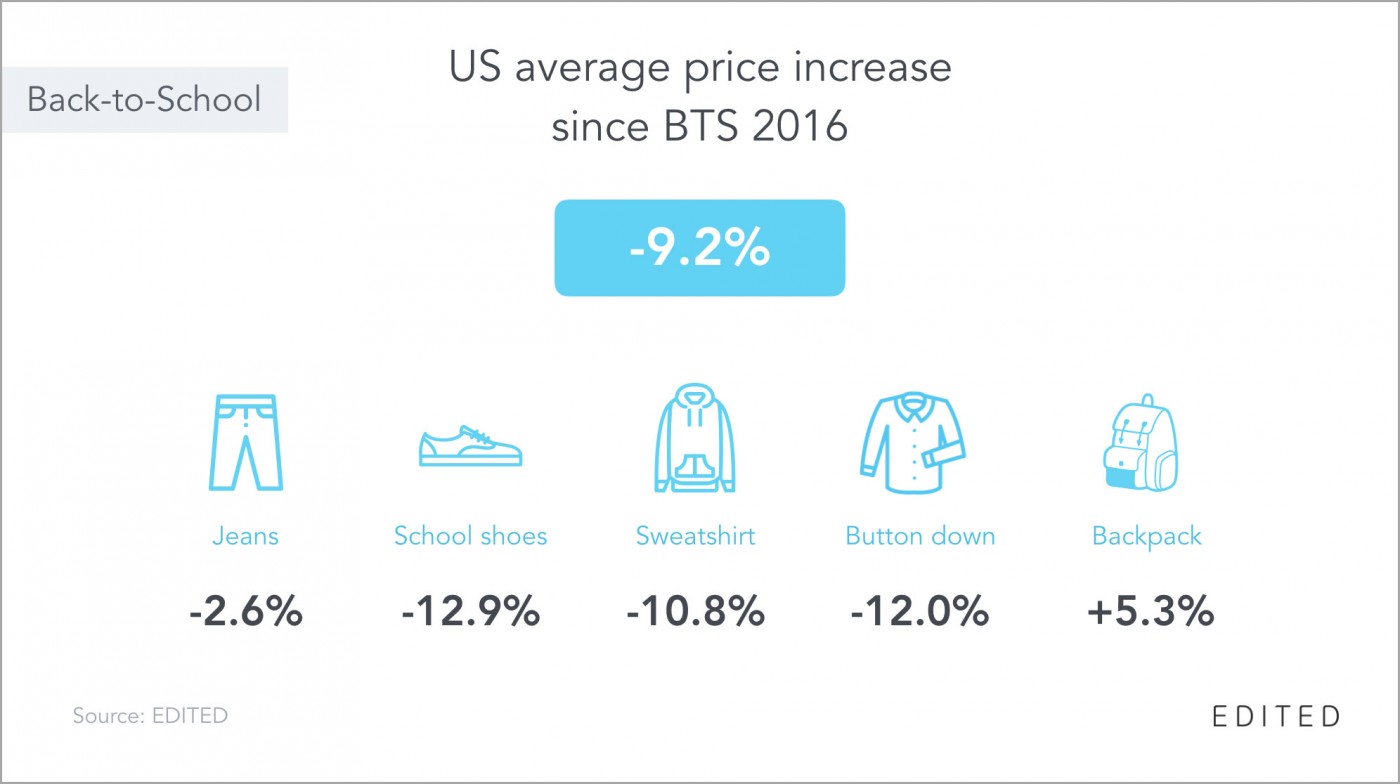 The competition is hotter than ever in the US, with prices falling by a noticeable 9%. This impacted most categories, even footwear which consumers had said they were intending to spend more on (d'oh retailers!). It's a make or break holiday for retailers and many have responded with value over quality.
Highly promotional retailers include Gap with 25% off, Nike with 20% off, H&M with up to 50% off (plus the offer of spending $60 and getting 20% off) and Ralph Lauren with 30% off a $125 spend.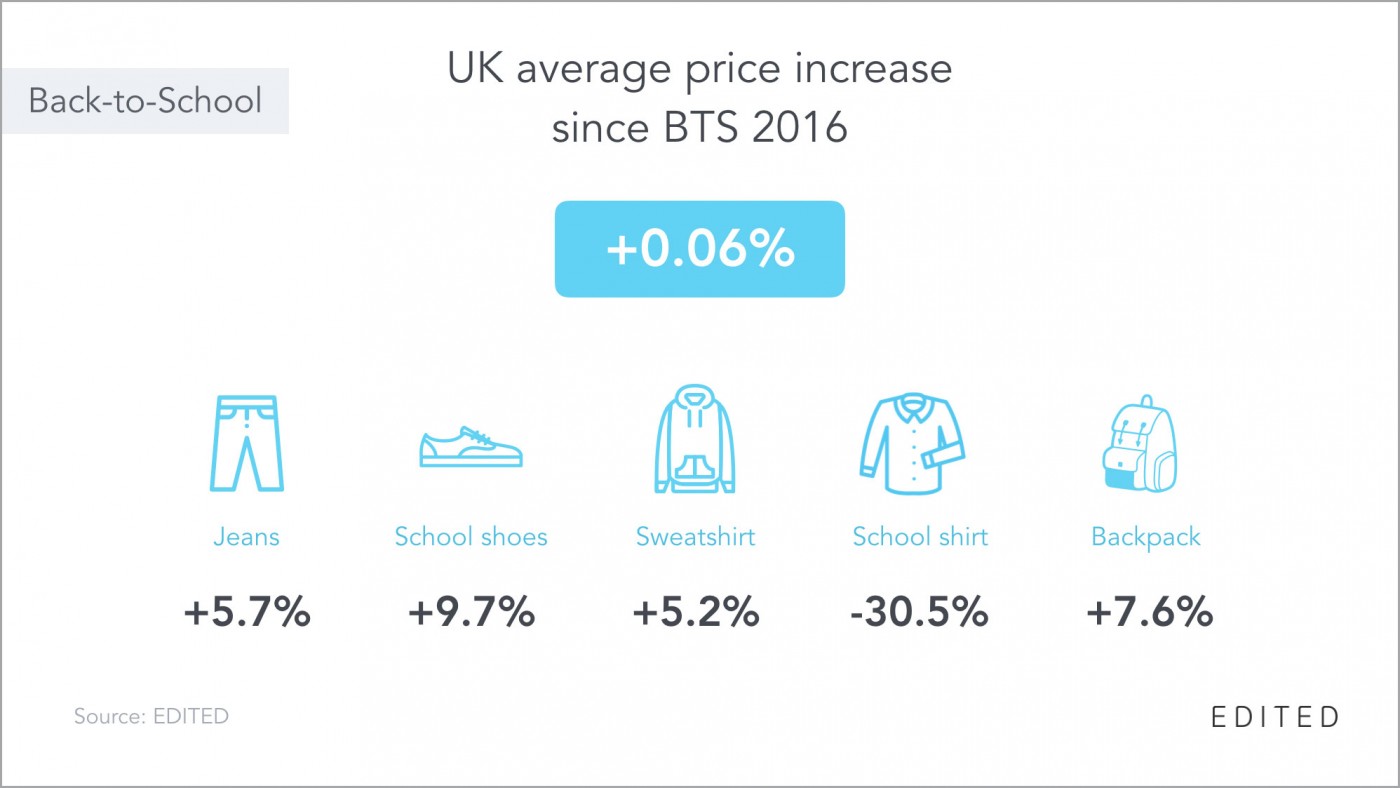 Meanwhile, average pricing in the UK has grown fractionally. The UK has a very different back-to-school market, as most pupils wear school uniform all the way through to age sixteen. Multi-packs are a big business – 60% of school shirts come in packs and even 16% of school pinafores.
In the UK, supermarket retailers make the pricing on school uniform incredibly competitive, and have taken business from traditional department stores. A total of 18% of the childrenswear market is value retailers like Tesco, Matalan and George at ASDA.
Despite 60% of shirts coming in multi-packs, the average price of $15.31 is 30.5% lower than a year ago and 45% lower than shirts in the US currently. Meanwhile, a school pinafore is even cheaper, with an average of $14.40 in the UK.
The average pricing on BTS hasn't fallen, because it was already competitively low. Instead, retailers are building on price through brands and premium product that differentiates from the value market.
Communications
Almost unbelievably, if it weren't for the hard facts in front of us, so far this season there has been a 6% decline in retail newsletters mentioning back-to-school. Why? We aren't sure, given that in both the UK and US, there is more product on the market to talk about.
This seems like an oversight.
Why have this year's back-to-school comms shrunk while new arrivals have increased?
What happens in August & September?
Usually sell outs dip in August, lifting again in September for the US but not UK. This is especially true for discounted items: earlier BTS shoppers are more discount-driven than those who leave their shopping to later in the period.
However, so far in the UK, discounting has been less aggressive than last year (with only 37% of reduced products having their price dropped by 30% or more, compared to 48% last year), so we would expect in the coming weeks for that to lift.
Meanwhile, the US has been more aggressive this year, with 62% of discounted items receiving a price slash of more than 30% off.
Innovation trends
A key aspect to the competition in BTS 2017 is the innovative fabrics and tech that brands and retailers are using to appeal to busy parents. They include features such as 'keep new', with reduced bobbling, Stormwear, Permair, expanding cuffs for easy-dressing and Teflon coating for stain prevention.
Back-to-college
With an increase in college enrolment and the vast size of the millennial consumer group, back-to-college is increasingly significant. In fact, regardless of whether your customers are heading to school or college this September, there are ways to talk about the turning over of a new leaf that September represents.
Case in point: the Kate Spade customer may not be worrying about who their new form tutor is, but would still be tempted by a shiny new bag and matching pack of pencils.
Want to know more about how EDITED can help your business?
Request a live demo with one of our product specialists.