Backpacks are the quintessential Back-to-School item that can lure the most school-resistant child into embracing the new term.
It also happens to be the one item teens and parents will forever be in headlock over: whether it's too small; too expensive; worn on just one shoulder; lost.
This year, despite a general decline in childrenswear that we discussed in last week's Back-to-School article, backpacks are looking rosy. There have been 34.5% more kids' backpacks in stock in the last three months than the same period in 2017. Adult's backpacks even grew by 14%.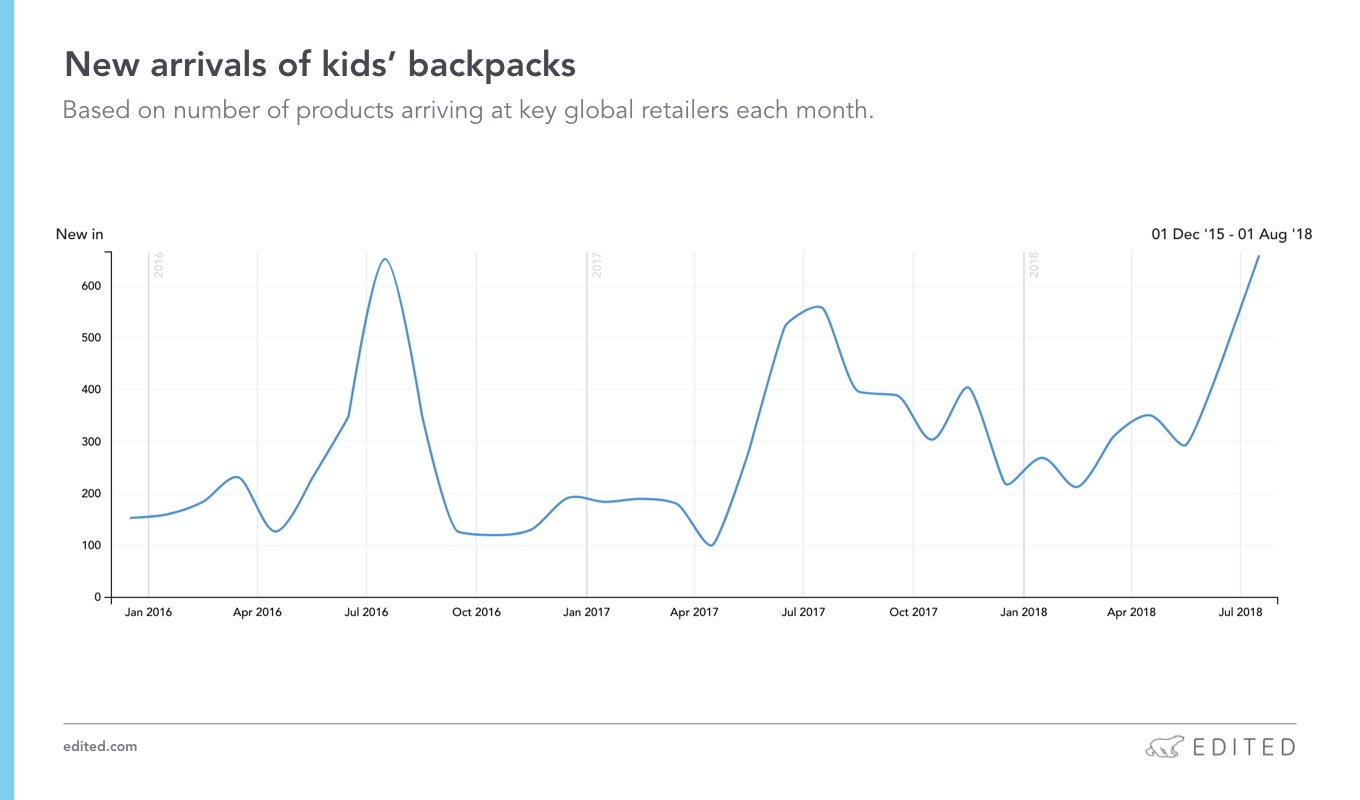 The chart shows that backpack newness is moving outside of the critical BTS season, and carrying over deeper into the last two quarters. The industry has a greater need than ever for trend, in order to entice the consumer mid school year.
The increased competition means that average price point is moving downwards – for kids, the average currently stands at $56.97. One price point has seen large growth, the $40-60 range, which is up 60% this year from last year.
Let's take a quick dive into how they're performing.
Bestselling backpacks of 2018
Dinosaurs & Dragons
More than 75% of all kids' backpacks in stock for Back-to-School this year are printed, compared to just 33% for adults.
Dinosaurs come out strongest in the bestsellers, followed by unicorns, ladybirds and owls.
High shine textures
The number of glittered, shiny or sequinned backpacks in stock for BTS has grown by 100% on 2017. It's driven by the festival trend in teen and young adult apparel, where rainbow stripes, unicorn escapism and stand-out texture rule the roost.
Drawstring bags
Just 2% of new arrivals were drawstring bags, but the style accounted for 5% of bestsellers so we'd expect to see this one grow in 2019. It will be driven by super-cool streetwear brand Off-White's latest drawstring style, retailing at $445.
Joules' use of rubber ensures durability and functionality, securing the brand a higher price point. River Island's faux fur adds novelty appeal.
Back-to-College
Retro sports is still very much the look of the term for BTC. Revamped brands like Ellesse and Tommy Hilfiger are still earning kudos from younger consumers. Outside of this, super-functionality like that from The North Face was enhanced with geo or marbled prints and fluro detailing.
Keep eyes on the latest luxury styles from Gucci and Burberry. The two brands have both used technical fabrics and interesting fastenings in their covetable bags that will influence the BTC market in 2019.