During London Fashion Week AW15 we once again collaborated with our favorite runway commentators, London Fashion Week The Daily – the paper given to show goers, industry insiders and Londoners each day of the week. We contributed to The Daily's trend coverage, bringing a data edge to analysis of the week's events. If you weren't able to get your hands on a copy, don't worry, we've recapped our content here.
AW15: Denim dudes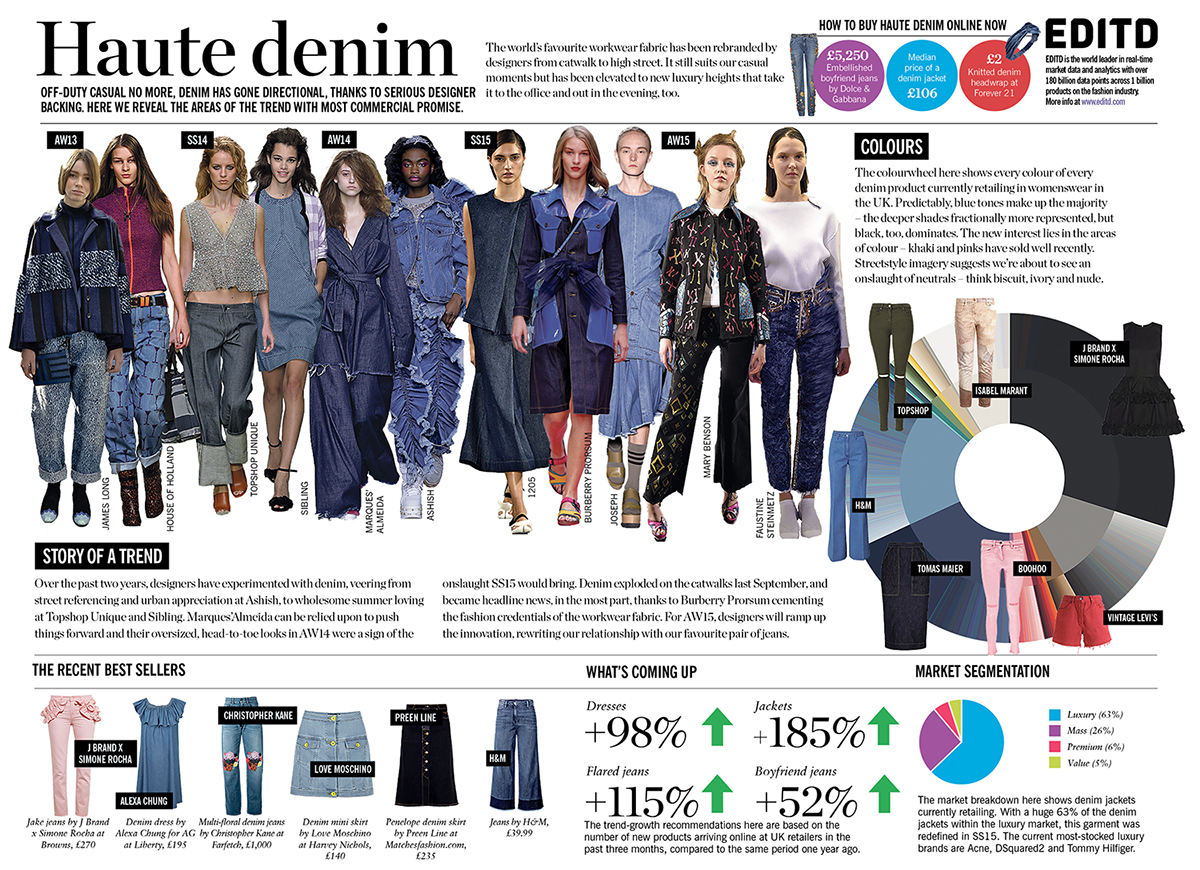 Denim is destined for success during Summer 2015, with retailers currently upping their trend-led investment in the fabric. Having carved out a new definition for denim, retailers and consumers will be looking for a smooth progression into Fall 2015. We turned to London's runways and analyzed the best new directions for this trend. Click on the above image to view denim's designer progress from Fall 2013 to Fall 2015, the most-stocked colors, and the recent bestsellers.
AW15: Seventies Supreme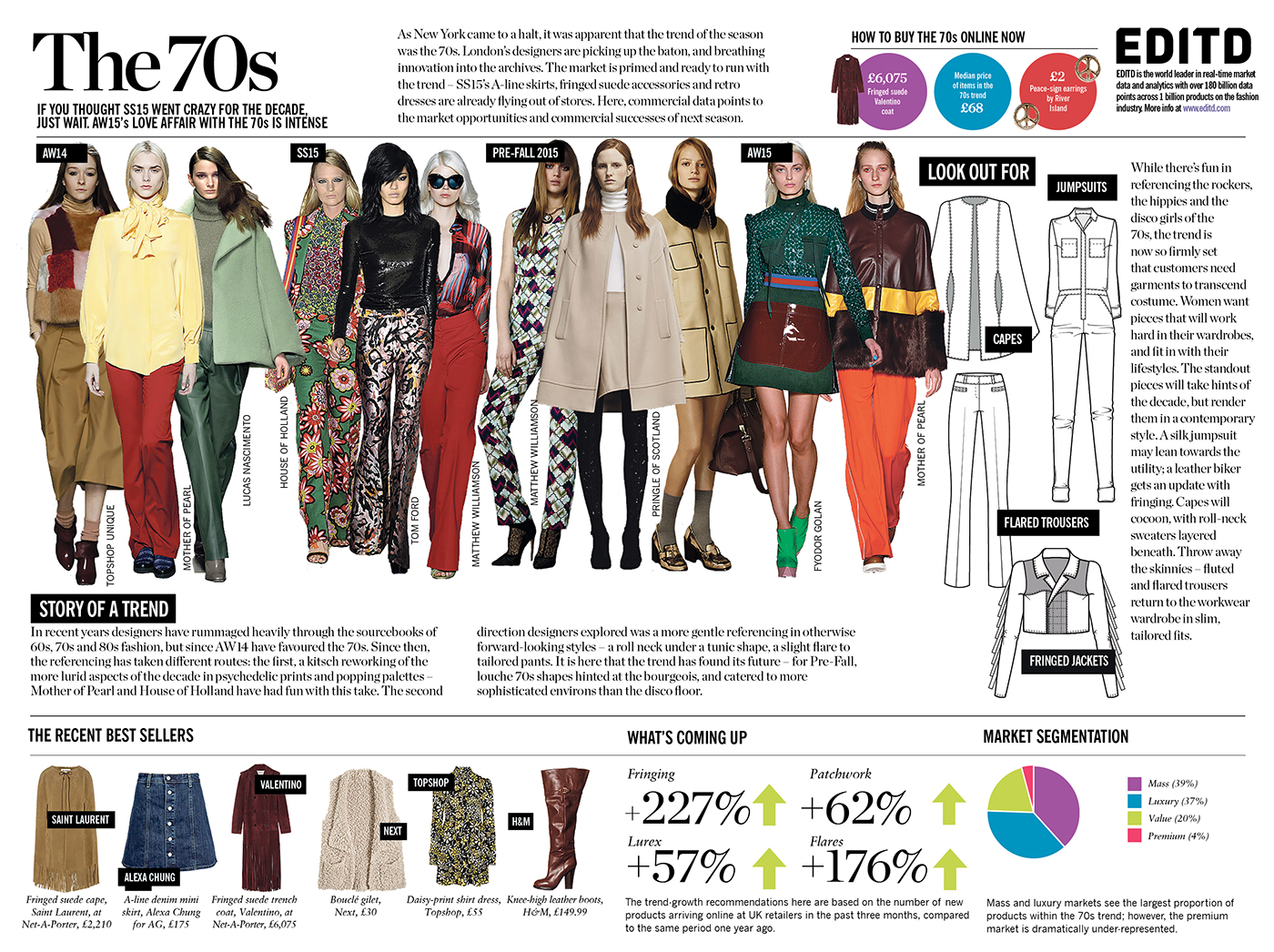 With three fashion weeks now complete, there is no doubt that Fall 2015 is ruled by the 1970s appreciation. In our second day of coverage, we plot the story's development on London runways and pick the key pieces that retailers should plan ahead for. With new arrivals of fringing up 227%, and fringed styles selling out for Spring from Valentino and Saint Laurent, we know there's going to be a widespread encore of the detail in September.
AW15: London's Pick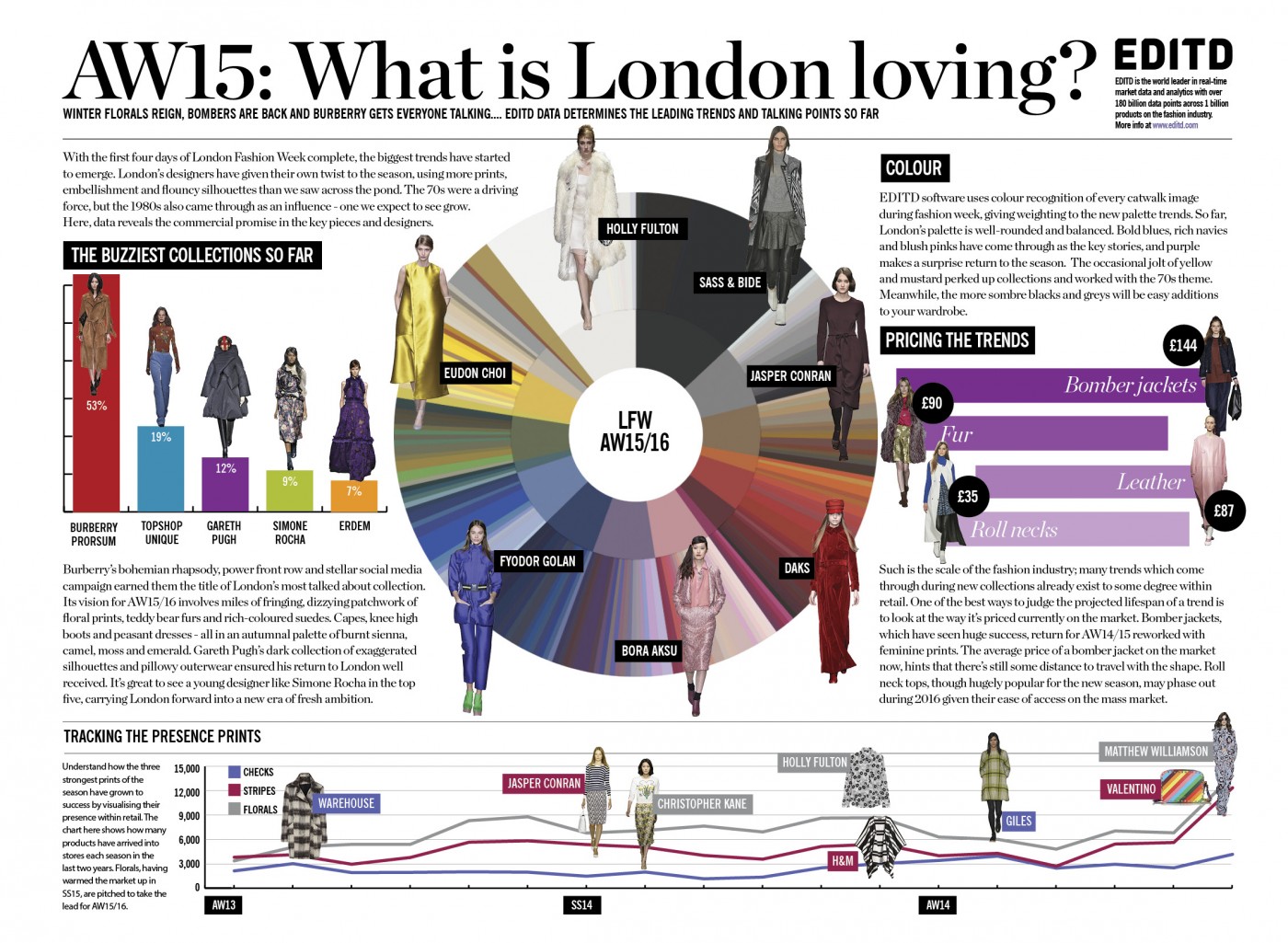 On the final day of London Fashion Week, we contributed a round-up of the week's trends, selecting the 5 most talked-about designers and charting the commercial activity of the season's three big print stories. We also revealed the current market status of the biggest trends on the runway – showing the average price of each key garment trend to understand its projected lifespan.
Haven't yet downloaded our London Fashion Week Fall 2015 Report? Click below to download your free copy now!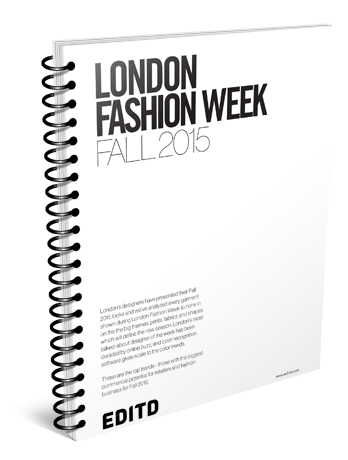 Free Report:
The top trends from London Fashion Week —
Fall 2015
Learn about key colors, fabrics and shapes with the biggest potential for retailers in the coming season.
[editd-banner type="no-shadow" image="https://edited.com//wp-content/uploads/2022/09/lfw2015.png" header="Free Report: The top trends from London Fashion Week — Fall 2015″ btn_link="https://edited.com/lp/fw1516-lfw-report/" btn_text="Download your free copy today →"]Learn about key colors, fabrics and shapes with the biggest potential for retailers in the coming season.[/editd-banner]