Fashion capitals of the world, New York, London, Paris and Milan, are an exclusive set. Successful designers based elsewhere often spend considerable time and money travelling in order to show at these key fashion weeks, but now advances in technology have made the world smaller and more connected, the fashion industry is equally much more connected.
Australia, the world's largest island, has had to shout loudly in the past to be noticed by the rest of the fashion world. Things are changing though, and Australia is proving itself as a force to be reckoned with. We recently discussed the continent's top bloggers, but it's not just the industry commentators that garner attention; brands, retailers and events are now being watched globally, suggesting something of a seismic shift in the fashion world's attention span.
It will come as little surprise that established footwear brand UGG (whose roots lie in Byron Bay) rank 10th globally in the most talked-about fashion labels. Let's not forget the Australian-originated global brands like Speedo, Rip Curl, Roxy and Billabong, that live up to the sporty, casual image of Australian life. Our current interest, however, is in the new swathe of exported products which redefine Australia's fashion character, being both design-focused and trend-forming. Sydney's well-established sass & bide, who currently show in London, are picked up by international editors season after season. Other designers claiming editorial space and buyers' attention include Kate Sylvester, Josh Goot, Alice McCall, denim brand Ksubi and swimwear label We Are Handsome.
As the exemplary bloggers show, there's a huge demand for and interest in on-trend fashion within Australia. What's more, the Top 5 most-talked about labels in Australia include a mix of retailer and designer, showing an encouragingly rounded market.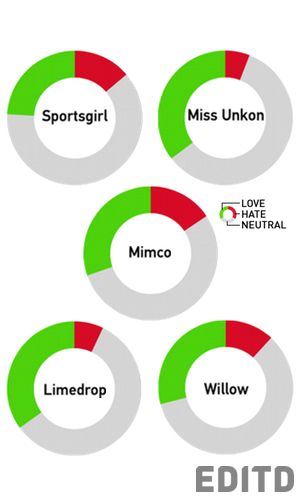 The Top 5
1. Sportsgirl
Trend-led retailer with strong online presence and over 100 stores. www.sportsgirl.com.au
2. Miss Unkon
Young label with a feminine, bohemian feel. Debuted 3 years ago. www.missunkon.com
3. Mimco
Internationally stocked accessories brand.
www.mimco.com.au
4. Limedrop
Melbourne-based fashion label who play with proportions and print. www.limedrop.com.au
5. Willow
Fusing fashion with art, a contemporary brand stocked in Net-a-Porter www.willowltd.com
International retailers have tapped into this demand for trend-led product too. Zara opened its first Australian store in Sydney this April, and a Melbourne branch followed in June. Topshop meanwhile landed on Australian shores two years ago to great fanfare. With retailers like ASOS and Dorothy Perkins shipping to Australia, local retailers may feel wary. It's starting to seem conceivable that Australian retailers could execute globally also. Sportsgirl have positioned globally with collaborations, which this year include Richard Nicoll (London-born, Australia-raised) and Antipodium (London-based, Australia-originating). With that kind of marketing genius, it's no surprise they're top of the most talked-about list.
We feel strongly about the future of the Australian fashion industry. We provide coverage of all of the southern-hemisphere shows (which include Sao Paulo, Belo Horizonte, Rio de Janeiro and Sydney) and having watched the 'alternative cities' progress over the past few years, know that the future is bright. By showing four months before the rest of the world, the southern hemisphere shows also fit in with our vision of a season-synced fashion industry, where design and manufacture is close to season to reduce wastage and fulfil actual demand in all market segments. That kind of shift could put Australia ahead of the game!
Australian products retailing internationally: