You've probably seen ASOS's latest drool-worthy headlines. In the year to August 31, revenue increased 33% to £1.9 billion. The stuff of retail's sweetest dreams.
That's unless you're in the fast fashion biz, competing with ASOS. Perhaps since hearing their UK turnover rose 16% and overseas is up 36%, you've barely slept a wink?
We're here to reassure you. Certainly ASOS is doing things right. But as anyone who's tried every flavor of Pringles can attest, there's more than one way to do things right.
It's so easy to talk about fast fashion and assume all retailers within this space have similar strategies. Far from it.
In the summer, we talked about the six unique facets of the ASOS strategy. But their way isn't for everyone. Nor are they the most ambitious retailer in the space.
Take the data below, for example. ASOS has the biggest fast fashion assortment – more than three times the size of next closest, Boohoo. However ASOS had the least growth of the biggest players in the market since 2015.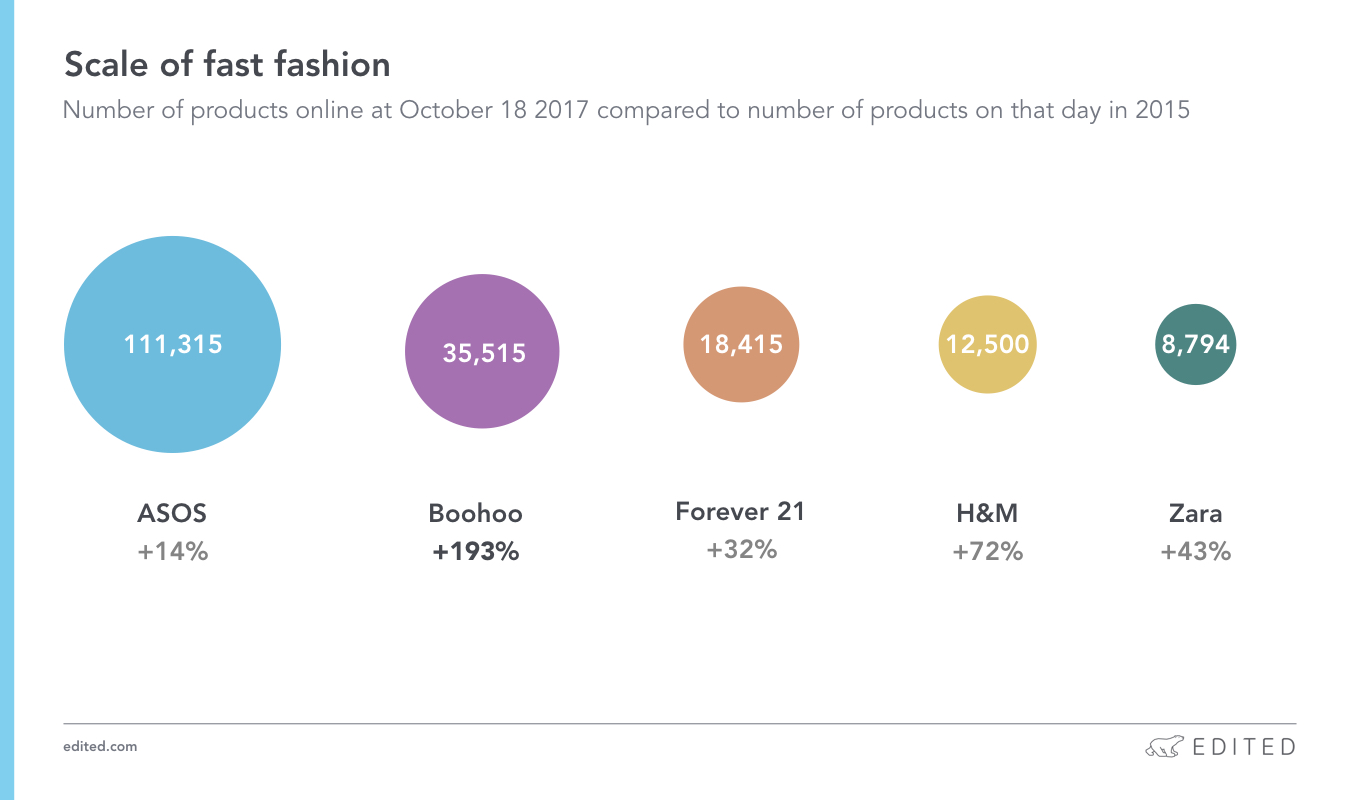 Looking at Boohoo's growth since 2014, maybe it's ASOS that should worry as they lose market share to a lower-priced retailer?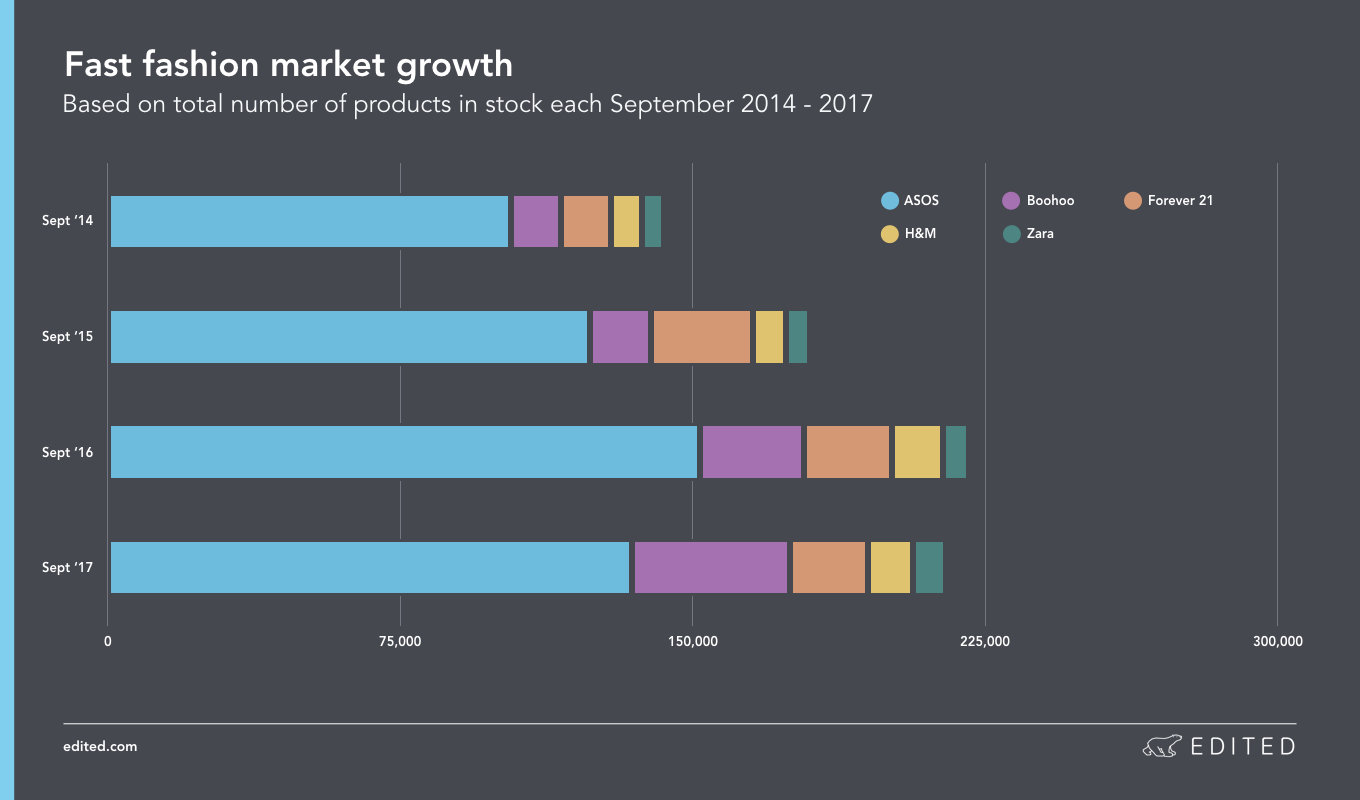 And that brings us on to one of the biggest myths in fast fashion: that it always comes at a low price. In fact, this is one of the defining features of the ASOS strategy – its price architecture is extremely broad.
For ASOS, this game is about having unique product no matter the price point. At Boohoo, 75% of the offering is priced beneath $20. At ASOS it's just 26%. Can the two really be classed as competitors?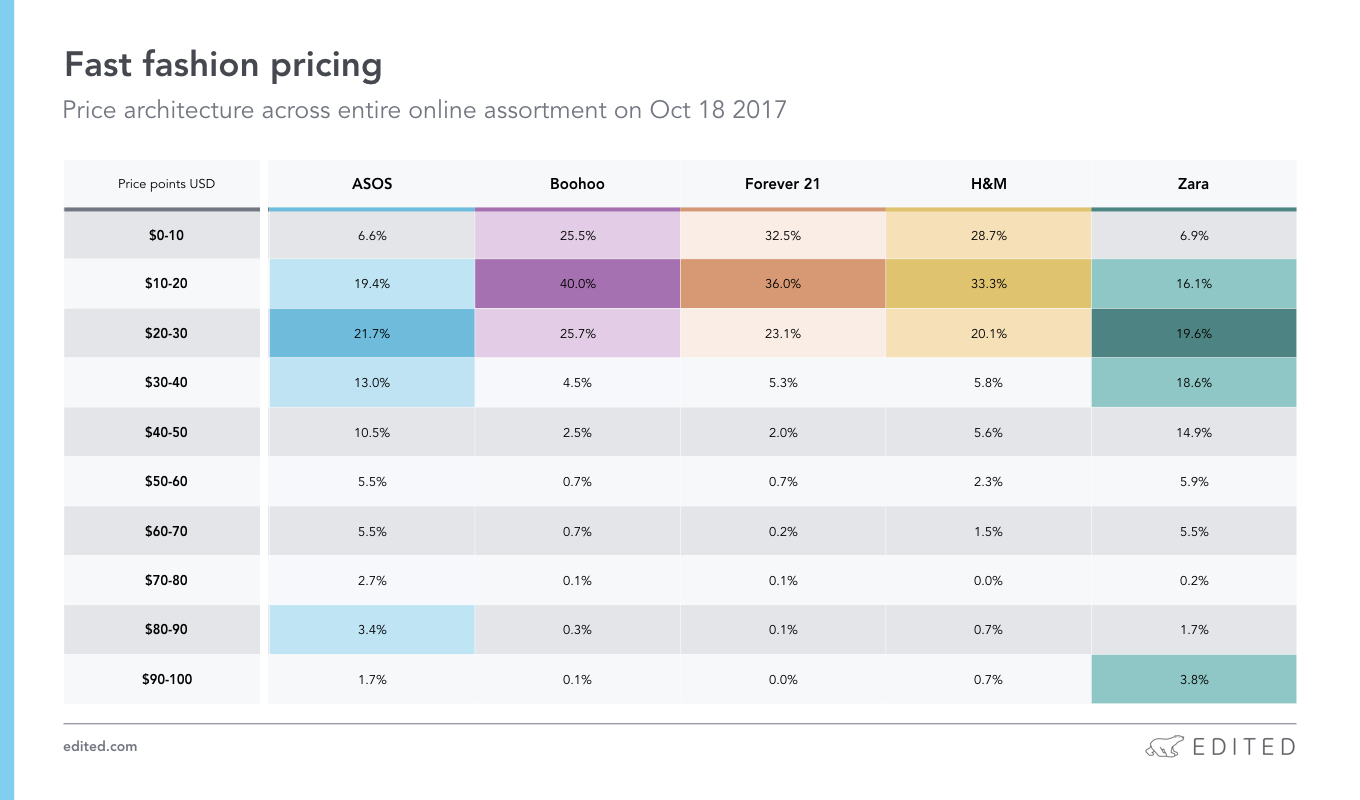 Also of note is the higher emphasis that Zara places on the $90-100 price point – again showing commitment to a more unique product than its counterparts.
Fast fashion used to be about the speed at which retailers could get runway looks to consumers. It then became about the speed at which consumers could snap up those styles, thanks to low prices.
But now that millennials are less influenced by the runway, and there's data evidence that fast fashion can exist across broader price architectures, we need to think about the features which now tie these retailers to the same market.
Fast fashion is more about responding to the behavior of consumers than it is being beholden to a set strategy. It's about a narrative: having low commitment to trend items in order to keep shoppers endlessly engaged and it's about ease and convenience of purchase.
Maybe it's good news to retailers in this space: it's okay to throw out the fast fashion cookie-cutter!
Throw out the cookie-cutter approach to fast fashion: it's not simply about low prices.