Activewear is moving at lighting speed. And to conquer the market, retailers need to move even faster. Now, they can.
Helping retailers lead their markets in every category is exactly what we're here for. So it was only a matter of time until we brought the powers of data science, machine learning and computer vision to bear on fashion retail's most lucrative and soon-to-be-worth $350 billion category: activewear.
We knew that a market with that much momentum and unrealized potential would invite fierce competition. We also knew that the winners would need the ability (and the data) to know more, spot first, react fast and analyze deeper, all on demand. After thousands of hours of research, hundreds of conversations with expert activewear retailers, uncountable lines of code and some cutting-edge data science, we're proud to give them that ability…
Introducing the Sports and Active filter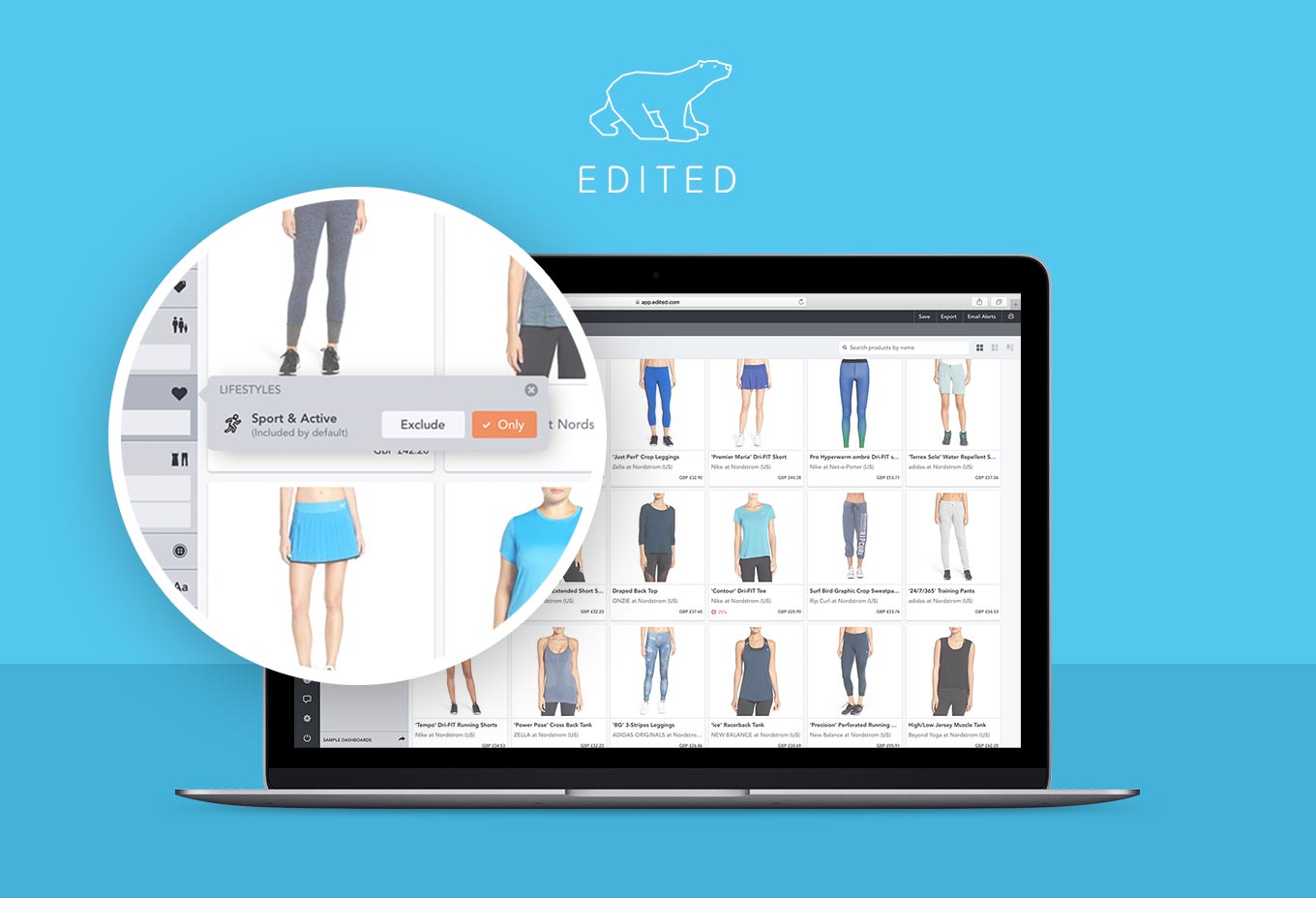 Forget about "following" activewear. With this feature, retailers around the world are able to get on top of the global category and see every product launch, price shift and market event, as it happens. There's nothing you won't see and no question you can't have answered on the spot.
Here's how we did it.
To bring the Sports and Active filter to life, our team of data scientists built a semi-supervised machine learning model that, over time, was able to learn how to distinguish sportswear from non-sportswear items and accurately filter them into two distinct categories.
They began with a deep dive into the activewear market that included pure sportswear retailers and multi-brand retailers. Through extensive research they then established what exactly we would mean by the term activewear. They settled on: all apparel designed to be worn or used for exercise or athletic and activity purposes. That means items like sports bras, running shorts and hiking boots are included, while "sports-influenced" items like casual leggings aren't.
Working with that definition our team manually curated tens of thousands of products and used them to train the model to identify clothing as active or non-activewear. Over a period of development, testing and continual refinement, the model actually began teaching itself, deepening its understanding of sportswear and increasing its accuracy throughout.
Thanks to all that work, retailers can now get into the nitty gritty of sportswear product, pricing and promotion with an incredibly high degree of accuracy and in a split second. The significance can't be overstated.
"Activewear represents one of the most important categories for virtually all apparel brands and retail channels. To succeed in this space, it's absolutely essential to have the up-to-the-minute information on the most popular styles and price points," said Vyacheslav Zhiril, Head of Sport Category at online fashion retailer KupiVIP. "Our strong relationship with EDITED means that we can meet consumer demand, stay on trend, and continue to track opportunities for constant growth."
Here are some advantages industry pros like Vyacheslav have at their disposal:
Improved precision. You can now separate activewear from non-activewear items in your dashboards to cut through the noise and add a new level of focus and clarity to your analysis.
Analyze by lifestyle. Our filter can distinguish 'sports influenced' products (e.g. athleisure), so you can be sure you're always working with actual sportswear and keeping analysis clean.
Go deeper. You can even add depth to the Sport & Active filter by adding keywords like "moisture wicking" to drill down from a broader market view into micro-specifics.
Spot gaps and best-sellers. You can easily filter out unrelated products with one click and get revealing strategic insight on assortment weighting and top moving products worldwide.
We're incredibly proud of our data and engineering teams, not just for building this new, world-first tool, but for the long hours they spent familiarizing themselves with the real goals and objectives of today's retailers. Thanks to that, we're proud to have an expertly engineered tool that truly solves a problem for our customers and the retail industry as a whole.
Want to see what it looks like? We'd be happy to show you. Get in touch and we'll give you a first look of the software in action.
EDITED clients, you already have access! Just log in to find out more.