One look at Instagram validates that it's never been more popular to work out. Or at least to be seen in workout gear. With fashionable exercise classes like SoulCycle, Pilates fusion and trendy running clubs exploding globally, activewear is in demand. Our functional lifestyles have facilitated mainstream acceptance of more casual dress – making it possible to lunch in yoga wear, regardless of whether a single chaturanga has flowed.
Retail is so enamored with active, but will we see activewear become core of consumer wardrobes, or is sportiness just a short-lived trend?
April 2015's activewear arrivals up 203%
Growth in the activewear market cannot be ignored. We've tracked the active apparel and footwear offering at 19 of the UK and US's largest online retailers, over the last 2 years. So far this April, those retailers have increased their active offering by 203% compared April 1-14 in 2013.
The chart below tracks monthly new arrivals, and shows clear growth in activewear, climbing significantly in October 2014, and soaring for December 2014. The pattern of newness is erratic however, which suggests that retailers are stocking into active with a trend mindset – bringing a great deal of product into stock, then creating a story around it in their communications to create a sales drive. We'd need to see spikes and troughs even out before we can proclaim that activewear is now core to retailers' offering.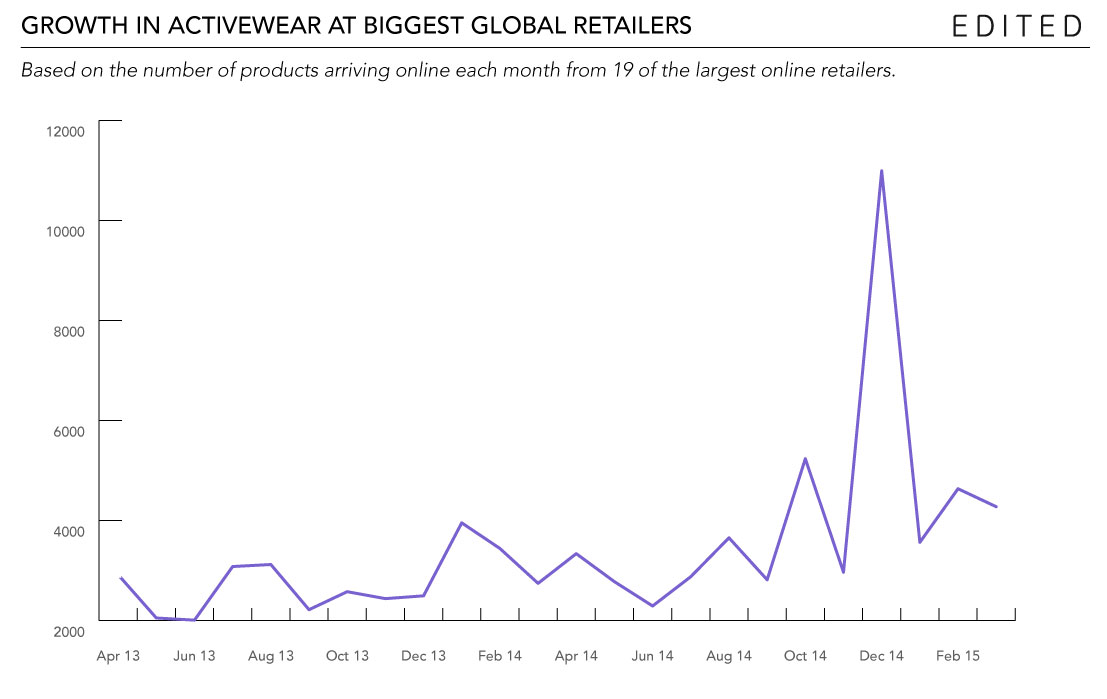 Another metric to assess consumer demand and retailer sentiment toward activewear, is to compare product levels against other categories. Best comparison is with denim, a category which has felt the effects of more people wearing leggings. The number of new jeans on the market has lifted by 7.7% in Q1 of 2015, compared to Q1 2013. Leggings, activewear's reported darling, have only grown 5% in the same period but leggings made specifically for yoga have grown by 270% compared to Q1 2013.
However, it's the sneakers' growth which is the most notable. In Q1 2015, the number of new sneakers coming online has grown by 92%. And this is where the real market opportunity lies.
The number of activewear sneakers coming online has grown by 92% in the Q1'15 compared to Q1'13.
Does activewear cost more now?
Activewear sneakers have penetrated every level of the market and cater to all consumer tastes – they're to be found front row at the chicest fashion shows and now sit among the offerings at Dior, Lanvin and Jimmy Choo. That's reflected in price – in the last 2 years, the average price of a pair of sneakers has grown by 9% to $92.40.
Despite yoga leggings' presence on the market has grown, their median price has dropped by 15% compared to Q1 2013. This is because more mass market retailers are latching onto their consumers' interest and making less technical, lower quality versions.
Sports bras, which consumers know demand technical abilities, have rocketed – their median price is up by 54% from Q1 2013, showing it's both boom and bust for activewear.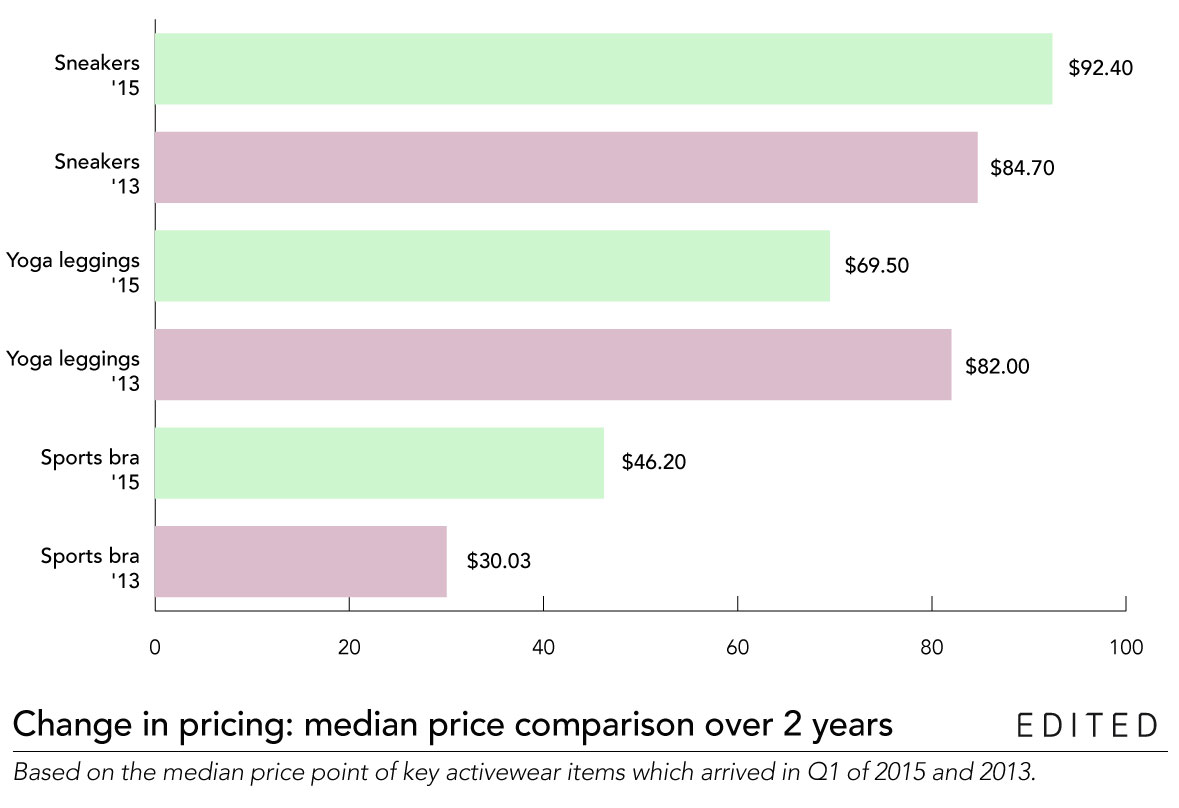 What brands are retailers stocking?
Nike is the world's most-stocked activewear brand, reflected in its $1.9bn brand value. Adidas trails behind, with 33% fewer products available online. Athleta have the highest rate of discounting – 50% of their products currently discounted, on average by 20% – and Under Armour the lowest, with 19% of products discounted. Footwear-focused New Balance have the highest median price point, at $79.99. It's worth noting that much-discussed fashion/active brands, like Lululemon, have offerings far smaller than shown on this chart, yet penetrate consumer awareness well.
Tops, footwear and bottoms are the most stocked categories of outerwear in the UK and US, with tops representing 28% of currently available activewear, footwear at 27% and bottoms at 23%. This leaves a small slice of the pie for outerwear (7%), and even tinier offerings in underwear, swim and hosiery.
Nike is is the world's most-stocked activewear brand with over 1,300 products available online.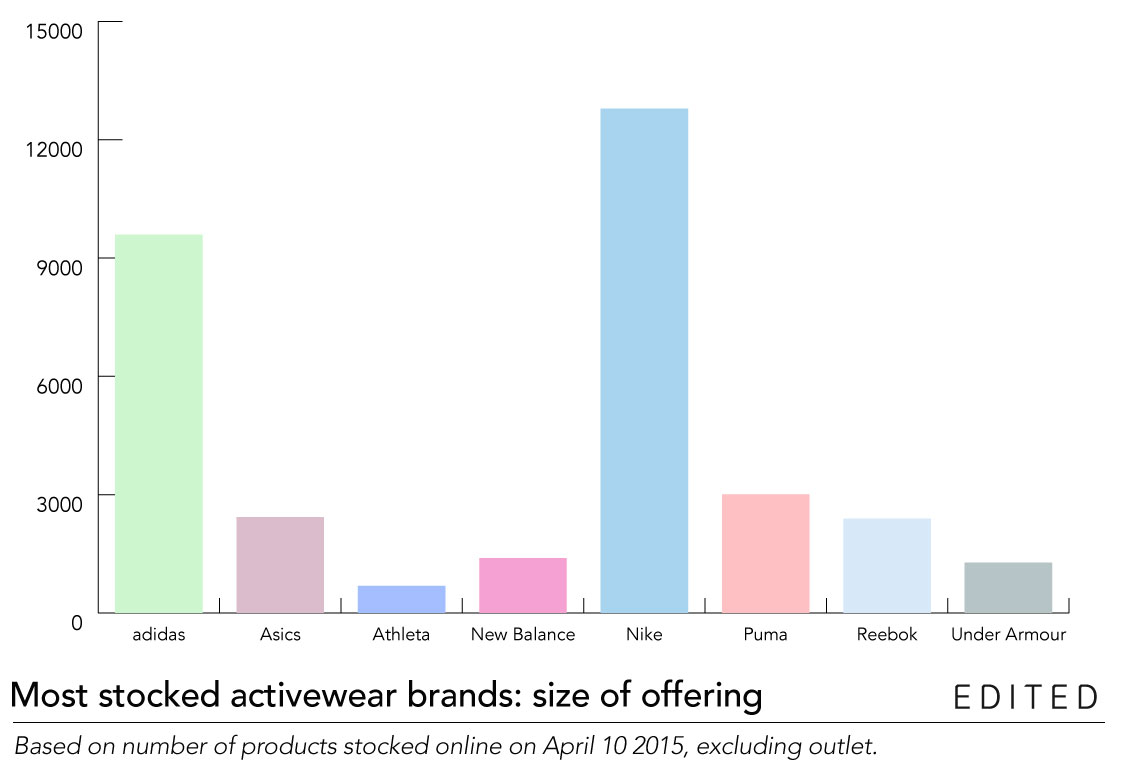 Our advice for retailers? Activewear is growing, but at a less steady rate than retail press would have you believe. Consumers have rewritten their attitude to sports brands, and this won't fade. But measured, analyzed growth is the only way to sustain an activewear offering over the next few years. While leggings may be the headline story for fashion magazines, they aren't necessarily the best place to invest, given market saturation and their growth slowing behind denim. Sneaker demand is where the real hype lies.

[editd-banner image="https://edited.com/blog/wp-content/uploads/2015/03/History_calendar-view.png" header="Want to know more about how EDITD can help your business?"]Request a live demo with one of our product specialists.[/editd-banner]