Utilitarian styles continue to dominate the mass market, underlining the staying power of the boilersuit. Early this year we saw 83% more boilersuits retailing in the US than there was in December 2018 and 50% more in the UK.
The utilitarian fashion trend became popular in the 1970s during the rise of second-wave feminism and the military-inspired style is having a revival again.
This report outlines the top performing utility items that are important within the womenswear market. Our data reveals the styles that have already seen success commercially, backing up their importance as you plan for the summer season.
Your killer utility assortment checklist
Using EDITED software, we ran the numbers on 22 retailers stocking styles to build a pricing benchmark. When investing in any trend, it's crucial to understand where the key players are sitting to make sure you have a competitive offer.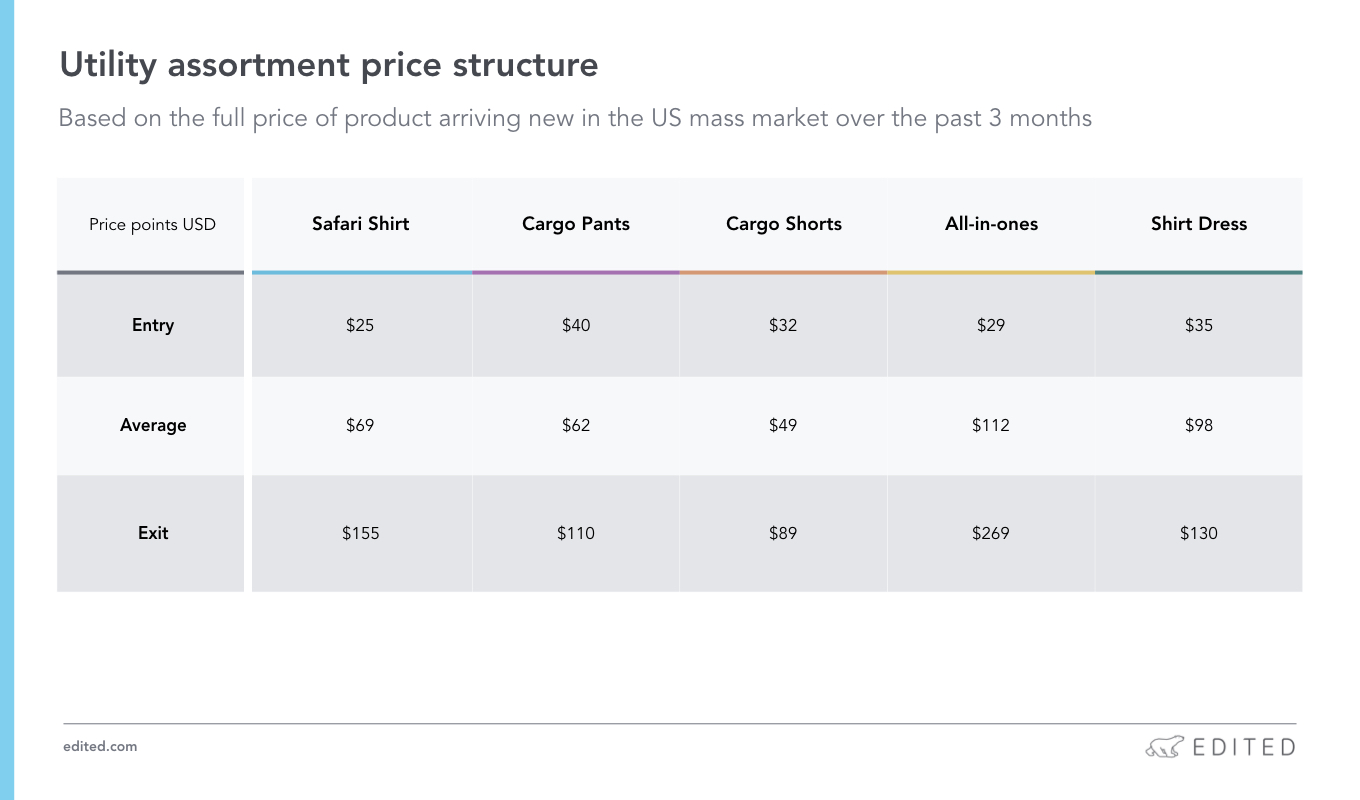 Want in on acing your assortment pricing structure? Get started here.
Since 2012, utilitarian style has become a staple runway trend influencing the mass market. Spurred on by the now-classic boilersuit, utility inspirations dominated retailers' spring 2019 assortments, continuing as a key trend for summer. As the weather heats up, lighter fabrications for this trend come in to play. In Q1 2019, the number of linen apparel arrivals increased by 51% both in the US and UK, confirming its status as the fabric of choice this season. And tying into the safari and military elements of this trend, new khaki product in Q1 saw a 64% increase YoY while neutrals are up by 36%.
The all-in-one
In the past 3 months, 198 new utility-inspired all-in-ones arrived in the US market across 22 fast fashion retailers, proving this silhouette is showing no signs of slowing down. The top retailers buying in are Banana Republic (36), Old Navy (25), and Zara (23). How do these numbers compare with how much you've invested in this item?
While these guys register as the item with the highest exit price point (driven by the "Dalennah" jumpsuit at Club Monaco), they also have one of the lowest entry prices, influenced by the romper styles. The wide range gives retailers more flexibility in pricing this trend to suit their target customers.
As high summer product starts to trickle into the market, retailers are updating heavy, full-length denim boilersuits into cropped lengths or lightweight fabrics. Linen jumpsuits are emerging as a hero item as brands push safari-inspired edits and communications. Take note of the 'Jane in the Jungle' details of top performing styles: wide-leg shapes, functional pockets, and shirt collars.
High summer hits:
The cargo pant
A utility go-to for any season, Zara wasted no time and released 31 new styles, they were also responsible for the lowest entry price points at $39.90. Banana Republic more than doubled that with the highest exit price, $110.00, for cropped cargos tailored exclusively for its Japanese customer.
Classic styling and details such as paper bag waists, belts, and patch pockets continued to trend for the cargo. Zara steered away from traditional utility fabrics and favored satin as a lightweight update, a unique take resulting in high SKU activity.
The shirtdress
A favored silhouette in the mid and mature market, the shirtdress has been a top-performing style season on season. A utilitarian twist on this classic shape is a natural addition to the assortment. Our data reveals 38 new styles arrived over the past 3 months with the majority stocked at Boden. Boden and Banana Republic offered the highest full price for this item at $139.00 and $129.00 respectively. This is another opportunity to add linen into your assortment as 58% of the latest additions contained the fabric in its care and composition. While traditional earthy tones work well here, chambray and navy blue were also noted selling through.
High summer hits:
How does your utility assortment compare? The data is clear that utility is going nowhere and it can help you achieve your summer best buy.
Want to find out more top moving product analysis? Request a demo today.