Since the dawn of time and Disney, animated characters have captured the imagination of children around the globe. But only since the dawn of Wi-fi have those characters essentially gone on-demand.
From Netflix to apps to Instagram to video games to everything else, today's kids have the characters they love to keep them company in all sorts of ways, pretty much all the time. Those bonds run deep, and for apparel retailers they bring big money to the childrenswear license game.
Especially in summer, when school's out, the weather's hot and climate controlled cinemas are full of CGI-powered superheroics, adventure and general intergalactic hellraising – all fully ready to be merchandised. Take this year. We're not even halfway through summer and we've already seen Star Wars, Batman vs. Superman, The Jungle Book, Captain America and the X-Men come and go. Ghostbusters, the re-rebooted Teenage Mutant Ninja Turtles, BFG and Finding Dory (Nemo's sequel) are still headed our way. That provides retailers with a raft of merchandise opportunities primed for the kids' market.
And it's not just around a film's initial release date that retailers have a glowing window of opportunity. According to Jo Thomas, Licensing Manager at Coneen, one of the UK's leading suppliers of children's license-wear, character sales spike again when the DVD is released. That gives you a good six month commercial window, on the low end. For those mighty earthshaking hits, that window is longer. Frozen was released three years ago.
With those buzzy releases, big screen and small, looming, let's take a look at the childrenswear market right now to see which super-powered characters also possess some retail magic.
Think Minions rule childrenswear licensing? Not quite.
Star Wars does. The force is strong with this one, etc, etc.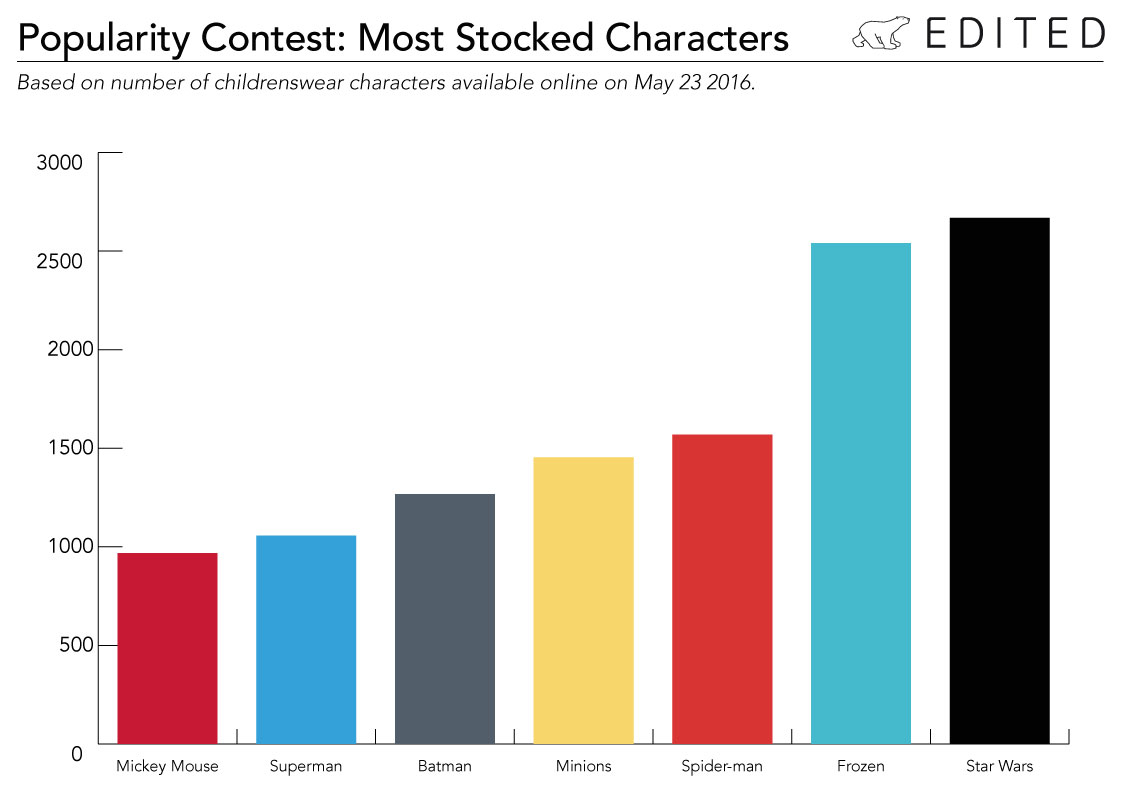 The Minions, despite being cute and cuddly, are only the fourth most licensed apparel characters. If they want to break back into the top three, they've got Spider-Man or Frozen to overcome.
While Spider-Man holds it down for the Marvel universe, Batman and Superman, in fifth and sixth, are doing well for DC. Helped, undoubtedly, by the fact that they spent most of March beating the bejesus out of each other on movie screens around the world.
Star Wars beats Frozen, Spider-Man and the Minions as childrenswear's most-stocked license.
Runners up: Captain America, Barbie and Peppa Pig. They don't make the above top seven, but all have substantial numbers of products available on the childrenswear market currently.
When Will They Grow Out Of It?
For retailers, hopefully never. We ran a size analysis on charactered childrenswear currently in stock and found that ages 4-6 years have the highest number of options. There's a high investment of product across a broad range of sizes however, with ages 2 right through to 10 well stocked.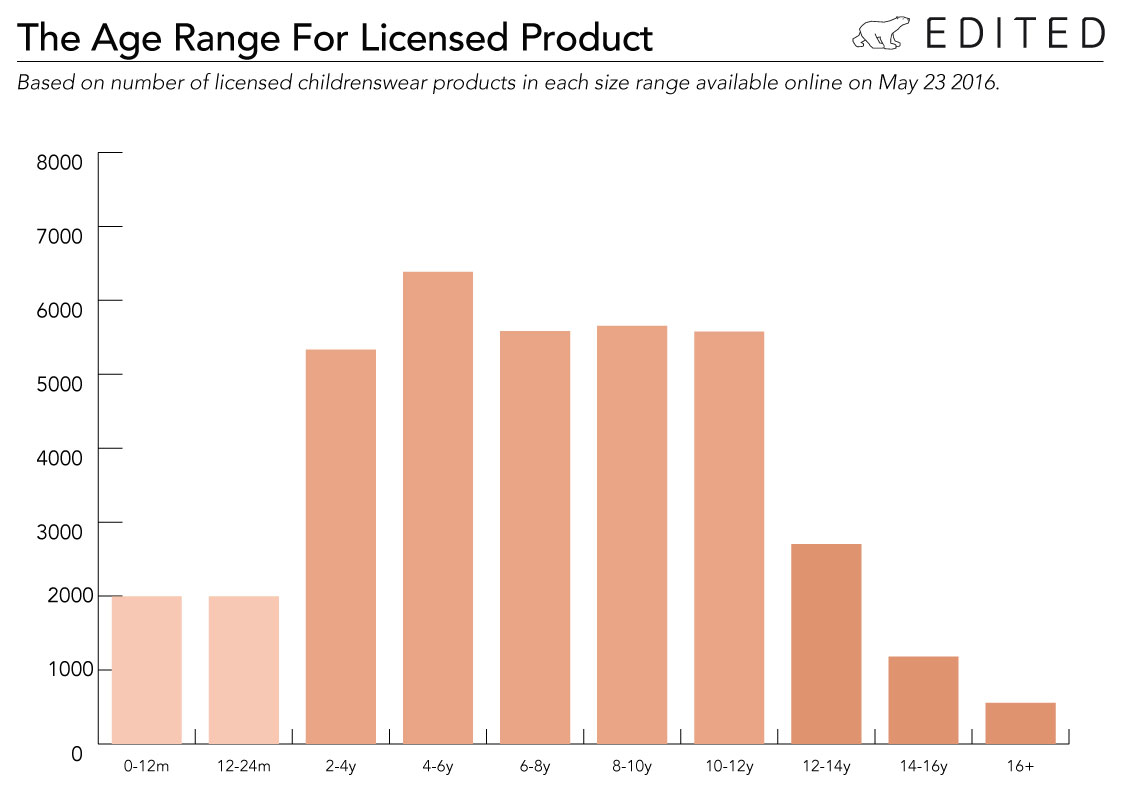 For babies, who aren't in the habit of voicing strong sartorial opinions, there are fewer options. Those that do exist shouldn't be overlooked. They're aimed at parents, as well as the many gift-givers. The most popular character in 0-24 month segment? Mickey Mouse. Though he's not been up to much lately, us nostalgic folk have fond memories of him from our own childhoods.
Interest trails off as children hit the early teen years, except for Star Wars, which crosses over into adult apparel. Ahead of its December 2015 release, Star Wars-mania hit adult apparel too. Unlikely players included J.Crew, Irregular Choice and New Era with their collabs last year. Even runway designers added high fashion kudos with Preen and Rodarte including Star Wars prints in their Fall 2014 collections.
Which categories count for licensed childrenswear?
Much like the greater childrenswear industry, the biggest emphasis is on the tops category, comprising 37% of character-wear. Footwear and accessories are evenly matched and nightwear comes in at fourth place. That gives nightwear a stronger emphasis in character clothing than across the market as a whole. It makes up 7% of license-wear, compared to just 1.6% of the total childrenswear market. However, licensed nightwear has low sell through and replenishment rates in addition to high levels of discounting.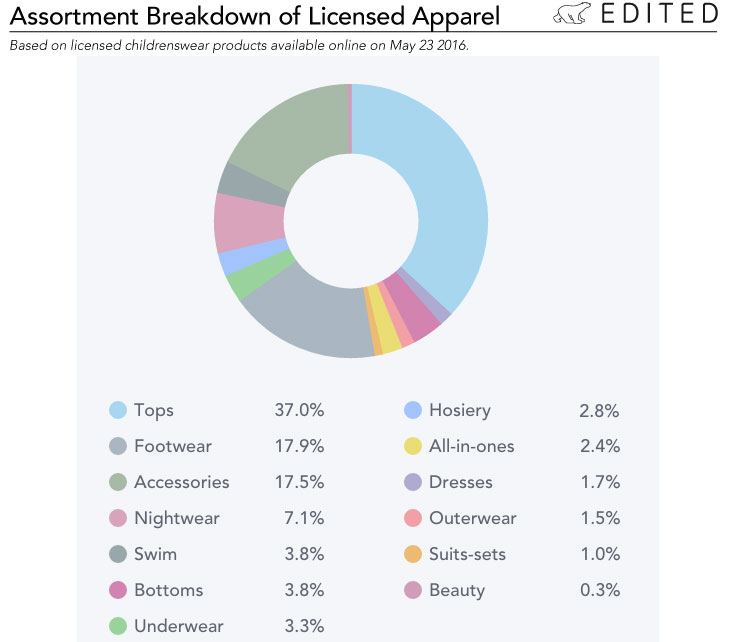 A safer category is underwear, where 10% of products are replenished and only 19.6% are currently discounted. There's room for that category to grow under licensing. Footwear is another success story, commanding the highest average price point, $23.94, and commanding a 7% replenishment rate.
How are licensed products priced?
Across the market, the average price for a character piece, is $14.25, with 74% retailing in the mass market and 24% in the value market. Compare that to a regular children's t-shirt, which averages $15.24 with 73% in the mass market and just 5% in the value market. No surprise, the character and license-wear is a highly price competitive market.
Suppliers and license holders will need to drive innovation in order to differentiate as more and more lower price points open up. There's a number of ways to do that.
First, teaming up with a popular and well-distributed brand. Crocs, Birkenstock and Havaianas all offer a great range of licensed styles. Second, retailers should pay close attention to wider apparel trends. So often licensed characters are placed on plain tees and sweatshirts. Put that on a garment trend, like a bomber jacket or digital print legging and you've got a winner. Lastly, the costumes and onesies are a great way of increasing customer spend on a total look. These pieces will fly around Halloween.
Top Products
Speaking of things that fly, let's take a look at the five best-selling products from the last three months. These are all items which arrived online, sold out, and were replenished, at full price.
1. Frozen high-top sneakers at Zalando, $28.64.
These first arrived in March and sold in 18 days, through all 11 sizes. Since then they've been restocked twice.

2. Toddlers' 'Thomas & Friends' Tee at Target, $7.99.
The first run sized 2-5 years sold out in eight days of its April arrival and has been stocked twice.
3. Disney Characters Tee at Target, $7.99.
Target show that once you've found the formula: stick to it. This sold out within two days in April and has a subsequent restock.
4. Mickey Mouse Tee at Next, $17.00.
The bold, unusual print on this was a winner, selling out of nine sizes in 17 days of its March arrival. It's been restocked twice since.
5. Peppa Pig Trainers at Debenhams, $21.37.
These active numbers sold out six sizes in three weeks of their March arrival. A restock took just eight days to go.
Get the Characters To Tell Stories
Characters make for great retail content. Mothercare often mention its extensive license-wear offering in newsletters. Cotton On ran with the comic book theme in promotion of its Batman vs. Superman collection and ten retailers dabbled in a bit of 'May the 4th be with you' fun, including Uniqlo and George at Asda.
In fact, in the last three months, Star Wars has featured in the most retail newsletters. Following the Dark Force is Superman and then Batman. Frozen and Spider-Man, despite their market dominance, were somewhat under-communicated.
Want to know more about our data on licensing in childrenswear or adult apparel? Talk to us – we'll happily walk you through.