Consumer interest in shapewear has piqued as legacy brands ready themselves for their newest competitor: Kim Kardashian West. SKIMS Solutionwear, formerly known as 'Kimono Soloutionwear', has already caused controversy before hitting virtual shelves.
Despite this, her social media clout, and growing portfolio of already-successful brands makes her a strong contender to claim a stake in the $83bn industry.
With multiple product styles at various price points, shapewear is a tricky area to unpack. EDITED's retail data platform can help businesses demystify this category, taking the guesswork out of planning, pricing, and phasing assortments. Here's our quick guide to shapewear, and get in touch here to see EDITED in action for your category.
Shapewear pioneers & disruptors
In the US market, the top shapewear brands are all iconic labels: SPANX, Maidenform, Miraclesuit, and Wacoal. A staple among big-box retailers and department stores, outside their standalone e-comm sites, Macy's, Zappos, Lord & Taylor, and Nordstrom are the top stockists.
In addition to Kardashian West, a wave of new labels have emerged in recent years to disrupt the market dominated by these legacy brands. Like beauty and lingerie, shapewear requires inclusivity in size and color. One of the many cult brands tackling the lack of diversity within "nude" colored product, Heist is using data science to reinvent the wheel. The Nude Project, launched in 2017, invited women everywhere to share images of their skin tones to be matched against an RGB color code. From the data collected, Heist developed seven shades of nude which cover over 1,000 unique skin tones. Kardashian West has also announced her upcoming range will be nude-inclusive, available in 9 shades.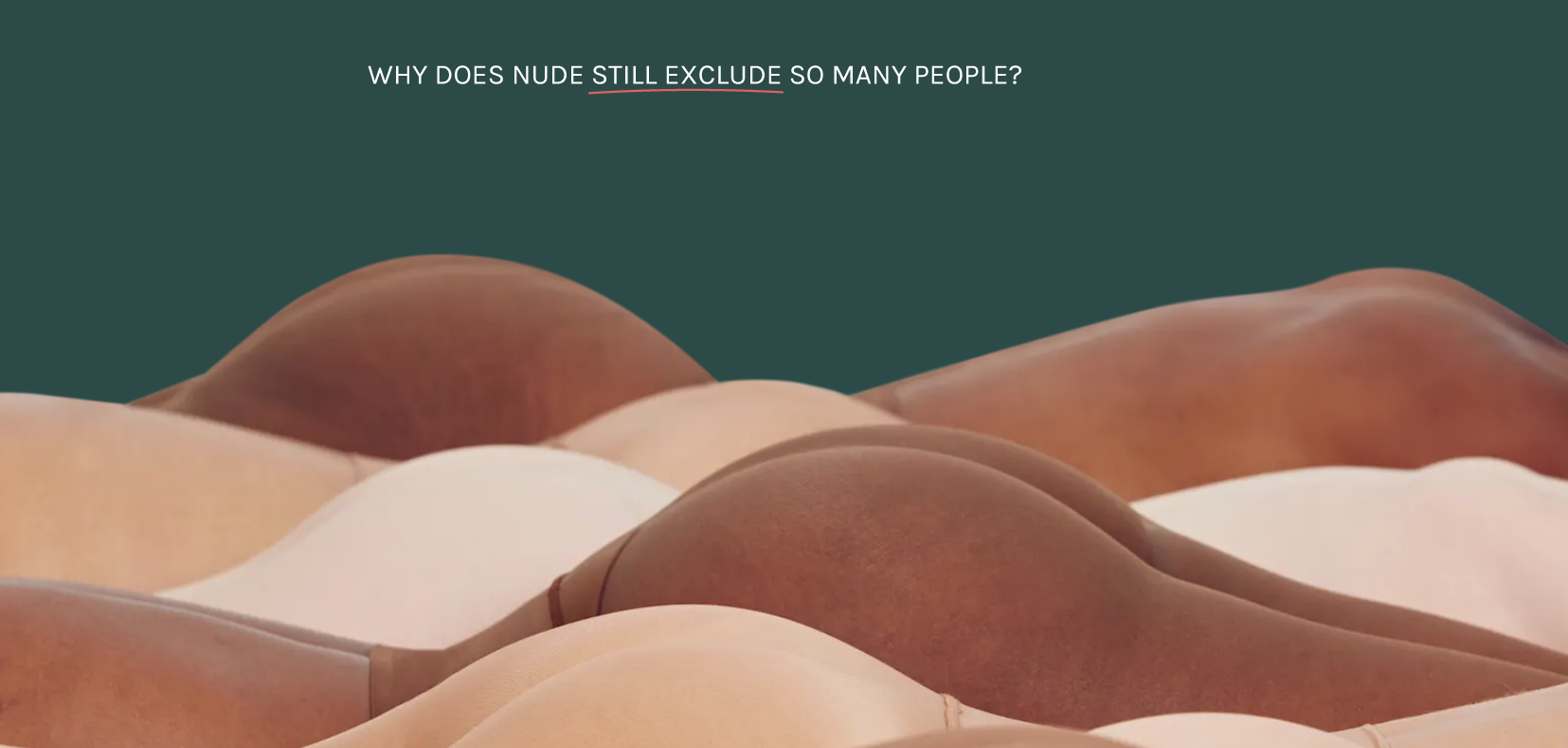 Black dominates the current shapewear available online (making up between 30-40% of product across the named brands above), with neutrals as the second-most popular color.
Using EDITED's color recognition technology, we can pinpoint the shades assigned to products described as 'nude' and 'skin tone.' Our data reveals that legacy brands are tailoring their 'nude' options more to lighter skin tones, missing out on a considerable opportunity to cater to a broader demographic. The lack of darker shades within nude styles signifies the need for these emerging brands diversifying this category.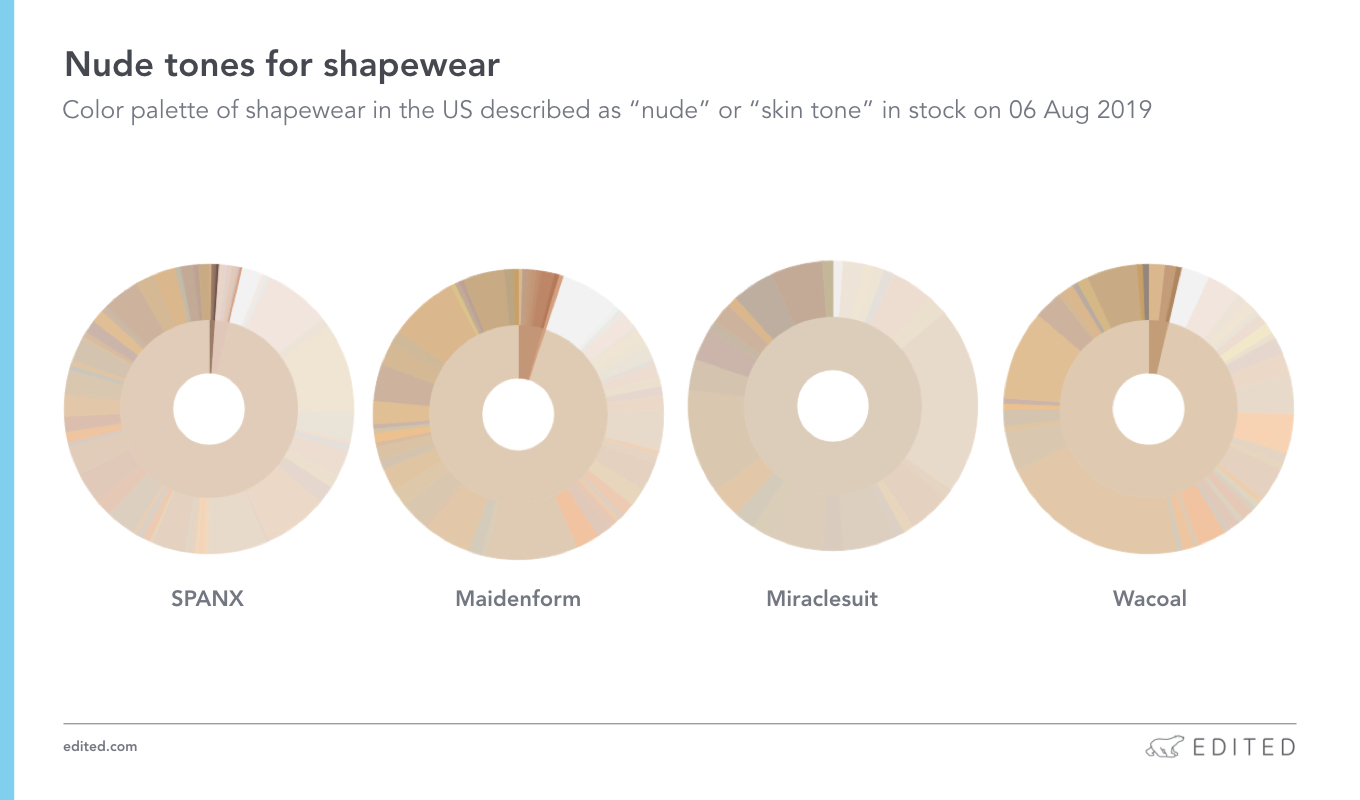 Demand for plus-size shapewear continues to grow, which is another box Kardashian West plans on ticking. Her soloutionwear will available in sizes XXS – 5XL – a broader range than SPANX at XS-3XL.
The replenishment model
Shapewear is considered an essential item and is generally unaffected by seasonal trends. Retailers have less reason to introduce new stock as they would for trend-driven pieces, making getting the styles right in the first place all the more critical. Brands stocked at third-party retailers rely on replenishment orders of their core styles to move inventory. Within Macy's, Maidenform has the highest replenishment rate with 35% of product currently available being restocked at least once. At Nordstrom, SPANX takes the trophy with the highest replenishment rate at 46%.
While newness in shapewear is minimal, fresh launches help re-engage customers to shop in this category. Within the US market, there is a pattern of products selling out after a new drop. Interestingly, US shapewear sell outs have seen a considerable spike since the end of June. This uptick correlates with the news of Kardashian West's shapewear line, indicating the growing consumer interest for this category.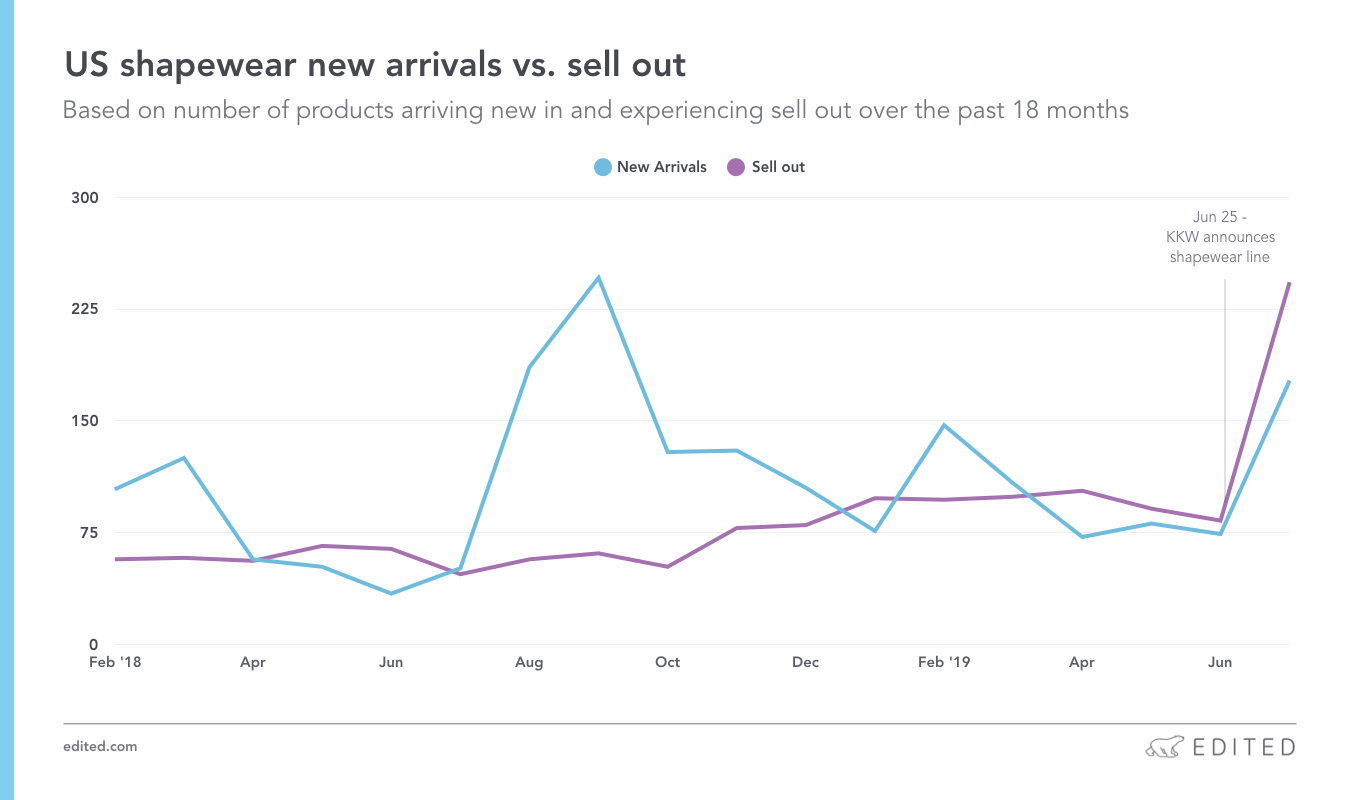 Silhouette evolution
With so many styles available, there is no uniform way retailers and brands categorize shapewear. Over 70% of shapewear in the US falls into the category of underwear, while the remaining products spread throughout hosiery (8.4%), tops (7.3%), bottoms (5%), all-in-ones (3.7%), swimwear (2.4%) or dresses (1%). Some retailers, such as Triumph and Marisota in the UK, merchandise their online assortment based on the 'body zones' the shapewear smooths/enhances.
Within these top-level categories sit several styles of products spanning from basques to bodysuits, full slips, half slips and more – all with their own technological features such as moisture-wicking and different levels of compression. It can be easy for retailers to become entangled when mapping out their competitors' assortment structure. So we've done the legwork for you and pinpointed the key silhouette shifts within the US market.
Shapewear for everyday
US retailers stocking major shapewear players are moving away from classic silhouettes into styles more suited to everyday wear. Control briefs available at US retailers stocking SPANX, Maidenform, Miraclesuit, and Wacoal have reduced by 30% YoY. Much as cycling shorts have resonated into fast fashion, this silhouette in shapewear has seen a 43% uptick YoY. While full slip styles have remained flat over time, the half slip has increased by 41%. Waist trainers and cinchers are becoming more popular thanks to social media influences such as the Kardashian-Jenner clan. However, their presence is minimal within traditional shapewear brands where the bodysuit (despite a 14% drop on last year) still dominates.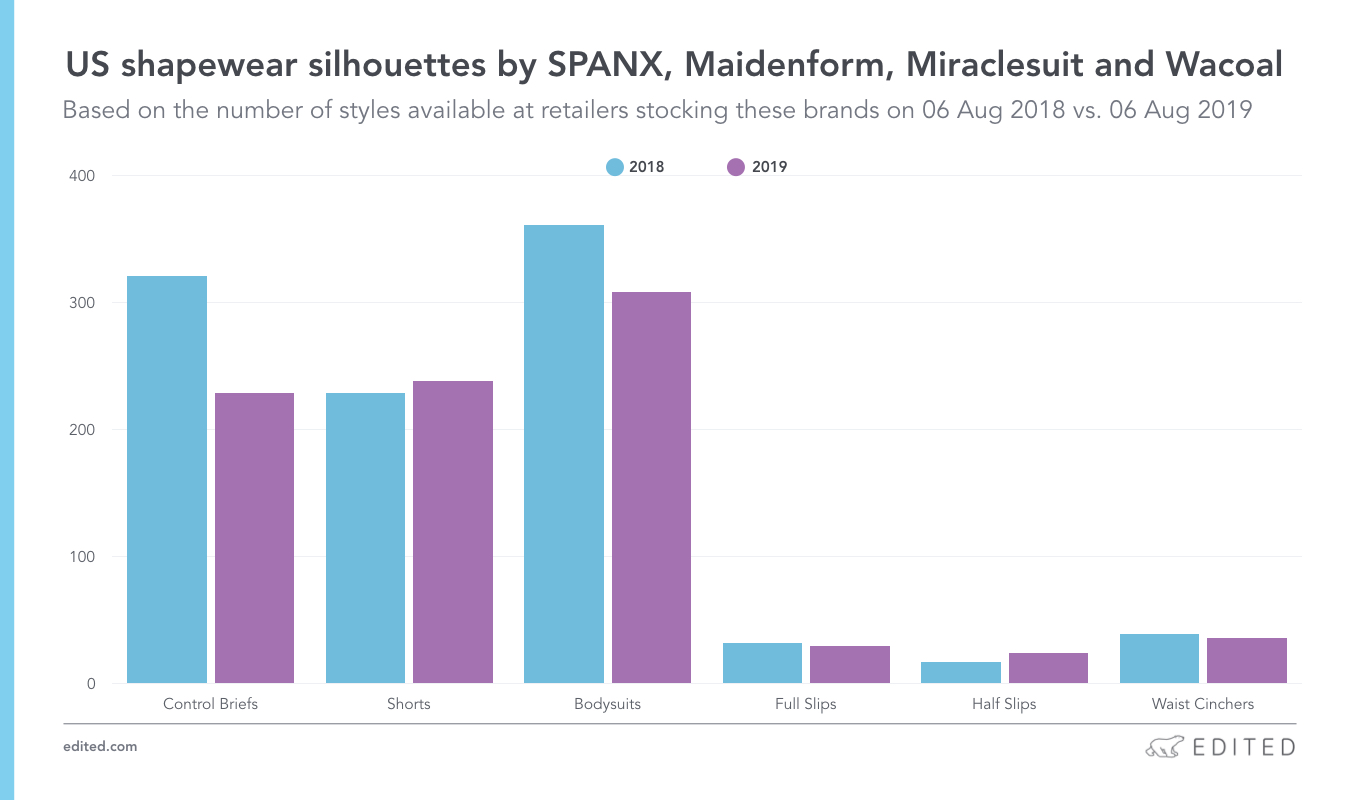 It will be interesting to monitor how these key shapes evolve when KKW enters the market on September 10. In the Instagram post announcing her venture into the industry, Kardashian-West wrote about cutting up her shapewear to make new styles. The post accompanied the much-circulated image of the asymmetrical shorts designed to be worn under slit dresses and skirts.
Using EDITED, retailers can monitor new shapewear styles entering the market in realtime. Find out more here.
Already an EDITED customer? For further shapewear analysis including pricing architecture, check out our report You Better Shape Up: The Current State of Shapewear.
Want to know more about how EDITED can help your business?
Request a live demo with one of our product specialists.
GET A DEMO →