Millennials are hitting their thirties but according to WWD, they are still shopping like it's 1999. And there are plenty of options to do so, with the influence of nostalgic trends everywhere in fashion.
We've seen camo print make a comeback. Throwbacks to tie-dye. Non-stop normcore. And as for accessories, there are nods to the '90s in the form of jelly shoes and clip-on earrings.
While Gen-Z shoppers may be jumping on that butterfly clip bandwagon, Millennials are the ones with an emotional attachment to these items as it's what they've grown up with. And better believe, this is the product they are buying into for the Spice Girls reunion tour.
So, how can you best maximize your accessories assortment to capture this market who aren't ready to grow up? Read on as we give you the 411…
Newness meets nostalgia
Toy Story 4 is about to hit cinemas, Janet Jackson is performing at Glastonbury and bucket hats are back. With sky-high rents, social anxieties and student debt it's no wonder Millennials want to buy back their youth. The charts below tracks the demand for accessories inspired by our childhoods.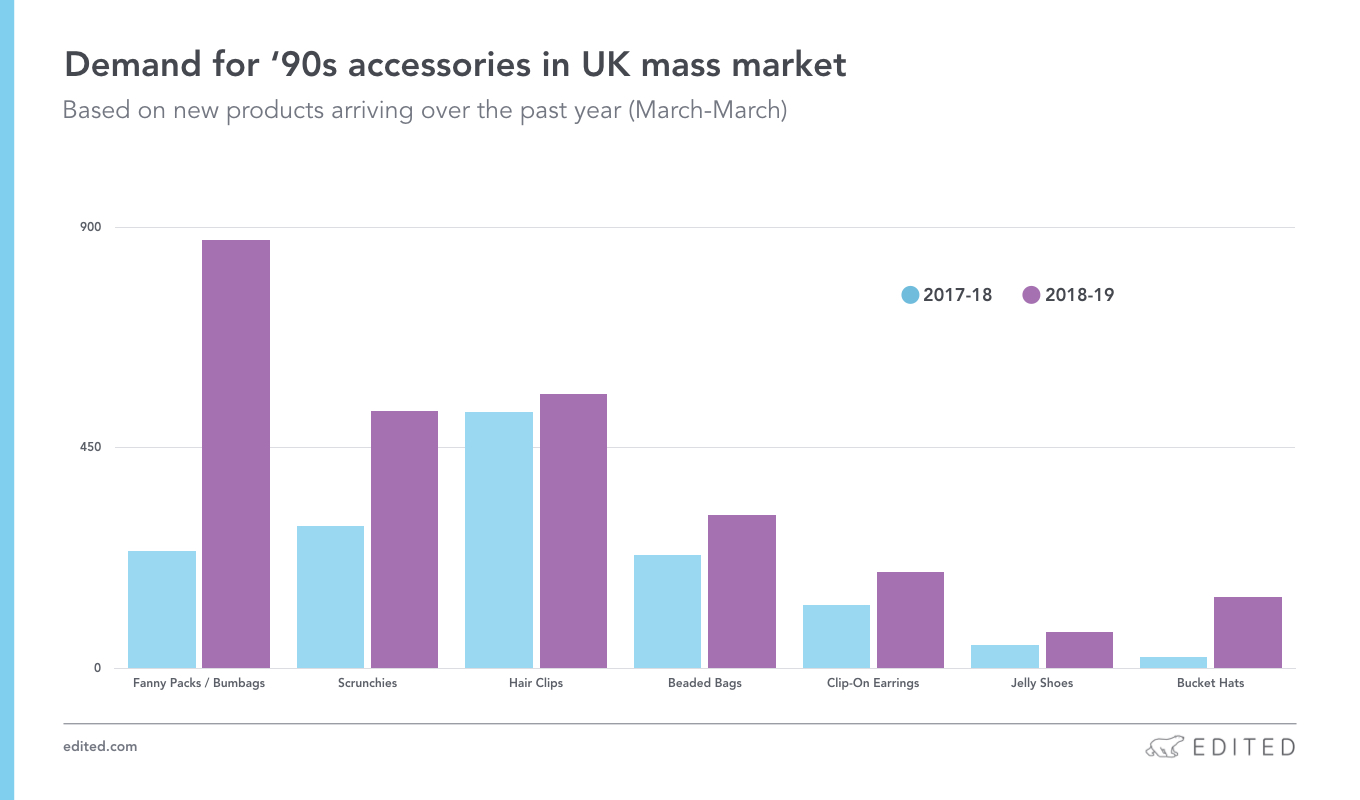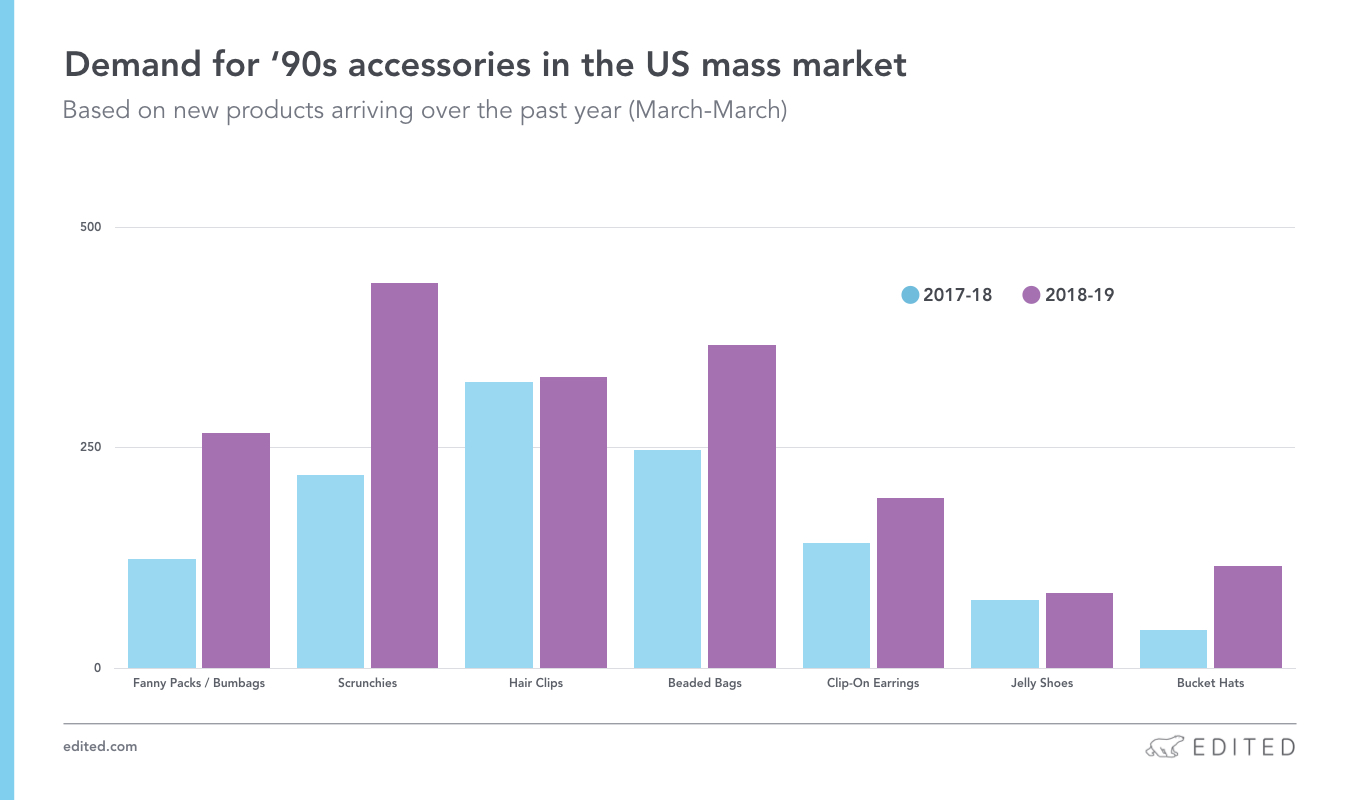 Fanny packs, which are now a street style staple, have seen major growth YoY in the mass market. There has been a 265% increase in the UK and 115% in the US. When fanny packs first resurfaced in the mass market, slouchy and sporty silhouettes were the norm. Now, we are seeing more refined belt bag styles as premium retailers back this trend.
Another blast from the past, scrunchies experienced an 81% increase in the UK and a 99% increase in the US. And the classics keep trending upwards with beaded bags growing 36% in the UK and 48% in the US, clip-on earrings (UK 50%, US 36%) and bucket hats (UK 504%, US 163%).
There is no denying the influence of hair clips, seen on celebrities and the runway. Looking at the total growth of the category, there has been a 7% increase in the UK and a 2% increase in the US YoY. While this might look small, if we dive into the data we can see how trends within hair clips have shifted. Pearl hair sliders experienced a 41% uptick in the UK YoY similar with the US. Shell hair clips are up 200% in the UK, and 112% in the US.

Getting the price right
Buying into these accessories is an easy way to tap into the nostalgia trend. Hair clips and scrunchies are the cheapest items coming in with the lowest entry price. These start at £1 in the UK (at Accessorize and Boohoo) and $1.90 in the US (at Forever 21).
In contrast, elevated products such as Reformation's leather scrunchies are retailing at a higher cost, bringing the exit price point up to $29.50 in the US. Premium prices have also been tracked for beaded bags as well as clip-on earrings at Anthropologie (US). Keep this in mind when planning the prices for your accessories mix – are you in line with the market?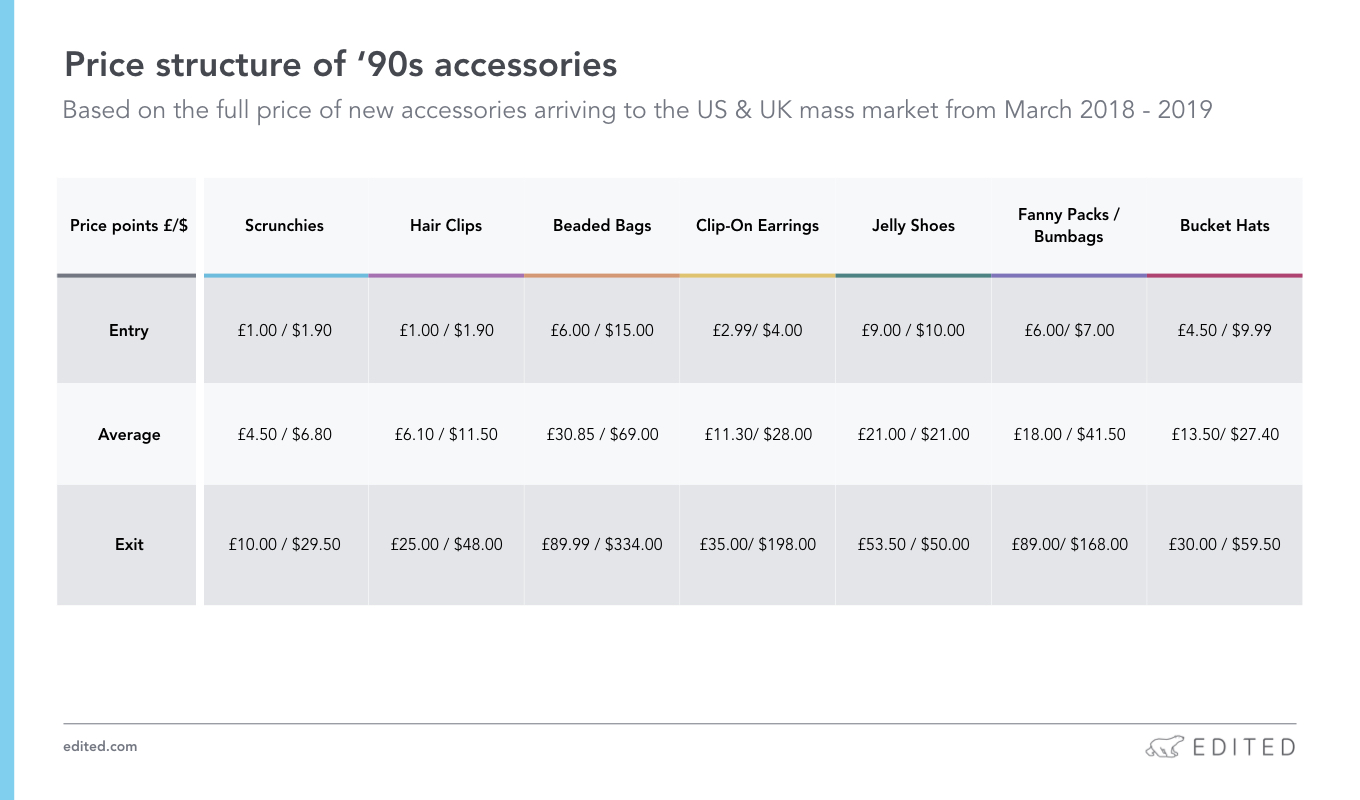 Back to the future
Looking ahead to next season Fall 2019 runway has continued the nostalgia trend and expect retail to follow suit with the demand still there.
Bucket hats are up for another season and given a formal update at Dior. Hair accessories remain a key area to invest as they continued their reign on the catwalk. Headbands popped up at Prada and Shrimps as well as slogan hair slides at Ashley Williams.
Bags are getting smaller (like Polly Pocket size) with micro styles trending at Tod's and Jacquemus. Belt bags continued to be a strong look at Fendi and Chanel. Both designers adopted a ladylike revival with structured silhouettes and textured details. To capture Millenial spending, designers are reliving their glory days by reviving their signature 'IT' bags such as Fendi's Baguette and Dior's Saddle bag .
Got EDITED access? Log in to read our full review of key Fall 2019 accessories and handbag trends. Want some Spice Girl assortment inspiration? We've got you covered here and here.