It's an exciting time to be in menswear. The current Spring 2019 men's shows are demonstrating that the male shopper is becoming more discerning and directional.
There's also been an opening out of price which is strengthening the market's structure. That means brands and retailers can try more challenging things, spin more exciting narratives, and without having to be heavily promotional.
Naturally that means that those brands and retailers need more support on which trends to back–and when to back them–than ever before. Thankfully, that's what we're here to do!
While there's fast paced stuff happening in menswear trends right now like pink tailoring, bold floral Cuban shirts and white denim, they're things that if you're not yet in on, you've missed it for the season.
Instead, here are seven menswear trends that there's room to play with.
1. Tailoring Comeback
Maybe it's thanks to Gucci, but there's a dandy resurgence in the air. As a contrast against the super-casual sportswear consumers are so used to shopping for every occasion, we're seeing the increasing presence of the suit on street style stars and Instagram influencers.
Retailers like Suit Supply are driving that growth, making affordable tailoring accessible to a wider range of consumers across its 100-store (and growing) network.
ASOS has had success with its tuxedo styling, super skinny pants, pastel colors and floral print blazers. Even a grey crushed velvet required no discounting to sell through…
At Farfetch, classic two-piece sets in greys, as well as a more relaxed shape in slubby linens are performing well for brands like Thom Browne, Gieves & Hawkes and Gucci.
We aren't expecting this to topple more casual styles of dress out of favor, but it does offer different character for the more invested menswear shopper. He'll be wearing suiting for eveningwear in bright colors. For Fall 2019 think emerald greens, rich wine shades and camel.
And with an increase demand on suiting comes a refocusing on formal footwear (brogues, monks straps and loafers have been spotted in street style recently) and dapper accessories.
EDITED Top Tip: If you have EDITED access, check out the Pitti Uomo and LFWM Street Style reports here.
2. Transparency, literally
You might have noticed the transparent bag trend in womenswear recently. Well it's crossing over to menswear. Sheer fabrics and transparent plastics are achingly cool – they're a bit festival, a bit street and a bit Off-White for Rimowa.
Pushing up the cool credentials is the Opening Cermony x Rains raincoat collaboration and Raf Simons' semi-sheer Joy Division tops.
Here's how that looks on the runway for Spring 2019, with technical outerwear and accessories being the easiest way to tap into the trend.
Sure, you may not be about to deck your male shopper out in head-to-toe iridescent plastic. But let the market leaders shake things up a little. We're seeing a broader range of colors open up for menswear, the increased presence of metallics in accessories and who knows, eventually even the lustrous finish to that button down will feel a whole lot more achievable for the Average Joe.
3. Co-ordinates
Matchy-matchy gets totally catchy! Co-ord sets are on the increase – new arrivals are up 66% this Spring, following Gucci's lead (again).
Here's how that looks on the streets of London and Milan at the Spring 2019 shows:
With its complete look in two garments, this trend taps into the ease of the sportswear aesthetic so popular right now. There's also an irreverence to it that fits in well with the ironic normcore look.
If printed sets are too much for your customer, why not try tonal pairings that encourage your shopper to lift their spend?
4. Branded socks
Dad vibes rule again. No more of that sneaker-liner minimalism, logo'd tube socks are winning. Here's how the show goers are dressing their ankles:

This one is such a no-brainer for a brand. Tapping into streetwear popularity, Tommy Hilfiger has launched its Pride collection sock and Gucci's $120 logo socks sell like hotcakes.
If you hadn't already been persuaded, just check how sell outs have climbed since the start of the year: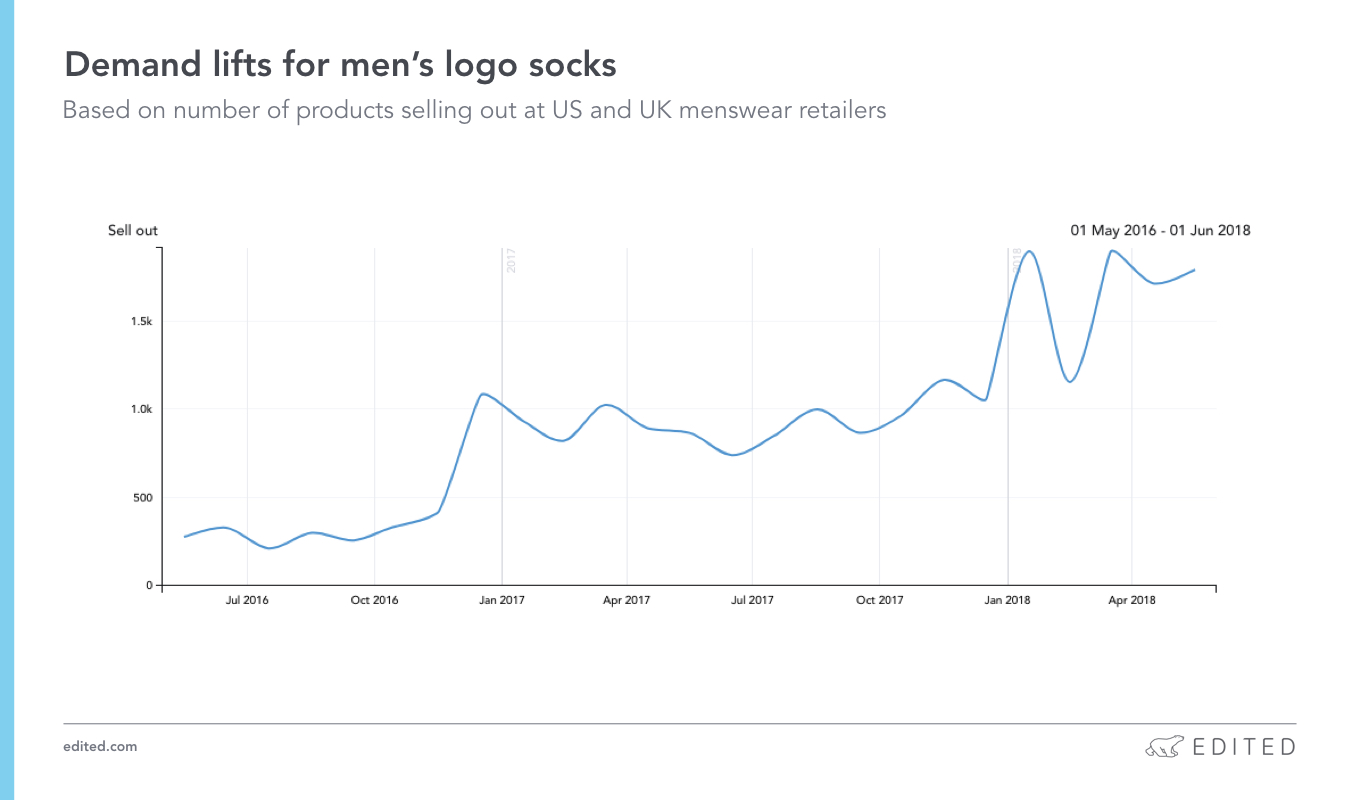 This one works even if you're not a brand – think up eye-catching slogans that reference current memes and you're in on the fun.
5. Stripes are life
You wouldn't be wrong in thinking stripes are never really off the menswear table, but new arrivals are up 3.6% in the last three months (compared to last year) and sell outs are up 12% on last year. Average price on striped items has grown by 14% too.
And showing that stripe-wearing is getting bolder: striped pant sell outs have grown by 41% and outerwear by 56%.
Here are retail bestsellers from the last three months:
The best picks from the runway were bold vertical stripes. These will run through Fall 2018 into Spring 2019 and beyond.
6. Silk shirt
Get elegant with a silk shirt in your assortment. Luxury new arrivals were up 80% in the last three months, compared to last year, and sell outs climbed 87%. Of course, it's Gucci leading.
A print will make this piece seem more lighthearted than seedy Lothario – Giorgio Armani's are ruling the Spring 2019 runways so far.
7. Grandad collar
Same garment, totally different vibe. The grandad collar shirt has that Puritanical feel, it riffs on classic workwear and when done in linens for summer it's an ideal way to dress down the trending tailoring.
In the last three months new arrivals of this shape have climbed 7.5% and sell outs are up 37.5% – again, consumer demand is growing faster than the garment's retail presence.
Currently, with a price average of $129.48, the brands with the highest number of styles are ASOS Design, Selected Homme and Mango. But showing up on London's Spring 2019 runways cements the designer appeal of this shape. Phoebe English's take, with a longer tunic-line, gives the garment a contemporary update.
Keep this piece in the offering through Fall with heavier weight linens and brushed cottons.
Want to know more about menswear trends? Our Retail and Runway Reports are packed full of the newest directions and up-to-the-minute commercial data. If you have EDITED access log in here. Or find out more about us here.