Zara and H&M are two of the world's largest and most ambitious fast fashion retailers, and their strategies are continually scrutinized by the industry. And quite rightly so. After a 14% rise in sales for fiscal 2014, H&M closed out their first quarter (ending February 28) with better profits than expected and a plan to open 400 new stores in 2015. Meanwhile, Inditex increased net sales 8% to $19.2 billion over the 12 months ending January 31, and now plan to open between 420 and 480 stores this year.
So, what are these retailers doing right? Last April, we assessed their tactics in Zara vs H&M – who's in the global lead? One year on, our data highlights the key strategies helping them outperform their competitors.
1. Constant levels of new product
A high level of newness year-round is what defines Zara as a retailer. They endlessly delight their customers with of-the-minute clothing. In the last 15 months they've dominated in the attempt to bring the most newness to consumers month-over-month.
Unbeatable levels of new product is what delights @Zara customers.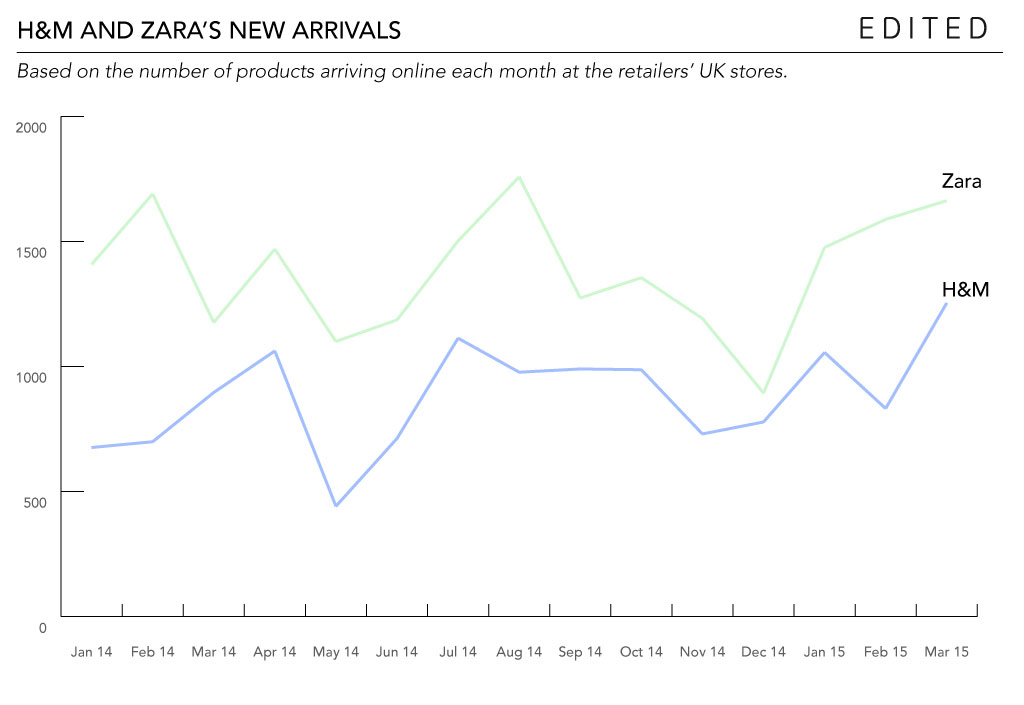 Despite H&M's larger assortment, they haven't beaten Zara in new arrivals since January 2014 (December 2014 came quite close). In fact, since we last wrote about these two retailers in April 2014, H&M have increased the gap in their respective sizes of offering from just under 2,000 different styles, to over 2,500.
The weapon up H&M's sleeve? Replenishment.
29.9% of H&M's current offering has been replenished. A figure that has grown by more than 6% since April 2014. They've also grown replenishments on childrenswear and menswear, now outstripping womenswear, formerly their most replenished category. Zara meanwhile is not seeking to improve upon replenishment in their strategy. The 2.7% of total offering that had seen replenishment in April 2014 has since scaled back to 1.3%. H&M is able to act upon success and optimize it. Zara has to get it right first time. On average it takes a product at Zara 26 days for the majority of SKUs to sell out, compared to H&M's 112 days.
On average, Zara's product takes 26 days to sell out; H&M's takes 112 days.
2. Clear strategy around discounting
Zara and H&M approach discounting in noticeably different ways. Zara has exceptionally low levels of discounting for 10 months of the year, promoting hard and fast in June and December only. Zara currently has 5.1% of their offering discounted, and only 0.4% of the offering is reduced by 50% or more. Crucially, they have no sale section on their website when they are not in sale season.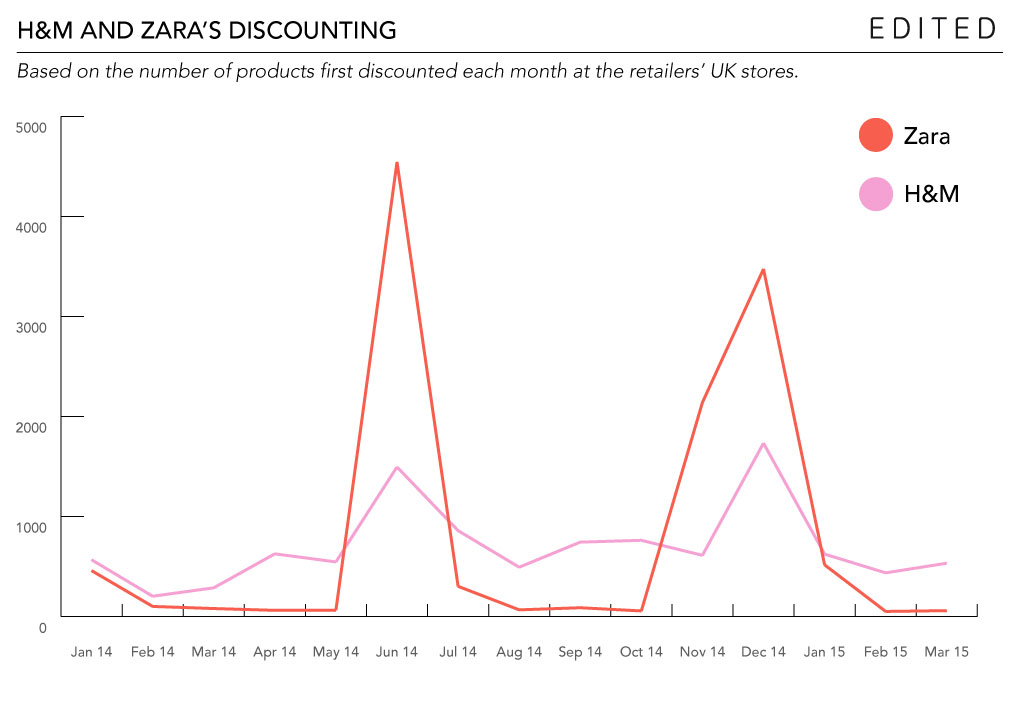 H&M have 23.9% of their current offering discounted (in line with the 24.2% in April 2014), 10% of their offering is reduced by 50% or more, far outstripping Zara's discounting. With a much higher rate of new discounts each month, H&M customers are more likely to seek out promotions year-round.
Zara is promoting hard and fast in two months only: June and December.
3. Focusing on core customers
H&M focus on the female shopper, with 57% of their current offering being womenswear. That's a ratio they've grown by 6% in the last year, peeling back from childrenswear, down 6%. Zara, who has a much more balanced offering, appealing to the whole family, has also grown womenswear, but only by 2%. The area of least growth was been menswear, which shrunk in weighting by 3.5%.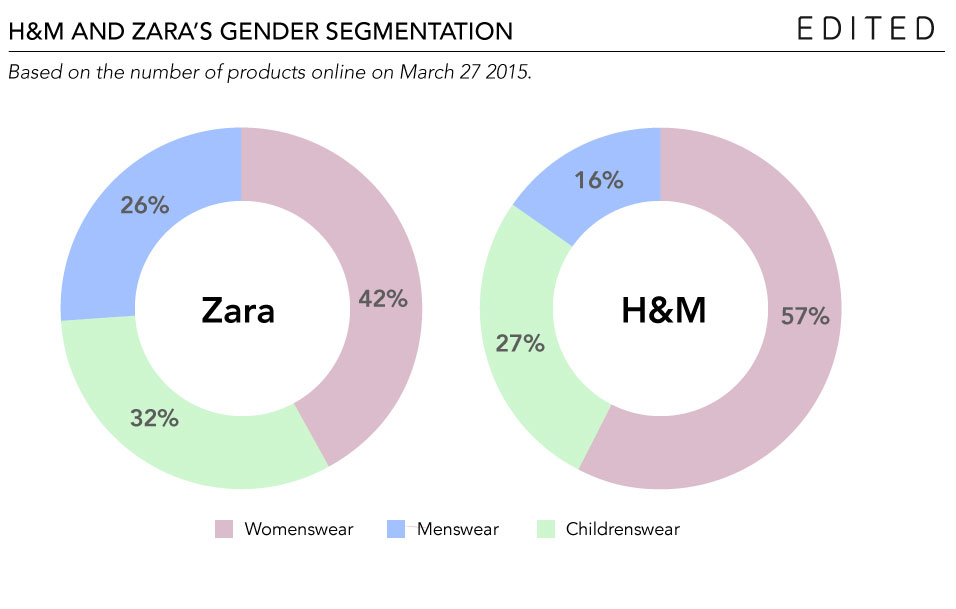 4. Consistency in price architecture
H&M and Zara price very differently. H&M's current offering extends from $0.77 to $307.97. That top price (leather trousers, a suede jacket and suede wraparound dress) has climbed 5.5% since April 2014. That's seen the median price point grown by 10.6%, to $23.67. Meanwhile, Zara's current offering stretches from $6.48 to $368.04 – lifting the top range by a dramatic 14%. Those higher priced items include a fringed suede jacket and skinny leather trousers. The increased pricing hasn't filtered into the entire range though, the median price point has fallen by 8% to $44.23.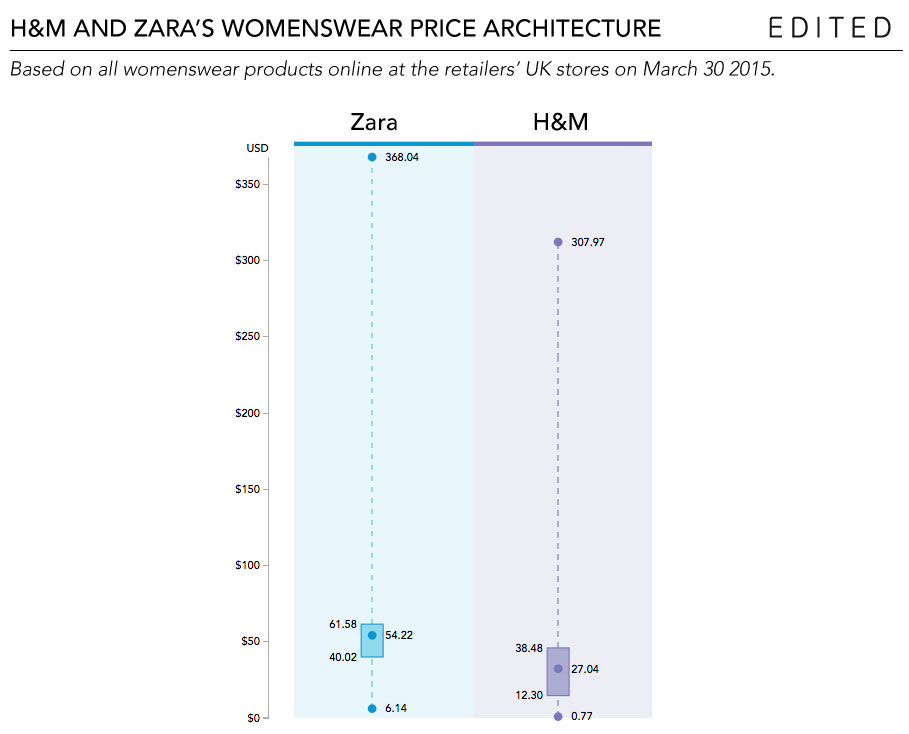 Counting the number of product options further supports the theory that H&M are trying to build out their higher price points. In April 2014, 56% of H&M's offering was priced between $1 and $20. Currently, only 49.5% of their offering sits in this price range – a notable change for price sensitive retailer.
Zara is much more consistent – they really have their pricing strategy set firmly. 32% of Zara's offering sits within its most optioned price bracket, $20 to $40. The exact same proportion of Zara's offering was priced this way in April 2014. In key categories like tops and jeans, Zara focus heavily on one price point – building their customers' options out at a familiar price, rather than attempting to appeal to a multitude of shoppers like H&M.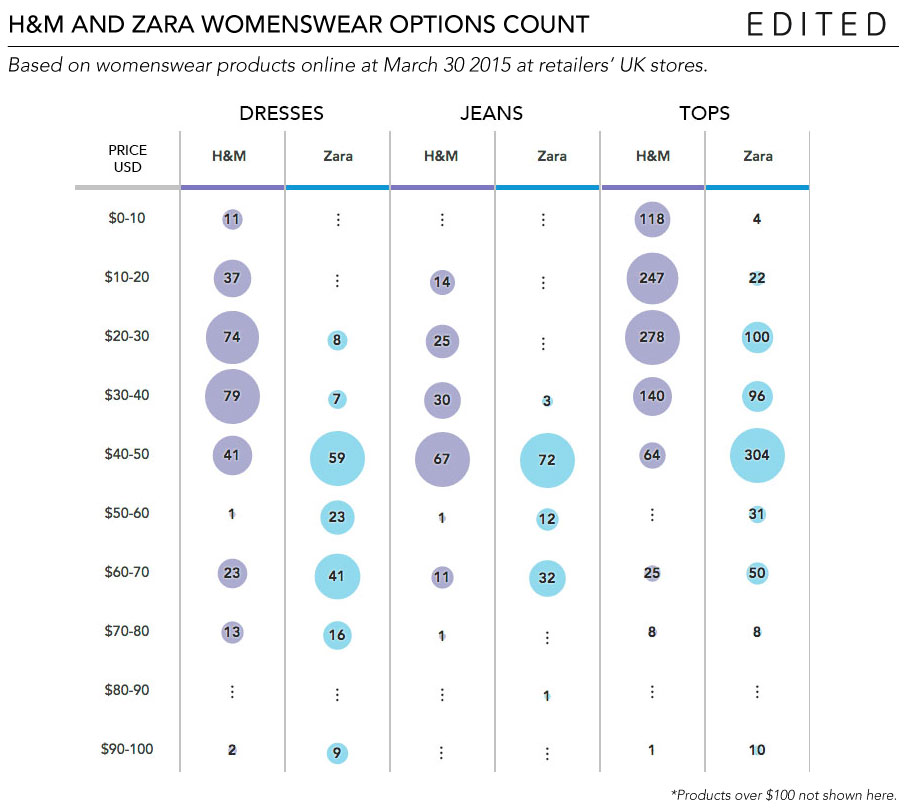 5. Communicating your brand's identity
Recently H&M have adopted a much more editorial style of email newsletter than they formerly used. Instead of featuring flat, clickable product images, with a price point and 'shop now' link, they're using a magazine format of stylized imagery with mood-setting text. This is much more in line with Zara's starker email layout. As H&M grows its pricing, it's employing better storytelling to portray the brand.
One of the best things you can do for your business is to have the pricing and product offering in line with your customer expectations. Our analysis shows that most successful brands in the industry are doing just that. Isn't it time your business followed suit?
Want to know more about how EDITED can help your business?
Request a live demo with one of our product specialists.