In days of yore, January was the month shoppers would eagerly await as prices came tumbling post-holiday. But how do January sales stack up in a retail landscape where shoppers can expect near-endless reductions?
Certainly retailers need January to clear dead stock ahead of the year's new deliveries and the fresh hope of full-priced sales in 2016. What has become of the sales season?
With January now wrapped, let's take a look back at the state of play in the US and UK.
1. When Retailers Break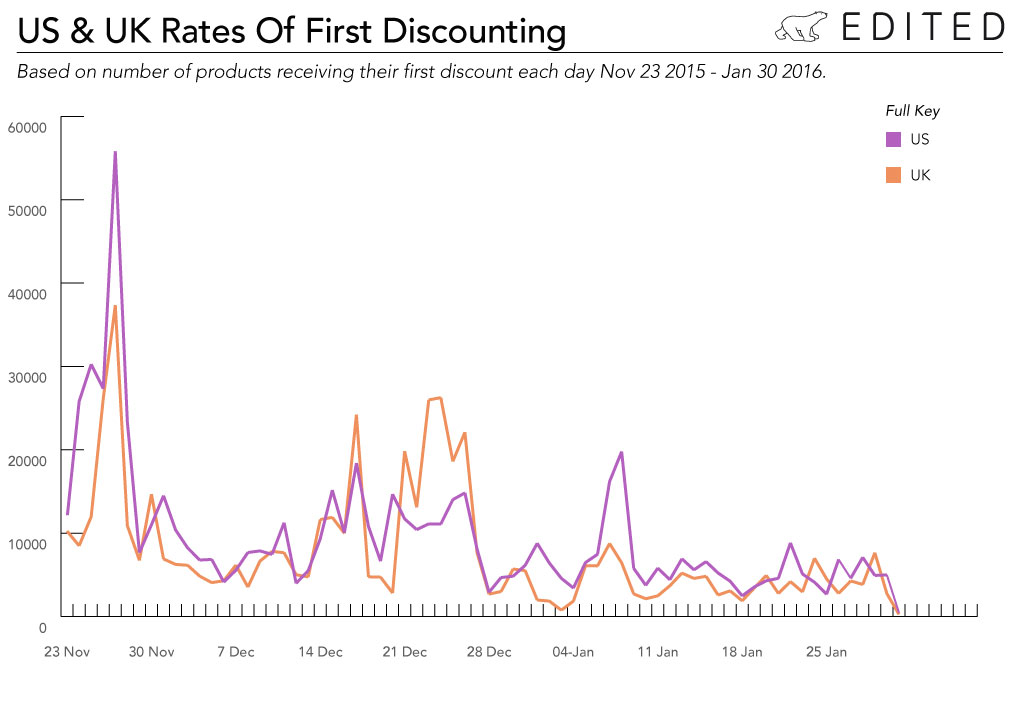 The above chart shows the number of products receiving their first reduction between November 23 and January 29. It puts in plain sight retail's emphasis on Black Friday and the surrounding days. In fact, in both the US and the UK, there were more first reductions in the last week of November than there were in all of January.
In both US & UK there were more 1st reductions in last week of November than entire month of January.
Following Black Friday, the UK had some notable discounting dates on December 17, December 23 and 24 and then Boxing Day. Sales barely shifted the dial in January, with 51% fewer reductions than in December. The December focus is marginally less significant in the US. January saw 22% fewer reductions by US retailers than December. The US also takes emphasis off Christmas Day and Boxing Day. January reductions spiked on January 7 and 8.
It's clear that retailers are introducing reductions right at the top of the holiday season, around the much-publicised dates. They're then using December to drop prices on already reduced items and using January as a final opportunity to clear out. That makes sense on seasonal items, but it also threatens full price margins at a critical point in the holiday spend. And doesn't make for an exciting retail mix for shoppers post-holidays.
In the UK, December wins at sales – there were 51% fewer reductions in January than December.
2. How Retailers Talk About Their Sales
Retailers' communications do not reflect the commercial data around discounting levels. The word 'sale' was used in more retail newsletters in January than in December, even though reductions peaked in December. There were 462 global mentions of 'sale' in newsletters December 1-24, with the UK coming out on top. In January, there were 533 mentions of 'sale'.
Discount alert! Retailers' newsletters had 15% more mentions of 'sales' in January than December.
3. Market-by-Market
Not all markets, or regions, discount equally, as the chart below shows.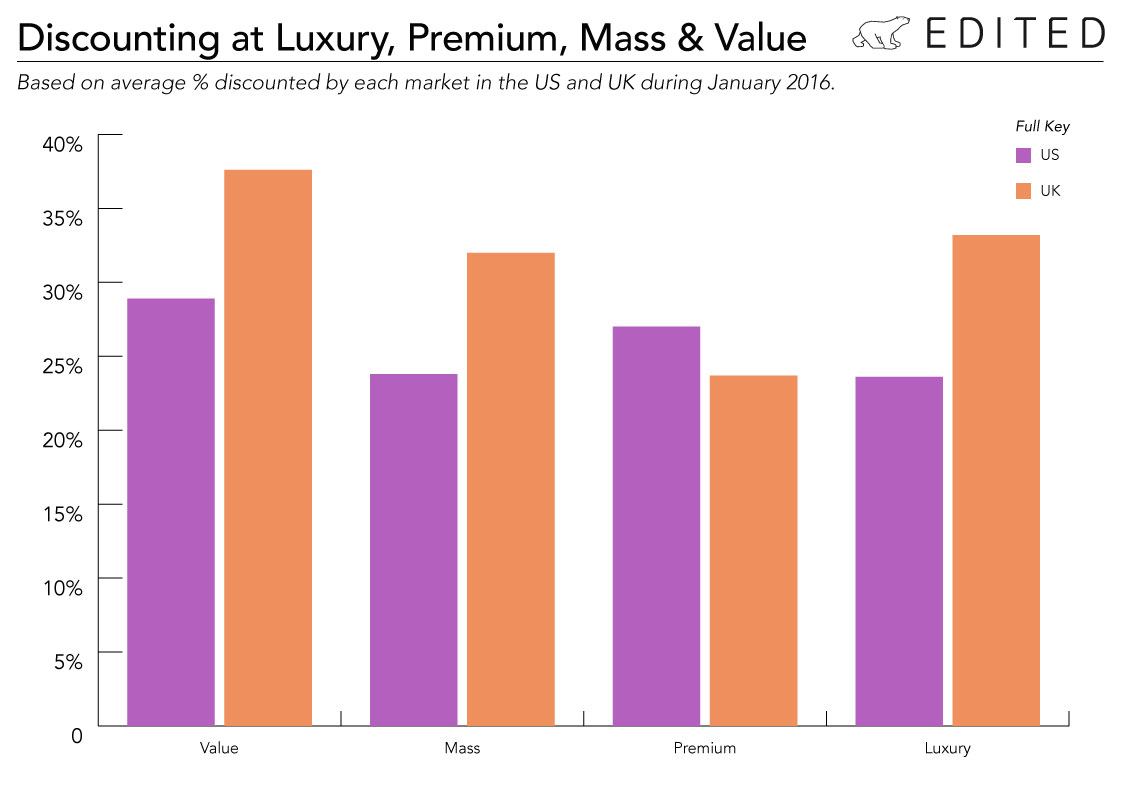 Despite it being widely believed that US shoppers are the most bargain-driven, the UK is a dark horse. Across most market segment, average discount rates are higher than in the US. The UK value market, despite its already low price point, sees the highest reductions, with an average of 38% chopped off prices. At the other end of the scale, the luxury market comes in in second place, with 33% cut from prices on average. The UK premium market is a sweet zone, with lower discounting than average markets, just 24% on average.
The US runs differently, with the luxury market receiving the lowest average discounts, just 24%. They're also more conservative on reductions in the mass market, where 23.8% is the average price drop.
4. Discounting Sweet Spot
Based on a market-wide analysis of January discounts, we can not only see at which discount brackets the price drops occur, but also the brackets where most stuff sells out. We can use that to tally up whether retailers have over or under discounted.
In the UK, the highest proportion of discounts in January were at a rate of 41-50% . The next most used reduction bracket was 21-30%. In part, that tallies up with where the sell outs happened – 41-50% saw the highest number of products selling through, but in second place was 31-40% which was underutilized by retailers. Retailers should use this discount bracket more to claw margins back on items they discount by 41-50% or to clear out on products that won't move as fast when discounted 21-30%.
The gap is even greater in the US, where retailers also favor the 41-50% bracket and 21-30% comes in at second most-used. Data shows that the most sell outs occur at a higher discounting rate, with 51-60% being shoppers' most popular, followed by 61-70%. Shoppers are lying in wait for those big price slashes.
5. The Most Discounted Categories
So where do those biggest price slashes occur? The below chart looks at the assortment breakdown of the 50%+ reductions in menswear and womenswear.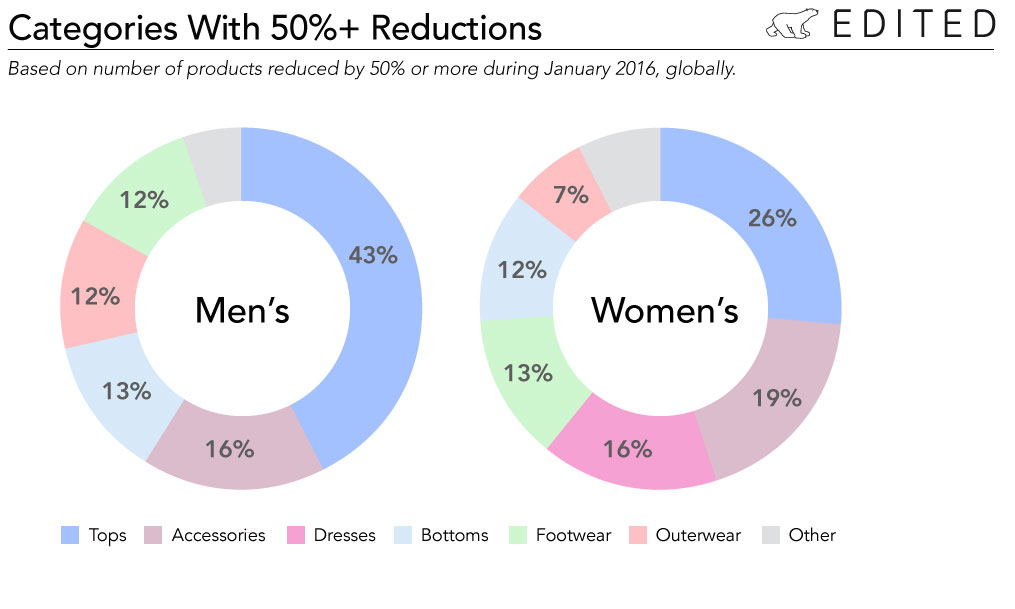 The stand out insight here is that men's outerwear fared worse this winter than women's. That's one of the reasons we urged retailers to look into lighter weight performance pieces recently – which won't be so affected by unseasonal weather.
Though the 43% weighting on men's tops looks dramatic, the inclusion of a dress category in womenswear takes the emphasis off tops, while menswear doesn't have this luxury! And for kidswear, the big reductions were dominated by tops, making up 32% of the mix, followed by 17% bottoms and 13% footwear.
EDITED subscribers, log in today to analyze the January sales in your region or hone in on your direct competitors to understand their tactics.