Basics are getting some tough press. These days you can barely take a sip of your latte, share an inspirational quote or post a pic of your kitten on Instagram without the fear of being branded 'basic'. Can someone explain when being complicated became a good thing?
What does it matter if you can quote Sex and The City seasons 1 through 6? And who doesn't like a little pumpkin spice around Fall time? Let's call time on all the finger pointing and strip 'basic' back to what it used to mean.
BASIC
adj: forming an essential foundation or starting point; fundamental.
noun: Often, basics. Something this is fundamental; an essential ingredient.
That sounds a whole lot more inspiring, right? And it's something this industry can get behind. Here's why it's a good time to be a basic in fashion.
1. Basics are essential ingredients
Basics complete a retailer's offering, they're a vital part of communicating a complete outfit. They're also a safety blanket for less trend-forward shoppers, helping stores find a way to dilute directional looks for the masses. But beyond that, basics are the stuff we actually wear, wear out and replace. Unlike other clothing categories, we need basics year-round.
Basics gap-fill on the shop floor and aid seasonal transitions with their timelessness. They're a critical part of the assortment. At ASOS, basics make up 12% of the tops category, at British online retailer Boohoo, basics account for 4% of the entire apparel offering and at H&M they're 15% of the apparel offering.
More than that, whole businesses sometimes get founded around basics. Take Uniqlo: a family of basics. American Apparel: hipster basics. Everlane: aspirational basics.
2. Basics have price magnetism
Basics are retailers' gateway drug. They represent great value; sitting at the lower end of the price architecture, they're a perfect first touch point with a retailer or brand. Indeed, this analyst got her first taste of shopping at 'grown-up stores' some 17 years ago via Topshop's jersey range (3/4 sleeved, boat necked, one in lilac, one in black) and has been dropping regular chunks of her paycheck at the retailer ever since.
The value of basics is reliable too. For the most part, basics don't get reduced. More often, they're bundled into 2-for-1 or 3-for-2 deals, which don't undermine the original value so much as price slashes. There's an element of trust established with the consumer: you believe that the first price is the right price. Basics are buy-now, you don't need to wait for the sale to check prices. This is a great place to be in the apparel industry.
Even at a value-driven retailer like Boohoo, basics are able to access a lower price point than the main assortment. That's thanks to their simpler construction and large order depths across a wide variety of sizes. The below chart shows the pricing on Boohoo non-basics as well as their basics offering, called Boohoo Basics, which is described as "core pieces at killer prices".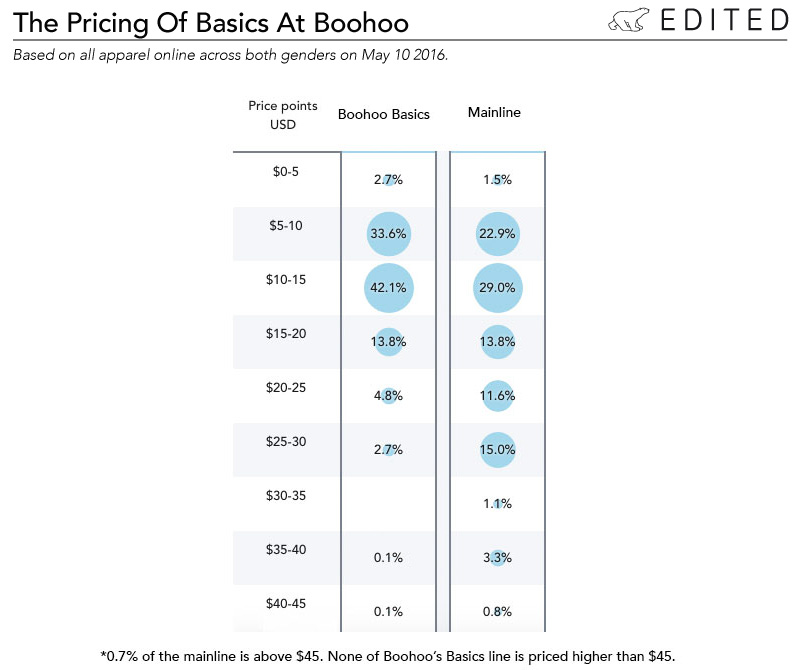 Although the basics and mainline offering place identical emphasis on the $15-20 price range, the Boohoo Basics line increases focus on $5-10 and lifts it more for $10-15, where the majority of its attention lies. Boohoo Basics allows the retailer to offer shoppers product that is an average of 20% less than the mainline. Being this price competitive is critical in a teen market which competes with shoppers' spending on tech and entertainment.
But that's not to say all basics are cheap. There's a place for foundations at any level of retailer. At Net-a-Porter for example, there's currently 137 grey, white or black tees retailing between $25 (Madewell) and $990 (The Row). You'll feel anything but basic in the latter. While these pieces aren't best described as 'basics'—they're foundations, essentials, staples, classic or minimal pieces—they too celebrate the elegance of simplicity, but with luxurious fabrics and expert craftsmanship interwoven.
3. Basics get replenished
Thanks to their replenishment rates, basics are a sweet spot for retailers. With a good selection of basics, retailers can ensure risk-free product is on the shop floor or online without having to go back through product development. They're able to keep work flowing through factories at different points within the season's calendar, meaning happier manufacturers and better terms.
ASOS's 'Ultimate' line, comprising of basics in singles and packs, has a 28% replenishment rate which beats the 9.7% replenishment rate across other apparel. Boohoo Basics for women has an amazing replenishment rate of 60%. A bestseller is the Sandy Maxi Dress, which arrived in July 2012. It runs in 8 sizes and has been available in 22 colors so far. In total, the $14 garment has been replenished 37 times and doesn't show signs of stopping! It's not a one off either. There's 272 items currently in stock at Boohoo Basics which first arrived online prior to 2015.
It's good to be a basic: 26% of women's basics in the US get replenished.
4. Basics are great promo tools
As simple as they may be, basics make for great marketing fodder – they're utterly universal! In the last three months alone, 210 brands and retailers referred to 'basics' in their email newsletters a total of 664 times. Monki and Weekday both promoted 3-for-2 on theirs, Warehouse offered 25% off Spring basics and H&M offered 30% off Summer basics for one day.
In their marketing, Uniqlo concentrate on reinforcing the quality of their basics, telling their consumers about the technical ability of their process and fabrics. "The Polo Shirt Enhanced" tells of the basic's dry cotton pique while Airism basics wick, cool, stretch, breathe and are anti-bacterial. It's a great angle which separates Uniqlo from the fast fashion pack.
Retailers know that when they talk about this stuff they'll reach us, because they're items we all need. We're even driven by the press to want basics. Look to any fashion media outlet and you'll see articles around basics and uniform pieces. Here's one. And here's another.
5. Basics are so hot right now
Basics are having a moment. As part of the Gap turnaround, the retailer is launching 'premium and quality essentials' later this month. Valentino have announced their new gender-neutral line, Rockstud Untitled, which is comprised of classic pieces and feature in a performance piece by ever-so-trendy Vanessa Beecroft. Speaking of Beecroft, each season fashion's critics are surprised at the continued simplicity of the Yeezy collection which she also choreographs.
There's not just product innovation in basics, retailers are considering the customer experience of buying these items. Subscription services for underwear, socks and shirts now exist. And American Apparel recently launched 'on demand basics' in the States. In the 31 metropolitan areas, their customers can get a leotard or pair of leggings (or any of more than 50 core items) delivered to the door in 60 minutes.
Basics are bitchin'. Put that in calligraphy font and 'gram it. Just don't get me started on Becky…
Want to know more about how EDITED can help your business?
Request a live demo with one of our product specialists.