We've been spoiled lately for easy trends. Jogging bottoms: let me at 'em! We've been globally less-late-to-work since office sneakers became a thing and nothing hides over-indulgence like oversized shirting. But fashion isn't always so accessible.
Milan was particularly keen to remind us that this industry can be as transformative as it can be comforting. In homage to the city's artful designers, here are five Milan trends ready to challenge and excite your shoppers.
1. Head-to-toe metallics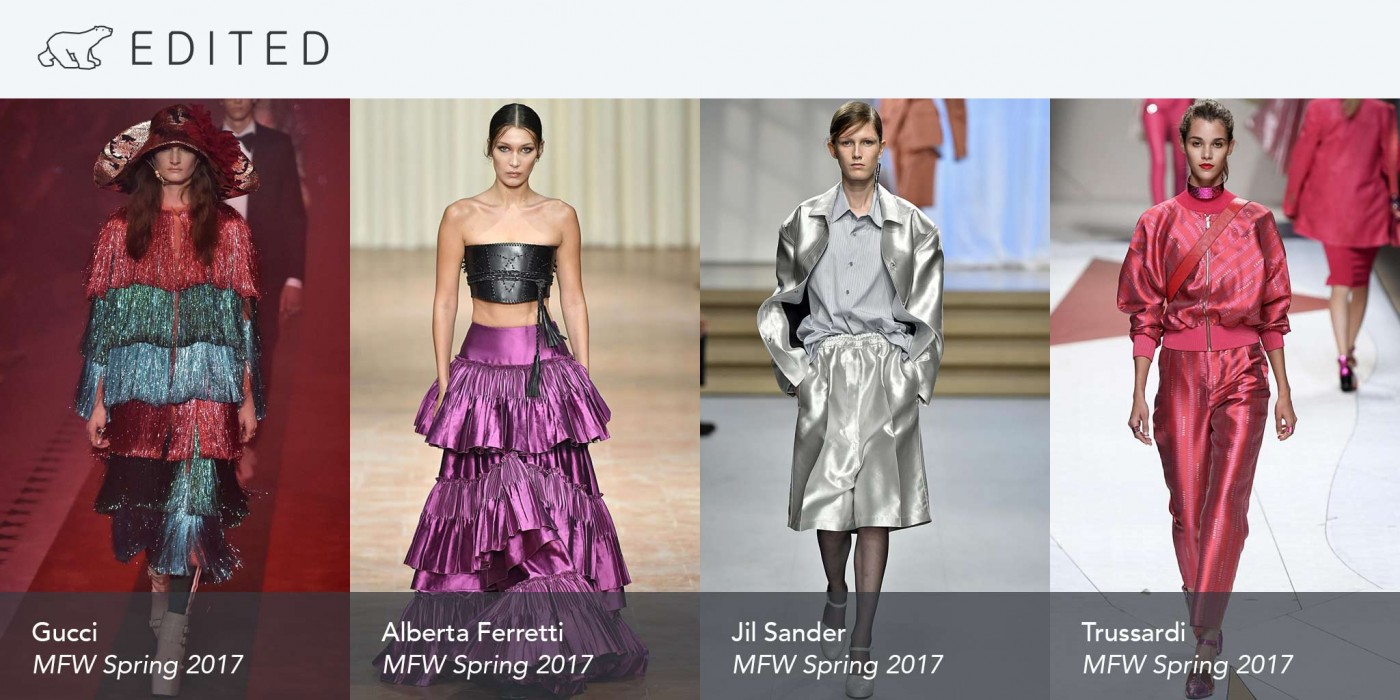 What: Not the flash of Spring 2016's metallic sneaker, or the swish of Fall 2016's copper or gold pleated skirts: we're talking full metallic looks. Trussardi and Jil Sander gave us stand-out daytime outfits with casual bombers and workwear jackets worn with elastic waist culottes or pants. Gucci ramped up the drama, with a tiered, multi-colored tasseled dress and a lurex, cerise hued pant suit trimmed in dramatic ruffles.
Who can do it: This one can be a bit of fun for the youth-led fast fashion market, but it'll take some deft pattern manipulation to execute high shine and a figure-flattering cut. Accessories will be an easy in (get those silver ankle boots of Fall 2016 on repeat order in shades of pink, red and purple) as well as sequins and shine-coated fabrics if full spaceman is a bit much for your audience.
The pitfalls: There's a danger of leaning too heavily on the 80s, which is an emerging theme for Spring 2017, but won't connect with consumers who experienced the decade first time round.
2. Extreme Print Mixing
What: A riot of clashing prints creating that mad, granny-in-the-attic vibe Gucci has been pumping out for a few seasons. Prada paired mod-ish geometrics with photographic florals, Roberto Cavalli patchworked florals down denim and Atsushi Nakashima got busy with stripes and polka dots.
Who can do it: Part bohemian, part Baroque – this one requires peak street styling sense to carry off expertly. A safer ground lies in the contrasting pairings of classic prints: think stripes on alternate stripes, or make like Laura Biagiotti and pair a floral (pant) with bold stripe (shirt). This trend speaks to every market, but it's luxury retailers who will be able to best mix the references and decades their prints draw from.
The pitfalls: Looking like you're overdue a trip to the laundromat. For the majority of consumers, something has to gel with this look, whether it's tonal like at No.21 or if there's a theme in the prints like Mila Schon's animal clash.
3. Sleeve Theatrics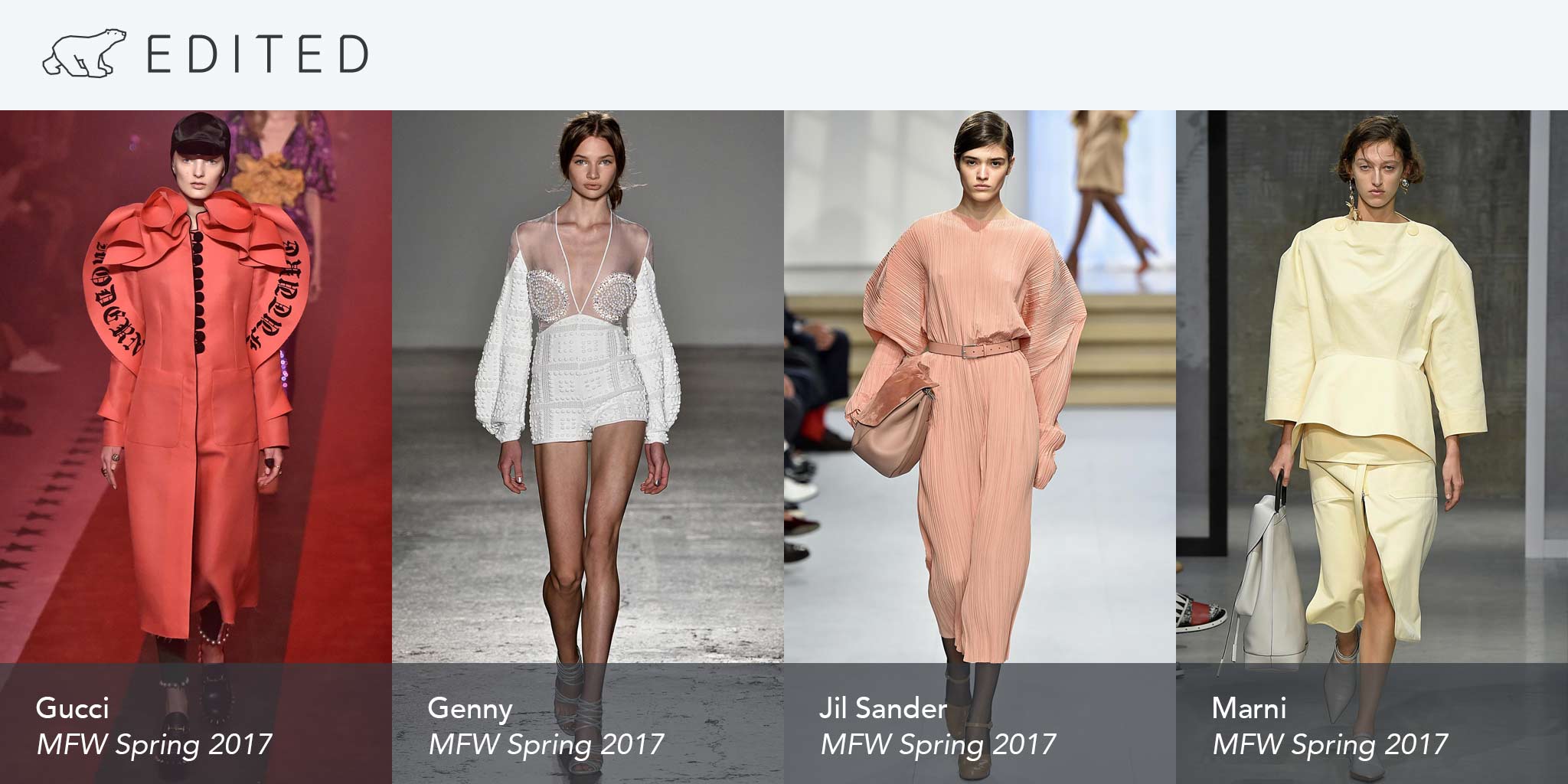 What: Big, bold and complicated sleeves were the talk of the town in Milan. Again, refer to Gucci for best in class – they really pushed creatively this season. Meanwhile, Jil Sander showed dramatic dolman sleeves for a louche 80s feel, clever grown-on sleeves appeared at Marni and bishop and bell sleeves were seen in countless collections.
Who can do it: We all got the cold-shoulder and Bardot memo last season, but that doesn't mean all consumers are ready for exaggerated volume about the arms. In fact, this is downright dangerous for some markets: it's going to be hard to squeeze a leg-o-mutton beneath a bomber, right? So keep this one for the experimental or luxury customer. It could also work well for a mature customer more sensitive about their arms but with the style to carry off a stronger statement.
The pitfalls: Be wary of adding bulk where it's not wanted. Youth markets: go for flare and volume towards the cuff.
4. Yellow. All over.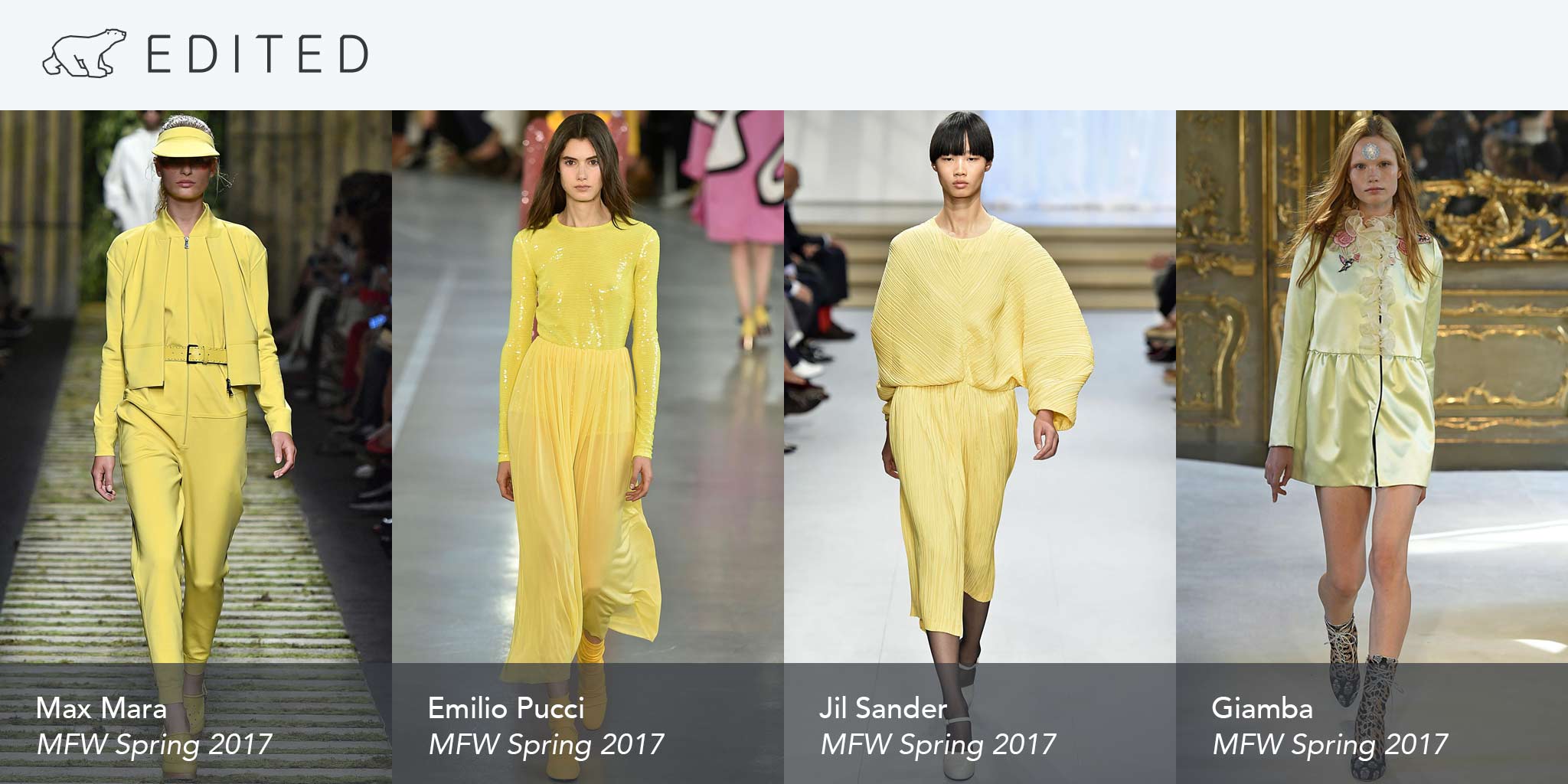 What: Just like it says on the can: all yellow, everywhere. They'll see you coming a block away.
Who can do it: Orange actually did okay for some retailers in Spring 2016 (Whistles, H&M, Givenchy). Mainly, those who used the deep shades remiss more of a Tuscan holiday than the neon hues of a nightclub. Apply this same theory to Spring 2017: mustard tones are an easy in – steer clear of those 'off' tones of chartreuse. Those deeper shades have got Beyoncé's backing…what more are you waiting for?
The pitfalls: 59% of Spring 2016's yellow arrivals ended up discounted, with an average of 45% off. Accessories fared the worst.
5. Military Ornamentation
What: Jackets of every length and silhouette rendered in frogging and brass buttons. Stand to attention!
Who can do it: The savvy denim brands – think Citizens of Humanity, Madewell, even Levis – who can serve the trend alongside a healthy dose of casual. Anyone who had success with the souvenir jacket in Spring 2016 (so Zara, Maje and ASOS) could give this one a go, but the military theme has far less street cred than the more casual bomber.
The pitfalls: Looking like Sergeant Pepper right around Hallowe'en time. Stick to single-color usage for less pantomime and roll these bad boys into sale around Labor Day.