After five weeks and hundreds of looks, Fall 2017's trend winners are standing out like Gigi Hadid in line at the bus stop.
We're talking the commercial leaders; the looks, themes and colors that will actually make an impact on retailers' bottom line in six months time. Meet the big five you should get the wheels turning on.
2017's Commercial Fall Trends
1. The 80s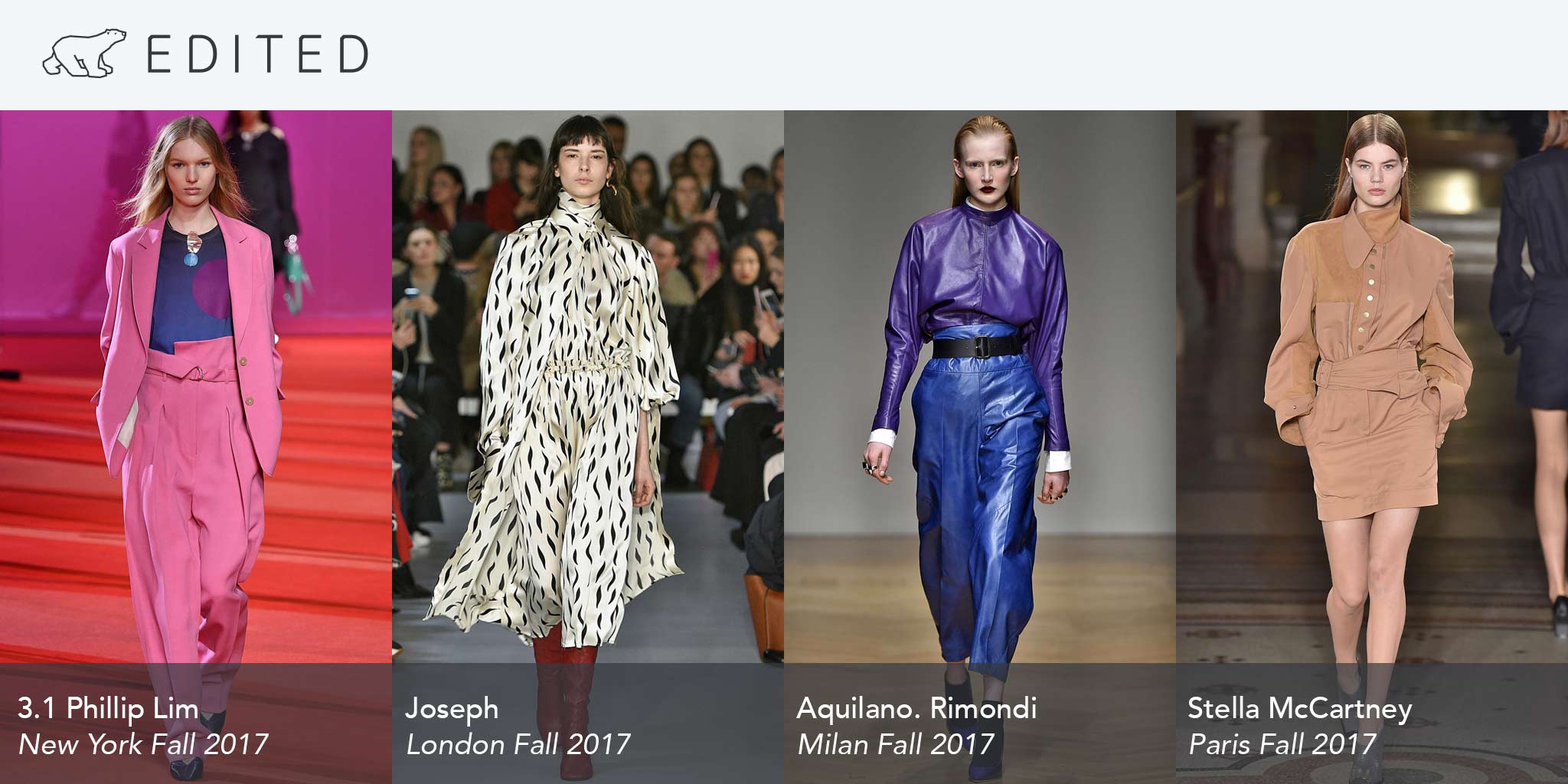 You may not be ready for a return to the eighties, but your customers are. Fall 2017 is the time to re-embrace those puffed-out proportions, the high waisted parachute pant, heck, even give taffeta another go.
This theme can equip every category if you let it. Knitwear? Batwing. Shoe? A demi-cut heel. Party dress? One shouldered, ruffled and high shine. Cinch in waists, build out shoulders.
If full on Dynasty style isn't your jam, you can tackle this theme with boxily cut tailoring. Pant suits are back. For an eighties twist, you'll need the blazer double breasted. Play with gender-neutral palette and checked wools for a toned down audience. Revert to fun jewel tones and metallics if the Dynasty stuff didn't apply.
2. Velvet and Corduroy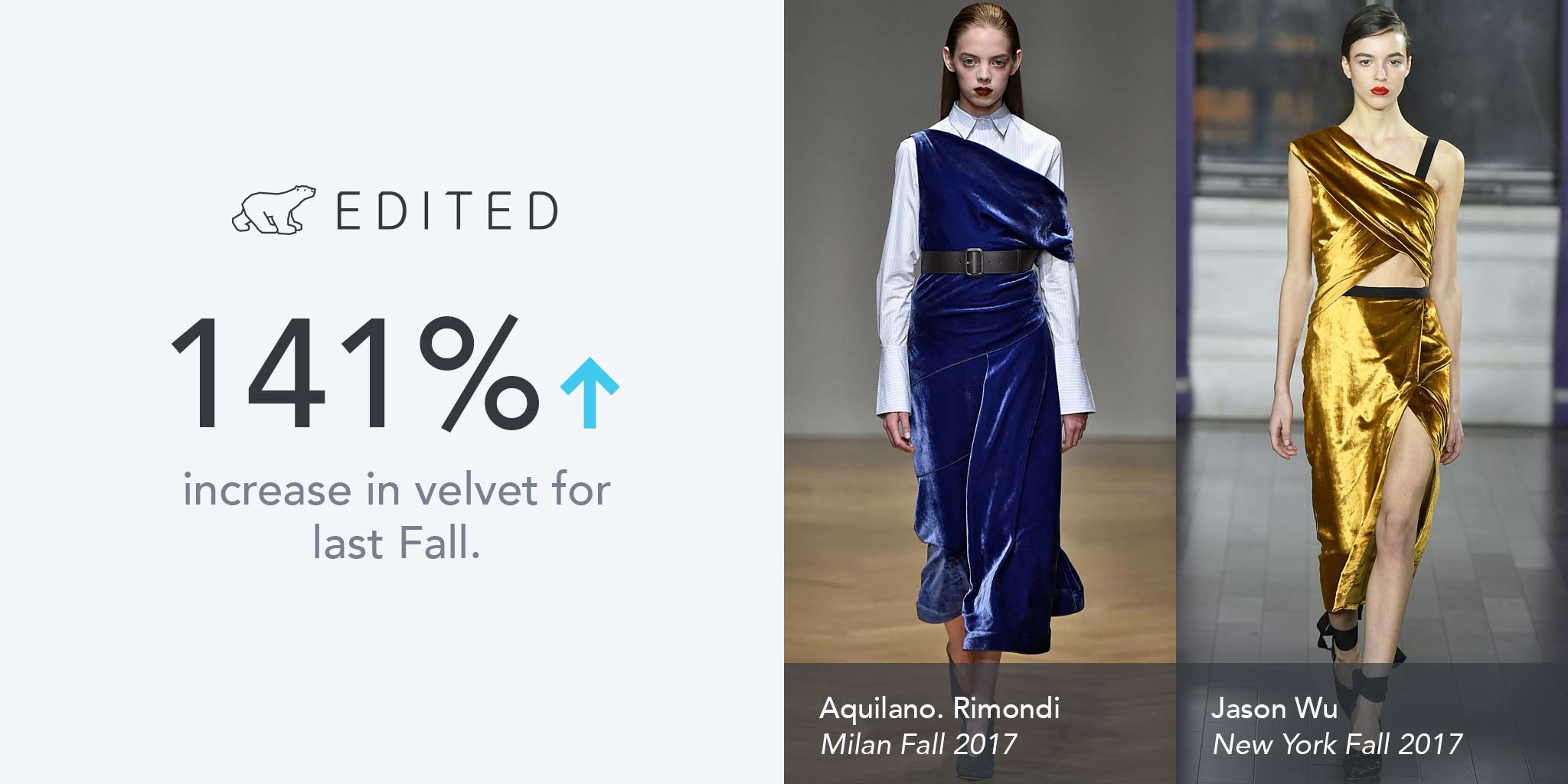 For Fall 2016, new arrivals of women's velvet in the US and UK grew by 141%. And those new arrivals fared well: 37% of velvet products sold out and 16% were replenished. Compare that to denim (22% sold out and 12% was replenished) or lace (21% sold out and 15% was replenished) and you get a real sense of the commerciality of this trend.
For Fall 2017, use velvet in pant suits or better still, in evening dresses whose shapes include high-necked, slip, one-sleeved and bishop sleeved. The difference for this season's velvet dresses will be bold use of color. Where last season retailers went for dark, wintery shades, designers for next season threw in vivid dashes of raspberry, chartreuse and coral.
Corduroy, cousin of velvet, also came through as a new fabric direction. Cord hasn't really been seen too much since the maroon pinafore dress trend of nearly two years ago. For Fall 2017 it came super-sized in the form of aviator jackets and for oversized pants. Get the two textures into store, pronto.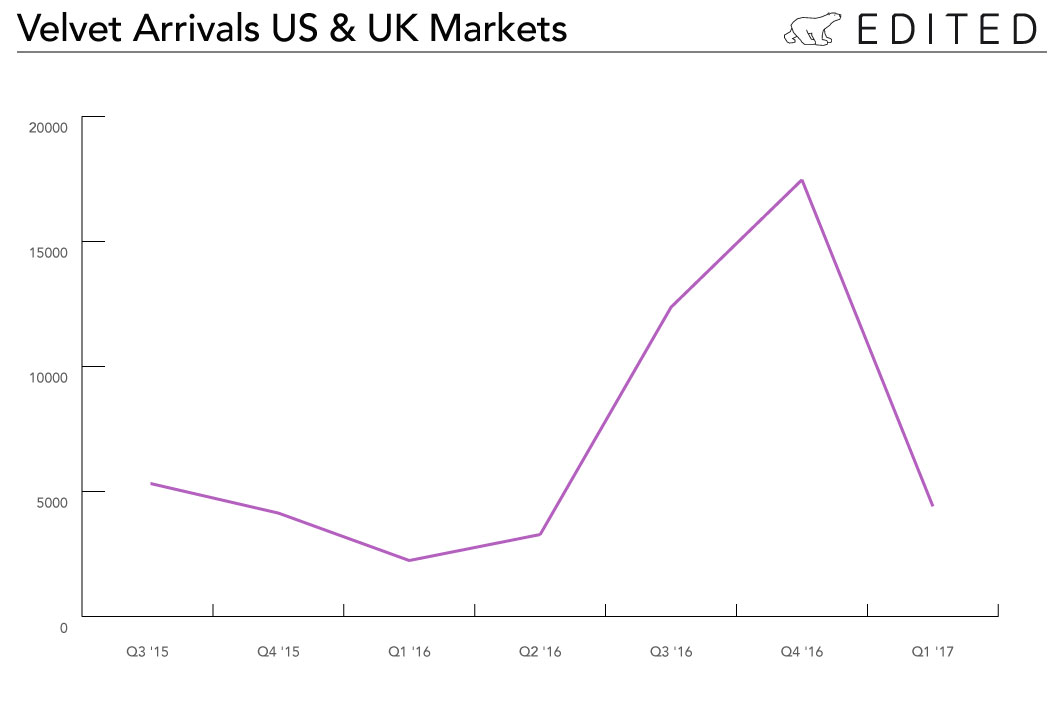 3. Red is the color

Last season it was all about pink (and still is in retail right now). Next season, designers threw themselves at the alter of red. Running the full gamut from tomato through to rich merlot. Just style this one in head to toe looks and your job is done.
4. Fun furs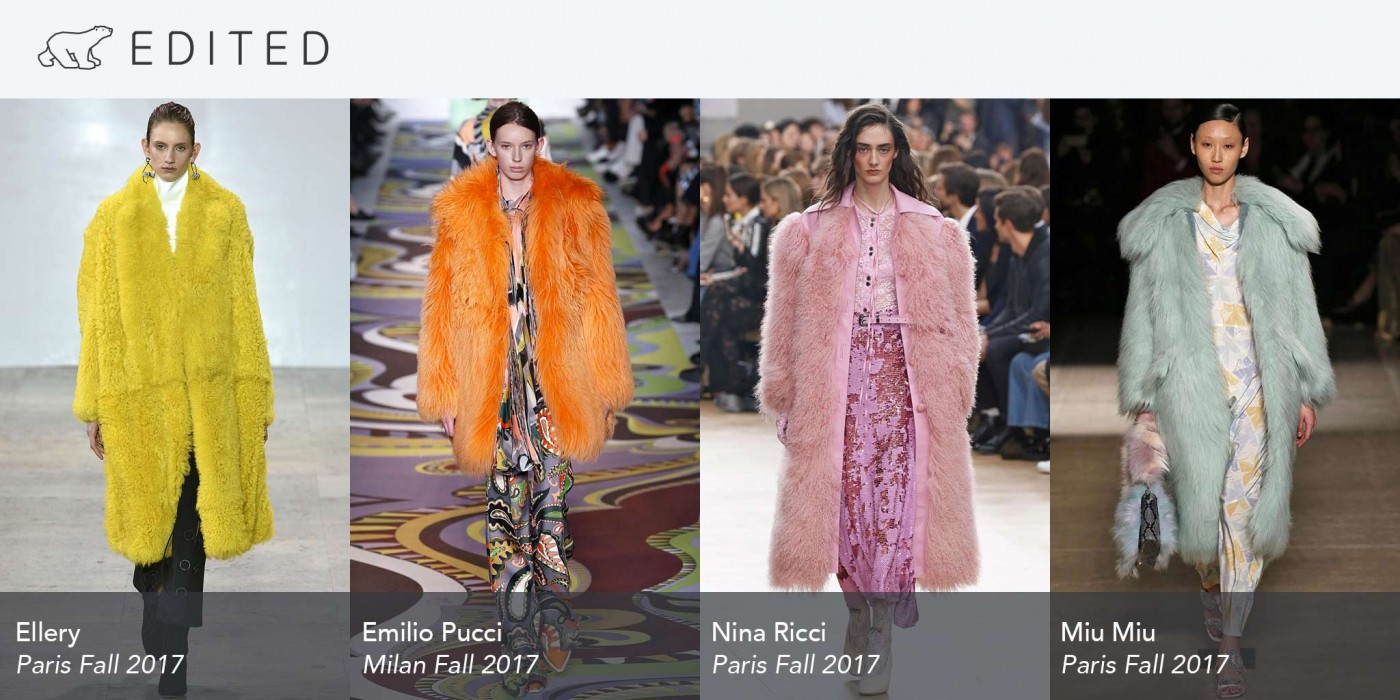 Fall 2016 focused on the oversized puffer jacket, which will still be around for next season, but to show customers you're one step ahead with trend, you'll need a fabulous, irreverent faux fur in your outerwear offering. Bomber jackets are still the best selling outerwear trend – retail needs something bold to match up to the strength of that piece's story.
Pastel palettes, unseasonal as they are, imbue this trend with a touch of silliness, something that's worked well in statement outerwear over the last few years. Start dropping these from September – it will feel early, but they make for a great content lead and street style is already digging the trend.
5. Tribe-defining apparel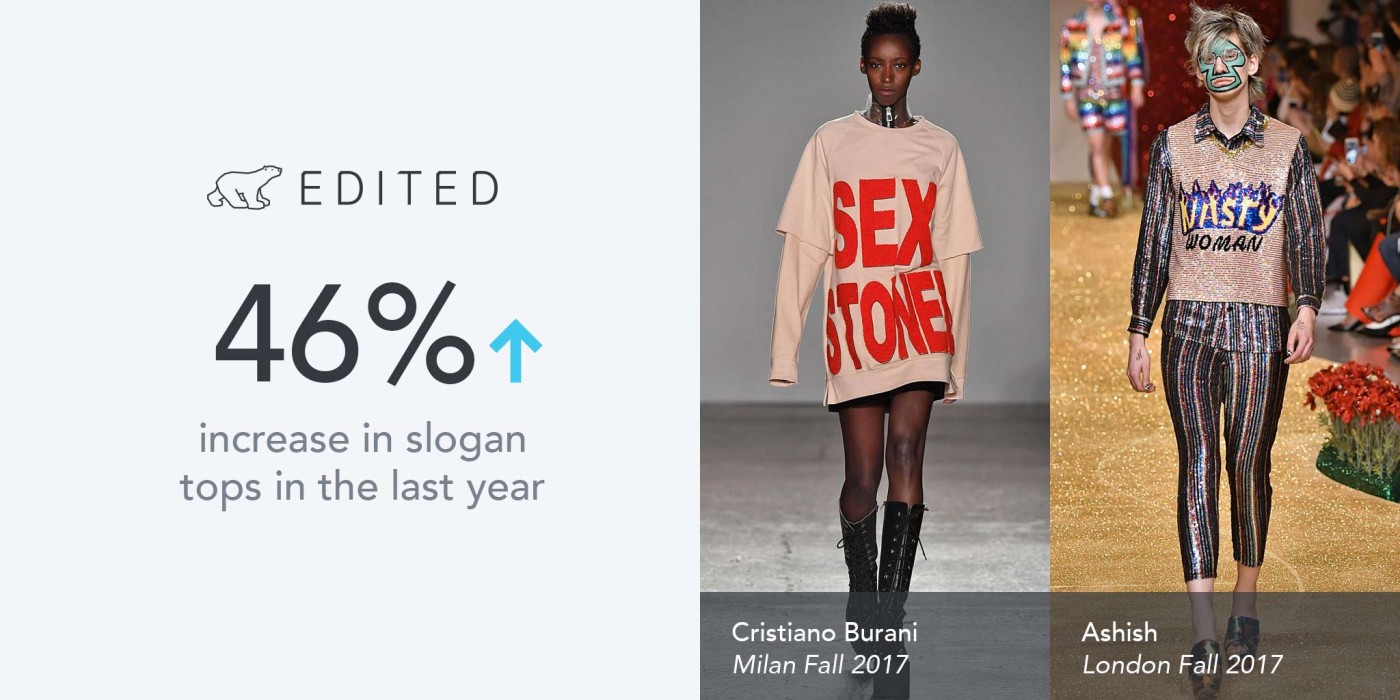 Politically, economically, the world is a confusing place right now with each of us trying to make sense of our place within it. Many are wearing their beliefs front and centre. We called it as one of our trends of the year, and sure enough the runways are proving it.
Statement tops have already climbed by 46% in the last three months compared to one year ago and that's set to grow in the months ahead. Think about your brand and think about your customer to come up with something particularly relevant. It doesn't have to be political, consumers are seeking affiliation amongst the chaos and a way to show their beliefs (especially on Instagram…).
And 5 runways trends that won't make it commercially:
We've warned you on these guys.

1. Mameluke sleeves
While fluted, bell, extra-long and even leg o' mutton sleeves will be popular for Fall 2017, the mameluke is a step too far. Combining volume at the wrist and ruffles on the upper arm is downright lethal.
2. Feathered hems
Feathers are polarizing. For some, they're a touch of luxury, others see them as purely costume. 58% of dresses with a feathered hem that arrived online in the last six months ended up discounted, by an average of 49%. They might have high fashion backing, but this won't cross over to mass market appeal.
3. Full leather looks
Many designers sent full leather outfits down their runways. While they tie in with the 80s story, it's not a take on the theme that should be attempted by broader retail. For starters, the price point is a dangerous one for a category like tops or pants. Fit is tricky to achieve for a brand not used to working with leather too. Leather skirts and outerwear, tick. Leather tops, shirts, pants…hold steady.
4. Quilted anything that's not a coat
Quilting works brilliantly well on coats, customers love it, what's more functional than an incredibly warm outerwear piece. But a quilted skirt? What's the occasion suited to that? Why wear a quilted cape if it's cold enough for a coat? These pieces make for a fun runway theme, but won't cross over to the retail side.
5. Tiered dresses
Ruffles are a hit trend. So are flounces. But the many tiered dresses designers sent down their runways will be a risky choice for Fall 2017. It's a hard shape to pull off – creating volume across the widest part of the body.
Tiered dresses are cute for summer holidays, as a fun sundress or a beach cover-up. But for the fall season, it's tricky to pair this shape with outerwear. Data backs that up: 43% of tiered dresses that have arrived since September have ended up discounted, by an average of 55% off. More than half of those arrivals haven't yet sold out.
EDITED's software helps brands and retailers make decisions about the right trends, at the right time. If you'd like to see how we do that, talk to us today.
Five winning Fall 2017 trends. Plus five runway trends you shouldn't attempt in retail.