At EDITD, we're able to use our retail data to pre-empt the biggest SS season trends. Looking at commercial activity around a product, style, color or theme, EDITD customers plan ahead with accuracy. Drawing on market analytics and runway analysis of seasons past, data pinpoints the areas of opportunity.
In three posts this week we'll be looking at the SS14 trends with most promise: the themes, colors, prints and garment that designers wanting to capitalise on commerciality should include in their collections. First up, we look at 4 print stories: Florals, Stripes, Polka dot and Leopard print.
1. Florals
Florals are the biggest print trend story on the market – each season it's not a case of will they appear, but in which forms? We noted recently that floral dresses were the bestselling trend for SS14, so it's key that retailers find the right combination to update floral trend for SS15.
Tropical prints sold fantastically for SS14. In the past month, AW14's designer collections have begun arriving into stores, with Christopher Kane's photo-realism placement prints at Harrods, Suno's stencil-print floral cutout dress at Saks Fifth Avenue and Erdem's dark grounded floral at Net-a-Porter. 3.1 Phillip Lim's graphic/floral mix is a less-sugary way of tackling florals. The Resort shows paid homage to florals in botanical accuracy at Gucci and Alice + Olivia.
A spike in the number of new floral product arrivals in July 2014 bodes well for the future of the trend, as does a low rate of discounting on luxury floral prints – only 17% of luxury floral products currently online are reduced by more than 20%. For SS15, we're expecting exploded-scale tropicals, an increase in botanically precise renderings and a sketchiness of print creating texture and movement in florals that are far removed from soft-furnishings.
2. Stripes
Looking at which brands and retailers are having most success with striped garments at the moment (based on in stock products, replenished at least once and showing no discounting) shows an encouraging cross-market infiltration of this print trend.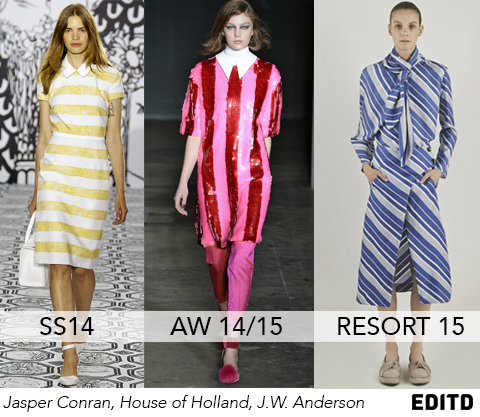 Worldwide leaders of the striped trend are Forever 21, American Apparel, Tommy Hilfiger, Topshop, Boohoo, J.Crew and Gucci – ranging right the way from value to mass, premium and luxury. Resort shows added wind to the sails of this trend, with an influential pack of designers reinterpreting this staple. They included 3.1 Phillip Lim, Kenzo, Marni, Stella McCartney, Valentino, Proenza Schouler and Chloé.
Tops currently represent 39% of striped products. For SS15, we expect to see bottoms and dress categories grow their striped trend offering. Angled, rainbow palettes and zig-zag strips are where designers should seek their new season direction. There is also opportunity in using stripes in color-blocked forms around a garment.
3. Polka dots
Polka dots, given the number of new products arriving at global retailers each month, haven't been in the major leagues like florals and stripes. They're a print with youthful personality and designers have been steadily building their popularity across the last few seasons (there was a lull after the black sheer Stella McCartney polka dots were so widely popular in AW11). Burberry and Dolce & Gabbana pushed the print for SS14, and their efforts didn't go unnoticed as more designers picked up the cue for AW14, including Saint Laurent, Suno and Markus Lupfer.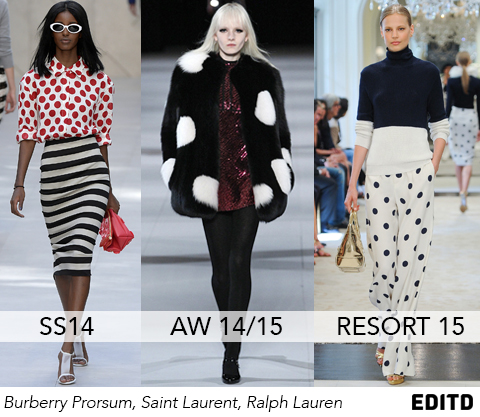 The past month has seen a broad range of polka dotted products arriving online, across markets. The polka dot print has been used on accessories, blazers, dresses, tees, knitwear, onesies, swimwear, trousers and footwear. Fast sellers from amongst those new drops are predominately black dots on white, or vice versa, with blouses and dresses doing well. Kenzo's Resort collection hints at potential SS15 direction, with over-sized dots given a fresh look simply by using navy and white, rather than black. Kenzo also experimented with metallic polkas on a colored ground, as well as layering stripes through the print – we see strong commercial potential in polka dot trend for SS15.
4. Leopard print
Leopard print footwear had its moment in the spotlight last year, but the print is refusing to crawl back into the jungle. And for good reason: the last month has seen more leopard print sell outs than polka dots, despite having fewer products arriving into store. With the likes of Stella McCartney moving the print away from trashy to super-cool with her adidas collaboration, the potential to ramp up this story beyond footwear is huge.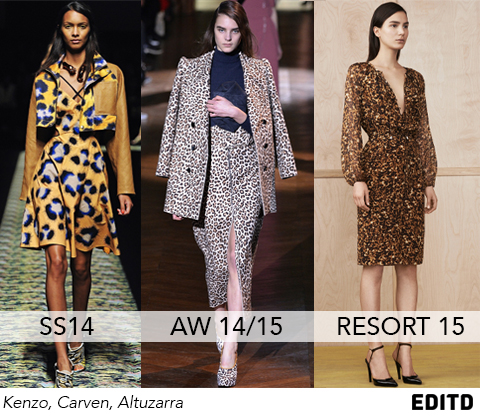 Leopard is a polarising print – some love it, some loathe it, which is why it sits in fourth place for our SS15 trends, not higher. Recent bestsellers have stuck to accurate color renderings, as well as some directional interpretations from Missguided in blue and orange or white, black and pink, and this is the direction we encourage for SS15. More fun still can be added with innovative application of the print, rather than using all-over, parts of the print can be dip-dyed or faded out. It's a statement print, so make that statement a powerful one!
Find out which garments and shapes will feature as SS15 trends here.