Last week's announcement that Yoox are to merge with Richemont-owned Net-A-Porter (NAP) surprised the industry and media, having seemingly sprung from nowhere. EDITD market data shows why the merger makes clear, strategic sense for both parties, with the potential for NAP to extend their currently limited brand assortment, and for Yoox to secure their luxury position with the broad span of NAP's pricing.
Net-A-Porter can extend their brand assortment and Yoox secure their luxury position with the broad span of NAP's pricing.
Here we share three ways how the retailers will benefit from each other on the way to become the "world's biggest luxury fashion store".
1. Expanded brand offering
Let's see that in data. Analysis of the number of brands stocked by Yoox and Yoox-owned Shoescribe and The Corner, shows immediately that the breadth of Yoox's offering far outstrips NAP's, including Mr Porter and off-price site, The Outnet. On April 1 2015, NAP were carrying 506 brands, compared to Yoox's 8,549. Access to this network of brands will greatly contribute to NAP's expansion globally, giving them elevated buying credentials outside of their home base.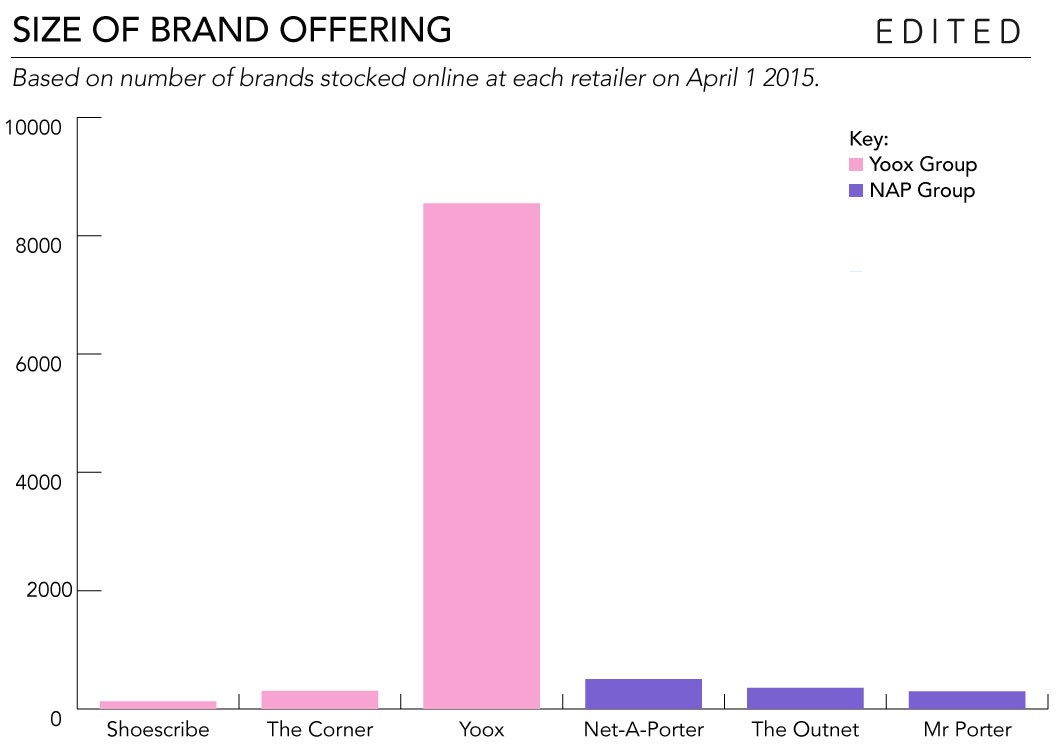 2. Strengthened price positioning
Of course, discounting is centre to Yoox's game, stocking off-season or end of line designer goods. Their median price is currently $116.35, compared to NAP's $662.85. NAP maintains high value of product by largely avoiding price slashes and promotions, instead using The Outnet to clear deadstock. The Outnet's offering is small though and median price at $238.79 is still higher than Yoox's. Merging with Yoox could take the risk out of expansion when NAP add to their brand offering, eliminating potential to damage the full price brand with a more visible channel for clearing product.
Yoox's current median price is $116, compared to Net-a-Porter's $662.
For Yoox (whose highest price point is still almost $50,000 lower than NAP's) access to Net-a-Porter's wide price architecture will lift their own positioning, moving away from premium and securing their footing in highly competitive luxury.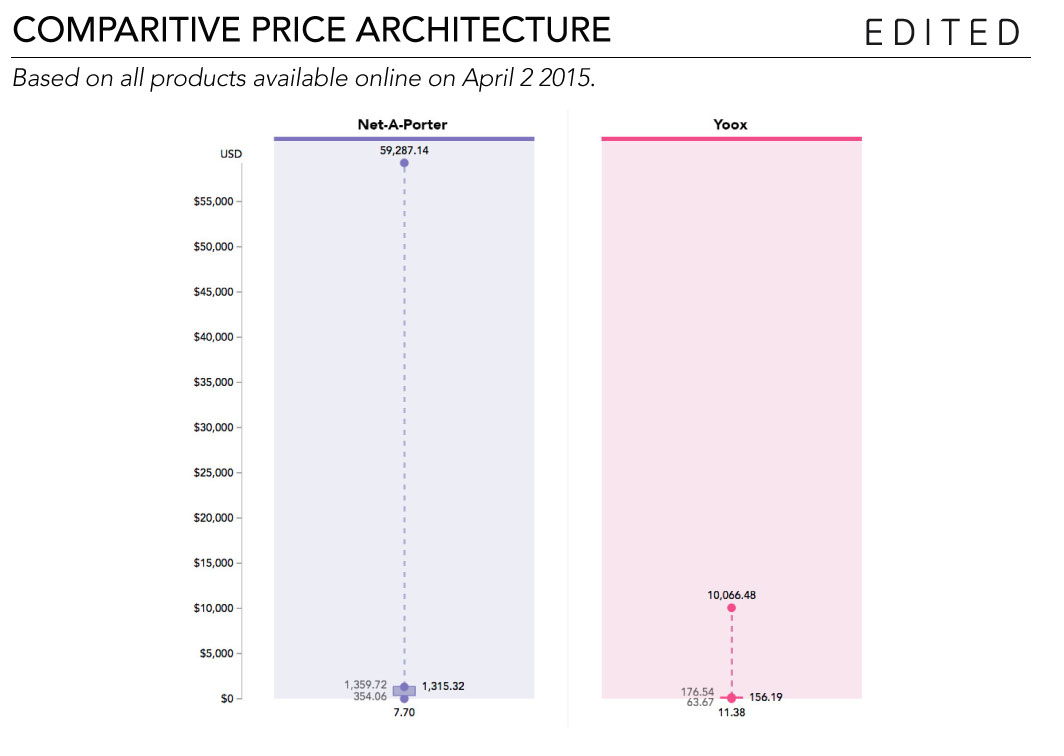 3. Improved brand experience
NAP's trump card is their editorial content, consistent through their email newsletters, digital magazine and print magazine, Porter. They've honed their art creating content that defines their customers' brand experience. Yoox, whose email newsletters do not stand out from the majority of premium market retailers, will do well to harness these skills, taking comms strategy direction from NAP's pros.
Given the relatively small size of the luxury market online, Yoox and NAP's moves will need to be measured, but their combined forces set them up well to ride through the next stage of luxury retail. There's even untapped potential for access to unique brand product thanks to the combined clout of Yoox and NAP. We'll be watching every move the duo make in the coming months.
[editd-banner image="https://edited.com/blog/wp-content/uploads/2015/03/History_calendar-view.png" header="Want to know more about how EDITD can help your business?"]Request a live demo with one of our product specialists.[/editd-banner]