More fashion retailers tapped into Pride Month celebrations to spread awareness of LGBTQ+ rights. We analyzed this year's top rainbow-hued merch, collaborations, and communications to help plan your 2020 Pride strategy.
Since the parades and marches first started to honor the 1969 Stonewall riots, many brands have joined forces to support the LGBTQ community. The event has now become a primary selling season in the retail calendar.
EDITED's Retail Data Platform has revealed that 2019 saw a 172% increase of Pride inspired communications vs. 2018.
This trend was reflected in the stock assortment at UK retailers, with over 5,000 new Pride-inspired products arriving over the past 3 months. That's a staggering 164% increase from stock in 2018! So while Pride fashion grew this year, did it live up to the hype? Read on to explore the successful messaging for 2019's Pride campaigns and key takeaways for next year.
1. Give back to the community
An example of a successful Pride product range and promotion comes from ASOS in the form of a charitable collaboration. Donating 100% of net profits to the organization GLAAD, ASOS collaborated with the charity on a range of unisex products. The most popular item was the bucket hat which saw majority sell out five days after it arrived online followed by restocking and then a second sell out a week later. The nostalgic bucket hat was a smart choice for a collab. A trending style for festivals, EDITED data confirms 92% more bucket hats retailing in 2019 for men vs. 2018.
ASOS made noise around Pride from May 8, with 16 updates across their communications. The main features seen from ASOS surrounding support for Pride were smaller content modules seen on their homepages and Instagram.
2. Promote hero pieces for the wow factor and small ticket items to drive sales
Another UK retailer with an impactful Pride communication strategy was Dr. Martens. They posted 25 updates over emails and on their homepage within the 3-month run-up to UK Pride, showing a 100% growth YoY. They kicked off their promotions earlier than ASOS, sending their first Pride email on April 17. The promotion featured their own rainbow charitable collection with all proceeds benefiting the charity AKT, supporting homeless LGBTQ+ youth.
Dr. Martens LGBTQ+ range consisted of t-shirts and socks with the hero product being a $162 rainbow boot. Despite the targeted email promotion for the boot, SKU activity was low compared to the smaller ticket items which sold out within a month.
What can retailers learn from Dr. Martens communication strategy? A strong hero product, combined with a charity partnership and LGBTQ+ messaging, is a smart strategy to draw customers in to discover the lower-priced items in the collection.
3. Merge online and offline
A winning strategy over Pride month was combining experiential retail with a strong visual campaign, as executed by Jack Wills. The UK retailer sent out an email on July 6 to coincide with London Pride. In addition to promoting a specific product edit, Jack Wills urged customers to spread the message of Pride by wearing rainbow clothing. They also announced that their Soho store would be offering drinks and temporary tattoos on that day to show support for the event further.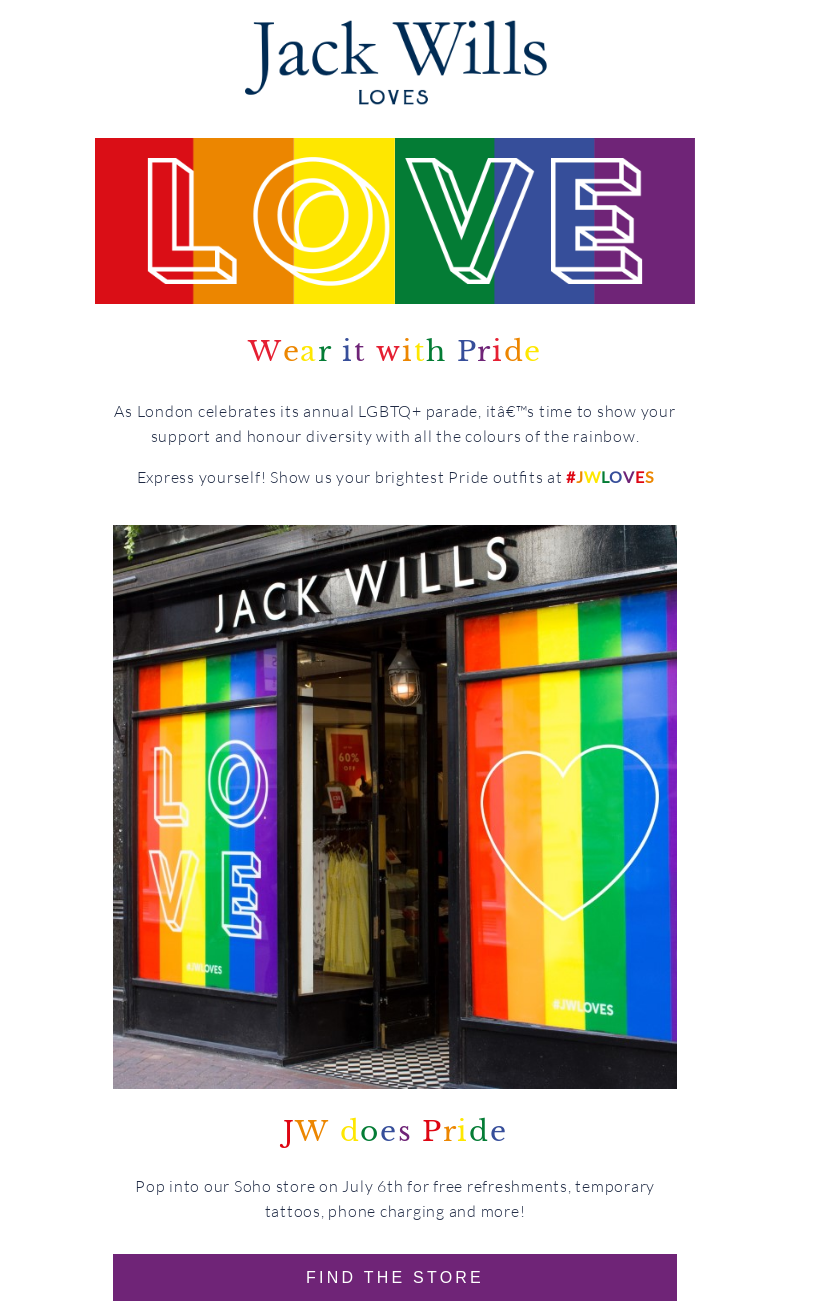 By dedicating a whole email newsletter to Pride awareness, the retailer made a bold statement to their customers while also promoting rainbow themes with their existing assortment. This strategy ranked highly in impact for marketing communications, thanks to the multiple Pride buzzwords such as "Pride," "Rainbow," and "LGBTQ+."
Make a note for Pride 2020
While peak communications were in June, there was plenty of noise one month before the event as well as on specific city Pride days. Take this opportunity to go big with buzzwords in email campaigns to generate hype. Charity-driven collections statistically performed better during Pride, with lower-priced or discounted items experiencing the highest sell out rates. The link between sell out and visual merchandising is stronger with these ranges, where the humanitarian aspect is emphasized. For non-Pride specific edits, retailers turned to the rainbow for inspiration, using the existing assortment to create brightly colored edits at strategic times as well as promoting special offers in-store. With such a significant increase YoY for Pride in retail, communications need to be engaging or with a charitable focus to avoid oversaturation for consumers.
Written by retail analyst Emily J
Want to know more about how EDITED can help your business?
Request a live demo with one of our product specialists.
GET A DEMO →