A note on abbreviations in this post: to cut down the number of times we type 'Marc', we'll be referring to the brand Marc Jacobs as MJ, and Marc by Marc Jacobs as MbMJ. Just so you know!
Last month Marc Jacobs announced Marc by Marc Jacobs would be merging with its signature Marc Jacobs line. The sudden demise of one of the world's most popular diffusion lines left an obvious question: why?
Is it that 2010's generally accepted wisdom, that diffusion lines are a great way to get through austerity, has aged into irrelevancy? The premium market, where MbMJ sits, certainly filled out in that time. Just look at J.Crew, Whistles and Diesel. Or is it that social media has sufficiently chipped away at fashion's insiders-only facade? These days consumers are incredibly clued in, they want the brand image they see online, offline. No filter.
Team Marc Jacobs is saying MbMJ will be absorbed into the mainline to create "a more aesthetically cohesive range of merchandise and price points". So we asked ourselves, does EDITD data support that strategy?
Sizing it up
In order to figure out just how mammoth this merger is, we first looked at the size of both lines. Marc Jacobs currently has 677 MJ products and 1,101 MbMJ products online. Similarly, global retailers stock 18,223 MbMJ products and 4,435 MJ products. A deviation from Michael Kors, Derek Lam and Versace, where the mainline brand outweighs the diffusion.
Looking at some specific retailers: Yoox carries 129% more MbMJ products than MJ products. Farfetch carries 406% more MbMJ than MJ. Bloomingdale's and Neiman Marcus are among the world's top stockists of MbMJ products, yet they carry 96% less MJ. Will merging the two lines lure existing stockists into the higher ranges of MJ pricing? Or by contrast, confound current stockists of MbMJ?
In either case, it's clear retailers are stocking and people are buying. Why back away?
Marc Jacob's unusual price architecture
Understandably, the MbMJ line is pretty bottom-heavy. But it's not entirely focused on lower-end price points. In fact, there are more MbMJ products priced from $500 to $600 than over at MJ. That differs from other brands' diffusions at the $500-600 price point: Michael Kors has 20 times as many; Derek Lam seven times its diffusion 10 Crosby; Versace eight times its diffusion Versus.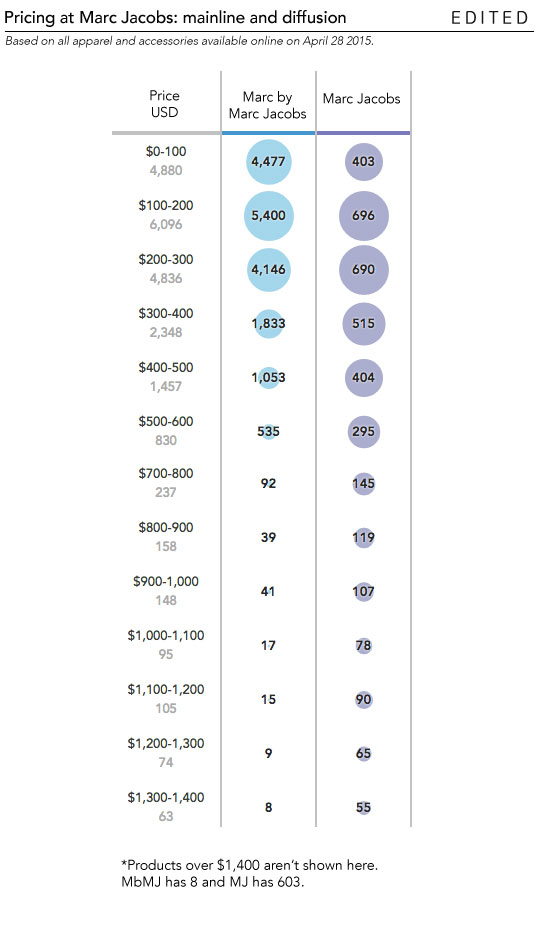 The median price point at MJ is $389 and $188 at MbMJ. But the mainline has more discounting than the diffusion line – 42% at MJ compared to 35% at MbMJ. On average it takes a MJ product 60 days to sell out and 87 days at MbMJ. Conclusion: MJ products sell out faster and are discounted sooner. MbMJ offers the brand more consistency.
Marc Jacobs products sell out faster and are discounted sooner than those at Marc by Marc Jacobs.
The unusual price structure of MbMJ, and a clear overlap in product (take this $458 bag and this $2,600 bag), might make for an easy absorption into the MJ line. As MbMJ bridges premium and luxury price points, it won't drag MJ's value down as a merged entity.
Luring consumers: communication and newness
Maybe Marc Jacobs sees both customer sets as one? After all, since Fall 2014 they've been sending them the same emails.
One thing the brand has consistently gained from the MbMJ line is the ability to pique interest with new in-store product ahead of the luxury collection. As seen in the chart below, the diffusion line sees high levels of newness in September and October, when MJ newness is low. This is a good way to lure spend in an otherwise dead spell.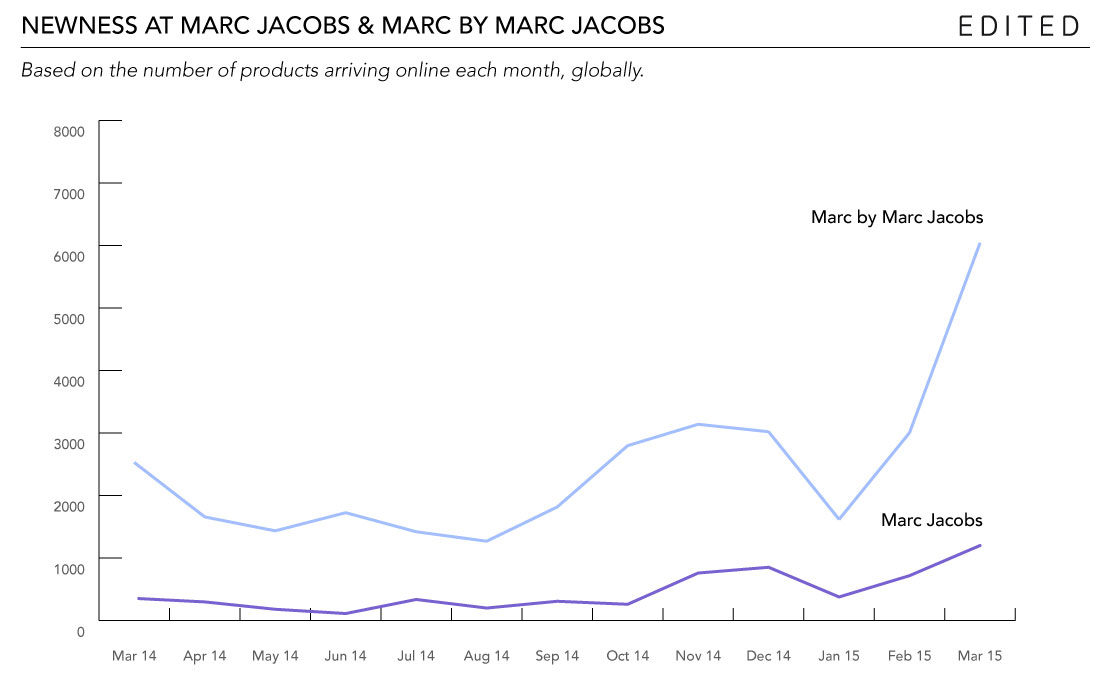 Newness at Marc by Marc Jacobs attracts brand attention ahead of mainline collection arriving in store.
Even without a diffusion line, the brand could find future relief in one-off mass market collaborations that pay out and require no cash investment.
MbMJ is not exactly crying out to be axed. So why do such a thing? There's speculation that streamlining, plus Marc Jacobs' resignation at Louis Vuitton, indicate the brand is about to launch an IPO. If true, that might partially account for it.
Public offering or not, consumers can probably expect the experience at a combined Marc Jacobs to be very similar to MJ + MbMJ. One cohesive brand, with clever ways to reach the right shoppers and more flexibility around pricing.