With the fierce sales month of January coming to a close, we've looked at retail data to understand global trends in discounting. Here are our top ten findings.
1. 14% of the global apparel market received discounting during January 2015. The average discount applied is 24.2%.
2. Only 4.3% of discounted products in the January sales have so far sold out.
3. The UK and US markets saw a 26% lift in the number of products receiving any kind of discount this January, compared to January 2014. However, discounts of 20% and more were down by 11% this year. That means an increase in trivial discounting, but not a big shift in the damaging discounts.
4. The most discounted categories were: 1. Tops, 2. Accessories, 3. Footwear, 4. Bottoms, 5. Dresses. That order has stayed the same as January 2014.
5. The bulk of discounts lie at 21-30% reductions – 25% of all January discounts were by this amount. There have been very few discounts of over 61% – only 6.5% of all January 2015 discounts were 61% or more.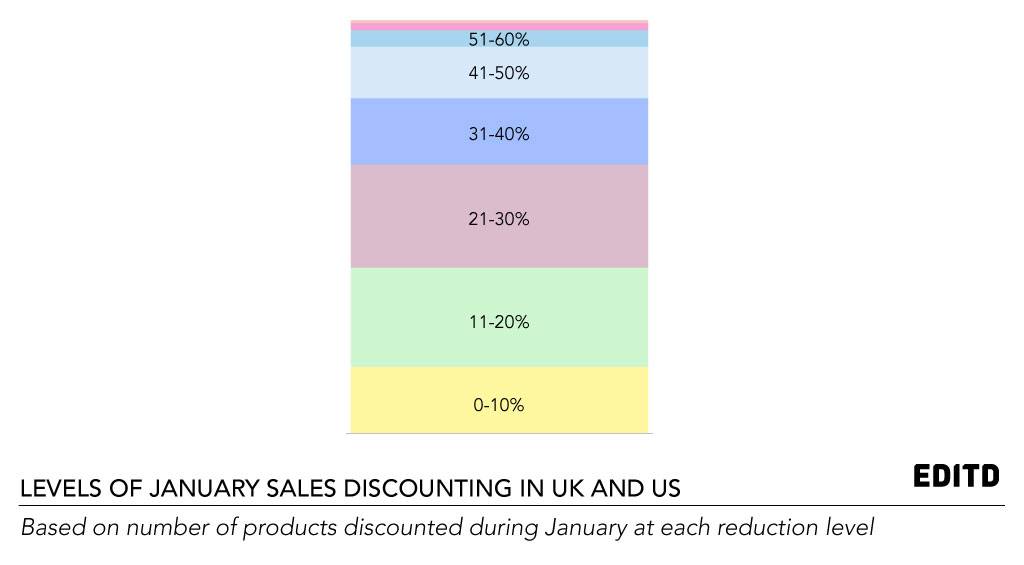 6. In the UK, 16.5% of women's apparel was discounted, 9.4% of men's apparel and 11.8% of kids'. In the US, only 8.2% of women's apparel saw discounting, 7.7% of men's and 14.3% of kids'.
7. The average discount in the UK was 25.3%. The US average was 27.1%.
8. Besides black and white, the most discounted colors in womenswear this January have been: brown, blue, beige, pink, red and lavender.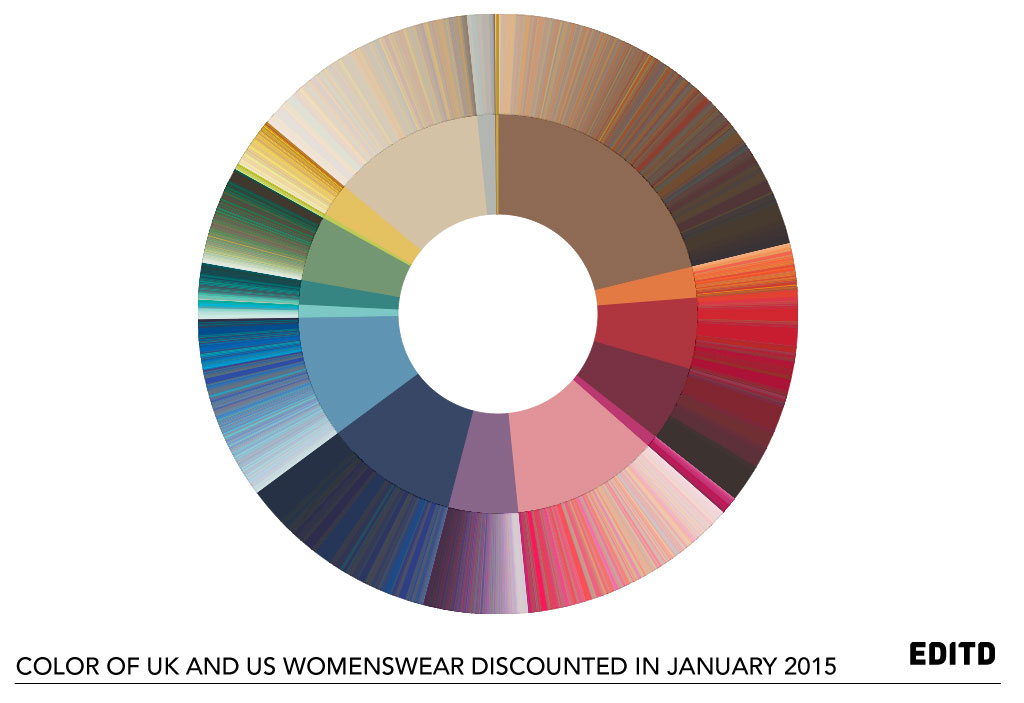 9. In womenswear, the most discounted categories were tops and accessories. Within those, knitted tops, sweaters, round-neck t-shirts and blouses saw the highest levels of over 40% price slashing.
In womenswear accessories, the most discounted products were jewellery (with necklaces receiving the highest level of price drops), scarves, hats and bags (clutch bags received the most discounting).
10. The menswear categories with the most over 40% discounting were also tops and accessories. The most discounted tops were shirts (with plaid being the most common style of shirt), round-neck t-shirts, knitted pullovers, sweatshirts and polo shirts.
In menswear accessories, the highest amount of discounting went to beanie hats, followed by scarves, bags, belts and watches.