The shows are done and the verdicts are in. It's time to meet the 11 Fall 2016 trends you can count on to carry you through the season successfully.
Over the last few weeks we've walked through Milan's street style and lusted over luxury finery in Paris. But now let's get down to it: the 11 runway trends that are set to have a serious commercial impact when summer starts to slip away. Some of them you'll already have in your assortment. That's great, we'll show you easy ways to update for Fall's big stories. Others will be new to you, your competitors and even your customers. Snap them up fast, folks! These are going to be huge.
Fall 2016 Trends
1. Velvet
Get slinky for Fall. Velvet is back—in a rainbow palette. Seasonal tones of russet, plum and burnt sienna being the early standouts. Though there were some great dresses on offer (including a bias cut burn-out at Prabal Gurung and the ruched Preen number below), velvet made an impact elsewhere, too. It was a key fabric for the louche pyjama dressing theme and featured on many ankle boots.
Velvet was one of the bigger fabric trends for Fall 2015, with sellouts peaking in November. Black was, by far, the most popular color and new product arrivals spiked in October, ahead of the party season. For Fall 2016, bring velvet out of its evening wear corner. It'll mean you can introduce the trend earlier in the season and have a longer full price run.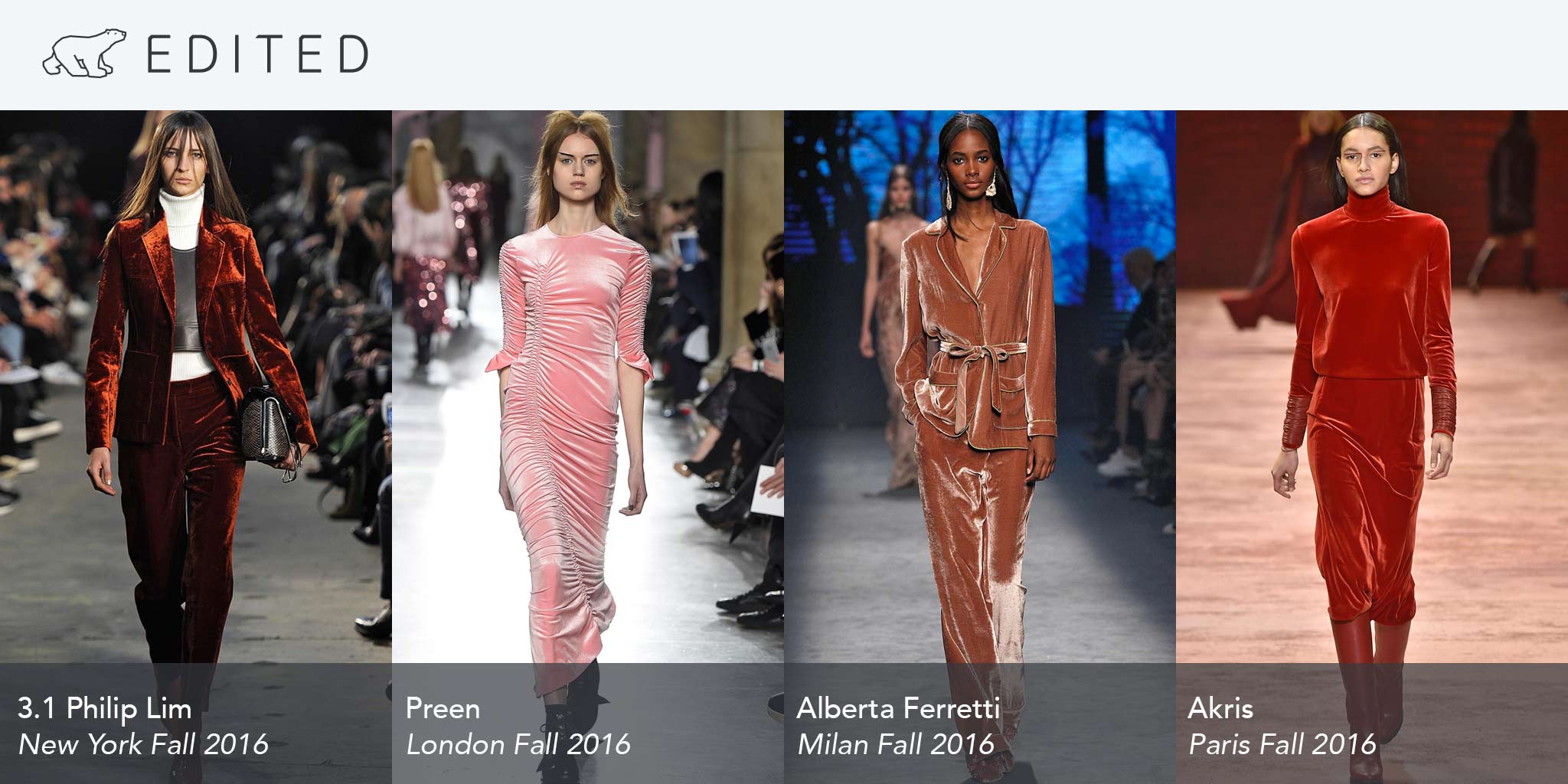 2. Leopard Print
Designers unanimously roared their approval of leopard print in each fashion capital. The print's coloring was true-to-life at Saunder, House of Holland and Dries Van Noten. While Christian Dior and Topshop introduced a more playful palette, Francesco Scognamiglio and Bottega Veneta opted for greyscale and Sophie Theallet wed two trends in her mustard velvet dress.
On runways leopard was most often used in outerwear, but it showed up on an array of accessories, as well as in knitwear and dresses. Data shows the most successful categories for leopard print are accessories and footwear.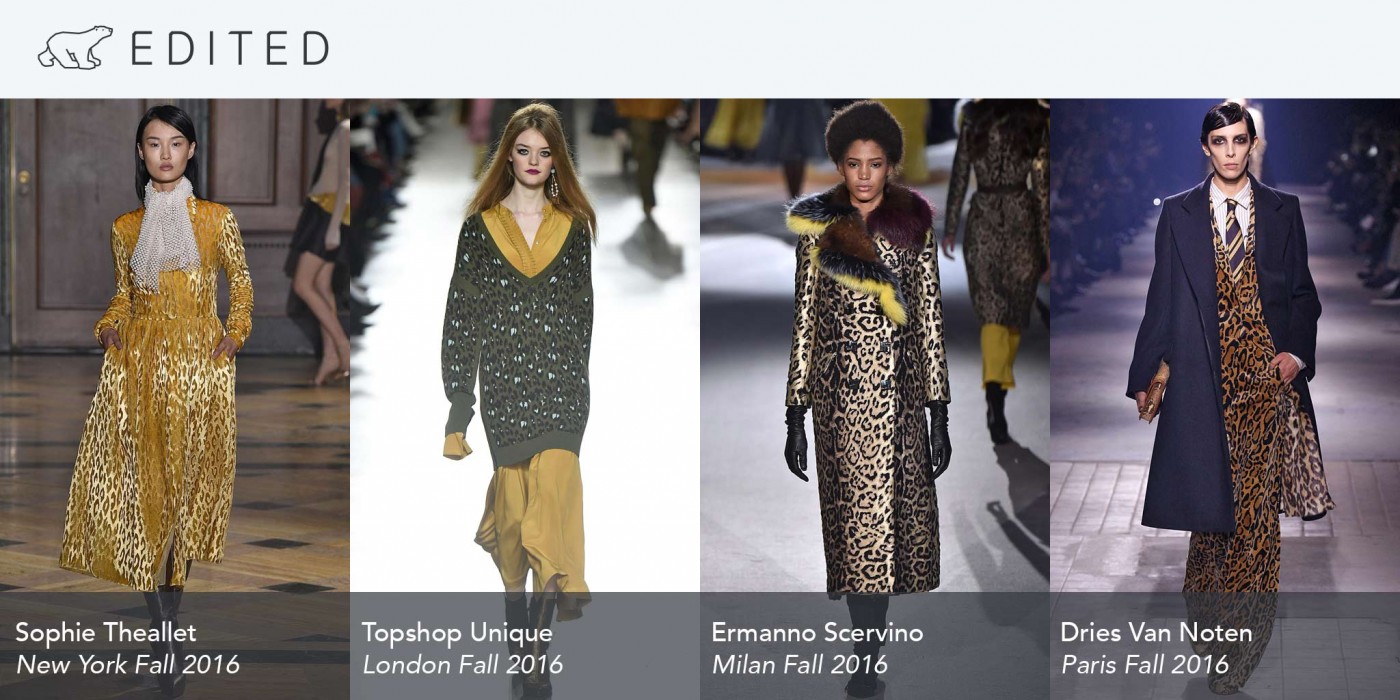 3. Slip Dresses
The spaghetti-strapped camisole or slip dress presented a strong case for its return in Fall 2016. The shape made a statement in lace-trimmed silk, in velvet and leather, but was just as present on the runways in simpler fabrics as a layering piece. Look to deep plunge v-necks and midi lengths to update this key summer trend.
Keep in mind slip dresses were mentioned in three times as many newsletters during Summer 2015 than Fall 2015. So retailers will need to be strategic and find weather-appropriate ways to style this item to give it life during cooler months. (Hint: see trend number 9.)

4. Hoodies & Sweaters
What are you doing about athleisure? It's not going anywhere, so stay committed to this trend behemoth. For Fall 2016 designers showed us how: with the two most simple shapes in athleisure. Sweaters and hoodies. Both were given serious attention by contemporary brands and luxury houses alike. So what can be done to make them new again?
Firstly, update your core and make sure you have at least one plain (slightly oversize) sweater and hoodie in one of the new seaon's color trends. Then have a little fun with super-oversized pieces. Elongate to the point where it becomes a dress, make side slits in oversized sleeves and be bold with statements, as Vetements, Alexander Wang and Lacoste were.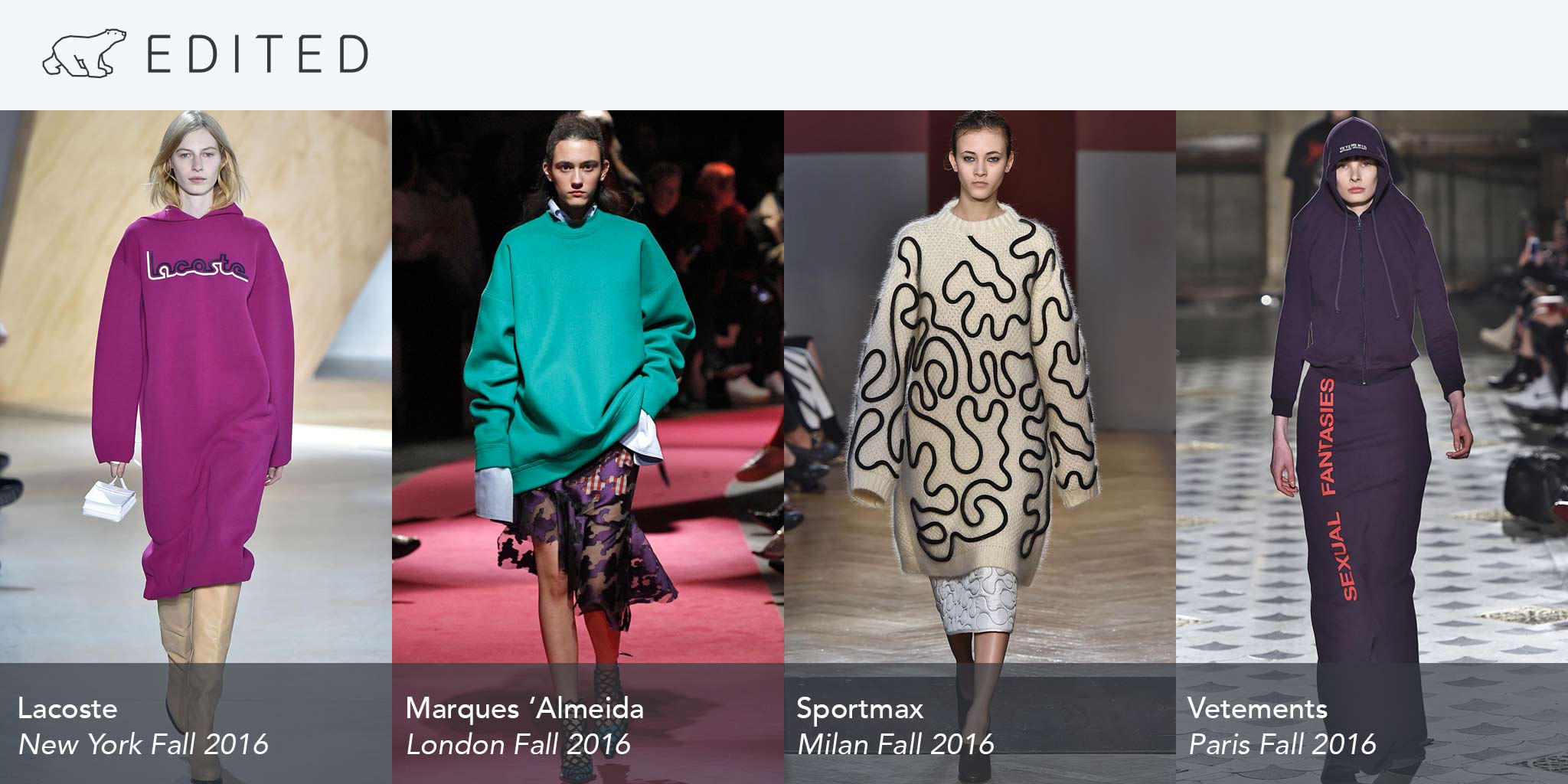 5. Puffer Jackets
Designers embraced functionality without sacrificing form. This season's puffer jackets played with proportions. They were oversized, overlong or cropped, colorful and shiny. The idea here is warmth first, detail second.
For Fall 2015, though premium brands like Moncler and Henro were the most stocked, 44% of new puffer jackets were by the mass market. Dark shades and neutral colors sold best.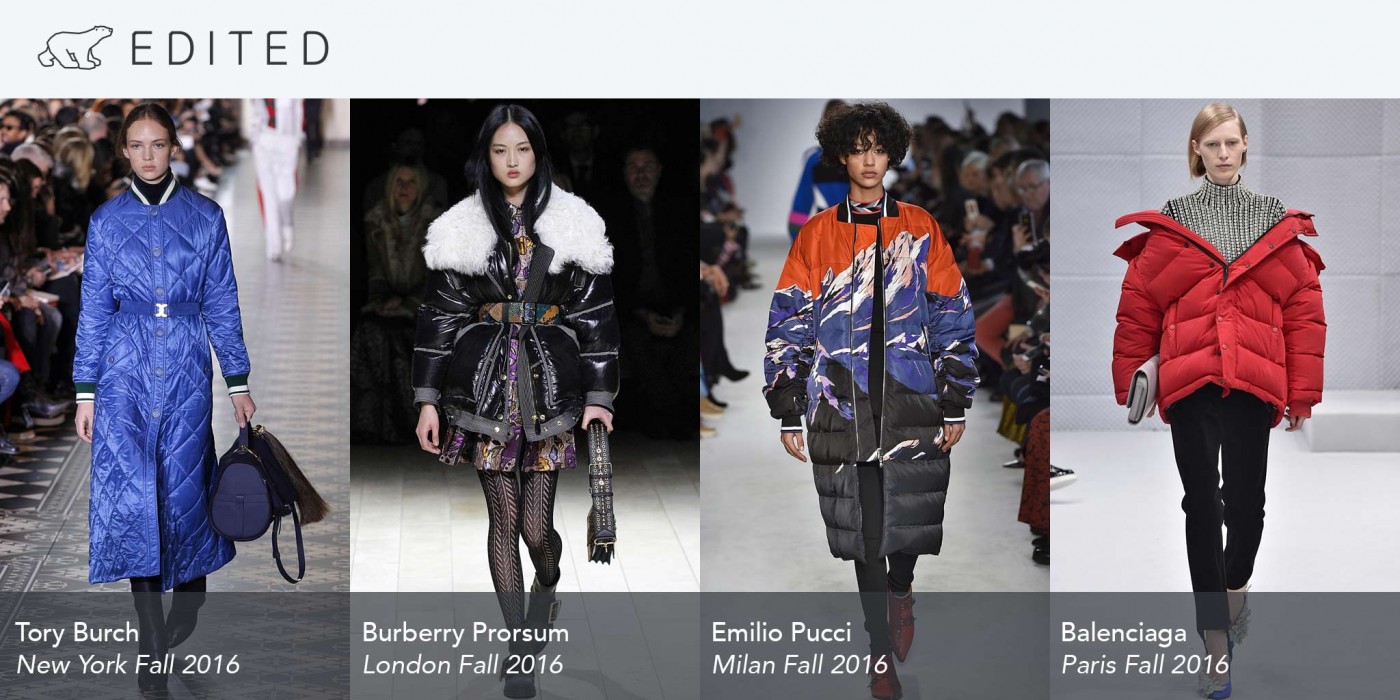 6. Shapely Sleeves
Time to remind yourself of the difference between a bishop, a leg of mutton and a peasant sleeve (insert medieval joke here). Sleeves have been way down the priority list for years now. That means the consumer will be slow to warm to this trend. But it also means with little effort you can update garments to look super relevant for Fall 2016. Try a gentle fluted sleeve on a winter prairie dress or keep for the most trend-forward portion of your offering.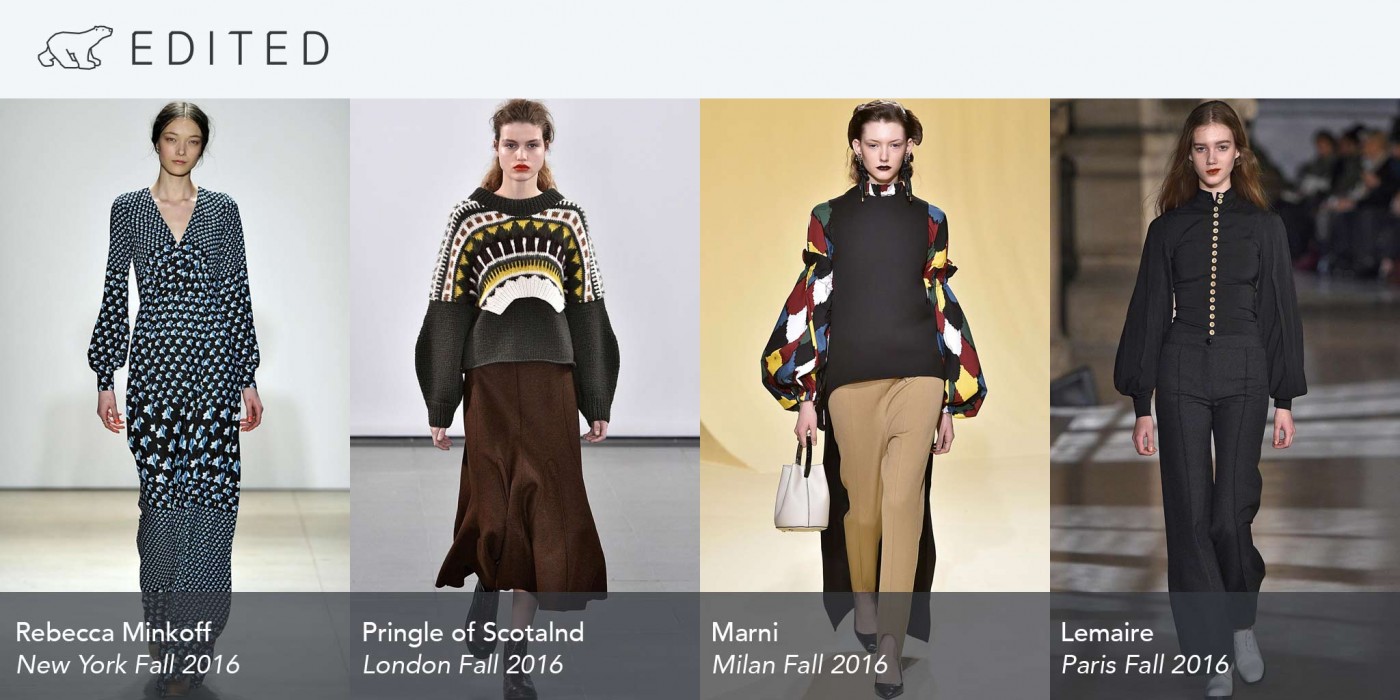 7. Metallics
Metallics have recently performed well in accessories and footwear, as well as in knife pleat skirts all the way from Gucci to Topshop and Zara. Keep those metallic tones in your artillery for Fall 2016. Embrace lurex, which found its way into turtlenecks and knit dresses. If gold and silver seem too easy, visit copper shades as well as purple and emerald tones.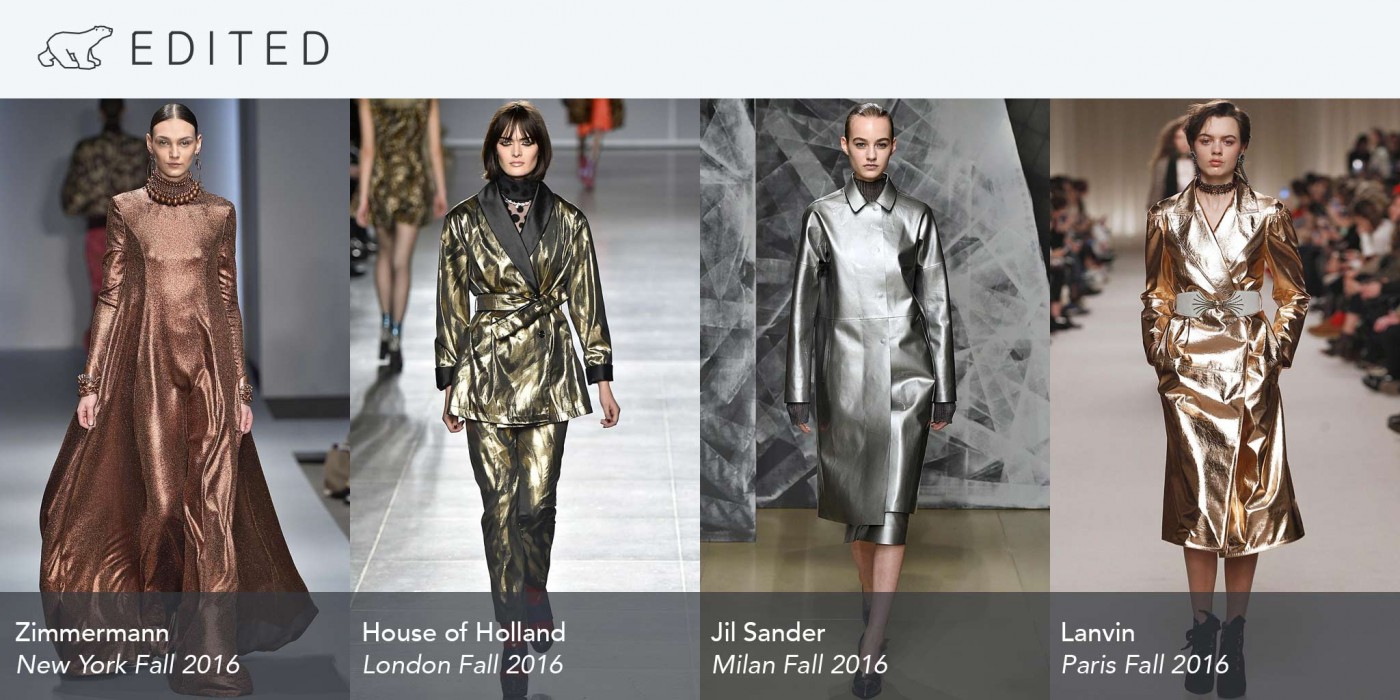 8. Frills
Frills and ruffles are another Spring 2016 mega trend with Fall staying power. The key to bringing this detail into cooler months? A long sleeve. Ruffles worked their way across the front of dresses and sweaters, shook in tiers down slips and skirts and prettied the sleeves of blouses. H&M, Net-a-Porter, Neiman Marcus, Farfetch and Nordstrom have all mentioned 'frills' in email newsletters so far in 2016. There's little question the industry will continue to back them through the year.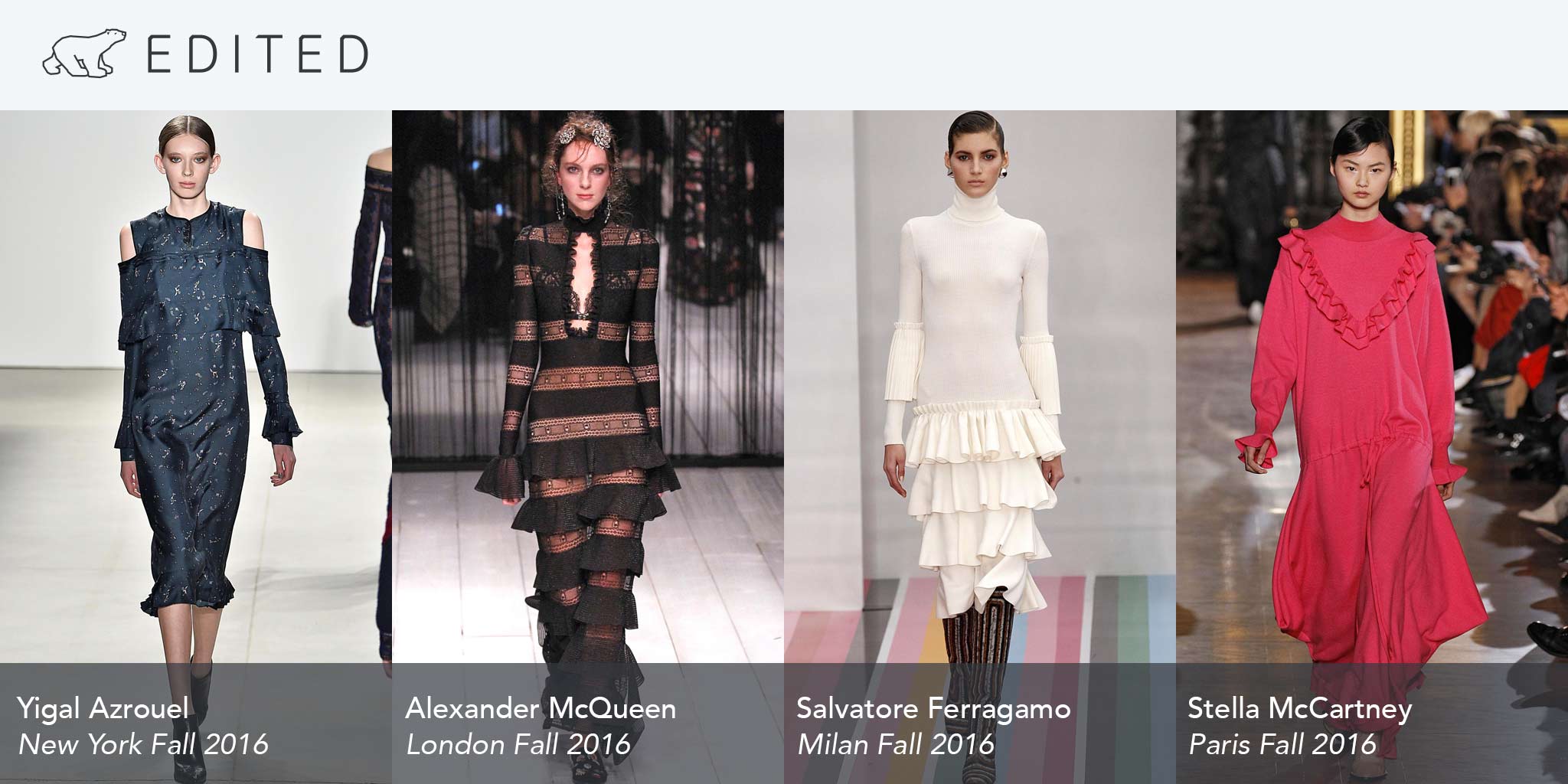 9. Turtlenecks
Add a turtleneck or exaggerated funnel neck to your knitwear this Fall and you'll be onto a winner. Stock turtleneck jersey basics for the double win – they'll be ideal for styling with some of Fall's key lightweight pieces. (Note, you can also get some autumnal life out of late summer arrivals with the aid of close-at-hand turtleneck.)
The majority of turtlenecks on the mass market are currently retailing at $20-25. In the premium and luxury markets, the majority of turtleneck tops are priced $100-120.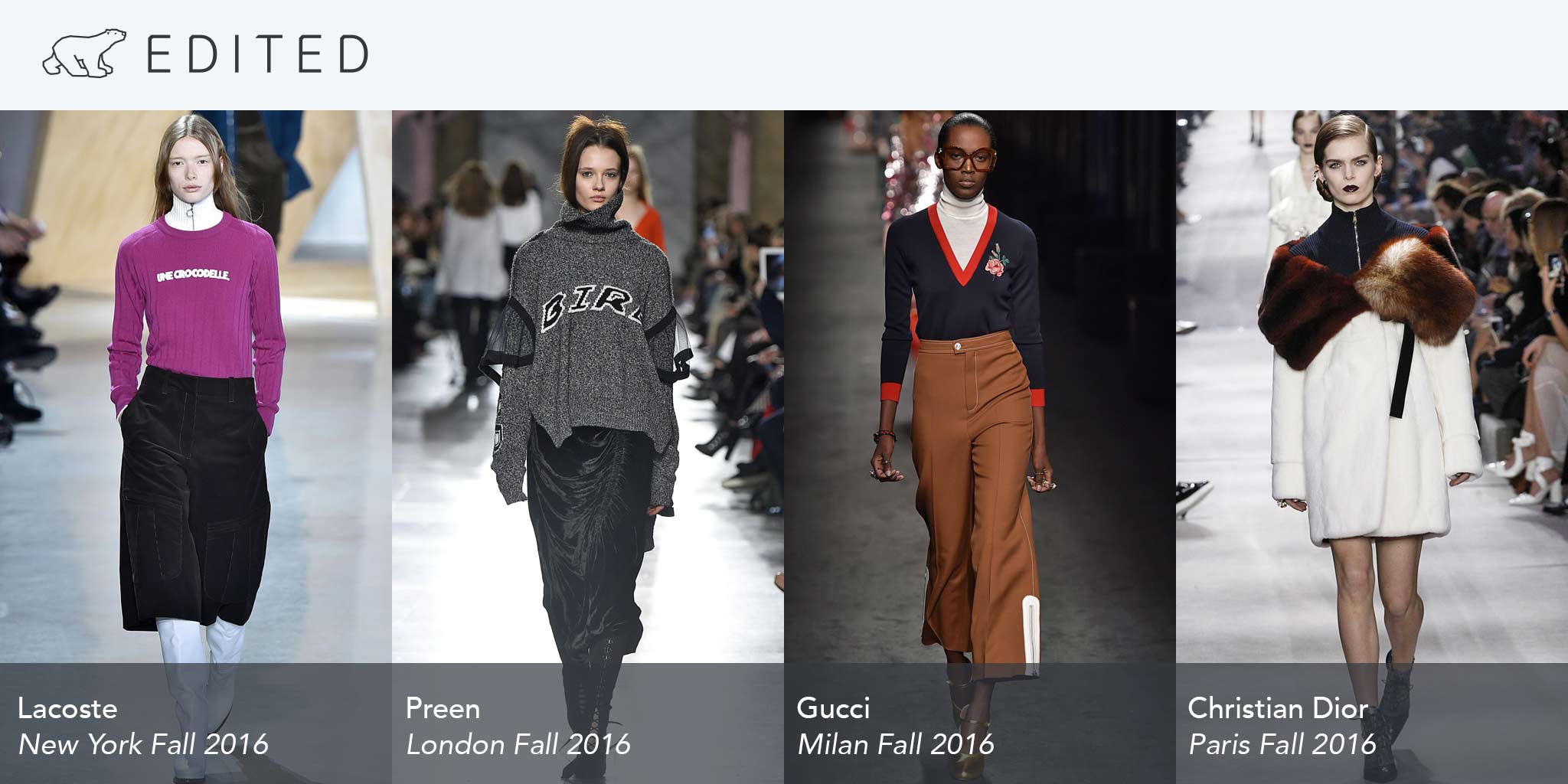 10. Bonfire Palettes
Flame reds, glowing oranges and burnt auburns are designers' tones of choice for Fall 2016. These stand out palettes either blazed down runways or simmered in deeper shades which took in earthy browns and rust. It's a truly autumnal palette which will build upon maroon's success in 2015. The small amount of orange that was stocked by trend-led retailers like Topshop, Forever 21 and H&M sold well for Fall 2015, so don't be shy when revisiting this year.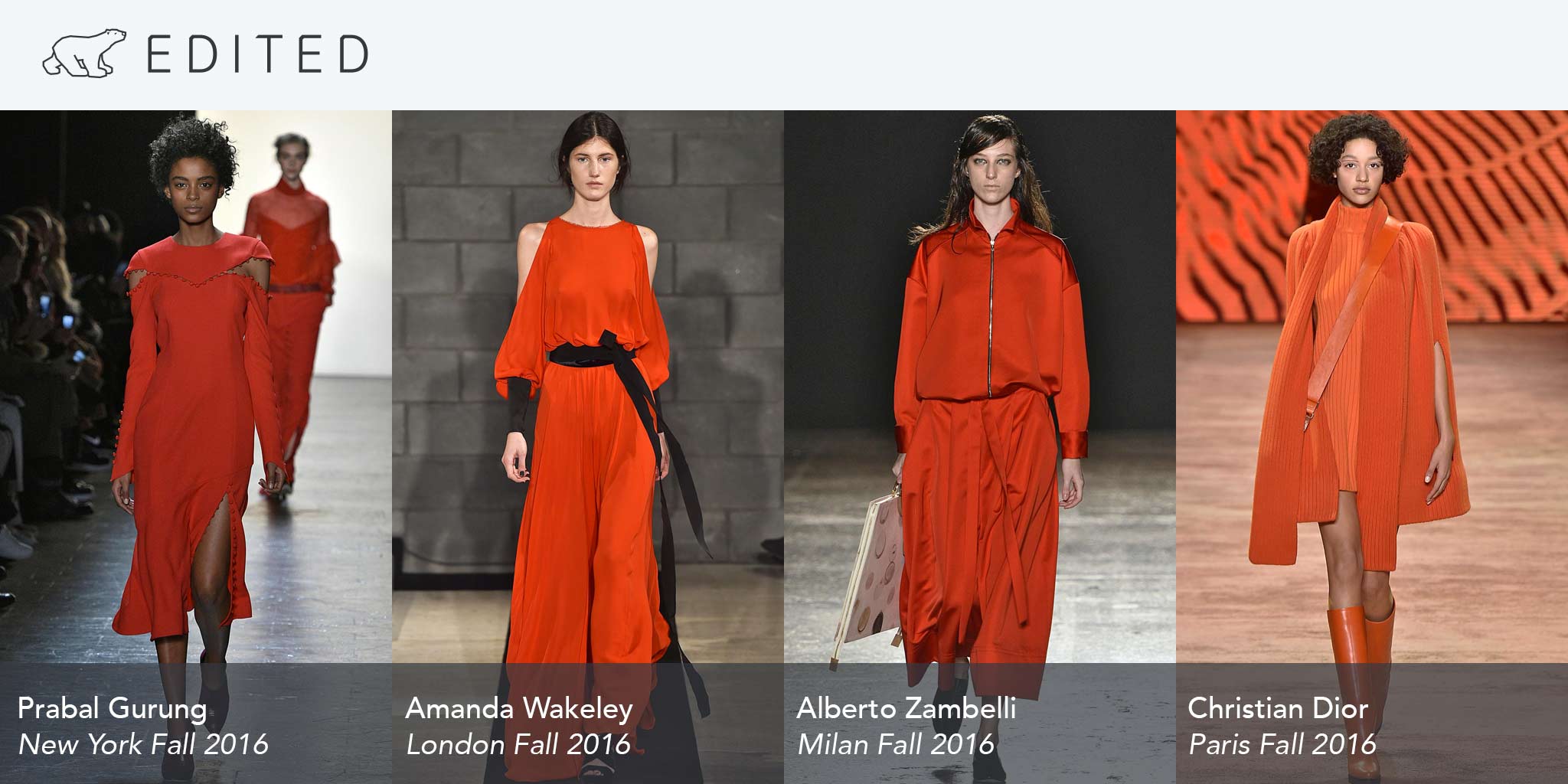 11. Knee High Boots
Knee highs are set to kick the ankle boot aside for Fall 2016. At times they took on a slight 70s feel and at others felt truly contemporary. Some experimented with prints, while others plumped for velvet or patent leathers. Lengths varied from just below the knee, to thigh skimming styles. In Fall 2015, October saw the highest number of new knee high boot arrivals in retail. Get in ahead of the pack and aim for September.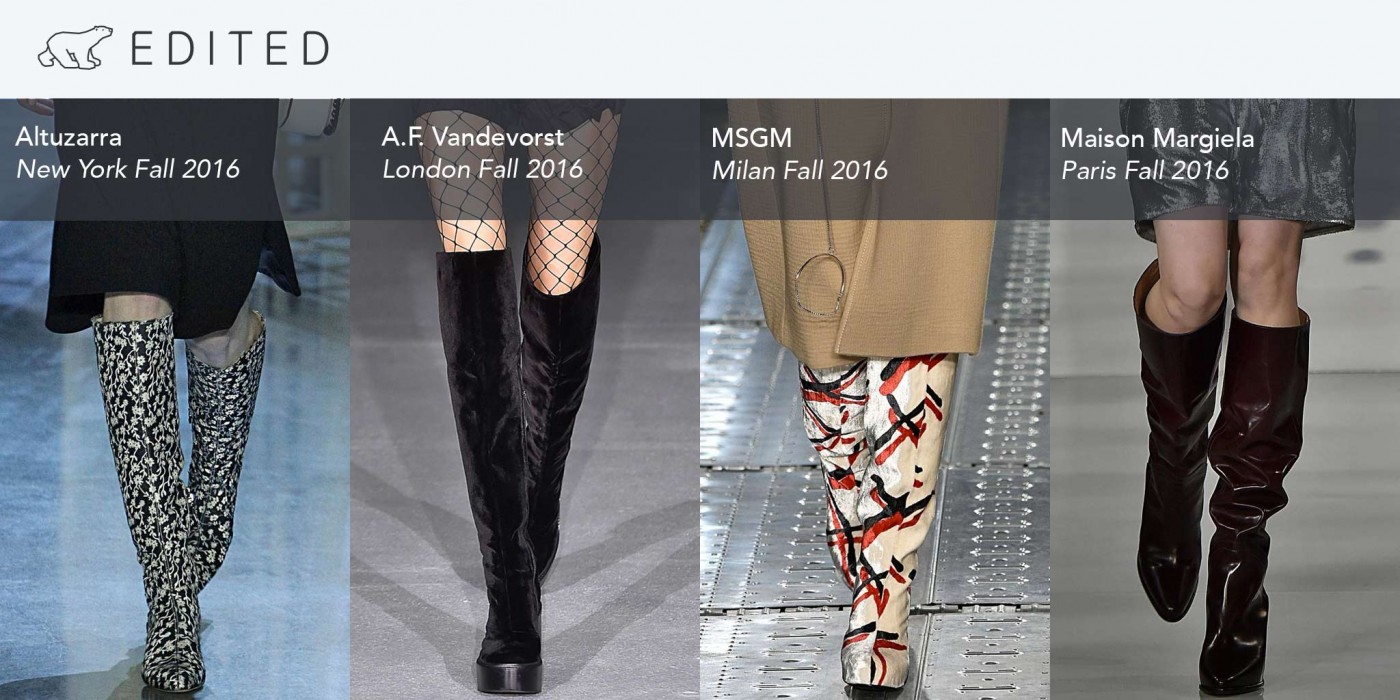 If you're an EDITED user, log in today for more in depth reports. We've got every city covered and will be adding even more specific reports every day this week.