Heading into another competitive and challenging year for retail, we give you a head start with the top 10 insights for 2015. These ten things, be they product trends or themes, consumer trends or shifts in popular culture, will all shape demand in the twelve months ahead.
1. Denim
In 2015, denim will be given an overhaul, lifting its fashion credentials from staple base layer to trend centrepiece. Why now? It's thanks to two brands who have the power to steer an industry including statement denim in their Spring 2015 collections: Burberry and Gucci. Burberry reinvented the 90s denim jacket, giving it structure and embellishment by way of fur trim. Gucci's denim stonewash was the perfect fabric to carry home their military theme – a theme echoed by many for the new year. Retailers can rejoice in the raised profile of the workwear fabric and should extend their core collections this year to include statement pieces like denim jumpsuits, midi skirts, denim co-ord sets, embellished jackets, shirt dresses and dungarees. It's a casual look with designer backing, and right now that's a lethal combo for retail.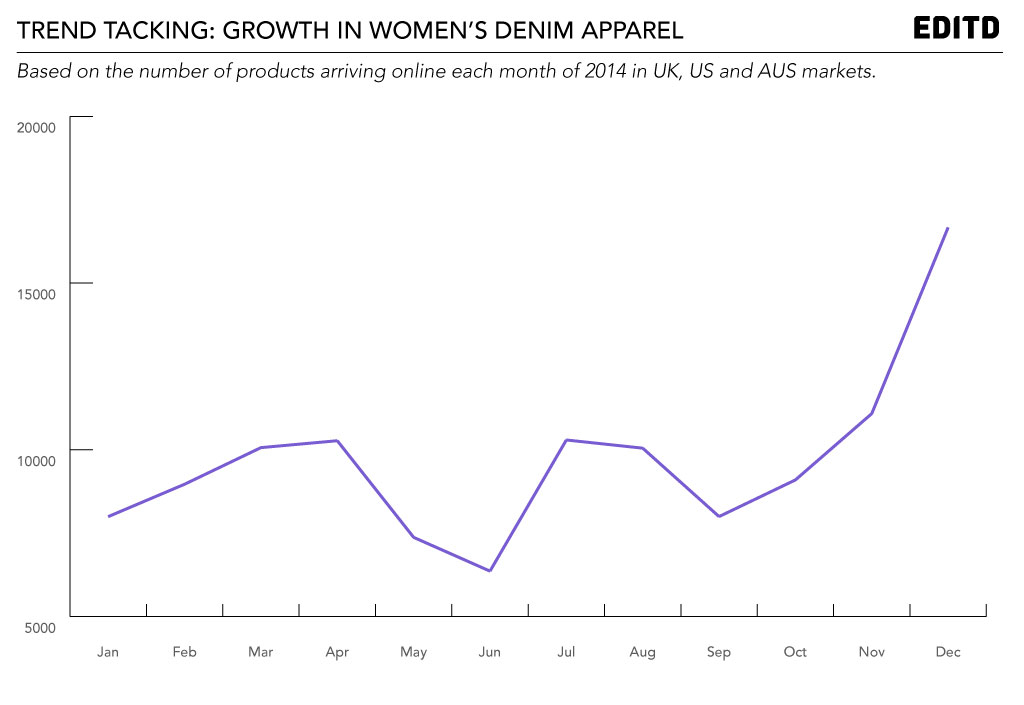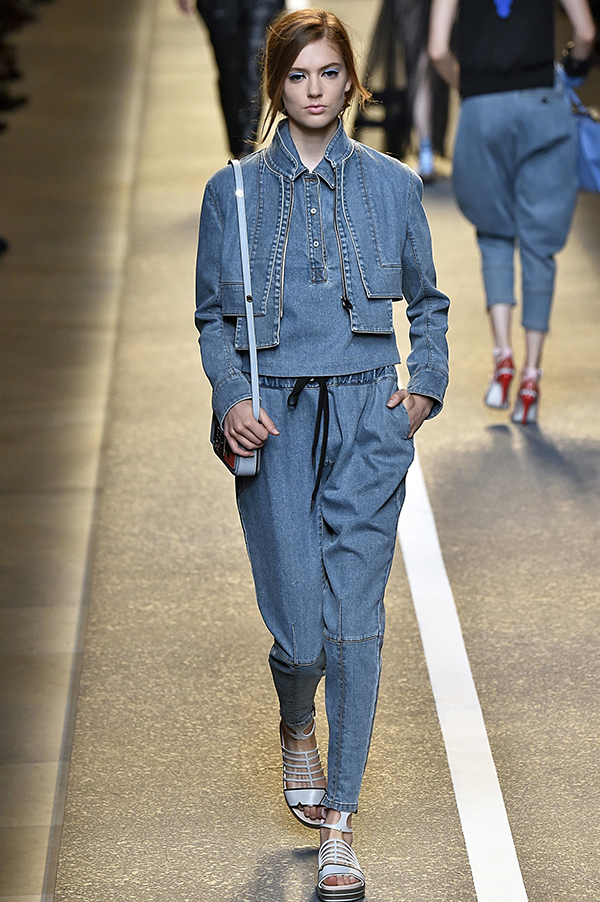 2. Wider leg
The skinny-leg stronghold of the past few years is set to be overturned in 2015 as we move to mainstream adoption of wider strides. Culottes have paved the way – the third bestselling trend on the UK market in 2014, not only have they warmed the market, but their success shows sign of higher consumer demand than supply has so far met. Flares, heavier weights of culottes (think leathers and denim), baggy fit Bermuda or board shorts and slouchy tailored pants will all have big commercial impact in Spring 2015.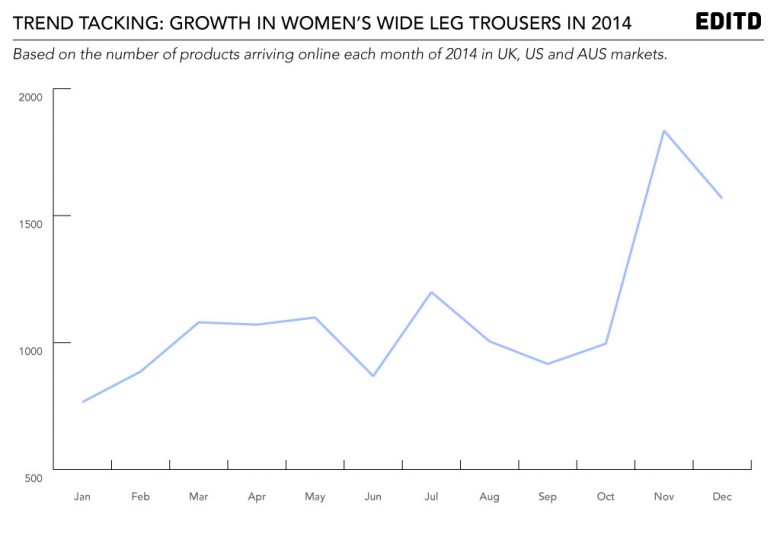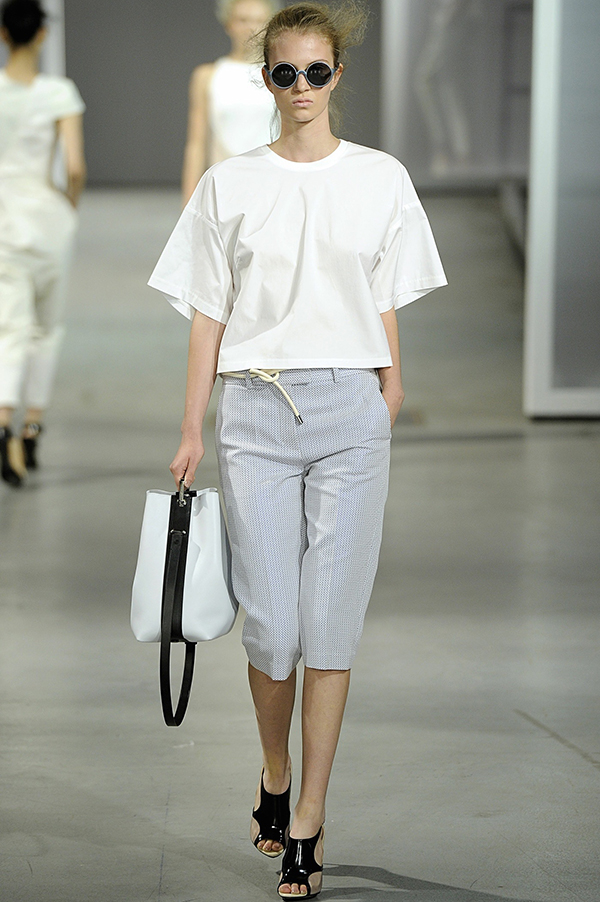 3. Royal fever, round 2
Not only is Will and Kate's second child due in April (and we all remember the buzz George's birth created), but come September, the current Queen will overtake Queen Victoria as the longest reigning monarch. Not only will this create hype around children/baby wear which retailers will be able to optimize through visual merchandising and communications, but it will also shine a global spotlight on brands which place British heritage at their core. Look out – Burberry, and Mulberry too, may get the lift they've been working towards. The popularity of Spring 2015's military trend undoubtedly will carry forward into Fall 2015, feeding our desire for regality and regiment.
4. Sports norm
So many brands and retailers have added sportswear to their offering (set to grow more as Tory Burch add sports to their range in 2015) that the profile of activewear has risen. Sporty clothing is now acceptable in almost any social environment. For 2015, the magic formula is a combination of the decade's most defining trend, sports luxe, with 2014's buzziest fashion meme, normcore. It takes the 90s simplicity from normcore, and bonds it with bodycon and technical finish of sports luxe. We'll see more feminine and ornate styles arising within this, to appeal to a broader range of consumers. Look for an increase in embellished sneakers, more sheen and luminescence applied to flash fabrics and pretty shaping. Key designers backing this trend for Spring 2015 include Alexander Wang, Topshop Unique, Lacoste and Burberry.
5. Lingerie
The lingerie market's boom has been well documented over the last two years and growth will not slow in 2015. The release of movie Fifty Shades of Grey will make certain of that – featuring girl of the moment Rita Ora, whose style is already scrutinized worldwide. Cue an increase in naughtier shapes and bondage detailing as the category is given a huge platform on which to expose itself, and its wearers!
6. Wedding industry boom
The growing American wedding industry is already worth $51 billion yearly and employs close to 800,000 according to Bloomberg BusinessWeek. The Supreme Court ruling which legalises same-sex marriages across thirty US states in 2015 will have an enormous impact on the wedding industry. May to September will see a huge boost to the wedding industry, with thousands of same-sex couples finally recognized in the eyes of the law. Savvy wedding retailers will ready themselves for a boost in interest and a growing market.
7. Useable tech
If wearable tech was 2014's buzzword, in 2015 we're expecting the market to shift away from flashy, big-statement tech/fashion and instead move towards lasting developments which are useful, useable and impacting. Recent success of simple-to-use technology, like the Tinder app, is a sign that consumers don't need all the bells and whistles – usability and functionality is a great deal more valuable. Not only do we expect to see retailers stripping back their mobile sites, and streamlining the on-the-go aspects of their brand interface, but we also expect to see technology companies growing their apparel industry awareness to smooth out the disconnect between tech and desirability.
8. 1970s
Retro-appreciation has been gathering pace over the last two years – visiting 40s, 50s and 60s styling on its path. For Spring, designers in each of the fashion capitals agreed that the 1970s will be the reference for 2015's styling. Derek Lam, Gucci, Dries Van Noten, Rebecca Taylor and Karen Walker were just some of the designers sending out lightly flared trousers, using fringing and suede and a distinctly 70s palette with warm oranges, purples and the spectrum of browns. Look out for patchwork, styled-up accessories and psychedelic prints.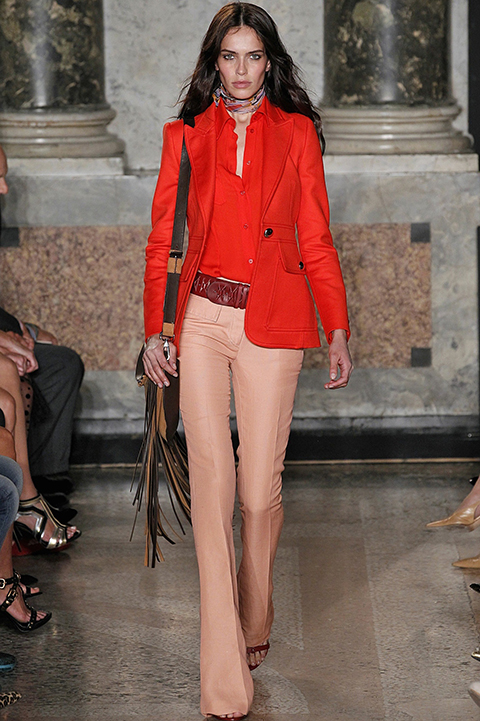 9. Expanding markets
Brazil, China and India are the international markets that apparel retailers looking to expand will be watching closely in 2015. Once knowledge of local consumer and logistics in these new regions are conquered, there's untapped potential to broaden the fashion economies in these high-population, industrious countries. Heading even further in 2015 is the Chinese health drink manufacturer ambitiously advertising their products on the moon this year…
10. In-store experience overhauled
With online shopping at many retailers now a streamlined, engaging and even personalized experience, in-store retail has fallen behind. In 2015, we're expecting an overhaul in the in-store experience – offering a service-level, engagement and knowledge of shopper that's in line with digital flagships. Interactive technology, customizable displays and sales staff with access to smart devices will make a move towards the norm at brands and some retailers. Driving this is customer-centric marketing – in which the consumer is given opportunity to drive the narrative a brand has with them.
Want to know more about how EDITD can help your business?
Request a live demo with one of our product specialists.