Now that the fashion weeks are behind us, duty almost demands that we write a top-10 style round-up. But since we've already written plenty of lists this month detailing what went on in New York, Milan, London and Paris, we're going to forgo the old rehash and focus on something actually helpful for retailers. For that, we'll have to narrow our focus and go a whole lot deeper than a list of ten madcap new directions.
So instead, let's take some time to look at an important retail trend that's mostly flown under the press radar: Festival Fever.
How do we know? Well for starters, you always should sit up and take notice when Saint Laurent, once a house sizzling in glamour, puts these looks on the runway:

It all looks very familiar, no? If you attended one of summer's many music festivals, there's a good chance you saw women dressed exactly like this. You may have dressed exactly like this. And even though Saint Laurent has come under criticism for sticking to the hits since Hedi Slimane took the helm, it's not the only one playing to pop culture's touchstones with references to the dusty tents and fields of our (possibly misspent) summers.
Hunter Original based its entire collection around festival-goers, complete with a muddy runway. The brand, Wellington boot supplier to It-girls and boys of the pasture, showed colorful ombré macs, shiny silk bombers and utilitarian rain coats, all trailing ribbon like the guy ropes of tents and embellished with metal rivets. It felt fresh and vibrant. It will sell.
It all makes great sense for Hunter – it's market and product appropriate. But it's the least-likely-tos that are really keeping things interesting. At Albertta Ferretti the Victoriana peasant dresses were pitched directly at Coachella, Valentino put tie dye on hooded raincoats, Céline accessorized its boiler suit and trench combo with rubber Chelsea boots and even Christian Dior put a parka on the runway, complete with storm flaps.

Thirty-two million people attend festivals each year in the USA alone and there's no shortage of music events drawing crowds of 150,000 across Europe, Asia and Australia. Fast fashion retailers are savvy around summer trend stories, incorporating the theme early and marketing directly to it. Is there room for this trend to grow? Yes.
It's unlikely that anyone is going to wear a Dior parka to a festival. Certainly not the kind I've been to. But the point is, there are women across the breadth of the market who want to dress like they are. Festival wear is no longer a uniform for three days of partying. It has become an appealing look suited to all of our lifestyles.
At this point, our customers would turn to retail data to make informed decisions about how best to include the trend in their offering, how to price it and determine when it should arrive in stores. So, we'll share some of that with you too. Note: because we're referring to the recent womenswear shows, we're working with women's data here. But this trend is just as relevant to the menswear market!
New Product
Retailers begin dropping festival-related product early. February sees retailers in the US and UK start to ramp up new arrivals. Products reach a peak in April – the same month in which Coachella goers fill a up a stretch of desert outside L.A. But the number of products selling out peaks in July. The festival shopper doesn't necessarily buy too far ahead. It's worth knowing that the trend is best suited to high summer, although it's a good idea to get transitional outerwear (with its higher price point) into stores for Spring.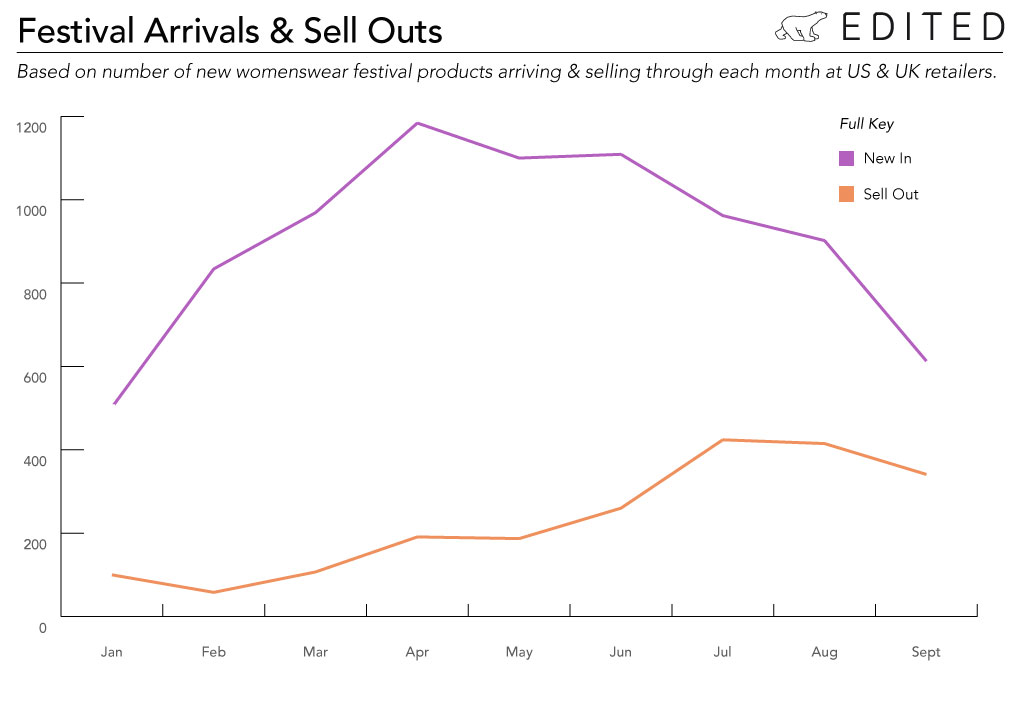 Of all the products in the 'festival items' category, tops lead the way with 35% of the total, followed by accessories and bottoms. Compared to data on sellouts, it seems footwear could be under-served by the trend currently. An opportunity for next year!
Fringe, suede, denim shorts, a-line skirts and plastic macs all sold well in Spring 2015. Next Spring, the focus will be on sundresses inspired by the nightwear trend. Thanks to Kenzo, the fanny pack will get a makeover, ideal for a weekend on a campground. Lightweight outerwear will get bolder, and more technical. The bomber jacket returns, so play with print here to lure shoppers who may already own a plain style from Spring 2015. Bucket hats (see BCBG Max Azria and House of Holland), body warmers, dungarees and garments with lingerie styling will all be popular. For accessories, fringing hasn't disappeared. In footwear Western-style moccasins feel new.
Communicating the Story
In the mass market, all the expected contenders make a good level of noise around festivals, Urban Outfitters, Topshop, H&M, Forever 21 and Nasty Gal among them. What's more surprising is the number of premium and luxury brands and retailers that have started to weave festivals into their seasonal conversations. Bergdorf Goodman, Net-a-Porter and Barneys all sent festival-themed newsletters to their customers during Spring 2015.
Of all festival items arriving in Spring 2015, 70% were for the mass market. Just 14% arrived in the premium and luxury markets. What we've seen on the Spring 2016 runways suggests that's going to change. So expect to see an even greater marketing push from the top-end retailers next season.
Some retailers' sites, like ASOS, have dedicated festival selections. This is a great idea. Not only can customers find products easily, but the retailer can gauge interest easily and internalize that to activate promotions. It would be great to see department stores and luxe retailers follow suit.
Why Now?
For many seasons fashion has had a functional edge, a feature more-or-less pegged on changing lifestyles. But with the proliferation of romantic and bohemian looks on the runways for Spring, as well as the festival trend, it seems we're now looking for a little more escapism. A weekend in hedonistic, lively clothing appeals to the masses far more than the polished dress codes of summer sporting events. Retailers need to join the party.
The trick will be maintaining the momentum through the winter months. Retailers will need to infuse holiday-party wear with the same sense of the care-free. Perhaps we just need more winter festivals. Or maybe we should all just head to Australia and make hay while the sun shines there…