As fashion retailers are clamoring to reduce their environmental footprint, Reformation has been making sustainable fashion sexy since 2009.
Its buzzy marketing, stylish product, and celebrity following have helped shift the perception that sustainable clothes are unfashionable. Leaving other fast fashion brands to play catch up.
Ahead of Reformation's first London store opening in September, we use EDITED's retail data platform to analyze the strategy of the cult label that won the hearts of millennial women worldwide.
Want to see how your brands' product, pricing, and promotional strategy stacks up against Reformation in real-time? Get in touch here.
Sustainable products and processes
While some brands, to tick the 'green fashion' box, describe their products with buzzwords such as 'sustainable' or 'eco-friendly,' they don't always go into detail exactly how their product makes a positive impact on the environment. Reformation stands out by educating its customers within product descriptions, explaining where the fabric comes from and how it affects the planet.
Unlike other fast fashion retailers, Reformation doesn't shy away from informing consumers of the adverse effects of some materials and practices. For example, while organic cotton is a better choice than non-organic, it still isn't the most sustainable alternative for fabrics due to high water usage. On all of Reformation's organic cotton items, the description reads:
"Organic cotton doesn't allow genetically modified seeds and restricts the use of many chemicals. It still uses water and land, but it helps sustain the land it is grown on through crop rotations and natural ways of controlling pesticides."
Other sustainable alternatives backed by Reformation include ECONYL® swimwear and products made from deadstock or surplus fabrics. Reformation products also state the amount of waste, water, and carbon dioxide each item has saved.
As 66% of global millennials are willing to spend more on sustainable brands, transparency is key to winning over this cohort. EDITED's retail data platform can help brands understand how their competitors are describing and promoting sustainable products. Find out more.
Price consistency
Reformation product is often regarded as expensive by consumers and competitors. As mentioned, the above fabrics, as well as factors such as sustainable packaging, will play a role in pricing premiums.
We compared the latest apparel arrivals at Reformation against other major brands offering sustainable products. Unsurprisingly, Stella McCartney registers the highest entry, average, and exit price point with Zara's Join Life collection the lowest. Eco-friendly brand Everlane also undercuts Reformation's prices.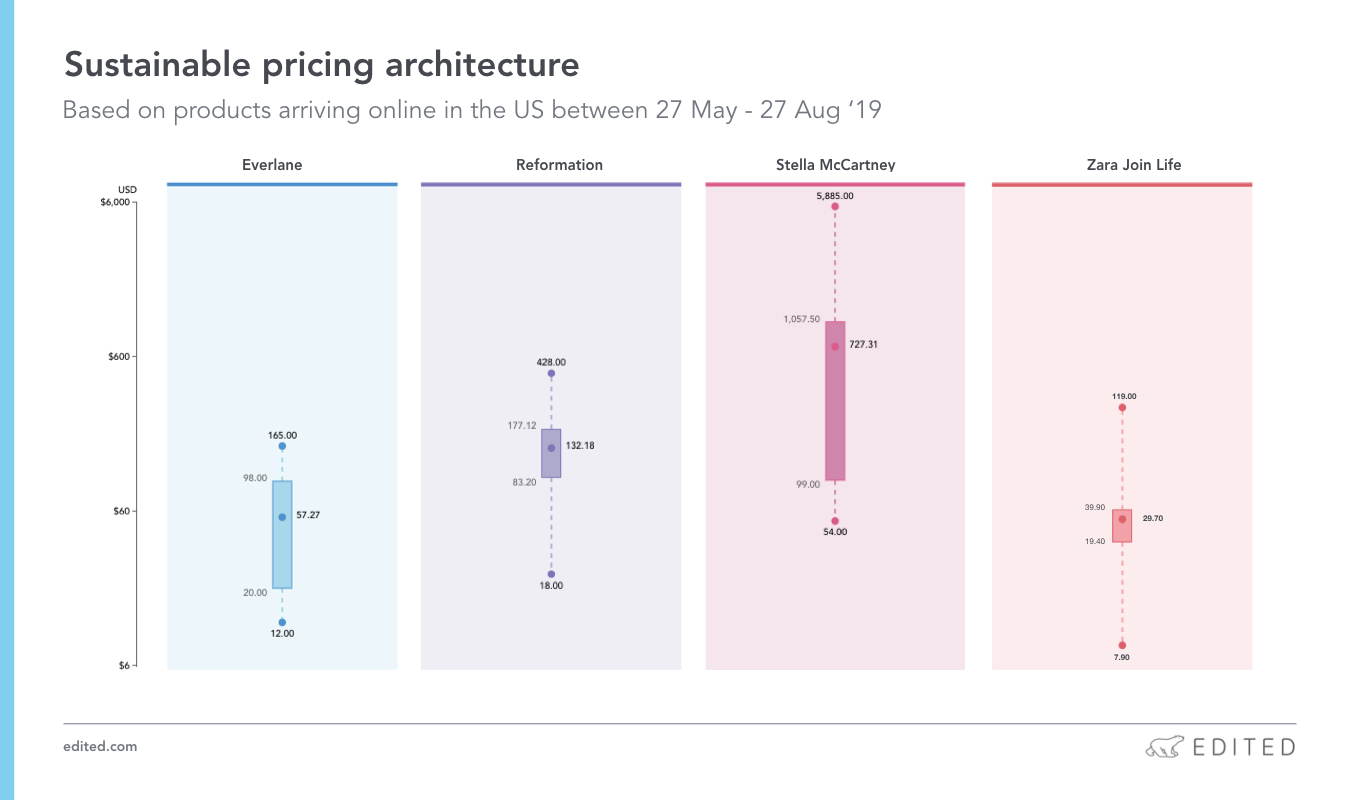 While not offering the most competitive price point, Reformation's pricing has remained consistent over time. Mapping out the average price points over the past 18 months reveals no significant fluctuations in items such as dresses, tees, and jeans. This suggests Reformation has found a sweet spot in its pricing, encouraging customers to buy at full price without expecting a reduction.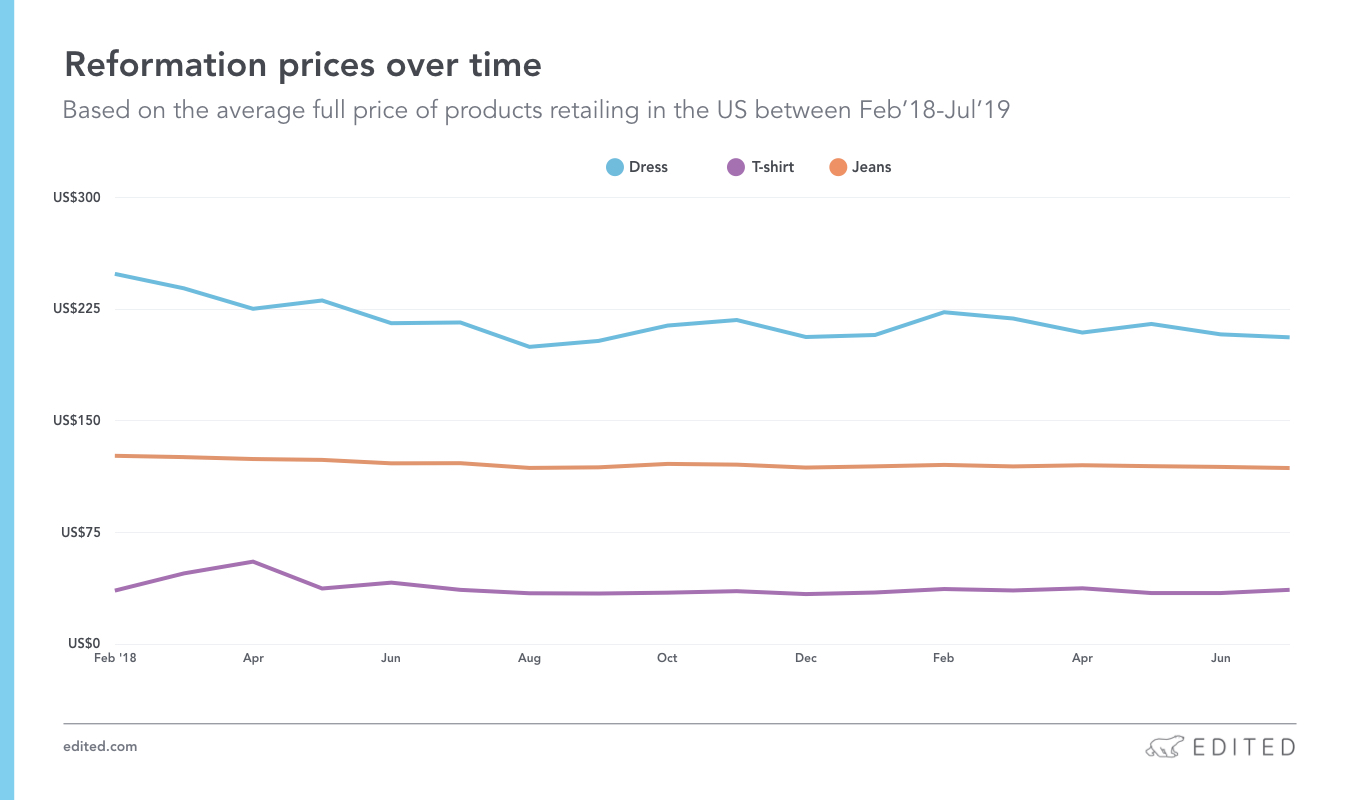 And the strategy is paying off. New dresses arriving over the past three months have sold through the majority of SKUs in an average of 38 days. That's on par with Fashion Nova, which sells dresses more than four times cheaper! EDITED data indicates, despite pricing perceptions, customers are willing to pay for an eco-friendly product, provided it is fashionable. Which leads us to…
A winning product assortment
Season-on-season, Reformation pioneers products seen on the Instagram accounts of "IT" girls like Jeanne Demas and Kaia Gerber. The brand partakes in setting the tone of the styles invested in by the mass market, encouraging brands to look beyond high-end designers for inspiration. So, what is the key to its winning assortments?
Well, dresses are big business all year round, consistently making up the bulk of the assortment. The brand is known for investing in the same style in multiple colorways and prints to determine the hero pieces.
In addition to its global and wholesale expansion, Reformation's product offering has seen significant growth. Since 2016, the brand increased its bottoms assortment by 83%, bolstered by its sustainable jeans range, and accessories by 117%. Also tapping new areas, Reformation has ventured into footwear and swimwear as well as reaching out into a broader audience with the addition of bridal, petite, and extended sizing ranges.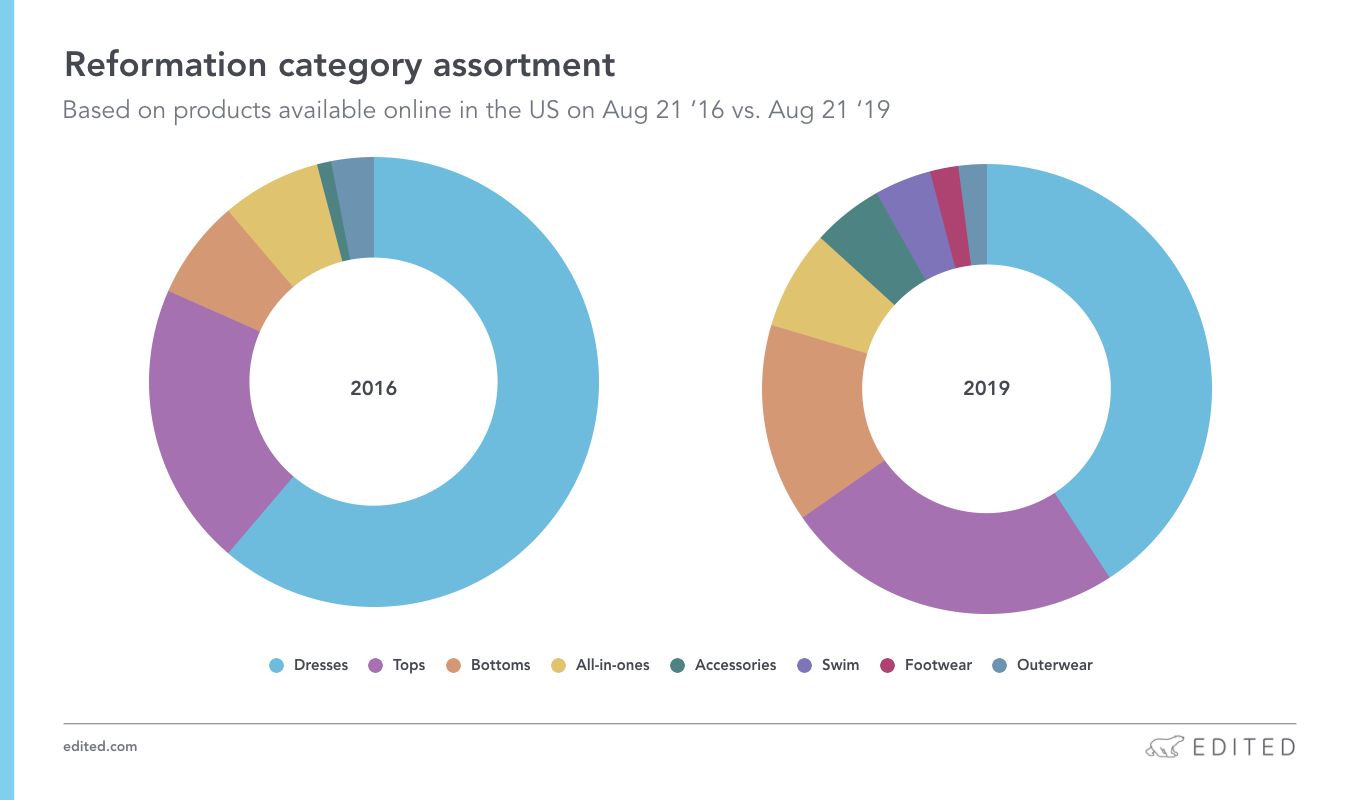 And you don't get the 'cool girl' label without stocking your interpretation of the hottest fashion trends. New styles that have seen success at Reformation include puff sleeves, micro florals, animal print, and silk fabrications.
Relatable brand tone
Reformation sends email communications between 2-3 times a week. The brand has established a casual and playful way of interacting with customers on its website and social media that resonate with millennials. The brand voice is present and instantly relatable in all areas of Reformation, from subject headers to campaigns. Even the important stuff like its sustainability framework is written with tongue-in-cheek. While this tone is not something that all brands would be able to pull off successfully, Reformation makes it's younger audience sit up and pay attention. And not just to its latest silk midi skirt, but the impact fashion has on the environment.
Liked this report? For further insight from our Reformation deep dive, check out our downloadable Reformation retail report.