Hear that? That's the sound of corks popping over at Farfetch HQ, after yesterday's confirmed purchase of Style.com.
The luxury platform has been teasing headline writers in recent weeks, appearing on the brink of IPO, which now looks to be pushed further back. So what is going on at Farfetch?
Style.com–Condé Nast's ailing luxury commerce platform that aimed to connect content and retail — isn't Farfetch's only new weapon. It counts Net-a-Porter founder Natalie Massenet among its leadership, and earlier in the year revealed its "Store of the Future", a suite of in-store technologies that they say will go live at Browns boutique in London this year.
Founder Jose Neves has always reiterated that Farfetch – a fashion retailer that holds no stock, but rather connects shoppers with luxury boutiques around the globe – is a tech company, not a retailer.
If we take Jose at his word, it could be illuminating for the luxury industry to understand Farfetch's strategy. So let's take a look at how the metrics stack up.
They're big, but not massive. Yet.
Farfetch clearly has big ambition, but its not (yet) the largest luxury retailer. Its breadth of offering is 78% smaller than Yoox. Yoox is profitable, whereas Farfetch isn't yet.
While Farfetch currently carries almost 2,400 brands, Yoox is streaks ahead with almost 11,800 brands in stock. The brand the two retailers stock most is Dolce & Gabbana, both following with DSquared in second place.
That's a noticeably different investment compared to department stores Saks Fifth Avenue and Neiman Marcus as well as Net-a-Porter, who all give Gucci their biggest backing.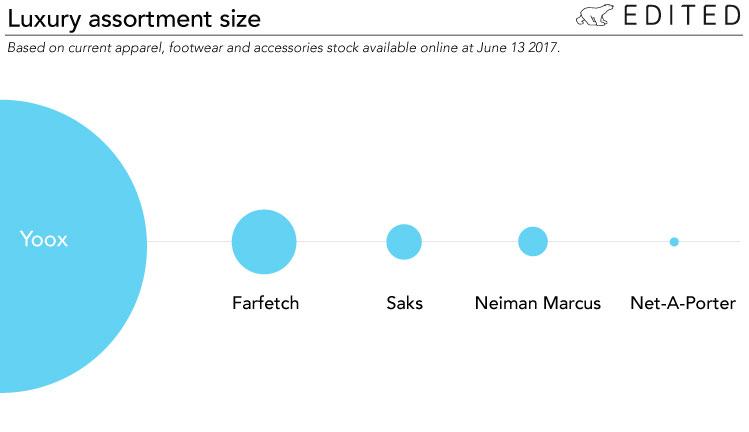 Beatable rates of newness
Unless you're Yoox, Farfetch's luxury assortment is probably bigger than yours. But their rate of newness isn't intimidating. In fact, only 21% of their current offering arrived in the last two months. Meanwhile, 41% of Yoox's offering is less than two months old.
Instead, the majority of product at Farfetch has been on the site between three and six months. That ties in with the average number of days it takes a Farfetch product to sell out: 111 days.
Because items aren't stocked by the platform, it follows that Farfetch products sell out faster than luxury counterparts like Nordstrom (128 days), Neiman Marcus (344 days) and Saks (203 days).
Given the site's element of discovery and the speed at which product sells, Farfetch may want to focus more heavily on newness.
Net-a-Porter should hope Farfetch doesn't attempt beauty
Farfetch's assortment is most in line with Yoox's with around 30% emphasis on the tops category. Looking back on new arrivals each quarter, for the last four years, Farfetch has kept this weighting consistently.
Meanwhile, Net-a-Porter focus most heavily on the beauty category (a category that Farfetch overlooks, allowing Net to really lead this space). Luxury department stores, like Saks, have a greater emphasis on accessories, which only has a 13% emphasis at Farfetch.
It's interesting that Farfetch doesn't strive to place greater emphasis on the accessories category, as it's the category with the highest sell through rate. In fact, 20% of new arrivals in the last three months have sold out, compared to just 12% of tops, 7% of bottoms and 6% of footwear.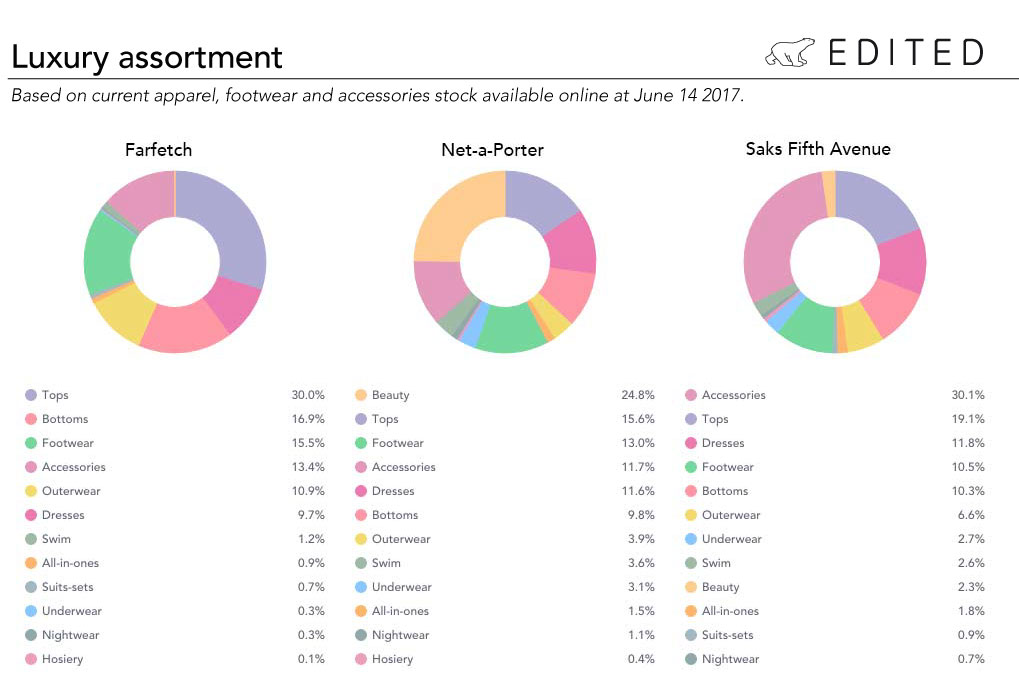 Some of the recent best sellers for Farfetch in their accessories category are colorful bags and scarves.
The best-selling brands in this category are currently Gucci, Saint Laurent, Dolce & Gabbana, Furla and Salvatore Ferragamo. Gucci's Dionysus bag, Marmont jacquard shoulder bag and accessories with the Bengal tiger emblem are stand out performers.
Price architecture is mature
Farfetch has a unique price architecture, and one that appears mature alongside other luxury players. There's a good range of pricing, with less focus on the bottom end. This is reflected in Farfetch's median price point, $403, some way ahead of Net-a-Porter's $293 and $93.
Without the beauty category, Farfetch focuses on true luxury price points. That's especially impressive when you take into consideration its low discounting…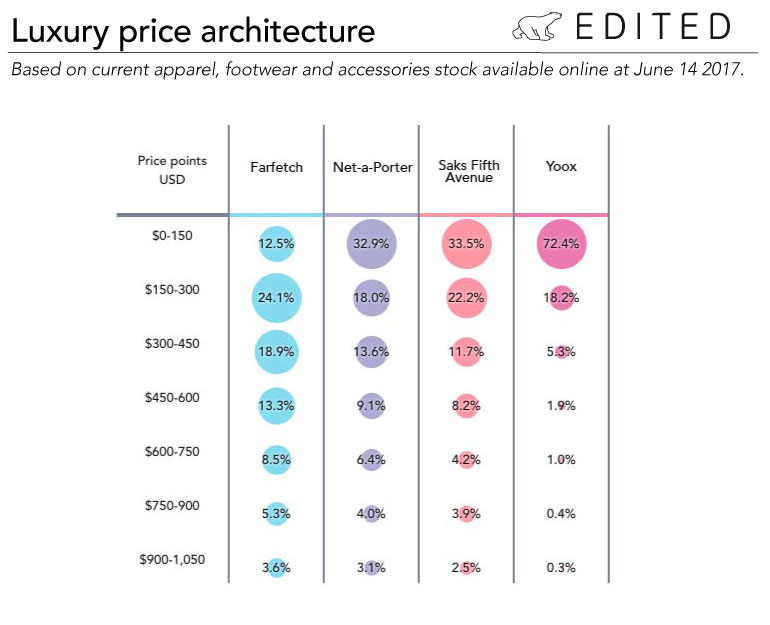 Can you compete with low discounting?
We all know how plagued with discounting the luxury market is. Yet Farfetch appear to have things under good control, one day before their seasonal sale (June 12), just 20% of their offering was reduced with an average 38% off.
At Net-a-Porter, 38.5% of the offering was reduced by an average of 38%, at Saks its 37% by 53% and at Yoox is half of the entire assortment reduced by 31%.
With the sale going live to all shoppers on June 13, Farfetch's current discounting stands at 35% of the assortment reduced, with the bulk of reductions being 20-40% off.
Farfetch has controlled seasonal sales periods, as shown by the chart below, which trains the customer to mostly expect to pay full price. Which is also likely representative of the tricky relationship between Farfetch and the luxury brands they represent by proxy.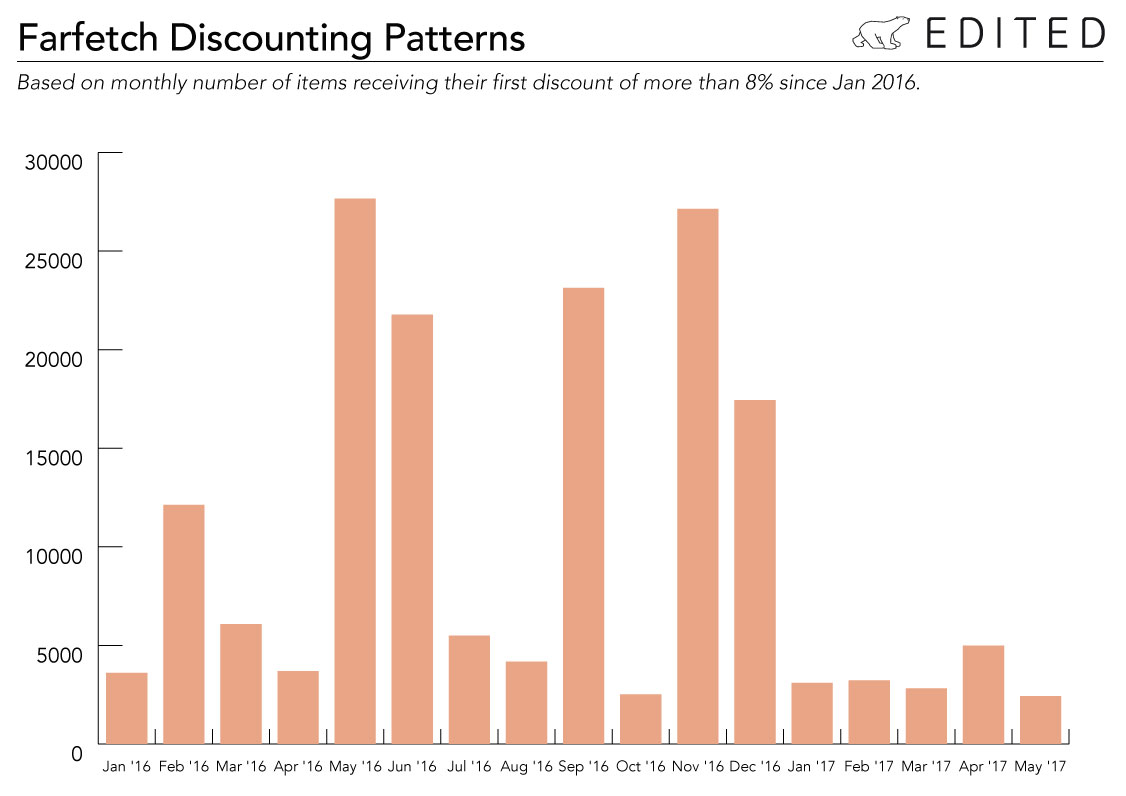 Completed with content
Farfetch has solid metrics around its discounting strategy, and has well-positioned pricing. With the purchase of Style.com, the platform closes the loop on the full customer experience. Though Farfetch already has excellent visuals and compelling newsletters, beefing up the editorial content will help create a bigger community around site and help them finally compete as an actual destination online, rather than just a conduit to products that have been sought after in China and other far-flung markets.
The Farfetch lowdown you need to see.